The man who drenched Baidu's billionaire co-founder Robin Li Yanhong with water as he was giving a presentation at the company's annual tech event in Beijing on Wednesday will be detained for five days for the offence.
Chaoyang district police announced the detention on their Weibo account on Thursday after concluding an investigation into the stunt, which shocked attendees, stole the limelight from the company's latest AI announcements and sparked a social media frenzy in China.
The man, identified by police only as Cheng, jumped on stage and poured a bottle of water over Li's head, while the co-founder and chairman of China's search engine giant was speaking about the future of artificial intelligence and connected cars.
Looking shocked, Li responded by saying "What's your problem?" in English, before the man left the stage and was tackled by security. There were gasps from the audience and then sporadic applause as Li resumed his presentation, saying "as you can see, there are many unexpected things in the development of AI too."
The motivation behind the action remains unclear. The man did not immediately respond to inquiries sent via his purported Weibo account, on which he had posted messages leading up to the attack, including pictures of train and event tickets which gave his name as Cheng Guanqi.
In one post he asks, "Xiaodu [referring to an artificial intelligence assistant embedded on a number of Baidu's smart devices] – what will happen if I pour water over your boss's head?" The posts about his tickets and another of him saying he was "ready to go on stage" were later deleted.
The water attack drew a huge social media response in China, with some netizens supporting the attacker, praising him as a "hero" and even saying he should have used "urine", while others condemned the "violent act".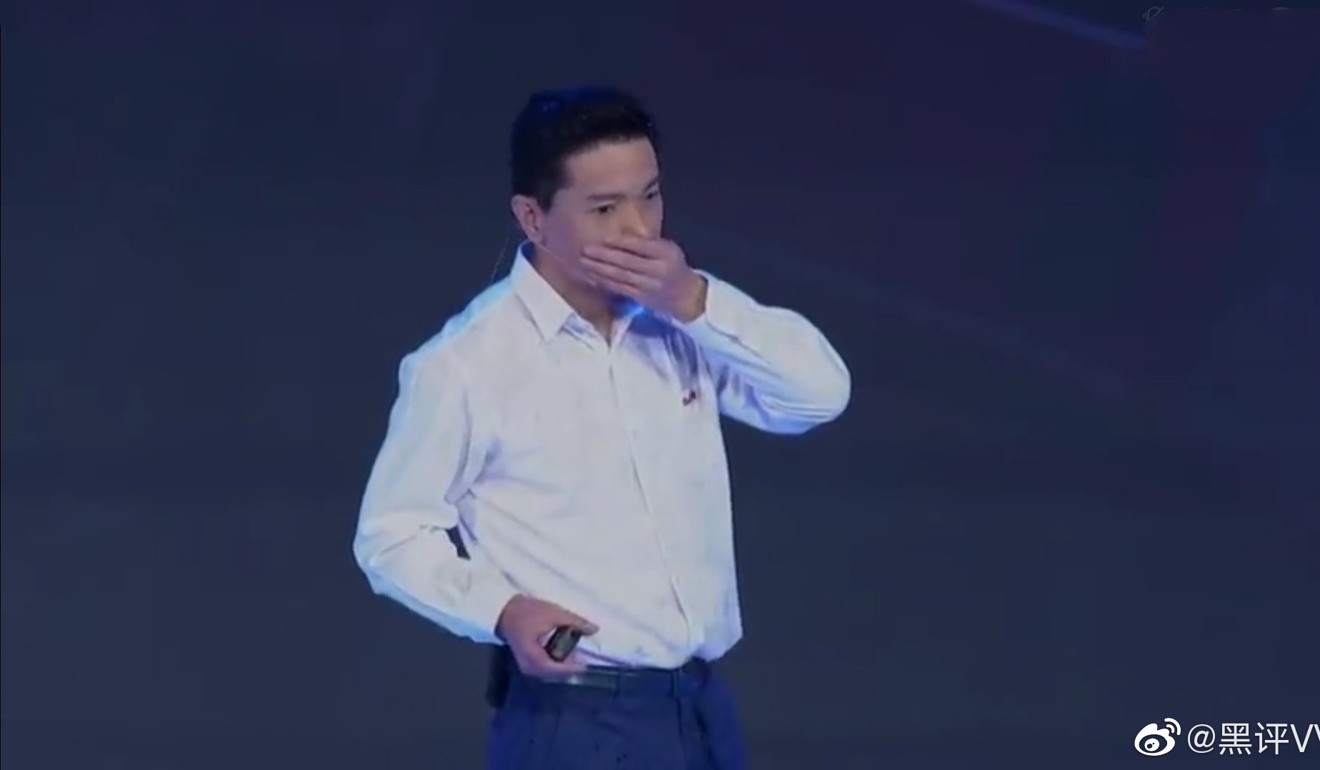 A purified water advert imitating the incident, with the logo of the Chinese e-commerce retailer Suning.com, went viral on Chinese social media on Wednesday, saying the water was the same used by the attacker, and available at only 1.075 yuan per bottle.
Responding to Chinese media reports, Suning said the ad was a result of an individual employee's behaviour and not official company material and it was investigating the matter.
Elsewhere, one enterprising vendor posted an ad for a T-shirt with an illustration of the incident on the front, along with Li's response to the attacker "What's your problem?" A keyword search for Robin Li on Taobao, Alibaba's online retail marketplace, show various clothing products depicting the event.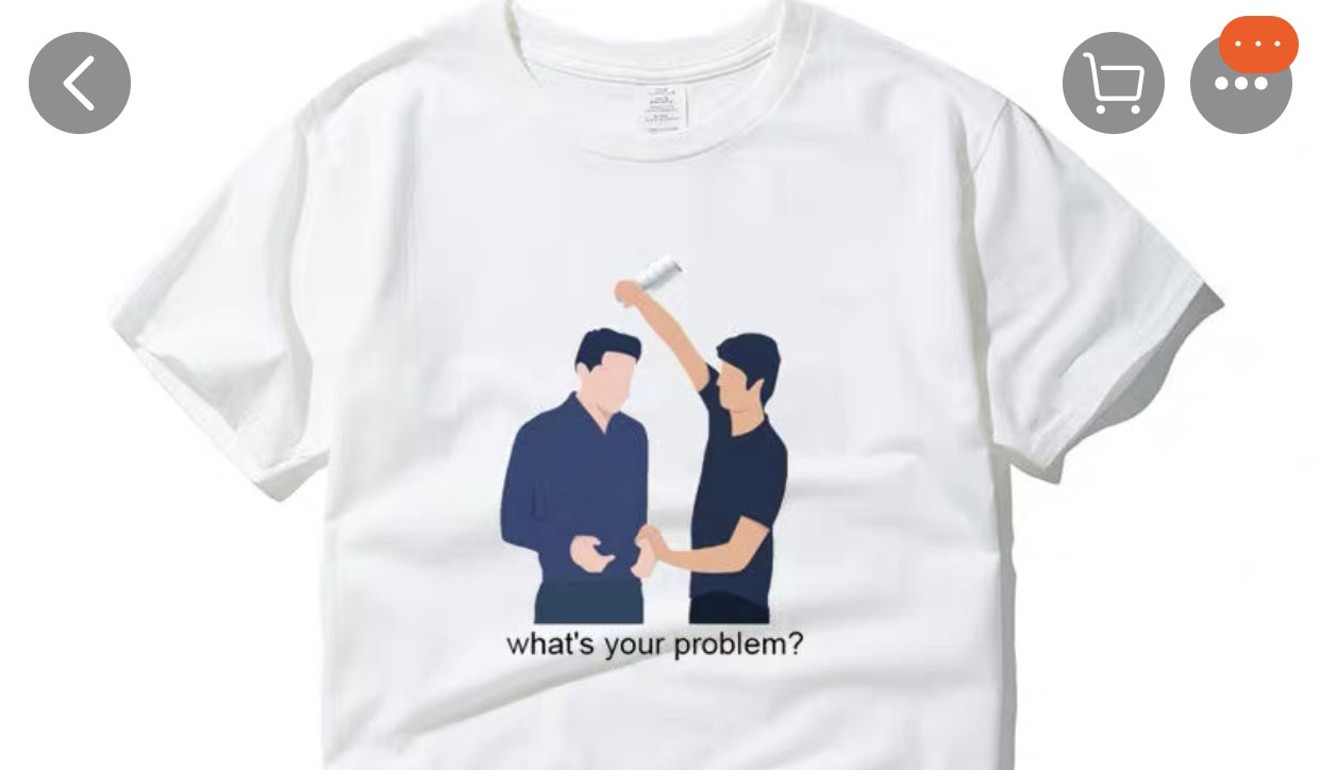 The sharp-dressing Li also appears to have won over more admirers following the incident, with a number of social media posts praising his cool demeanour and immaculate appearance, even after being drenched.
"My reaction after watching the video clip is that Li is quite handsome," said a Weibo user named "Yonghu5638290564" on Thursday, one day after the incident.
"All I can say is that Li is so handsome and speaks great English," said a Weibo user named "Xiyuhuan". "If you marry, you should marry Li," added the post.
The stunt overshadowed the company's showcasing of its latest AI technologies, including four new smart speakers, and the announcement of a strategic partnership with Geely Holding Group under which some of the Chinese carmaker's vehicles will be equipped with Baidu's DuerOS for Apollo, to power connected car solutions.
Baidu also said it will launch the country's biggest robotaxi fleet in Changsha, capital of Hunan province, with users able to hail a self-driving ride enabled by Baidu's autonomous driving and intelligent road infrastructure technologies.
"We feel angry about what happened at today's Baidu Create event, and strongly condemn the perpetrator's behaviour," the company said in a statement on Wednesday evening. "If our society tolerates such extreme acts, then every conference and event might encounter copycats [of this perpetrator], and everyone exposed at public events might be under attack."
It is not the first time that a tech leader has been confronted on stage.
At Amazon's Re: Mars conference in Las Vegas in June, a protester rushed up on chief executive Jeff Bezos as he was engaged in a "fireside chat" interview with Amazon's Director of Forecasting, Jenny Freshwater.
The protester was quickly apprehended by a security team after she shouted to Bezos that she had been inside of Amazon-affiliated chicken farms. Bezos also reacted in a calm manner, saying "Where were we?" before resuming the discussion.
More from South China Morning Post:
For the latest news from the South China Morning Post download our mobile app. Copyright 2019.