PETALING JAYA: In the heart of a rapidly developing coastal region in Johor, one organisation is standing as a beacon of hope for the environment and the communities that call it home.
Kelab Alami, an environmental education club, has been on a remarkable journey since its inception in 2008 with a profound mission of empowering local communities and bridging the gap between developers and the environment.
The club's journey began as a humble initiative to educate children from fishing villages in Tanjung Kupang about the richness of their natural surroundings, says its co-founder and principal advisor Dr Serina Rahman.
"Our whole purpose is to help the youths realise that the things they see (biodiversity at Tanjung Kupang) all the time is special.
"We want to share this knowledge with the children and give them a scientific structure to it.
"They already knew a lot from young as children of fishermen," she said.
As the local children gathered valuable data and knowledge about their natural surroundings, they unintentionally became the environmental conscience of the region.
Developers who were eyeing the area for growth soon recognised the importance of the youths' insights.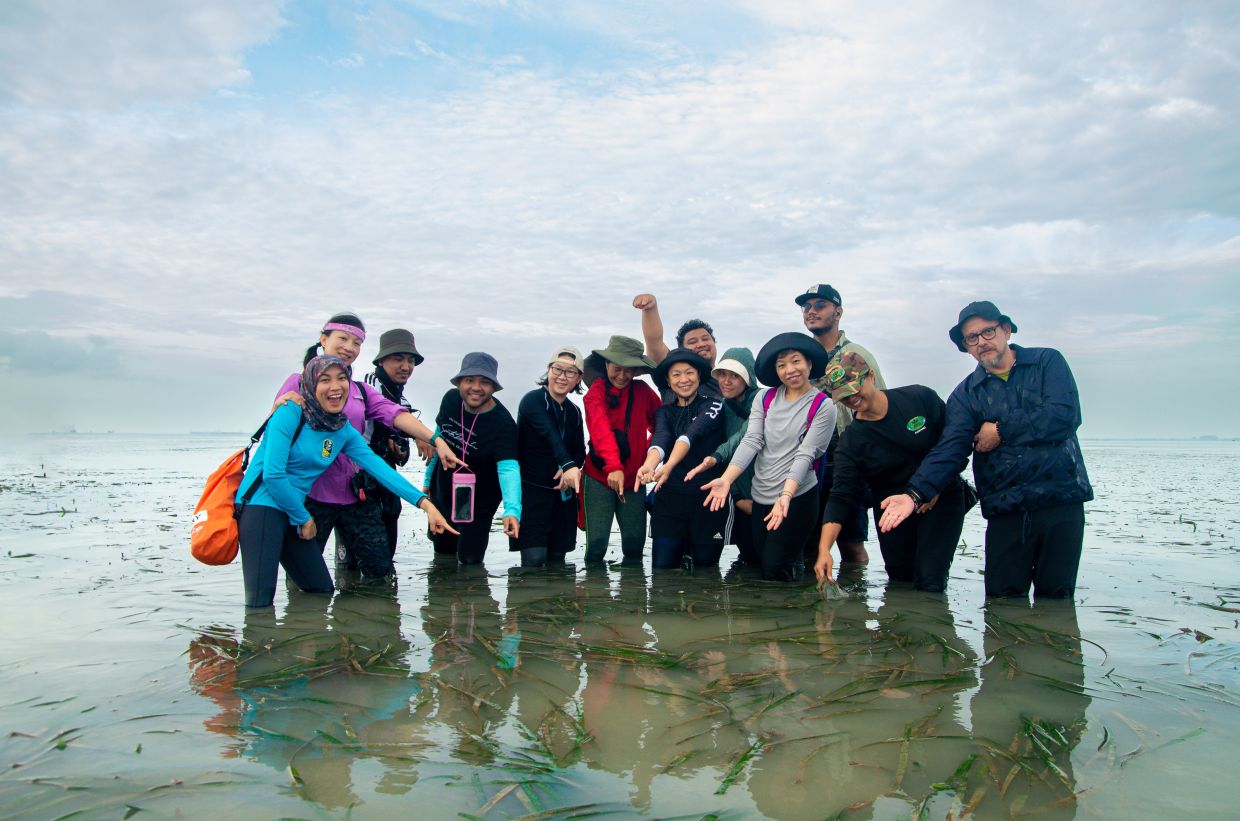 Contemporary gamelan ensemble, Rhythm in Bronze had an immersive seagrass experience as part of their research for their recent performance Seruan Setu: Secret Gardens of the Sea. Photo by Michelle Yip
Serina said during meetings between developers and the local community, these young citizen scientists played a vital role by providing crucial information about the biological coastal habitat of the region.
In 2014, as development in the area escalated, Kelab Alami's objectives evolved.
She said the head of social development at IRDA (Iskandar Regional Development Authority) advised them to take a more proactive approach in participating in the development process, emphasising the importance of community involvement.
Dr Serina Rahman (sitting left) teaching postgraduate students from the National University of Singapore about the importance of seagrass meadows. Photo by Tenn Joe Lim
"We were told to build a community that would be able to speak to stakeholders about the habitats, to engage with them, to make sure that they get to participate in the development and get alternative incomes from it to continue researching and studying the environment.
"So that was how it began. Then, it went through many cycles. Eventually, we established a good rapport with the developers all around us," she added.
Serina said the club has also successfully established relationships with developers such as Forest City and other stakeholders in the region.
The club members have become a bridge between the community and those who aim to make changes in the area.
Through their efforts, Kelab Alami has managed to generate substantial awareness about the uniqueness and importance of the coastal habitat.
Their work has attracted volunteers, interest from universities and positive relations with businesses in the region.
Throughout the years, Kelab Alami has also garnered a number of recognitions from local and international organisations which include Iskandar Malaysia Social Hero Award for Environmental Preservation in 2014 and 2016, securing grants from Johor Port Authority and French Embassy in Malaysia, among others.
Dr Serina Rahman (third from left) explaining seagrass fruit to the guests during one of the excursions. Photo by Michelle Yip.
Serina also said with the grants that have been awarded to the club, it would help them to further sustain their good efforts, especially in terms of expanding their human resources.
She said Kelab Alami is also conducting several other initiatives to ensure a steady flow of income such as organising edutourism.
"We do curated field trips for individuals and schools. Since I'm also a lecturer, we are able to provide coaching sessions while also bringing university students down to learn things.
"We're in a unique position in which we can teach and offer training to corporations as well," said Serina, who is also the Malaysian Ambassador for Citizen Science Asia.
For its efforts, Kelab Alami is named as one of the 10 winners of the Star Golden Hearts Award 2023.
Subscribe now to our Premium Plan for an ad-free and unlimited reading experience!