GEORGE TOWN:Penang's newest ferry service began on Monday (Aug 6) with the arrival of Teluk Kampi at the Raja Tun Uda ferry terminal on the island carrying its first batch of pedestrians and two-wheelers.
On board the ferry were Chief Minister Chow Kon Yeow, Penang Port Sdn Bhd (PPSB) chief executive officer Datuk Sasedharan Vasudevan and Penang Port Commission (PPC) general manager V. Vijayaindiaran.
Chow and his entourage arrived at the terminal at 6.45am after boarding the ferry at the Pengkalan Sultan Abdul Halim terminal on the mainland at 6.35am.
Speaking at a press conference, Chow said the 10-minute ride is ideal for commuters going to work with Rapid Penang buses waiting outside the terminal.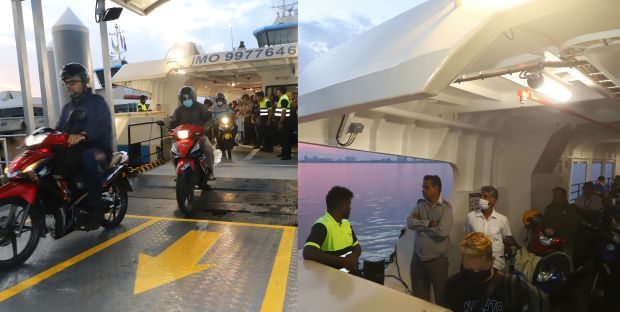 "It is definitely more efficient and comfortable than the iconic ferries, with a total makeover reflecting the modern era of sea travel," said Chow.
The ferries will operate from 6.30am to 9.30pm every day, and rides will be free for a month until September 6.
Three ferries will be operating daily with one on stand-by.
Other than Teluk Kampi, the other three ferries are Teluk Bahang, Teluk Duyung and Teluk Kumbar.
Subscribe now to our Premium Plan for an ad-free and unlimited reading experience!