PUTRAJAYA: Former premier Datuk Seri Najib Razak cried foul over the Court of Appeal's decision to uphold his conviction, saying that a fair trial was not accorded to him.
Najib, who spoke from the dock, also said he was not given the opportunity to explain his circumstances regarding the need to request an adjournment on his SRC appeal case.
"It is said that the accused is the most important person in the criminal court, yet I somehow feel mistreated and I feel a fair trial was not accorded to me.
"I plead that no offence is taken for what I've said and it's simply coming from my heart.
"That's how I really feel. As an appellant at the final stage of the case, it is the worst feeling to have, to realise that the might of the judicial machinery is pinned against me in the most unfair manner," he said yesterday.
Najib claimed there had never been a time in legal history when the counsel in an appeal trial was prevented from discharging himself.
The Pekan MP also said this was the first time an adjournment of four months was requested, compared to other cases where the courts allowed adjournments as many as 70 times.
"I take responsibility for decisions pertaining to my representation. But I genuinely thought they were sound decisions at the time based on my solicitors and external counsel's advice.
"Now, it seems to be adversely interpreted against me by this honourable court if an appellant similarly placed in my position cannot rely on his lawyers' advice and is punished instead; fair trial and the rule of law seem to me illusory," added Najib.
He said his previous lawyers at Shafee & Co had done well representing him over the past four years.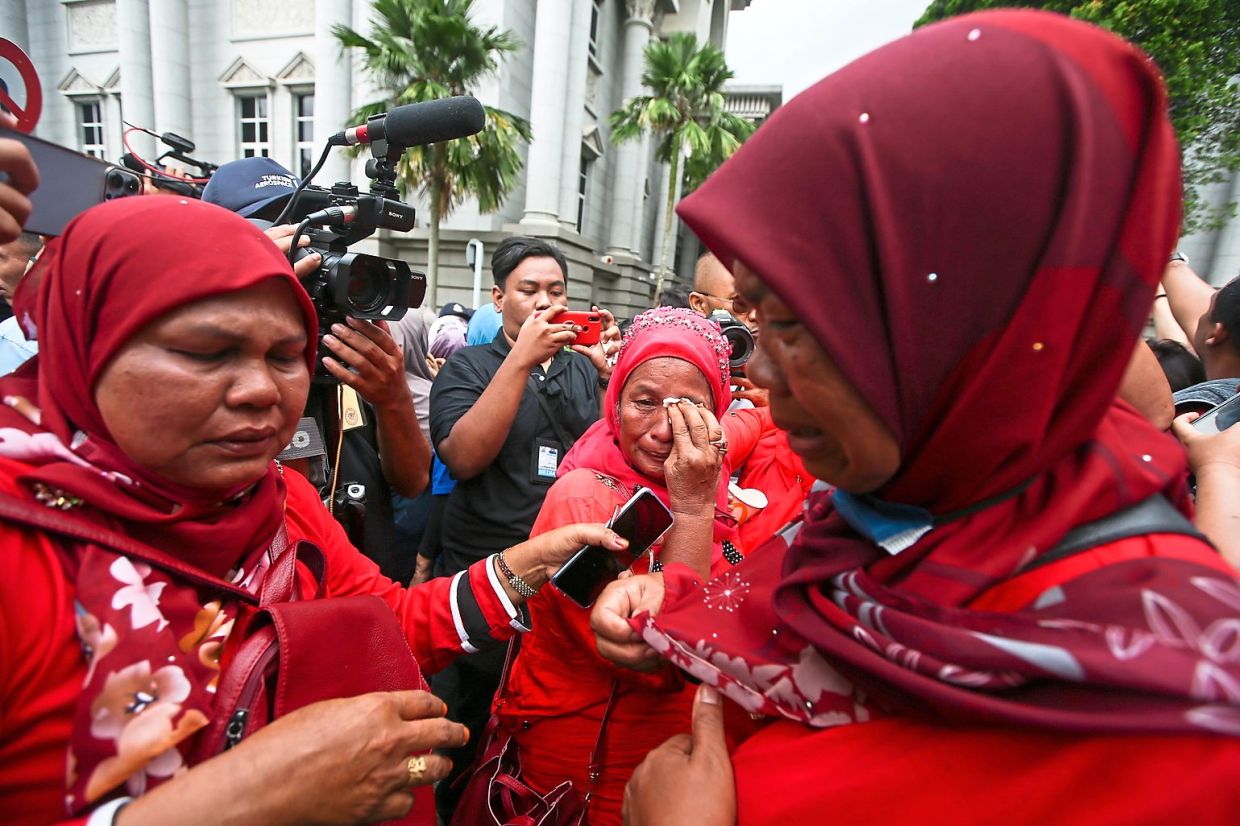 Tears of fear: Najib's supporters crying after listening to his short speech outside the Palace of Justice before the verdict. — IZZRAFIQ ALIAS/The Star
Despite their "valiant" efforts, he lost both his trial and appeal for the SRC International case, altthough he said the defeat was not due to the lack of merit in his defence.
With this, Najib said a fresh perspective on the case was needed and it was necessary to bring in new ideas for his final appeal on the case.
His initial plan was to engage Queen's Counsel (QC) Jonathan Laidlaw to work together with lawyers Tan Sri Shafee Abdullah and Harvinder Singh Sidhu of Shafee & Co.
"The QC came with the highest recommendations and I was confident that he would be a positive contribution to the team," said Najib.
He also noted that the QC had prepared for the hearing of the appeal on Aug 15 and that Laidlaw's fees had been paid.
"This should deliver the message to this court that I was serious with the appeal to proceed on Aug 15," he said.
However, Najib lamented that the High Court rejected the QC's bid to come on board as his lawyer on July 21.
"I was discouraged as this literally stopped the QC's preparation as the weeks that he had reserved for the appeal would be wasted and he had to resort to adjusting his busy calendar," he said.
Following the rejection of the QC, Najib said Datuk Zaid Ibrahim, who had approached him previously, proposed bringing in legal expertise from India through his Singaporean partner, Niru Pillai.
"I was advised by Zaid and Niru that this was the only way they would be afforded time to prepare for the appeal, as by practice and precedent, the court would grant time for a new team to prepare.Acting on their legal advice, I agreed to this course of action," he said.
Najib stressed that his intention was not to delay the court process but because Laidlaw's application to represent him had received strong objection from the prosecution and the Bar Council, leading to his application for QC being rejected less than a month before the appeal.
"Any team bringing in fresh ideas would need time to read the voluminous record of appeal, written submissions and applications.
"I'm not ashamed to say, I was desperate, as would any litigant placed in my situation and predicament.
"I thought what I decided would increase my chances of improving the quality of submissions at the appeal," he said.
Earlier, addressing his supporters before the court decision, Najib said he had exhausted every effort to appeal for an adjournment of the case.
"Other cases were given adjournment, but not mine," he said outside the Palace of Justice.
"My counsels were not given ... time to prepare," he added, calling for continued support from his supporters and saying that he apologised if he should fail in the appeal.
The short address was received with tears and shouts from his supporters of "Zalim! (Cruel!) Hidup Bossku!".
On July 28, 2020, the Kuala Lumpur High Court sentenced Najib to a total of 12 years in jail and a total fine of RM210mil after he was found guilty of seven charges of criminal breach of trust, money laundering and abuse of position in the RM42mil SRC International case.
Subscribe now to our Premium Plan for an ad-free and unlimited reading experience!