MALAYSIA is a country of foodies where we ask friends "Have you eaten?" as a form of greeting and often plan trips not based on places we want to see, but places where we want to eat.
But did you know that more than 64% of Malaysians eat at least one meal per day outside of home? And of the remaining 36% who eat at home, 12.5% have at least one meal that comes from outside.
So says the Malaysian Food Barometer (MFB), a recent study conducted by Taylor's University to observe the eating habits and food cultures of the Malaysian population.
"Malaysia has a very high frequency of (people) eating out. If you go to Kuala Lumpur or the countryside, you can always find people eating out," said head researcher Prof Dr Jean-Pierre Poulain, who is also the co-director of Taylor's Toulouse University Centre and the head of its Chair of Food Studies: Food, Cultures and Health.
He said that for many years, nutritional surveys had been capturing the changes in food consumption but there was no comprehensive study focusing on the socio-cultural determinants of eating habits at the national level.
The MFB aims to fill this gap and analyse the effects of social status, education level, ethnicity, gender, generation, size of the household and urbanisation on eating habits.
Prof Poulain said Malaysia is experiencing rapid urbanisation and modernisation, and the traditional ways of life and eating habits of the different ethnic communities are changing.
"I've been coming to Malaysia for more than 28 years and the gap between then and now is huge. Malaysia has achieved in one generation what Europe and North America did in five in terms of urbanisation, economic development and the emergence of the middle class.
"All of these factors have strongly changed the Malaysian food lifestyle and during this time, the country faced the development of non-communicable diseases (NCD), mainly diabetes and obesity," he said.
The MFB survey was conducted between January and May 2013 with a random sampling of over 2,000 people across the country. The participants, aged 15 and above, were asked 60 questions in 40-minute interviews in either Bahasa Malaysia, English or Mandarin.
"It was a big task but the quality of the data comes from interviewing them face to face," said the professor, adding that their goal was to create a recurrent survey that can be conducted every two years.
The MFB found that almost one out of every two meals is eaten out, which is close to the practice in the United States.
In comparison, about one out of every three meals is eaten out in the United Kingdom, one out of four in Italy, one out of five in Spain and in his native country France, and one out of seven in Germany.
"When you cook less, there are more parts of your food that you do not control. You give other people that responsibility and that's why the front-line stakeholders in fighting obesity have become the restaurants," he said.
For those eating out, diners either share several dishes with others or have individual meals.
"A total 61.5% of participants said they believe eating collective meals (meals where diners share several dishes) should be the norm. However, only 18.3% actually practised it.
"What is interesting in Malaysia is that although there is high individualisation (where each diner has his own meal), there is also high socialisation as 72% of meals are eaten with somebody else," he said.
The MFB also asked participants what food meant to them and found that the perception of food varied depending on living conditions.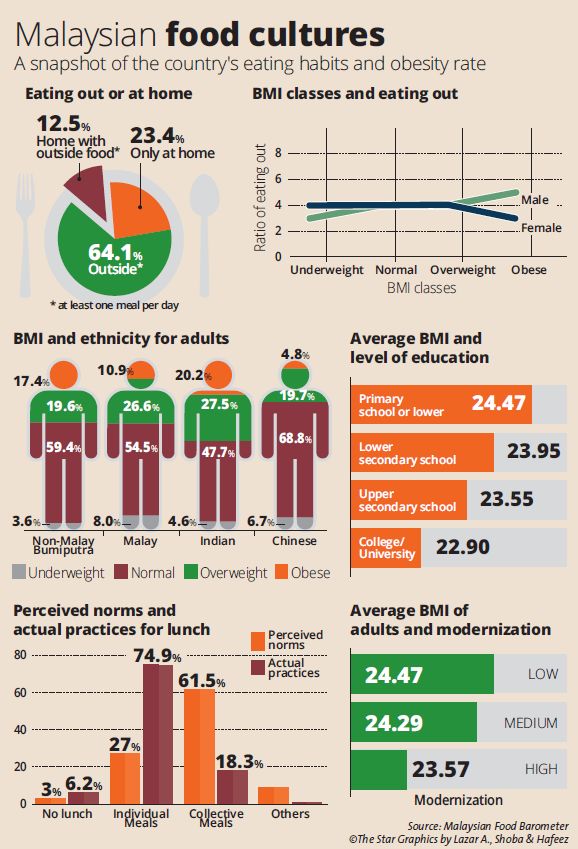 "People from areas with low modernisation define food as more of a need but people from highly modern areas call it a pleasure. We go from a basic need to fill your stomach to the expression of a social position need," he said.
Of the different ethnic groups surveyed, Indians displayed the highest average body mass index at 24.68, followed by Malays with 23.9, non-Malay bumiputras with 23.2 and the Chinese with 22.87.
"However, we must be careful with this information so as to not stigmatise people. We must declare war against obesity, not against obese people," said the professor.
"The traditional view on obesity is that it is caused by fast food and people going to restaurants but it is more complex than that.
"When we crossed the data on obesity with eating out, we found that obese men eat out more but obese women actually eat more at home."
He added that the strategy of communication in fighting obesity may not be the same for the different ethnic groups and genders.
The MFB also showed that people with higher levels of education were less likely to be obese than people with low levels of education. Similarly, people from highly modernised areas were less likely to be obese than people from areas with low modernisation.
Taylor's University Dean of School of Hospitality, Tourism & Culinary Arts Neethiahnanthan Ari Ragavan said the MFB was important because understanding the food cultures of a population is the first step to tackling obesity.
"If you don't know the eating cultures, social habits and the psyche of the people, you cannot just assume the best way to educate them.
"Through their eating cultures, you will be able to see what contributes to obesity. Then the education strategy for nutritional food habits can come in to fight obesity," he said, adding that they had presented their findings to the Public Health Nutrition Department.
The MFB researchers concluded that nutrition programmes developed in Europe and the US cannot be transferred here without the risk of socio-cultural resistance and counter-productive effects. Instead, public health messages must be adapted to the cultural and socio-economic contexts in Malaysia.
"Currently, the nutrition programmes here are generic in that they hit everybody – the young and old, the rural and urban," said Neethiahnanthan.
"Our findings suggest that this kind of campaign is counter-productive and is not going to work. But based on these findings, we can design a nutritional programme targeted at different groups with different messages.
"Also, because eating out is so prevalent in Malaysia, there's a need to provide education programmes to restaurant operators and food service businesses because they will contribute to obesity if they do not produce healthy food. The government doesn't run this kind of programme at the moment."
Neethiahnanthan added that Taylor's University had a social responsibility in fighting obesity and could play a central role in the cause due to their strong ties with the industry.
"We have more than 10,000 students who have graduated from the school over the last 28 years and are now working in the hotel and food service industry," he said.
"We can play a role by training our students to be responsible in food production and also by educating the industry."
Related story:

Too much hassle to cook
Join our Telegram channel to get our Evening Alerts and breaking news highlights