SELANGOR started its Rumah Selangorku (RSKu) housing scheme in 2014 to ensure low- and middle-income earners in the state can afford to own homes.
The scheme, although noble, has been manipulated by unscrupulous individuals to make a profit.
Successful RSKu applicants were found to have abused the terms and conditions of the agreement, which clearly state that the units cannot be rented out and can be sold only after five years.


Another heavily advertised property is Asteria Apartment in Bandar Parklands, Klang, which is under the RSKu scheme.
StarMetro's investigation has revealed that RSKu schemes statewide show that at least 10% to 20% homeowners have rented out their units to third parties, while in some areas in Klang and Kajang, it is 30%.
Real estate agents have also cashed in on the situation by offering the owners attractive rental rates.
Hot property
Klang councillor Lee Fu Haw said the programme, created to help the poor, has become a money-making scheme that was brazenly advertised on the Internet.
"These individuals have no qualms about renting out their units and they are openly advertising on social media, " he said, adding that more units were being offered for rent on various property websites and online market platforms daily.
"I have been monitoring the issue for some time now and the numbers are growing each day. I am appalled at how some selfish individuals are cheating the system, '' said Lee.


Lee says the housing scheme, created to help the poor, has become a money-making scheme.
A check online showed that agents are indeed advertising units on behalf of owners, offering rent between RM1,000 and RM1,500 per month depending on the location.
Lee, who owns an RSKu unit at Apartment Trifolis in Bukit Tinggi, Klang, said he received calls every day from people desperate to own units in Rumah Selangorku, and agents were pushing to find out if he knew any potential tenant.
Another RSKu homeowner, Khairul Nizam, said he was baffled as to how the agents got his contact number.
"I am also concerned that with outsiders renting the units, the place will become dirty and messy with facilities breaking down faster from rough use.


Spacious rooms and affordable prices are the reasons why RSKu units are much sought after.
"Rumah Selangorku was intended to help low-income earners buy a home, it was never meant to be an investment scheme. This is wrong, '' he added.
Lee added that when he told the agents they are not allowed to rent out the units, the agents told him they have "contacts" with the authorities and would not be investigated.
Lee and other residents raised the matter with the authorities, but no action had been taken against the culprits.
Good intentions
RSKu was initiated by the Selangor government in 2014 with the aim of delivering affordable homes to deserving citizens within the state.
There are various housing schemes that come under the RSKu programme.
Developers are required to build a stipulated number of affordable housing units in their development.
The programme promotes a variety of unit types all over Selangor, depending on the applicant's preference and income level.
RSKu has five categories – A, B, C, D and E.


A bedroom of the Type D unit in Trifolis Apartment.
For type A, the maximum household income of an applicant should be RM3,000, while for the other types, the maximum household income is between RM3,001 and RM10,000 a month.
For stratified properties, Type A costs RM42,000, Type B (RM100,000), Type C (RM150,000), Type D (RM200,000) and Type E (RM250,000).
The waiting list for Type A units is the highest.
Units mostly rented out are Type C and D.
Qualified applicants are required to sign a declaration that the unit will be for self occupation only and cannot be rented out.
Other terms and conditions state that the applicant cannot be already owning a property, and successful applicants cannot sell their unit within five years.


Chang says if enforcement is lax more people are going to abuse their privileges.
However, the declaration they sign is not a sworn statutory declaration, but a mere guideline that does not come with punitive action.
"The law should not be seen as an ornamental piece that can be ignored, where the chances of wrongdoers getting away by renting out the units is high, said National House Buyers Association (HBA) secretary-general Datuk Chang Kim Loong.
"And if enforcement is lax, more and more people are going to abuse their privileges, so it is crucial that something is done about it and quickly, '' he added.
Bukit Gasing assemblyman Rajiv Rishyakaran concurred with Chang, saying the government should make it a law to stop owners from renting out units.


Rajiv says Parliament has to enact laws to make it clear that units cannot be rented out and state the penalty for doing so.
"I urge KPKT (Housing and Local Government Ministry) to make this a law so that it can be enforced.
"We are also studying if the state has such legislative powers but this does not seem likely, so Parliament has to enact such laws to make it clear that units cannot be rented out for five years or so and specify the punishment if they do it, '' he said.
Since the RSKu was launched seven years ago, 23,509 people have managed to buy the units.
However, the waiting list (to buy units) registered by the Selangor Housing and Property Board (LPHS) currently stands at 56,782.
This staggering number raises questions about who is really benefiting from Selangor's initiative to help first-time homeowners.
Waiting list
Sharon (not her real name), a marketing executive who lives in Taman Sentosa Klang, has been on the waiting list for a unit in Apartment Trifolis since 2017.
But the 29-year-old's application was rejected by LPHS, not once but twice.
The marketing executive who takes home a monthly income of RM4,500, was very disappointed as she wanted a unit close to her workplace.


An online search shows property agents pushing rental for Apartment Trifolis units.
"I qualified in every aspect as per the LPHS requirement, but was rejected based on the fact that the quota (for Chinese applicants) was already full, '' said Sharon, who currently lives with her parents.
Similarly, Sherina Lim, 31, also applied for a unit in Klang in 2016, and is still waiting for a response from LPHS.
"My income of RM4,000 per month is barely enough to survive, let alone afford an apartment outside the scheme. Rumah Selangorku is the only property that I can afford, '' said Lim.
On the other hand, Jarod (not his real name) qualified for a unit in Klang, which he has rented out to a couple.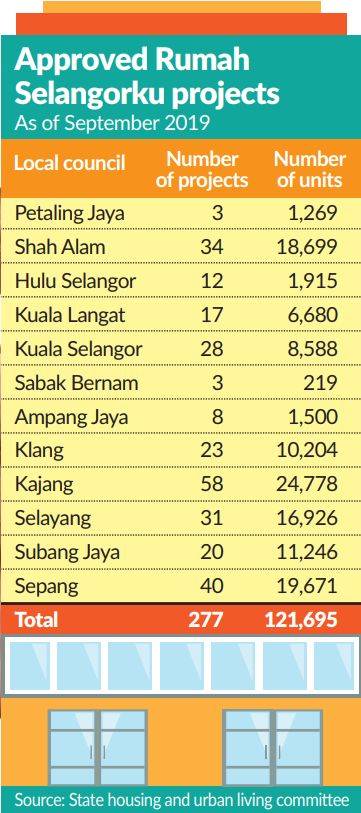 The young engineer continues to live with his parents in Shah Alam.
Similarly, Mohd H (not his real name) just listed his fully furnished apartment in Klang as a homestay on Facebook for RM189 per night.
Jarod and Mohd have no qualms about renting their units even though they know that it is against the rules.



"I am not the only one doing it (renting out). The way I see it, I bought this place and it belongs to me, so I can do whatever I want, '' said Jarod.
Like Jarod, hundreds others in Selangor have properties under the name of their parents, siblings or spouses, but have bought RSKu units for investment.
Useful scheme
Critics of the scheme say the state government has missed its mark by helping a certain group of homeowners while barely doing anything for the targeted group.
However, Rajiv disagrees that the scheme is a failure.
"I will not say that it has failed its target.
"The Selangor government is on track with its targets.
"We urge them to do more as the demand for affordable housing is high.
"But clearly the laws need to be in place for the system to work, '' he said.