Designer Alessandro Michele caused quite a stir recently when he announced his departure from Gucci. Having helmed the fashion house since 2015, he is a favourite the world over.
During his tenure as creative director, he managed to turn around the fortunes of Gucci. He is said to have successfully rebranded it with his young, cool and off-kilter designs.
As of now, Gucci has still not announced his replacement – leading to predictions of how the label will soon witness turbulent times in terms of sales.
Michele's widespread appeal among fashion consumers is not his only strong point though. He is also a preferred choice with celebrities. His designs regularly make headlines when worn by some of the biggest stars in the entertainment industry.
Read more: Alessandro Michele leaves Gucci after successful run as creative director
At this year's Met Gala, the designer and actor Jared Leto dressed up in identical Gucci suits. Leto is, of course, a Gucci ambassador (and muse) – but to go "twinsies" at a red carpet event is a mark of true personal friendship.
"I never really wore Gucci. I never did," Leto told GQ back in 2016.
"Alessandro has really done the impossible. He's taken this classic brand and really turned it completely around and taken it in a direction that was so unexpected."
At the 2019 Met Gala, British singer-songwriter Florence Welch wore an elaborate lace gown and cape. The design by Gucci had a medieval fairytale-like feel to it but with a quirky aesthetic synonymous with Michele.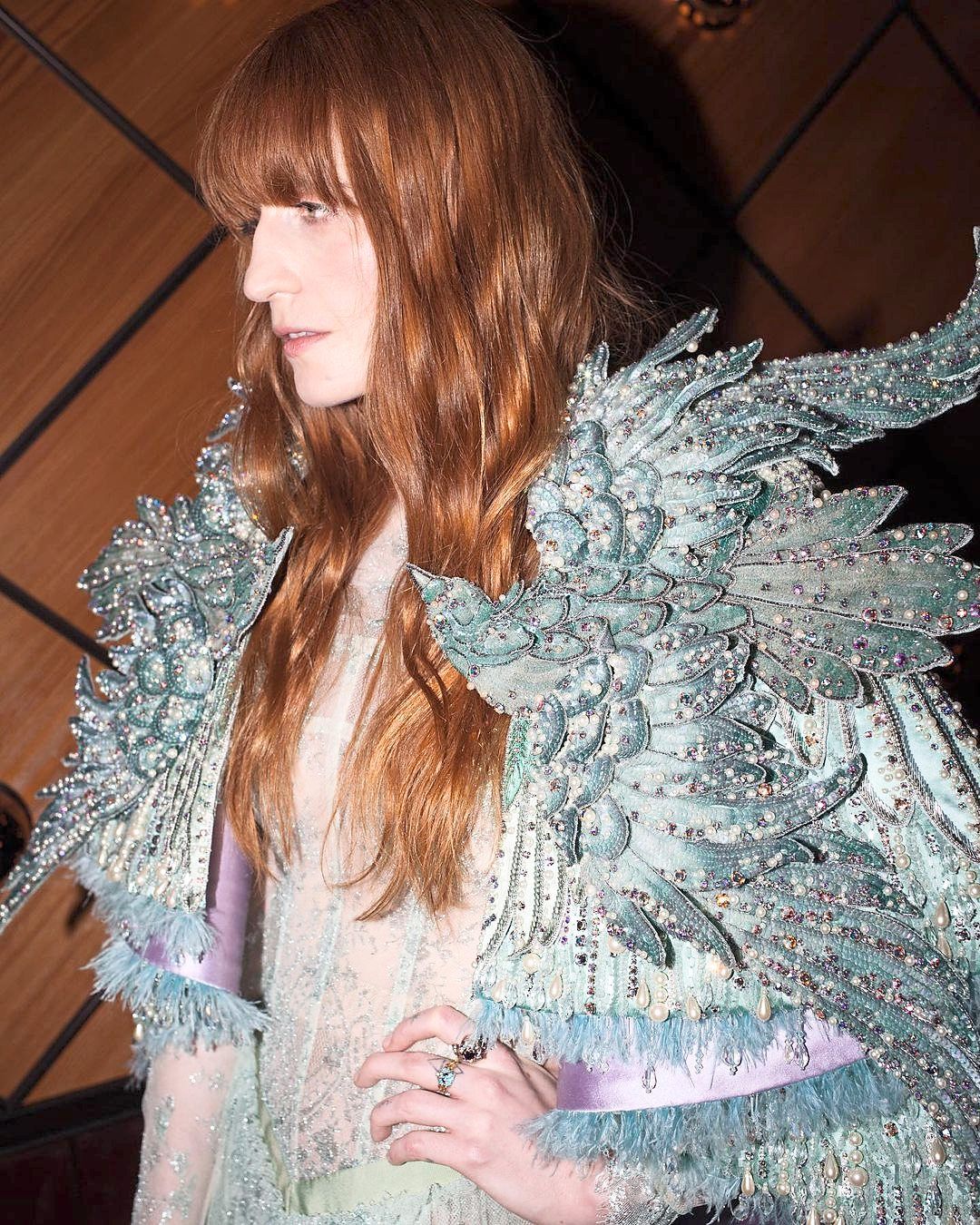 The designer is known for his quirky sense of style, which can be seen in this design for Florence Welch. Photo: Instagram/Gucci
Mega pop stars like Harry Styles even collaborated with him when he was with Gucci. Photo: Gucci
Of course, there is no forgetting pop superstar Harry Styles when talking about the designer. The two are said to be long-time friends. Apart from being decked in Gucci for red carpet events, Styles even collaborated with Michele to release a Gucci collection in June this year.
Called Ha Ha Ha, it combines their first names: Harry and Alessandro.
"Harry has an incredible sense of fashion," Michele told Vogue at that time.
"The idea of working together came to me one day while we were talking on the phone: I proposed creating a 'dream wardrobe' with him... We ended up with a mix of aesthetics, from 1970s pop and bohemia to the revision of the image of the gentleman in an overturned memory of men's tailoring."
Michele's ability to resonate with the younger generation is something of a valuable asset – especially in times where luxury fashion houses need to capture the Gen Z market.
When he dressed Billie Eilish for the Grammy Awards in 2020, social media had a meltdown. The performer had a more avant-garde and edgy look back then.
Billie Eilish's Grammys outfit by Alessandro Michele in 2020 will forever be remembered. Photo: Instagram/Gucci
He can do glamorous gowns too, as seen in the design worn by Jessica Chastain to the Oscars. Photo: Instagram/Jessica Chastain
She was spotted dressed head to toe in Gucci. Her outfit comprised an oversized bowling shirt and pair of pants, plus embroidered turtleneck. She even accessorised with a Gucci facemask, sneakers, jewellery and gloves.
Read more: Alessandro Michele's abrupt departure may lead to turbulent times for Gucci
Eilish went on to take home four Grammy awards that night – and what she wore will forever be remembered.
All that said, Michele can also do glam. He has created countless sophisticated and chic gowns for events like the Oscars.
For example, actress Jessica Chastain wore a breathtaking gown designed by him for the red carpet event this year. She won a "Best Actress" Oscar during the outing.
That only goes to show that Michele is not a one-trick pony. His versatility in changing up his aesthetics is what that has endeared him to a lot of celebrities – and it is no doubt that the fashion industry will not see the last of him.
Subscribe now to our Premium Plan for an ad-free and unlimited reading experience!