Former The Star Wheel Power columnist Anthony Thanasayan, 63, passed away at 11.58am on Tuesday of septic shock at Universiti Malaya Medical Centre in Petaling Jaya.
The president of Petpositive, an animal-assisted therapy association for the disabled and elderly, was hospitalised for lung infection for nearly two weeks.
He will be remembered for highlighting issues faced by the disabled, often drawing on stories from his personal experiences, and advocating for the disabled.
He served as a Petaling Jaya City Council (MBPJ) councillor from 2008 till 2013.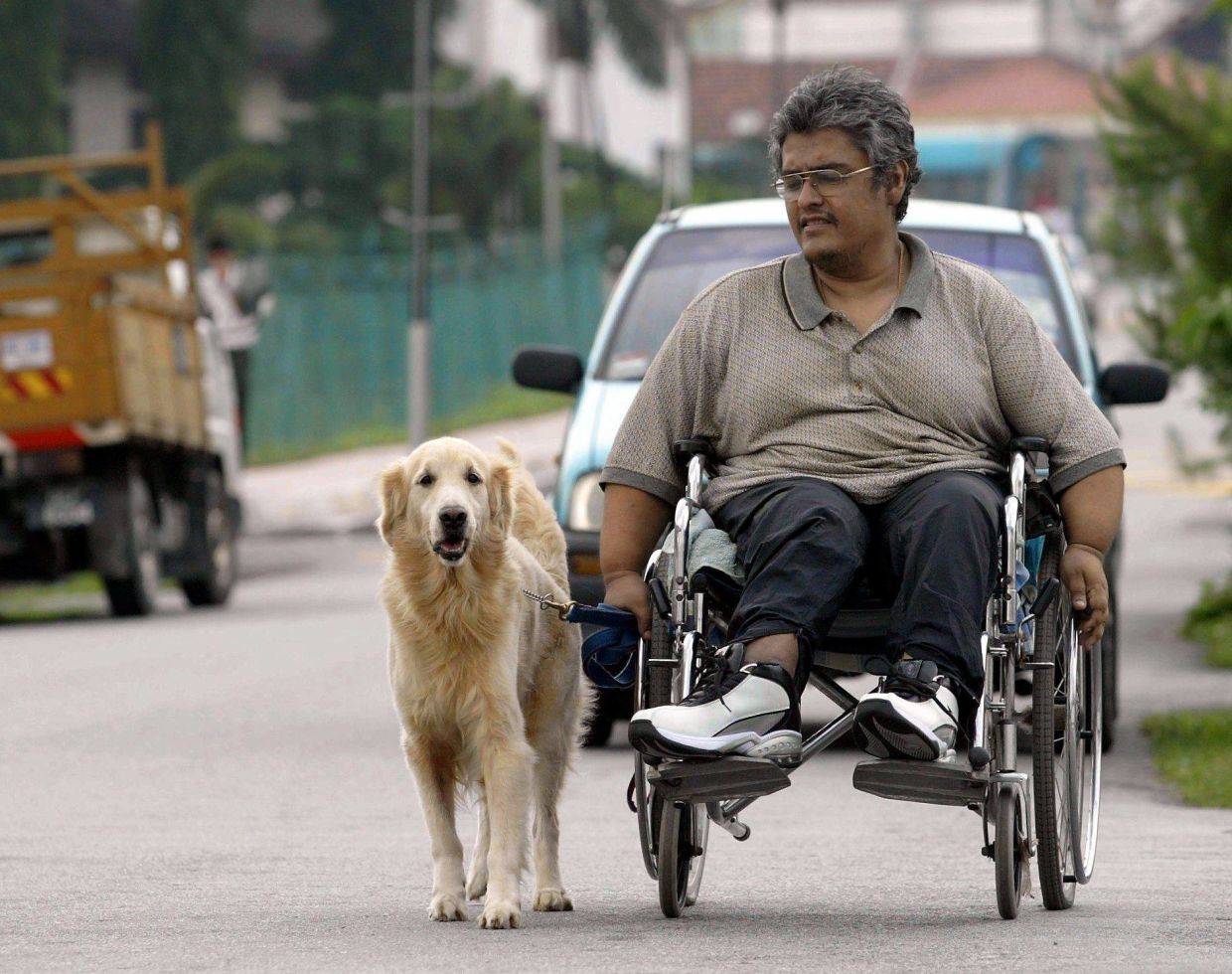 Thanasayan was well known for his Wheel Power column in Star2. Photo: Filepic
Derek Fernandez, 58, a lawyer who is a local government and planning law expert, was deeply saddened by his passing. He had known Anthony since 2008 when they were both councillors.
According to Fernandez, many of the policies in MBPJ relating to universal user design and disabled car parks and facilities were due to him.
"Anthony was a fighter, because of his sheer will to want to make things better for the less able in society. He taught me to look at things differently, for which I am eternally grateful. He made me realise that we will be disabled one day, some more than others, but all of us will be disabled one day.
"Anthony was larger than life and never walked away from a fight, sometimes with political parties who far outnumbered him. He even fought for animals and was a strong advocate for ethical pet ownership and animal rights . His approach to these complex issues sometimes made him cross swords with other activists, but he did so with honesty and integrity. He has made his mark in MBPJ as a champion for animal rights. Anthony was above all my friend and always stood up for the right thing regardless of what others felt. I will miss him dearly."
Thanasayan was a storyteller for the disabled community. Photo: Filepic
A. Asohan, senior news editor at The Star and formerly its technology editor, says Thanasayan was among a group of people with disabilities (OKU) who led protests against Telekom Malaysia Bhd (TM) in the mid-1990s when the Internet was first made available to the Malaysian public via Mimos' Jaring – also Malaysia's first Internet service provider (ISP).
"This came after TM had announced time-based charges for local calls. Since Jaring's Internet access services rode on TM's telecommunications network, that would have meant users in Malaysia would have had to pay 10sen per minute for their Internet access. Tech industry analysts argued that this would have killed off Internet use in the country.
"The OKU group and other activists had a series of dialogue and engagement sessions with TM and the then Energy, Communications and Multimedia Ministry before the telco giant finally relented and rolled out its '1511' number for Internet users, where there were no per-minute charges. Later, its eyes now open to the potential of the Internet, TM would introduce its own ISP, TMnet."
Independent Pet Adoption Network founder Sherrina Krishnan was shocked to hear about Thanasayan's death.
"He was a determined activist for the many causes he believed in. With his individual vision, he followed his own path but achieved as much as possible for the things he cared deeply about. We send our condolences to his family, friends and loved ones, especially his dogs.Condolence messages are beginning to pour in on social media."
Others who shared their condolences about his passing included Naomi Samson who posted on Facebook: "Just got news that my good friend and brother Anthony Siva Balan Thanasayan has passed on. May he be free from all pain and sickness. May your soul rest in peace in the bosom of your heavenly father and rise in glory."
Subscribe now to our Premium Plan for an ad-free and unlimited reading experience!