One of the most unique places you can visit in Scotland is Orkney, an archipelago of over 70 islands in the far North, of which only 20 are inhabited. It is a land that is full of history, culture, beautiful windswept landscapes, and most importantly (for this column at least), great whisky.
There are only two single malt whisky distilleries in Orkney, one of which is Highland Park, which, by virtue of its location, lays claim to being the northernmost distillery in Scotland.
However, as I found out during my visit to Scotland a couple months ago, it's not just its location that makes Highland Park unique.
Founded in 1798 by an illicit (at the time) distiller named Magnus Eunson, Highland Park is located in the city of Kirkwall, and is known for a sweet peaty whisky, with smoky, honey flavours, and matured in sherry casks.
Visiting Highland Park was a completely unique experience compared to what we saw at Macallan and GlenRothes earlier in our trip. But before visiting the distillery itself, we were first taken for a tour around Kirkwall, an experience that was crucial to understanding the whisky itself.
Orkney is one of the most unique places you could visit in Scotland.
Our tour began with the Hobbister Moor peat fields where Highland Park gets most of its peat from. This was the first indication of just how different Orkney and Highland Park are compared to many other parts of Scotland and its whisky distilleries.
Orkney's location is such that it is exposed to a relentless barrage of winds which, according to the Highland Park website, can "frequently reach speeds of over 100mph in the winter". Because no tree can ever survive this onslaught of winds, the moorland peat here does not contain wood, unlike peat from other parts of Scotland.
It is, however, rich in heather, which gives rise to the aromatic, floral smokiness of Highland Park's whisky. As they say, "unrelenting winds make for unbelievable whiskies".
Hobbister Moor, where the heather-rich peat used in Highland Park whiskies is collected.
From Hobbister Moor, we move on to visit some of Orkney's most famous sights, among them the "Heart of Neolithic Orkney", a Unesco World Heritage Site that consists of a group of Neolithic monuments that are over 5,000 years old.
Another major historical and cultural aspect of Orkney is its connection to the Vikings, who came to Orkney early in the 9th century, from the shores of Denmark and Norway. Orkney then became part of a vast Viking kingdom ruled by a succession of Viking Earls from around the year 800 to 1468.
At "only" 225 years, the history of Highland Park is like a child compared to its prehistoric and Viking ancestors. But it is also a distillery that draws a distinct character from the history surrounding it.
As we walked through the front gates of the distillery, the first thing we noticed was the traditional pagodas of the kilns, and the strangely comforting and laid-back sense of homeliness that was not present in some of the more modern distilleries we'd visited.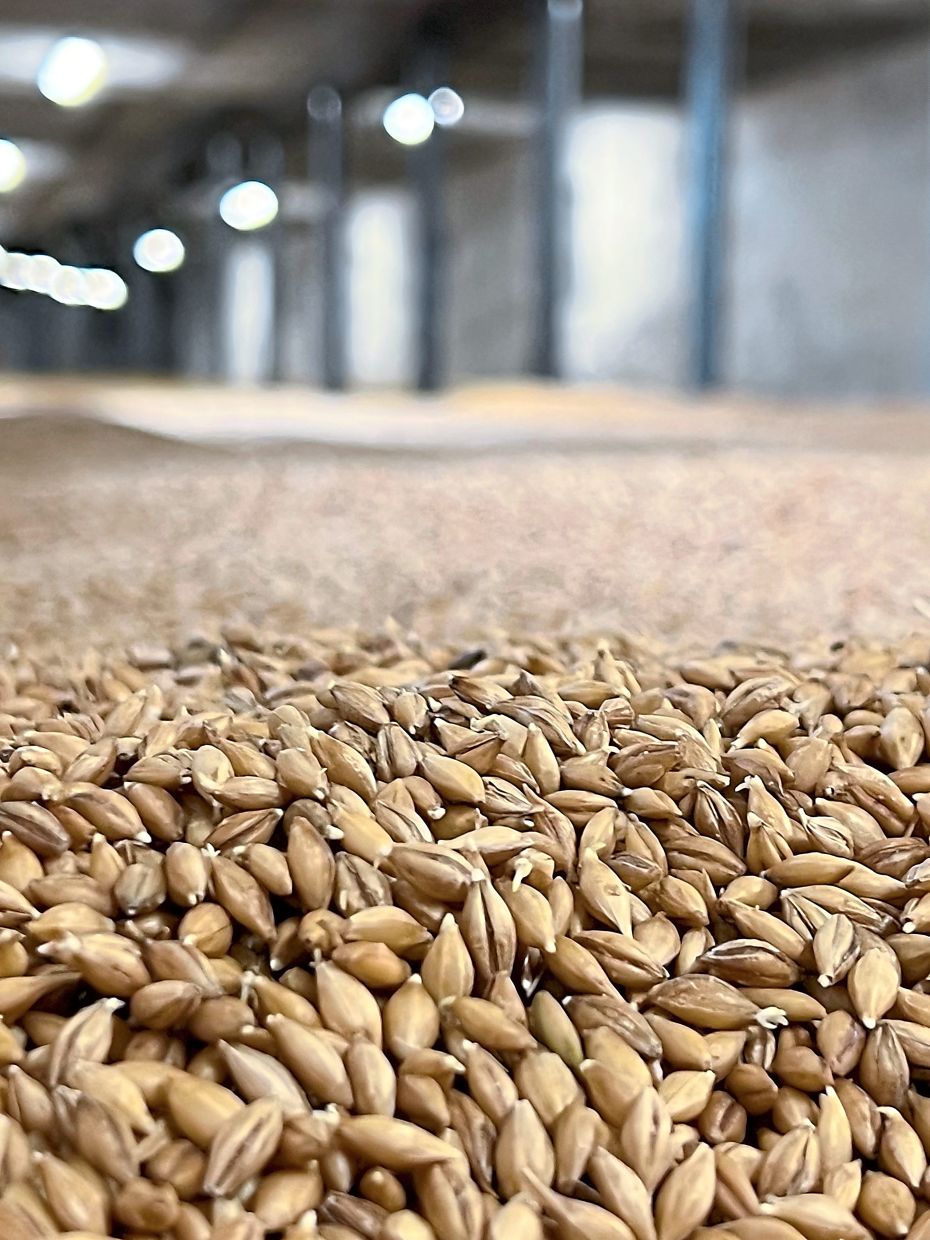 Highland Park is one of the few distilleries that still hand-turn their barley on their own floor maltings.
One of the signature characteristics of Highland Park's process is using 20% peated malted barley in their whiskies. That 20% is malted right here in the distillery using the traditional method – with a floor malting that involves laying out the barley on the floor for it to germinate, turning starch into sugar that will be processed into alcohol later. Highland Park is one of the few distilleries in Scotland that still hand-turn their barley. The distillery workers hand-turn the barley over every eight hours, seven days a week.
Once the barley has been malted, it's time for the kilns to shine. Remember the peat from Hobbister Moor I mentioned earlier? Well, this is where it is burnt in order to dry the malted barley.
The distillery uses two kilns that dry out the malted barley over slow-burning hand-cut local peat. Funnily enough, the one called the "New Kiln" is actually over 100 years old, while the other has been around since the very beginning of the distillery, making it over 200 years old. Now that's dedication to tradition right there.
Highland Park's stillhouse has four stills (two wash and two spirit).
The malted barley is dried on the floor above the kilns, and absorbs the floral smoky heather notes from the peat while it is damp. Once dry, off for milling and mashing it goes, where the malted barley is milled into a dry powdery form called grist, then transferred to the mash tun where it is combined with spring water to produce "wort".
The wort is then moved to giant wooden wash backs where yeast is added and the fermentation process begins. This produces a weak beer called low wines, which is then taken to the still house for distillation.
Highland Park's stillhouse has four stills (two wash and two spirit), which doesn't sound like much, considering the epic scale of the Macallan Distillery we'd just visited a few days before. But that's just the way they like it – after all, they've been doing it for over 200 years, so why change too much?
After the hearts of the spirit run have been collected, it is then put into ex-sherry casks for maturation. During our visit, we were lucky enough to be given a dram taken directly from a barrel in Warehouse 12 (they have 23 in total), which turned out to be a 19 year old malt distilled in 2004.
Highland Park's whiskies are known for their light, floral peat and honeyed notes.
And with that, we moved on to the whiskies. Our tour also included a tasting of the distillery's core range – the Highland Park 12 Year Old, 15 Year Old, and the 18 Year Old.
The 12 Year Old is a quintessential Highland Park. "Not a single house in Orkney does not have this," our guide told us while pouring the dram. It's a true all-rounder whisky with a nose that has a perfect balance of sherry notes and sweet peat. The palate has more sweet fruits coming out, and a good long finish with fruits and hints of smoke.
Matured in ex-sherried American oak casks, the 15 Year Old has a vanilla note distinctly comes to the fore ahead of the usual floral peat, but on the palate, there are fruit cake notes, with more of the smoke permeating the sweet malty notes, that end with a delightful fruity finish with light smoke lingering in the end.
My favourite, however, was the 18 Year Old. What a sweet nectar of life this was – full of honey and sweet smoke on both the nose and palate, with a lovely bouquet of orchard fruits coming to the fore and smoke in the background.
Having tasted the whiskies, I can safely attest to the fact that Highland Park really does make truly remarkable whiskies, with that sweet peat note from the heather-rich peat forming a lovely backdrop to the sherried malt. That spirit, coupled with the rich heritage and culture of Orkney, makes this a truly unique and memorable place to visit in Scotland. Come here for the history, views, and culture, but stay for the whisky.
Michael Cheang wouldn't mind a dram of Highland Park 18 Year Old right now. Follow him on Facebook (fb.com/MyTipsyTurvy) and Instagram (@MyTipsyTurvy).
Subscribe now to our Premium Plan for an ad-free and unlimited reading experience!