THE conversation surrounding fashion and sustainability can be a confusing one.
With the global population becoming more aware about the cost of fast fashion on human beings and the environment, giant clothing retailers have no choice but to get on the sustainability bandwagon to resonate with their consumers.
So brands roll out efforts like fabric recycling where consumers can dump their unwanted clothes and exchange it for store vouchers. In other instances, they make clothes from recycled fabrics or materials, upcycling things that have been thrown away.
But whether these efforts are effective or mere greenwashing is still anyone's guess. Are those collected clothes really recycled or are they just dumped on a landfill somewhere?
Recycling textiles (especially when they are composite materials) isn't straightforward and given that modern fabrics are mostly mixed materials, recycling them is technically harder.
For Kalpana Singh, 41, who runs D'Sew Club dressmaking classes in Bangsar South, Kuala Lumpur, recycling clothes is merely "trying to solve an issue when you have made a mistake".
"Sustainability means not wasting. And not wasting means mindful buying. Sustainability also means buying something of good quality until the cost per wear is next to nothing and extending its lifespan through mending and alteration," she says.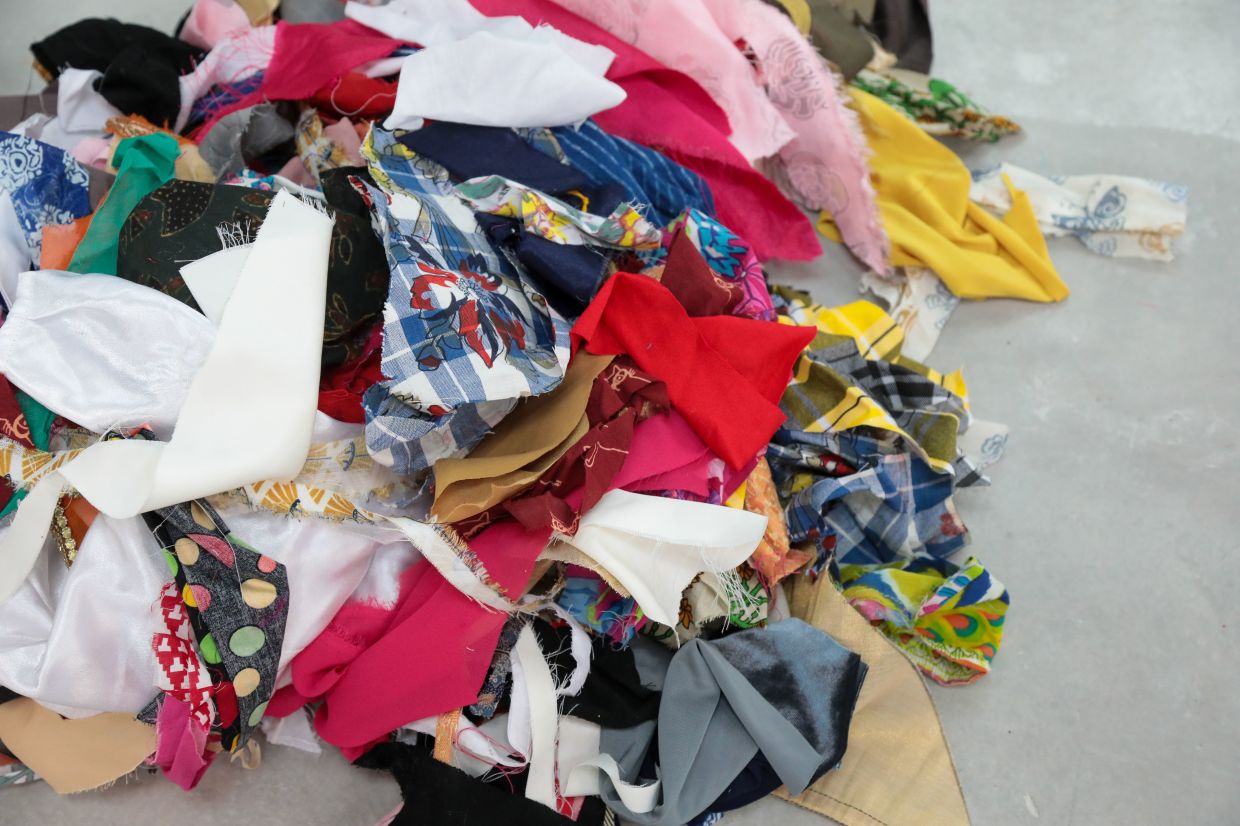 Kalpana is strict about zero-waste, so cloth remnants become small accessories like scrunchies or drawstring pouches.
On the Internet and social media, clothes mending is one of the hacks people teach or learn in an attempt to repair what they own and to reduce buying new ones. It's a small part in the big fashion sustainability topic, Kalpana says, but one that is worth knowing and practising.
"On an individual level, if you want to do something about clothes that benefit the Earth, mend and alter them and use them until the end of their lives," advises
Kalpana, who sews her own clothes and alters them when she needs to. "Once you know how hard it is to make a dress or a blouse, you will not look at mass fashion the same way again," she says.
Recently, she saw her 13-year old daughter mend both her school uniform and a hole in her socks.
"The concept of mending and altering is an attitude that's the opposite of the use-and-throw culture. It's an awareness that is sadly lacking in society," she says.
"Because we don't make our own clothes, it makes it easy for us to throw something away," she says.
Alteration, she adds, is the by-product of dressmaking skills, just like improvising a recipe is the by-product of good cooking skills.
"Once you learn how to make your own clothes, you will know how to alter them. But mending – like covering a hole on a piece of clothing, sewing a button that has fallen off, or fixing fallen hem – is easy to learn," she says.
Solving clothes' problem
Zalika Azmi, 32, who teaches sewing, specialises in alteration. She doesn't tailor clothes from scratch but helps customers "solve problems with their clothes".
"I think people should stop buying more clothes and start looking into their closet and alter what they can. Yes, it might cost a bit more but you can wear something you have had for decades, or even something that once belonged to your mother or grandmother," she says.
She says if one knows the value of alteration, one will definitely buy less clothes.
"You can literally personalise your clothes. You can re-do the sleeves, update them with a dramatic hem and the piece becomes a new one altogether," she says.
Zalika studied dressmaking at Bak's Creation, a sewing school in Senawang, Negri Sembilan, and has worked at Khoon Hooi's atelier as one of the seamstresses.
She says clothes bought off the rack are designed for the general population, but everyone is different in terms of body measurement.
Zalika says alteration allows consumers to update their clothes and add on details that they fancy.
"Because they don't fit perfectly and the material is of poor quality, eventually, they don't look good so you throw them away. And you buy new clothes and that cycle continues. The best way is to wear better clothes, but buy less of them. That's what fashion sustainability is all about."
She says it might cost RM16 to alter sleeves or between RM150 and RM300 to alter a jacket that's lined, and while it's true that consumers can get a new jacket for the price of alteration, they should also look beyond money before deciding.
"I feel that reusing and updating what you have is always better than buying something new. If you buy new clothes, you add new waste," she says.
Fashionably me
Upon finishing her studies in fine arts, Danielle Chuan, 23, took up sewing because she wanted to repurpose her old clothes to her exact specification.
"You browse Pinterest and see some interesting clothes, but you can't find them off-the-rack, of course. Sewing allows me to make my own clothes according to how I like them to look," she says.
She started learning sewing last year and hasn't shopped for clothes in retail stores since.
"Shopping is impulsive and it's easy to overconsume. But once you know how hard it is to make a piece of clothing, you understand about pricing and workmanship and it's hard to go back and buy clothes off the rack," she says.
"The fabrics are also poor. After five washes, cheap clothes may start to disintegrate. The quality is not there and they don't last hundreds of washes," she says.
Chuan says she has stopped shopping in retail clothing stores and only buy in thrift stores, if necessary.
Chuan says she likes new clothes, but she doesn't want to shop. So mending and alteration allow her to update and redesign.
"Whenever I redesign, I try to use most of the fabric to minimise waste," she says.
She has recently turned her childhood red tartan dress into a cross-body bag that she now uses daily.
"I wore this dress when I was six. I can't wear it now, but that doesn't mean I can't use it. There's a story to this bag and I like it," she says.
Chuan says she shops for clothes only at thrift stores where she looks for kimono tops because they are versatile to wear.
"Their simple cut also means that they are easy to redesign if I want to turn them into something else."
Kalpana says she practises a waste-less approach in her classes.
"All papers are used on both sides and fabric remnants are turned into pouches or scrunchies but they are not thrown," she says.
One of her students is an arts teacher in an international school, and she would come and collect fabric remnants for her students' art projects.
She likens fashion sustainability to parenting.
"Babies don't come with handbooks, but some parents do a better job than others. The same applies to reducing waste in fashion. It's about being mindful when you purchase something and investing in meaningful pieces, not fashionable things that will go out of style," she says.
Subscribe now to our Premium Plan for an ad-free and unlimited reading experience!