With Chinese New Year just around the corner, master crafter Lim Meng Kok is racing against time to complete the last of the 100 orders for handcrafted lion heads he has taken on this year.
His workshop on the first floor of a shop lot in Kepong, Kuala Lumpur, has been a hive of non-stop activity since November. But as the festivities approach, Lim is kicking things into high gear as he and his team of 10 rush to put the final touches on the sought-after creations.
Some completed lion heads, each one in different colours and designs, are hung up on the walls of the workshop, while a few unfinished ones occupy empty spaces on the floor.
ALSO READ: 30-year-old Malaysian lion head maker loves 'every bit of his job'
The workshop is packed: apart from the craftsmen and women working furiously, there are stacks of boxes and tins of poster paint everywhere. Rattan strips and aluminum wires that were used for the frame of the heads lie scattered on the floor and on cabinets.
Lim (centre) hopes to train his daughter Seow Ling (right) and his son-in-law, Kau the art of making lion heads.
Also helping Lim are his daughters Lim Seow Ling, 43, Lim Seow Meng, 39, and his son-in-law, Kau Wei Chin, 40.
Lim is grateful that his children are interested in this dying trade and are taking the initiative to learn the skills of this craft from him.
"Anyone can learn a new skill or hobby if they have the passion and commitment. I'm grateful I have a team of dedicated workers – including my family members – who are interested to learn this dying art," he says.
With only about 10 lion head makers in the country, Lim,75, is determined to pass down his expertise to the younger generation.
"Many Chinese youths aren't interested in learning the craft because they think they can't earn a good income. They assume lion heads are only sold during the Chinese New Year season. But they are wrong," he says.
Everyone has a specific task in the production of the lion heads in Lim's workshop.
"I run my business all year round, and make over 200 lion heads yearly. Half of these orders are for the Lunar New Year while the rest are for temples, Chinese associations, and special commissioned projects. I also have orders from the United States, France and Australia. If you order a lion head today, you will receive it in August," he says.
Knowing how lucrative the business could be, Lim shared that he left his job as a machine operator in a food manufacturing factory in the late 1970s to launch his business.
Today, his handcrafted lion heads are priced between RM3,300 and RM8,888.
"I used to work at an ice cream company in Bangsar. After work, I'd repair and make lion heads at home. Business was brisk, and I found it hard to cope with the orders I got. The money was good too and that prompted me to quit my job and venture into this business (full time)," shared the friendly grandfather of seven.
He is also the founder and chief instructor of Meng Kok Dragon & Lion Dance Troupe, a 40-year-old lion dance company that's based in Kepong.
Lim created these tiger heads to mark the Year of the Tiger in 2022.
Super trouper
With 45 years of experience (of making lion heads) under his belt, Lim is regarded in the industry as a master crafter. In the last five decades, he's travelled across the country, and also internationally, to give workshops on making lion heads. He's also judged lion dance championships at national and international levels. Till today, the septuagenarian continues to train the students in his troupe.
Last October, Lim was awarded the title Malaysian Lion Dance Master 2022 by the Tourism, Arts and Culture Ministry and Malaysia Lion Dance Federation.
Yellow and red coloured lion heads are popular during the Chinese New Year as it symbolises prosperity and luck. Photo: Facebook/Lo Fo Chi Enterprise"There's nothing more fulfilling than being recognised as a craftsman," he says.
"I've been crafting lion heads for close to half a century and I enjoy it very much. I am drawn to the idea of creating lion heads from scratch, and painting intricate motifs on the lion heads," explained Lim, who goes by the monicker "Loh Fo Chi" (Old Master Q), a character in a popular Hong Kong comic.
Incidentally, his company is also called Lo Fo Chi Enterprise.
Malaysia Lion Dance Federation Secretary General and Khuan Loke Dragon and Lion Dance Association chief instructor Albert Fong Kong Yip, 47, describes Lim as "a mastercrafter renowned for his skills, knowledge, and perfection of the art".
"In the lion dance community, Master Lim is regarded as one of the gurus. He's been a lion dancer for close to seven decades and a talented lion head craftsman since the 1970s. He's in his 70s and yet he's still so passionate about being a craftsman," says Fong.
Awakening the lion
Lion heads are the main component of the traditional dance lion dance. Such performances are held during Chinese New Year and other cultural and religious events. In Chinese culture, the lion symbolises power, wisdom, and superiority.
The fut san lion head has a curved mouth and sharp horn. Photo: Facebook/Lo Fo Chi EnterpriseThe lion dance is performed during Chinese festivals to usher in good fortune and ward away evil spirits. It is one of the most important traditions at Chinese New Year.
Kau has been working with his father-in-law for 23 years. Even though he knows he has a long way to go, he is determined to improve his skills under Lim's guidance.
"My father-in-law is strict but kind. What I appreciate most is his dedication and passion to groom us as the future generation of lion head makers," says Kau, who promotes the handcrafted items on Lim's Facebook, Lo Fo Chi Enterprise.
The popular colours for lion heads are yellow (symbolising prosperity), red (luck), green (health) and gold (wealth).
"Since it's the Year of the Rabbit, I have received a number of (orders for) lion heads painted in gold and pink. Some customers request for bright colours like baby blue, purple and neon green. Black is not a preferred colour because it is considered unlucky during the Lunar New Year," the craftsman says.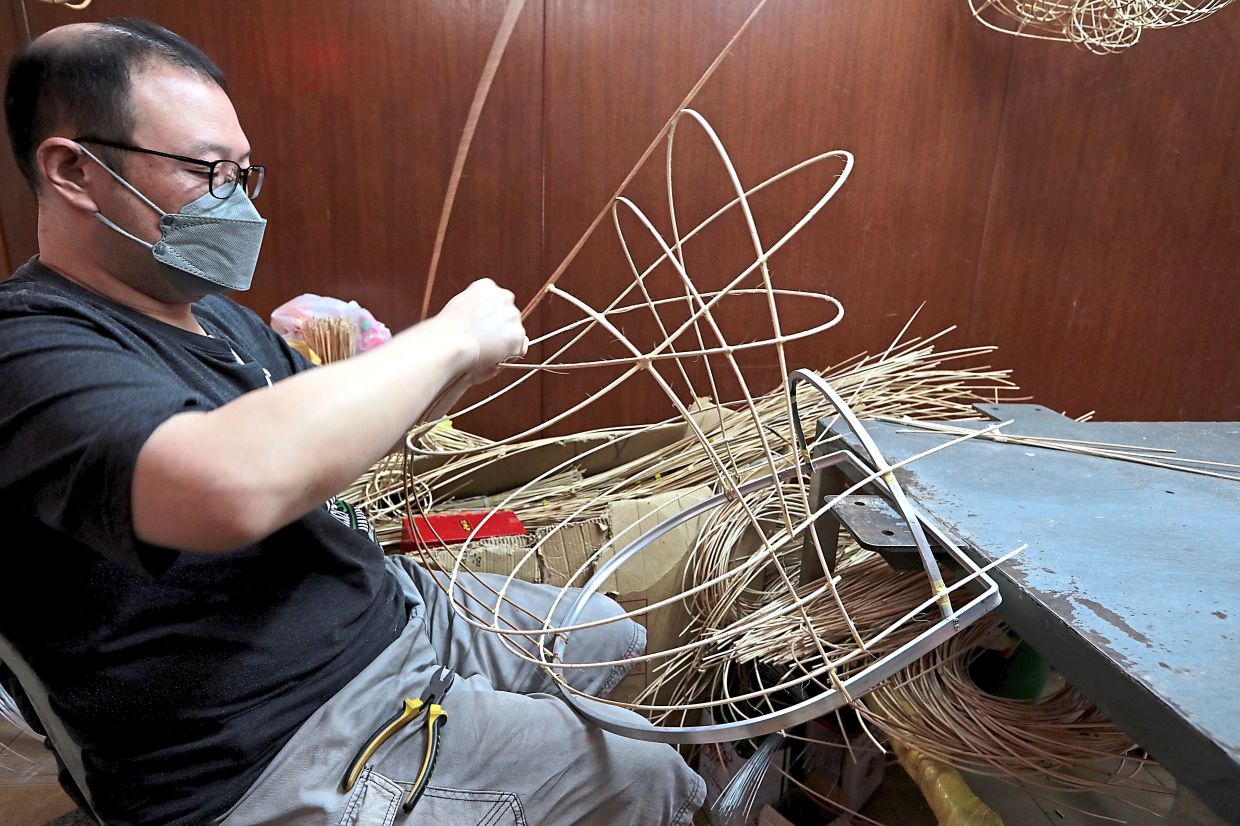 Rattan strips are bent to form the base on the lion's head.
Lim makes two styles of Southern lion heads – "hok san" (a lion head with a straight mouth and a curved horn on its head) and "fut san" (curved mouth and sharp horn), both of which originate from Guangzhou in China.
There are six steps involved in making a lion head.
First, strips of rattan are bent and used to construct the frame. They are then attached to an aluminum base. Next, square strips of cotton cloth are glued onto the frame. Kite paper is then stuck on top of the cloth. Once dried, the lion head is painted using poster colours and glossy paint. The last step is to add ornaments, beads and fur. Rubber bands and strings are also attached inside the lion head to make the eyelids blink and ears wiggle.
"It's like a production line where each staff member is assigned a different task. One person makes the structure of the lion head, while another person is tasked with painting it, another person adds the artificial fur and other decorations. We have been working non-stop, sometimes up to 12 hours a day, in these last few weeks.
"Thankfully I have a good team of dedicated workers. I treat them like my children," says Lim.
Work in progress to create a fut san lion head. Yes, the one with the sharp horn.
Passionate about tradition
Lim started out as a lion dancer when he was seven years old. He grew up in the heart of the city, on Petaling Street, and it was quite a norm for many Chinese youth in the area to join in lion dance troupes, he says.
"I was one of the naughtiest boys who was always up to mischief," he recalls, and laughs. "And I enjoyed lion dancing very much. I grew up in a home where my elderly uncle used to share stories about the history of lion dance. Over time, I developed an interest to learn the art of making lion heads," says Lim.
He learned the craft from lion head master craftsmen in Chinatown in the 1960s.
Over the years, Lim has mastered the skills and techniques needed to make these iconic lions. He pays particular attention to the painting of each lion head to ensure their capability to express different emotions like surprise, anger and happiness.
"The lion head weighs about 7kgs. Rattan is a suitable material because it is lighter and pliable. Other material like aluminum is heavier, making it difficult for lion dancers to use it to jump and dance," he explains.
Lim has been making lions head for close to 50 years.
He also accepts custom-made orders for lion heads. He attaches small paper mache animals like carp, dragon and monkey – each measuring between four inches to eight inches – on the lion head.
"These are created for certain temples and dance troupes. It is a challenge to add on extra fittings but we push our creativity to complete these orders.
"There are many factories in China that produce lion heads but our handmade lion heads are still popular. I think this is what sets us apart from factory-made lion heads."
Thick calluses can be seen on Lim's fingers, which is not surprising as his craft requires him to use his bare hands to weave, cut and paint the heads. However, his passion and dedication makes all the hard work involved fulfilling.
"Persistence, commitment and passion keep me going. I am happy I have managed to turn my hobby into my full time job.
"When one understands the customs and has a passion for what one is doing, one will remain driven," he concludes.
Master of his craft
---
Subscribe now to our Premium Plan for an ad-free and unlimited reading experience!