Many families take the opportunity to travel during the year-end school break. But with the high prices of airline tickets and hotels, some are finding more affordable alternatives to enjoy the holidays together.
Desiree Gail Sundram, 10, will stay in Kuala Lumpur during the three-week school break. And with Christmas just around the corner, her mother, Melissa Kenneth, 40, has enlisted Desiree to help out with preparations for the festive season.
"Since it is the year-end holidays and also the Christmas season, I will get Desiree to put up Christmas decorations, wrap gifts and help me to bake Christmas cakes. My husband and I will ask Desiree to write our Christmas gift list, too," Melissa says.
Melissa plans to give her only child simple recipes for Christmas cookies that she can follow and make independently.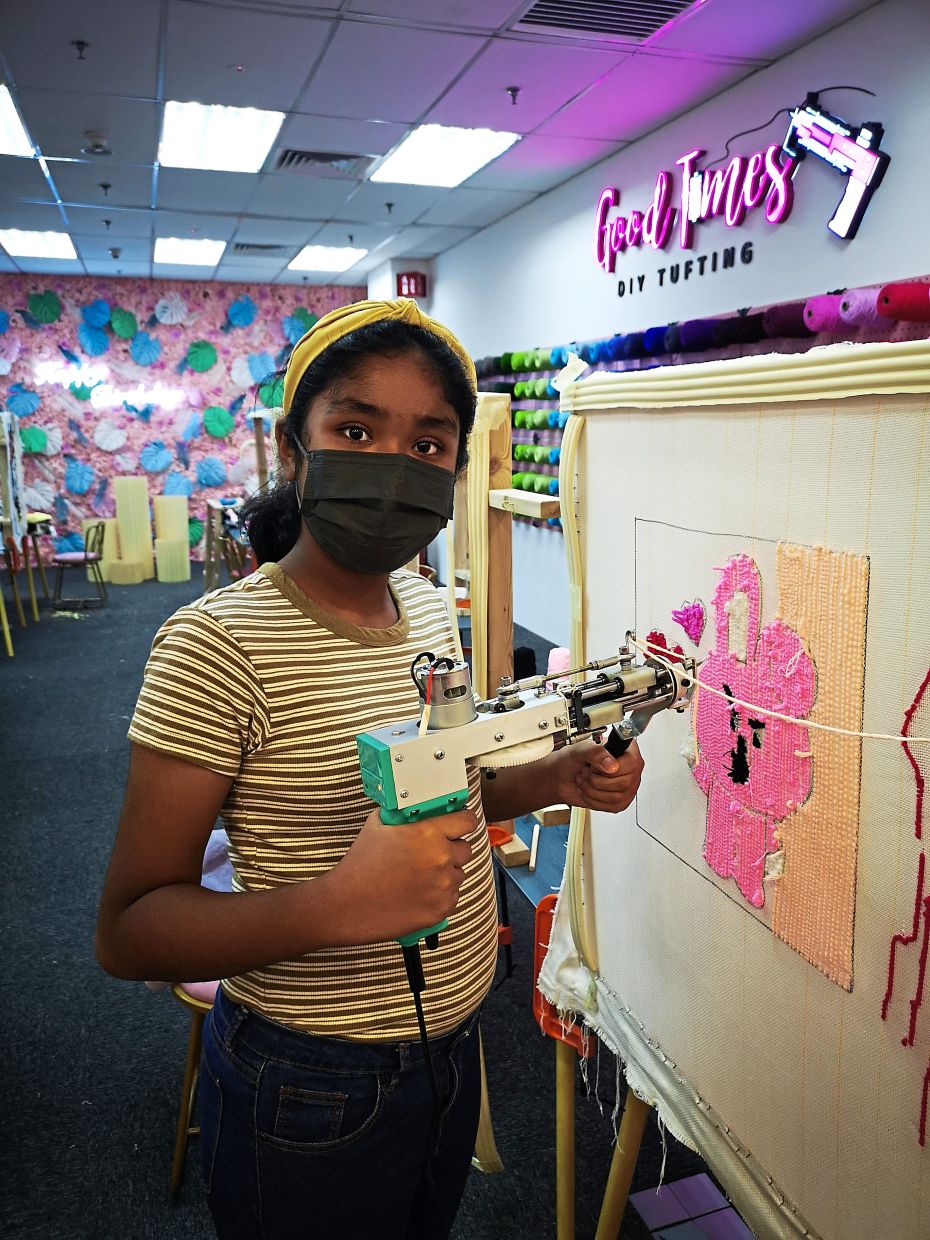 Desiree enjoys tufting, especially the idea of using the tufting gun to "shoot" yarn into the fabric."I think this will be fun because Desiree will learn to measure the ingredients accurately and decorate them to her liking. But, of course, she will be in charge of clean-up duties too.
"Besides that, she will also be tasked with chopping raisins and cherries for the Christmas fruit cake. Then, she will help her father soak the chopped fruits in brandy," says Melissa, a senior business operations manager in Kuala Lumpur.
In between pre-Christmas preparations, Desiree wants to attend crafting workshops like tufting (a textile crafting technique), batik painting or pottery.
"I am looking forward to batik painting and tufting because I can explore my creativity. A few months ago, Mummy and I signed up for a tufting workshop and we had so much fun. I especially enjoyed using the tufting gun to 'shoot' yarn into the fabric. Tufting is interesting because one needs to learn to control the pressure and speed applied when using the tufting gun to get the right results.
"I wish the school holidays were even longer so I can join more workshops like sewing, jewellery making and art lessons," says the Year Four student from SK Convent Bukit Nanas (1) in Kuala Lumpur.
Arts and crafts projects allow Desiree to explore her creative streak.
Melissa's biggest challenge is getting to spend quality time with Desiree, juggling her schedule as a working mother. Her husband, Reuben Sundram, 44, works in a bank in Kuala Lumpur where the hours can be long.
"Sometimes, if Reuben and I are unable to take leave on the same day, we stagger our leave so that each of us can take turns to spend time with Desiree during the holidays.
"It is nice when we get to do that with her. She and I have a "Girls Day Out" where we go get manicures and shop together. On 'Father/Daughter days, they do fun stuff such as visiting Petrosains, Muzium Negara or the Planetarium," Melissa shares.
During the holidays, Desiree will spend extra time with her maternal grandfather and uncle, who live a stone's away from their home. She will still have her regular tuition, swimming, and ballet classes.
Reuben enjoys quality time with Desiree.
But it isn't all work. In between her lessons, she gets to watch her favourite TV shows and play computer games – Desiree is allowed only three hours of screen time a day during the holidays.
"Since I am working from the office now, I have to rely on the television and social media for a few hours to keep Desiree entertained. So I encourage Desiree to watch educational documentaries on YouTube, including inventions, nature, and baking."
On weekends, there are plans to take Desiree hiking and cycling or to hang out in the park.
"We love outdoor activities, so we will try to include a couple of activities during the holidays. Some of the things we like to do are rent a bicycle at Tasik Titiwangsa in Kuala Lumpur and go cycling.
"After cycling, we will then head for a big breakfast. Another outdoor activity is a day trip to the beach. We'd like to explore more streams and waterfalls around the Klang Valley too. We spend more time as a family when we're doing outdoor activities as we won't each be on our gadgets."
School holiday fun
---
Subscribe now to our Premium Plan for an ad-free and unlimited reading experience!