Walking into Wei-Ling Gallery in Kuala Lumpur, this writer encounters two large, glowing sculptures depicting the Chinese letters "Sung" and "Kee".
As someone who doesn't read Chinese characters, they don't mean much to me at the time.
To Dutch artist Yin Yin Wong, however, the letters are the starting point to understanding who she is and rediscovering where she came from.
"I grew up underneath these neon letters, the name of my parents' restaurant – a combination of my father's name ('Sung') and 'Kee', which designates a brand. But I never learned to read Chinese growing up, so I never knew their meaning," Wong, who identifies as non-binary, tells me as we observe the brightly-lit letters from the balcony above.
That changed in 2021, when Wong hired a private tutor to teach her how to read and write in Chinese. Translated literally, the signs read "pine tree" and "to remember".
The phrase "to remember pine trees" stuck with Wong, and even though the restaurant was shuttered almost two decades ago, she created Remembering Pinetrees as a tribute to her past, where she first fell in love with art as she sketched and doodled to pass the time amidst the clamour and bustle of the restaurant.
Wong's installation work 'Remembering Pinetrees' invites the onlooker into a realm where language and visual art converge to evoke deeper contemplation. Photo: The Star/Shaari Chemat
"Making this piece opened up all these layers of loss and memory, and inspired me to make the Letters From Lalalam series, where I look at the public spaces of Rotterdam and read and translate Chinese signs, trying to make my own meaning from them," says the 35-year-old artist.
Beyond the neon lights
"Lalalam" refers to the colloquial pronunciation of Rotterdam by the Chinese diaspora in the Netherlands. Rotterdam, the city where Wong is based in, is home to the biggest population of East and South-East Asian immigrants in the Netherlands.
In Letters To Lalalam, Wong's first solo exhibition in Malaysia, she touches on the lives and everyday realities supporting the Asian service industry through the signs that mimic those you'd typically see on shop fronts.
The exhibition is showing at Wei-Ling Gallery until Oct 7.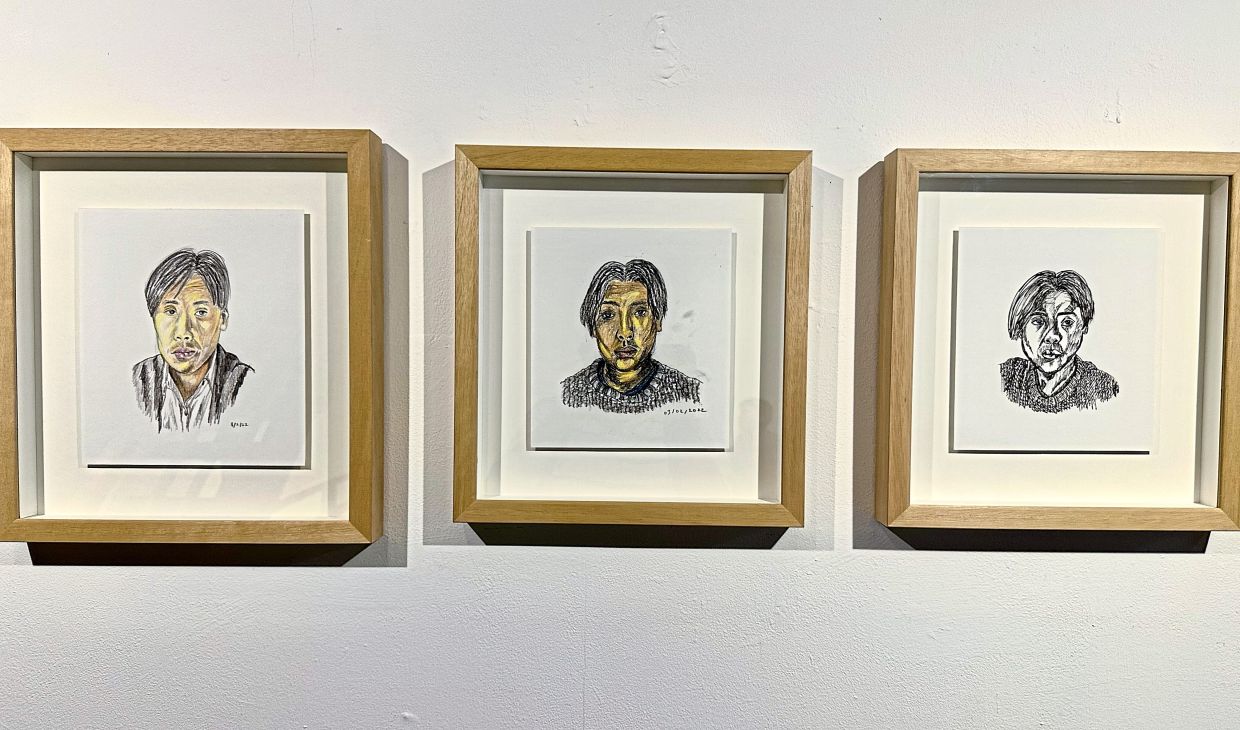 A series off self-portraits made between 2021-2023. The exhibition only features 24, though Wong made over 300 self-portraits during this period. Photo: The Star/Shaari Chemat
"When I started to really pay attention to how the Asian diaspora manifests in Rotterdam, all I could see were restaurants, nail salons and massage parlours. But most people in the Netherlands are completely unaware of the intimate lives of the people who provide these services, people like my parents who are working 16 hours a day while raising a family, who are not of the local culture and are very isolated.
"I saw how it affected my parents and that's why I want to talk about it. The fact that the Netherlands is diverse and is home to many diasporas does not necessarily mean that they are seen, understood and supported," she points out.
In the short film Lotus Flowers, Wong's mother, who still works as a waitress, teaches her how to fold the lotus flower napkins that they used to place on the tables of their restaurant.
As they practise folding the napkins and converse in a mix of Cantonese and Dutch, Wong asks her mother whether she had ever seen a lotus flower in real life.
Wong's short film entitled 'Lotus Flowers' (2022), metaphorically symbolises the experiences of Asian immigrants who embark on journeys to Western countries in pursuit of a brighter future but find themselves trapped in challenging circumstances. Photo: Wei-Ling Gallery
Wong's mother answers that she had seen them in her homeland, Malaysia. However, she warns that wild lotus flowers should never be picked, as those who try get caught in the surrounding quicksand and drown.
In this, Wong heard a metaphor for the diasporic experience – many Asian families venture to faraway foreign lands in search of a better life, only to get stuck with no way back.
Neither here nor there
Wong's parents emigrated from Malaysia to the Netherlands in 1977, seeking a fresh start. Born and raised in Nijmegen, a city located in the east near the German border, Wong grew up loving art, but whenever she visited museums, she never quite felt like she belonged.
"For the longest time, I never asked myself why I felt that way. I did everything I could to fit in. But when the Covid-19 pandemic happened and I started seeing a rise in racism and violence against Asians, that really upset me.
"It was then I realised that the art I saw in the museums and the art I was educated in didn't include me. I was never taught about any artists that are Asian diaspora or Asian.
"I never had Asian teachers and didn't have any form of representation in the media, history or culture of the Netherlands," says Wong.
A neon sign installation titled 'Holaan Travel Service' (lightbox, acrylic paint, 2023). Photo: Wei-Ling Gallery
This epiphany led Wong, previously a graphic designer in publishing for about 10 years, to change the direction of her work to dig deeper into her roots, and that of her parents.
"I started to look for ways that I could honour the lives of people such as myself and my parents, whose Malaysian Chinese upbringing I had never included in my work before.
"This way, I hope to contribute something to the conversation in the Netherlands, so that there is representation of lives like ours," says Wong.
Homecoming to remember
Wong, who teaches part-time at an art academy in The Hague, has fond yet fuzzy memories of visiting Malaysia as a child, but had lost touch with her family here as she grew into adulthood.
"It feels a bit like a homecoming, doing a solo exhibition here. It gave me the opportunity to come here and make new work, and it gave me the chance to reconnect with Malaysia as an adult and an artist. And perhaps to find some missing pieces as well," says Wong.
Much of the artist's work is about what it's like to be part of the South-East Asian diaspora in the Netherlands.
"But here in Malaysia, I take a different kind of position and have a different kind of privilege. I am both Dutch and Malaysian Chinese. So before this, I've been exploring what it's like to be Malaysian Chinese in the Netherlands, and now I am discovering what it means to be a Dutch (person) in Malaysia."
As for the missing pieces? During Wong's brief stay in KL, she was able to meet with her mother's family, whom she hasn't seen since her last visit to Malaysia as a child.
"No one really spoke much. We were just putting food on each others' plate, eating together. It felt as if no time had passed – the communication goes through sharing food, as it always has.
"They also asked about my exhibition and were proud to hear it has been received so well. Then they took me for some ais kacang after lunch, which made me feel really loved," says Wong, adding that she eventually plans to be partly based in KL.
Yin Yin Wong's Letters From Lalalam is showing at Wei-Ling Gallery in Brickfields, Kuala Lumpur until Oct 7. Admission is by appointment only. The exhibition is supported by the Mondriaan Fund, Creative Industries Fund NL and Bekker-la Bastide-Fonds. More info here.
Subscribe now to our Premium Plan for an ad-free and unlimited reading experience!