OPEN DAY: RIMBUN DAHAN
Venue: Rimbun Dahan, KM27, Jalan Kuang, Mukim Kuang, Selangor
Date: May 28, 9am-6pm
This Sunday, Cambodian artist, filmmaker and journalist Choulay Mech will share the work from her two-month residency at the independent arts space Rimbun Dahan in Selangor, including a short film and a live performance at 11am.
The programme is part of the open day highlights (9am to 6pm, free admission) at Rimbun Dahan, which includes meet-the-artist sessions and an art exhibition at its Underground Gallery.
Elsewhere, illustrator Yunroo will introduce works from her one-month residency at Rimbun Dahan. Her series looks into the artistic side of ceramics; to practice and experiment with different making techniques, and understand the characteristics of different types of clay. Later in the day, Penang-based poet Yee Heng Yeh will lead a workshop on ekphrastic poetry – poems written in response to artworks. Though ekphrastic poetry typically focuses on describing a work in detail, Yee will discuss his interest in the process of art-making itself and the role of the artist, exploring the common threads that drive creation.
Workshop participants will be encouraged to engage in dialogue with the forms and practices of the works in Rimbun Dahan's gallery, culminating in a simple writing exercise. No registration required, just turn up in the Underground Gallery at 3pm for Yee' session.
To make it a busy day, the activity checklist will include performance, film, ceramics, and a poetry workshop. The Underground Gallery will be showing Menagerie, a new selection of works from its permanent collection.
You can also bring along your own picnic and enjoy the lush garden space. There will be a morning guided tour of Rimbun Dahan's 5.6ha site, including an introduction to the contemporary architecture and its indigenous South-East Asian garden, as well as the Rumah Uda Manap heritage house.
More info here.
'Mixtape For Maz' is a memory play directed by Tung Jit Yang (centre). Presented by Perempuan Productions and KongsiKL, the cast comprises (from left): Mia Sabrina Mahadir (Rokiah), Faiq Syazwan Kuhiri (Edi), Farah Rani (Maz) and Nabil Zakaria (Hisham). Photo: The Star/Art Chen
THEATRE: MIXTAPE FOR MAZ
Venue: KongsiKL, Jalan Klang Lama, KL
Date: May 27 and 28, May 30 and 31, June 1-3
Mixtape for Maz, a new Malaysian play written by Adiwijaya Iskandar opens this Saturday.
Directed by Tung Jit Yang and starring Farah Rani (Parah, Nadirah) as Maz alongside an equally stellar cast of Faiq Syazwan Kuhiri, Mia Sabrina Mahadir and Nabil Zakaria.
Mixtape For Maz, a work written in English and Northern Malay (Bahasa Utara), tells the story of Maz and Edi, teenage siblings who have returned to rural North Malaysia in the late 1990s after years of growing up abroad.
Not only do they face the stresses of secondary school life, they must also navigate the contradictions between their western influences (early Internet culture, 1990s music and video games) and the conservative society engulfing them.
As their identities are challenged and redefined, will they learn to reconcile the shattered fragments of themselves or will they succumb to the temptations of conformity?
More info here.
'Let The Maps Speak!' (Biar Pete de Besuara!), a book written by Lai Bwe Yuoong and illustrated by Bah Saluji (aka Saluji Yeok So Alu). The exhibition at Gerimis Gallery will feature original artworks from the book and other related material from Bah Saluji's personal collection. Photo: Handout
EXHIBITION: BIAR PETE DE BESUARA
Venue: Gerimis Gallery, Level 3, GMBB, KL
Date: May 27 to Sept 30
Biar Pete de Besuara is an exhibition by Bah Saluji, a writer and illustrator of two Orang Asli children's books.
The title of the exhibition is Semai for 'Let the Maps Speak'. If an Orang Asli map had a voice, it would tell the story of a peaceful people living for countless generations in harmony with the rainforest.
Bah Saluji and his vibrant watercolour paintings showcase that idyllic life – but also today's harsh reality of the rampant encroachment of Orang Asli customary land. This exhibition invites us to reflect on our own relationship with the land and the urgent need for greater respect for indigenous rights.
The artworks displayed are a selection of the original artworks done by Bah Saluji for his second illustrated book with the same title. The book is being used as a strategic advocacy tool to open channels for indigenous and public awareness on Orang Asli land rights.
Proceeds from all his artworks will support efforts towards creating awareness of Orang Asli rights, specifically customary land rights, indigenous language, and preservation of Orang Asli traditional knowledge.
This exhibition is organised by Malaysian CARE and Gerimis Art.
More info here.
Gan Sze Hooi's 'Echoes Of A Drowned Artery' (oil on canvas, 2023), which is part of G13 Gallery's anniversary show. Photo: G13
EXHIBITION: G13@13
Venue: G13 Gallery, Petaling Jaya
Date: May 27 to June 10
In Petaling Jaya, G13 Gallery is packing in the favourites with its G13 @ 13, a group exhibition celebrating the gallery's 13th anniversary.
The group exhibition featuring a whopping 34 artists across its roster - Adam Phong, Amy Nazira, Anisa Abdullah, Awang Damit, Cheong Tuck Wai, Fadilah Karim, Faizal Suhif, Faris Ridzwan, Gan Sze Hooi, Gan Tee Sheng, Haziq Syawal, Hisyamudddin Abdullah, Hug Yin Wan, James Seet, Juhari Said, Khairudin Zainudin, Khairul Arshad, Kow Leong Kiang, Kraisak Chirachaisakul, Najib Bamadhaj, Nik M Shazmie, Nik Mohd Shahfiz, Ping, Raduan Man, Rafiee Ghani, Shafiq Nordin, Sharifah Fatimah, Sittiphon Lochaisong, Suzlee Ibrahim, Syed Fakaruddin, Tajuddin Ismail, Wong Ming Hao and Yuki Tham. Make your take a few hours off your weekend schedule to soak in the variety at this show.
Since its inception in 2010, G13 Gallery has been showing a diverse range of art, including paintings, drawings, sculptures, prints and installation art with a mixture of various art genres. Throughout the last 13 years, the gallery also collaborated with over 240 local and international artists, which have shown potential, relevance, and depth in their artworks.
This anniversary group show serves as a testament to the gallery's commitment in presenting thought-provoking, innovative, and engaging art to the public.
More info here.
A trial proof print from printmaker/sculptor Abdul Mansoor Ibrahim, which is on display at the Chetak 17 gallery tribute show. Photo: Abdul Mansoor Ibrahim
EXHIBITION: ABDUL MANSOOR IBRAHIM TRIBUTE
Venue: Chetak 17 studio, KL
Date: ends June 3
Chetak 17, a print studio and gallery, will be paying tribute to printmaker/sculptor Abdul Mansoor Ibrahim, in its new exhibition, which is showing now.
This exhibition series, presented by Chetak 17, salutes senior printmaker artists and revisits their contributions to the Malaysian art scene. It also gives the new generation a chance to discover a pioneer's works.
This exhibition focuses on Abdul Mansoor's exclusive prints spanning the 1980s to the 2000s. The programme is supported by National Art Gallery.
Abdul Mansoor was granted a French Government Cultural Exchange scholarship, learning the French language for a year at Centre Audiovisual de Royan CAREL pour l'etude des Langues in 1976, before being admitted into the well-established, classical and historical school, Ecole Nationale Superieure des Beaux-Art (Paris). Between 1977 and 1980, he became one of the young disciples of renowned printmaker Sir Stanley William Hayter at Atelier 17 (now known as Atelier Contrepoint).
He is also known for his skill in the art of printing and themes from landscape and nature. His works include drawings, prints using end grain wood engraving, viscosity print, and etching that highlight the dying art of printmaking.
In the early 1980s, Abdul Mansoor joined the Anak Alam collective, where he explored the multifaceted art of printmaking extensively, joining exhibitions and participating in the group's prolific activities.
More info here.
Nadirah Zakariya's 'All Purpose Flower' (giclee print using archival grade pigment inks on photo paper, 2020). Photo: Nadirah Zakariya
EXHIBITION: NADIRAH ZAKARIYA: 'FEELING FEELINGS MAKE ME, ME'
Venue: Temu House, Section 16, Petaling Jaya
Date: ends May 28
Last call for one of the best shows in the Klang Valley in the last six months. Photography exhibition Feeling Feelings Makes Me, Me by Nadirah Zakariya at Temu House in Petaling Jaya is also her biggest local show to date, giving art lovers an overview of her scope of creative works and mediums used.
Nadirah who has vitiligo, which causes a loss of skin pigmentation, is also been using her art to share her experiences and educate people about the condition. The exhibition, featuring nearly 40 artworks including framed photography prints, lightboxes and a video piece, comfortably fills up this gallery space at this suburban Petaling Jaya home.
"It is through photography that I process my feelings. That has always been the main medium. It allows me to feel what I need to feel, and so the output, although intuitive and organic, is reflective of the process of me trying to figure out or work through what I'm feeling," says Nadirah.
The show is curated and organised by Nadirah herself, along with Sharmin Parameswaran and R+ of GDP Architects, with sales by The Back Room. The closing weekend will see the gallery open from 10am to 5pm.
More info here.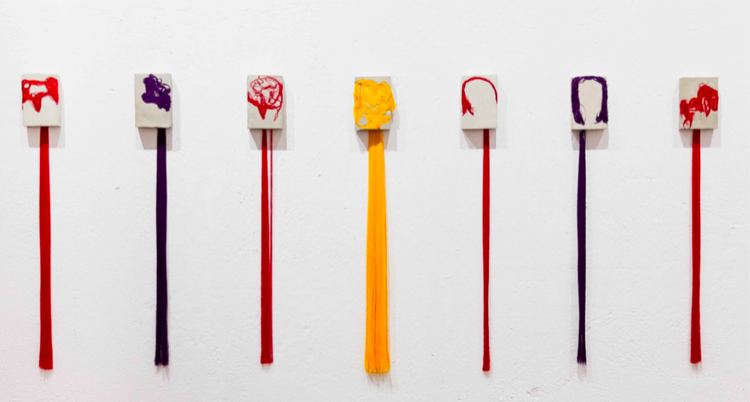 Marilyn Boror Bor's 'Peinar las Raíces II' (Comb the Roots II) (from the Buried Rituals series, 2022). Photo: The Back Room
EXHIBITION: INSISTENCIA/RESISTENCIA
Venue: The Back Room, Zhongshan building, KL
Date: ends June 4
The Back Room's latest exhibition Insistencia/Resistencia carries a rich Central American flavour as it highlights three contemporary artists from Guatemala. This is a unique showcase featuring, for the first time in Kuala Lumpur, works by three renowned Guatemalan contemporary artists: Antonio Pichillá Quiacaín, Esvin Alarcón Lam, and Marilyn Boror Bor.
Insistencia/Resistencia showcases art practices that intersect with craft and design, while delving into both contemporary and indigenous cosmologies that speak to pressing issues of cultural identity, displacement, and belonging in the context of Guatemala. Each artist brings a unique perspective to the show by exploring the issues of cultural inheritance, as well as the role of art in addressing social change.
These artists derive inspiration from their personal experiences and the broader societal and cultural concerns that drive their artistic endeavours, in a nation grappling with entrenched racism. Through their work, they illustrate how visual art has the ability to generate evocative and imaginative expressions that encourage dialogue and narrow the gap between Guatemala's Indigenous and non-Indigenous communities.
More info here.
Subscribe now to our Premium Plan for an ad-free and unlimited reading experience!