He looked like a carefree young man enjoying his first visit to Malaysia. He donned the traditional baju Melayu with tengkolok (headgear) and happily tried to copy the moves of the dancers on stage.
If you had seen Yashu Shrestha at the 38th International Board on Books for Young People (IBBY) International Congress in Putrajaya last year, it wouldn't have surprised you to learn that he had written more than 150 children's books in his country with some titles translated into English and Danish.
There's a lot more than meets the eye when it comes to Yashu.
The author, editor and storyteller recently published a picture book highlighting the unreasonable and archaic tradition involving menstruating girls. It's certainly not an easy topic to tackle. It's a tough one for women, let alone a man in a country that still adheres to traditional customs and has not yet embraced western culture as much as we have in Malaysia.
Breaking the silence
He explains that in some Nepalese communities, menstruation is still believed to be "unholy" and impure. When girls menstruate for the first time, they are kept in a room and cannot see their male family members for one to two weeks. They are not allowed to touch the kitchen, prayer room and other things at home.
Yashu chose to cover this topic in Mero Rato and the English translation of the book, My Red. Centred on a girl menstruating for the first time, the story challenges the need for such traditions.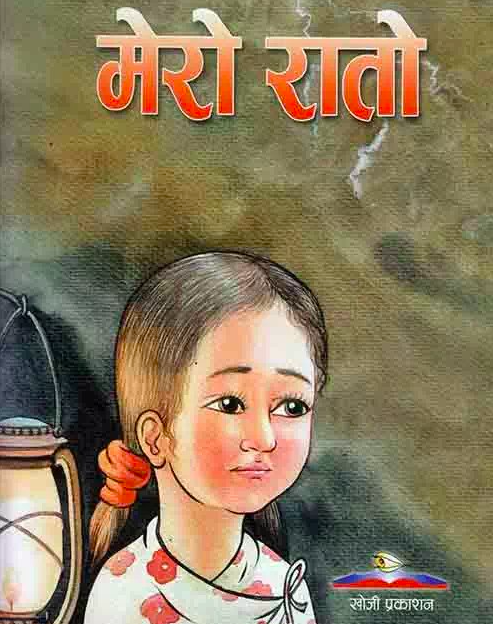 At the IBBY International Congress in KL last year, Yashu's 'Mero Rato' (My Red) book made it to the IBBY Honour List 2022. Photo: Yashu Shrestha"The suffering of girls during menstruation and prevailing taboos compelled me to write a story about it. Harmful practices should be changed; this can be done by guardians and children themselves. Children are the change-makers; they can break these unnecessary and harmful traditions themselves," says Yashu, who is in his 30s.
He admits that some questioned why he wrote a book on menstruation from a girl's perspective. They believe that such a book should be written by a woman.
However, there has also been encouragement from many who see the value of Mero Rato. They say that harmful practices should be changed.
"The book and the subject matter are heartily welcomed. In theory, it is accepted, but when it comes to affecting change in their own lives, it will take time. But the book has helped sensitise this issue," explains Yashu.
At the IBBY International Congress last September, Mero Rato made it to the IBBY Honour List 2022 along with 162 other titles. It shouldn't be a surprise, considering his background and passion for storytelling.
Humble beginnings
Yashu grew up in the hilly district of Dhading, where his father was a civil servant and his mother managed the home. He was expected to follow in his father's footsteps.
Instead, Yashu, who gained a master's degree in Sociology from Tribhuvan University (the oldest university in Nepal), chose writing as his profession. This worried his parents who never considered writing as an option for a stable income.
Yashu, who now lives in Lalitpur, credits his mother for his love of storytelling. Although illiterate, she spent hours regaling him and his older brother with old tales she had heard as a child.
"She used to tell the stories while we had dinner together, before sleeping, while working in the field, and while going to the jungle for wood and grass for goats," he explains.
His school principal also used to tell the students stories. When he was in Grade 8, he had the opportunity to represent his school in a regional poetry competition. Although he had no experience with poetry, he took part and won third prize. His prizes included books, a diary and pens.
Yashu put all of them to good use. The stories he started writing were none other than the ones his mother shared with him. He also wrote poems and took part in more literature-related programmes.
This took Yashu down the road of words and stories and led him to the magical world of literature.
Nurture a reading habit
He started writing for children, firmly believing that educated and conscious children can change the world positively.
He also wants to nurture a reading culture in Nepal.
Not all his books have lessons and morals; some are just for fun and to make children curious about the world around them. He also focuses on stories that help Nepalese children understand their culture.
When he is not writing stories, Yashu travels the length and breadth of his country, teaching writing and storytelling techniques and setting up libraries in rural areas.
'We are focusing on instilling the reading habit from an early age or before they get a formal education so that their passion for reading books will be developed," says Yashu. Photo: Yashu Shrestha
He visits schools and libraries, meeting teachers, parents and students. He engages them and reads to them, while also listening to their stories and collecting and documenting ancient tales.
He explains that the literacy rate is still low in Nepal.
While the government has plans to turn the tide, writers are also doing their part to help.
"We are focusing on instilling the reading habit from an early age or before they get a formal education so that their passion for reading books will be developed," he says.
To help children transition to reading, Yashu has even published a wordless book. It was his first in this genre, and he hopes that it will encourage children to pick up a book, especially those who have not yet learned to read sentences.
Climbing high
As the General Secretary of the Nepalese Society for Children Literature, Yashu is determined to affect change for the advancement of Nepalese children. Whenever he hears of negative aspects of society, he tries to turn them into positives through his writing, which is always focused on making things better for the children.
"If we don't do it, who will do it? If we view it as a difficult task and decide to do nothing, we will always be backward. Hard work always pays off. The way of good work has always been a little bit difficult. Nobody would have been on the moon or considered Mars exploration if they hadn't accepted the challenges and chosen the difficult routes. The difficult way always leads to a beautiful destiny. Continuity, confidence and integrity are the keys to success in everything. Something happens after doing something, I am confident of that."
Many travellers from all corners of the world visit Nepal to conquer Mount Everest. The challenges are plentiful on the way to the summit, but they believe it's worth it.
For Yashu, the road is also long, and his trek takes him along story trails, reading ridges and literacy mountains. His aim is not to conquer, but to spread a love for stories.
Subscribe now to our Premium Plan for an ad-free and unlimited reading experience!