Listen, and don't rush. It is a small room, but there is enough material to keep you occupied for hours at the audio exhibition A Wasteland Of Malaysian Poetry In English at Pentago House in Kuala Lumpur.
The exhibition, which runs until Sept 4, traces the work of pioneering Malaysian poets in English from the 1940s to their legacies in emerging poetic voices today, through a presentation of original, never-before-heard recordings of poetry from figures such as Malachi Edwin Vethamani, Omar Musa, Muhammad Haji Salleh and Wang Gungwu.
There are over 200 recordings from over 20 poets - from Chinese-Singaporean historian and writer Wang Gungwu's Pulse, the first book of Malayan poetry in English published in 1950; to works from poets like the late K.S. Maniam, Shirley Lim and Wong Phui Nam.
This includes influential work as well as unpublished, contemporary pieces from poets young and old.
Recordings are ongoing (the next open recording session is on Aug 28, 4pm), so the exhibition will expand as the weeks go by.
"The idea for the exhibition came out of the research I was doing on 20th and 21st century Malaysian literature and the global Malaysian novel. I struggled to find a lot of older Malaysian books of poetry for my research and ended up travelling to many libraries and archives across the world to find specific Malaysian books," says curator Brandon K. Liew, who is a doctoral researcher at the University of Melbourne where he lectures on Malaysian history, literature and emerging cultural productions across the Asia-Pacific.
The exhibition 'A Wasteland Of Malaysian Poetry In English' is being held at Pentago House, a recently renovated pre-war Chinese shophouse in Kampung Attap in Kuala Lumpur. Photo: Brandon K. Liew
"I wanted to make these important works of poetry accessible to my generation of writers. Many writers of my generation are not aware of their literary predecessors and assume they must start from scratch to produce Malaysian writing. I hope the exhibition shows that we have been producing poetry in English for the past century to express an independent Malaysian consciousness," he adds.
The exhibition title references The Wasteland (1922) by T.S. Eliot, one of the most important poems of the 20th century and an early Modernist influence on Malaysian poets.
Liew notes that poets of that generation studied Eliot and responded to The Wasteland to create their style of Malaysian poems.
"Some scholars consider this the starting point where Malayan writers began to question the inadequacy of British verse in describing their homeland. The Malayan literary movement of Engmalchin (a linguistic mix of English, Bahasa Malaysia and Chinese) was born out of this in the 1950s. Even today, I still teach The Wasteland to my literature students as a lesson in poetry," he shares.
All recordings in this exhibition were created from scratch (with the exception of one or two who had published audiobooks), with most voiced by the original poets.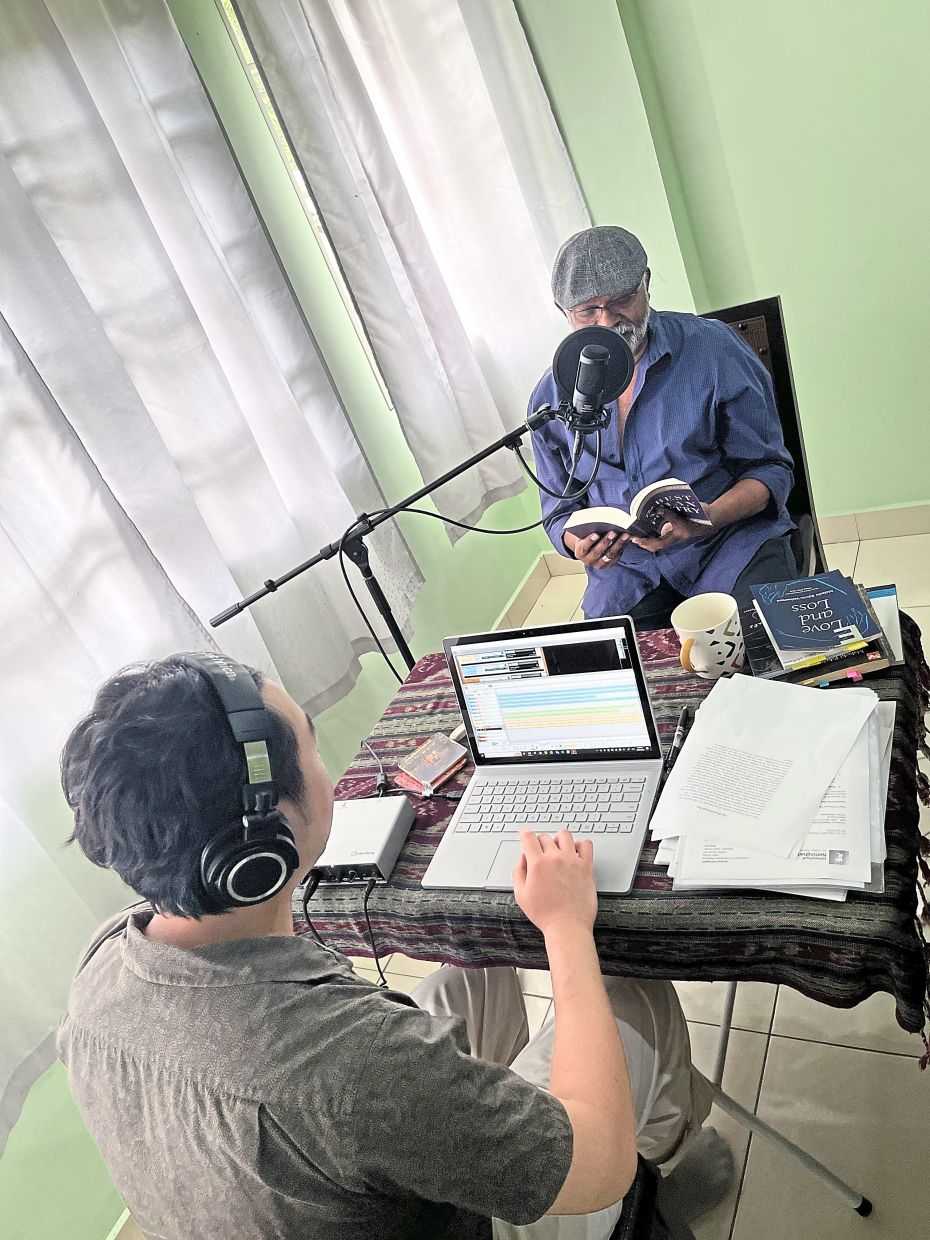 Renowned poet and author Malachi Edwin Vethamani (right) during a recording session for the exhibition. Photo: Ken Cheong
"An audio-recording is intimate. It is not every day that you get to hear the poets themselves voice their own work, especially the reclusive ones. I think it is special. When you put the headphones on, it is just you and the poet, and the world they have built with their voices. You notice the aural structures of the poem, the rhythm, the pauses, the emotion and so on. It is a different experience altogether, even for someone like me who reads a lot for a living," he adds.
Liew views poetry as a serious medium for self-expression and critical thought that has the capacity to depict complex ideas and bridge understanding.
"Poetry is for the people. I think poetry can be more than just beautiful words (what the French call Belles-lettres) or clever sayings and Malaysians have every right to claim this medium as their own. The dream for this exhibition is simple: to have as much poetry and poets in the room as possible. I think art is something to be discovered for one's self. I hope writers will resonate with the poems as I have and feel connected to a rich literary tradition," he says.
A Wasteland of Malaysian Poetry In English hosts open mics, exhibition talks, poetry workshops and open recording sessions.
Saras Manickam, an award-winning short short writer, will host a creative workshop titled "Let's Talk Stories" on Aug 27 (11am), which will shine the light on "the first line, first para, first page" and the storytelling process.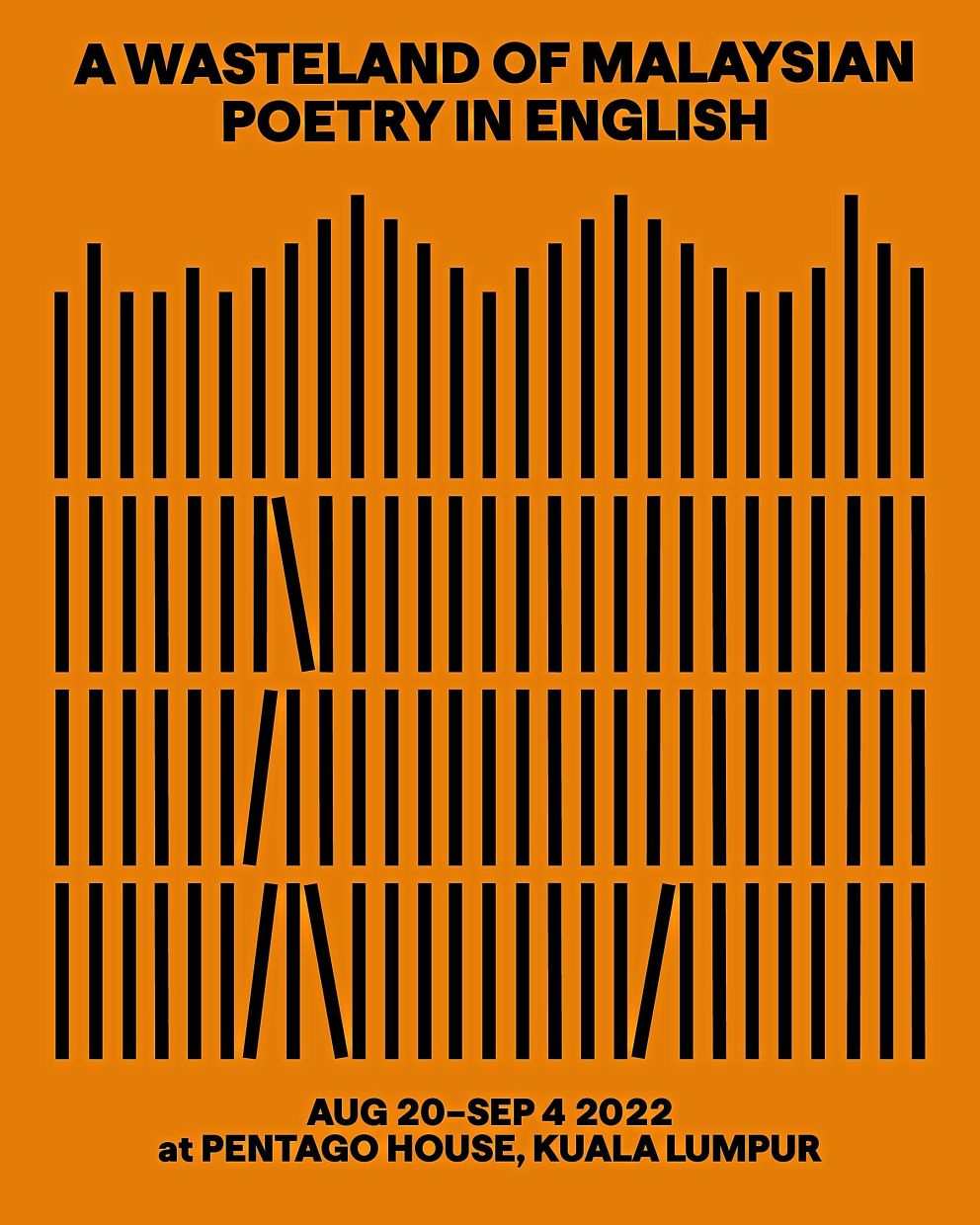 Besides the recordings, the exhibition hosts live readings, open mics, exhibition talks, poetry workshops and open recording sessions. Photo: Handout
Every Saturday at 4pm, selected poets from the exhibition will also be performing live readings.
Other highlights include Jendela, a spoken word poetry show directed by Emellia Sharif that features an ensemble of youth poets from the Kuala Lumpur Youth Literary Arts Festival (KLYLAF) 2022. Organised by the Malaysian Institute For Debate And Public Speaking (MIDP) and MY Poetry School, this session will be held on Aug 27 (6.15pm).
Liew will discuss the ways in which Malaysians relate to their homeland and sense of self through poetry in his talks "A Monsoon Of Poetry" (Aug 28, 3pm) and "Malaysian Literature As Global" (Sept 3, 3pm).
"The weekend programmes are the main part of the exhibition, where many poets are coming in to read their work, have panel discussions and teach workshops. Just like the recordings, these are intimate events where we can feel part of a bigger creative community and engage with each other.
"The events are also designed to help you engage with the exhibition as well: I give a few talks based on my university lectures on Malaysian literary history and there are open recording sessions where you can contribute to the Wasteland," he says.
Through this exhibition, he hopes that writers in this country will realise that they are part of a larger writing community and a rich literary tradition.
How fitting then, that visitors to the exhibition will be supplied with a special "Buku Latihan" to note their responses and perhaps even write a poem here.
This exhibition, which is also part of the Peszta arts festival in the Kampung Attap area on Aug 27, is partially supported by a community grants programme from Think City and Merdeka 118.
A Wasteland Of Malaysian Poetry In English is on at Pentago House, 58, Jalan Rotan, Kampung Attap in KL till Sept 4. Opening hours: 9am to 5pm (weekends only). Weekdays by appointment. Entry is free but registration is required for events.
Subscribe now to our Premium Plan for an ad-free and unlimited reading experience!