If you have ever wondered what a world with dinosaurs would look like, Eugene Foo has a story to tell. This is a place where humans and dinosaurs play, eat and work together. It is where we navigate the joys and sorrows of life. It is also where we make friends, form alliances and realise that it can sometimes be a harsh world out there.
In Saya Seekor Dinosaur, which is Foo's first solo art exhibition, he taps into childhood love for dinosaurs and brings these beloved creatures to life in a series of artworks that merges the fantastical with the familiar.
"Almost every kid goes through a 'dinosaur phase' but I think mine was probably more potent and longer than most. I still love dinosaurs very much but I am quite sad about their stereotypical portrayal in popular culture such as the famous Hollywood franchise Jurassic Park/World where dinosaurs battle each other to the death, like a great big 'Jurassic Fight Club'. I much prefer David Attenborough's depiction of dinosaurs in the most recent documentary Prehistoric Planet," says Foo, 40.
The world of Foo's 'Saya Seekor Dinosaur' invites us to enter a memoryscape where nostalgia and folk tales share a comfortable space filled with imagination and wonder. Photo: Eugene Foo
The concept of dinosaurs co-existing with man has been explored at length in popular culture, and Foo credits his main influence to James Gurney and his 1992 publication, Dinotopia.
Foo's exhibition Saya Seekor Dinosaur, now showing at Awegallery in Petaling Jaya, is filled with works showing the bond between humans and dinosaurs in everyday settings in Malaysia.
It is clear that to him, the theme of co-existence, as opposed to fighting for domination through bloodshed, holds more appeal.
Still, Foo found Gurney's depiction of dinosaurs, including those in South-East Asian settings, rather pastoral and idyllic, and hopes to present a slightly different narrative in his exhibition.
'Late Lunch' (watercolour, Artline and Polychromos Colour Pencils, 2022). Photo: Eugene Foo
"It is my hope that my dinosaur series will not only depict our society in idealised and romantic settings but also a sense of realism. I want to depict the living environments and settings of Malaysians as showcasing both the pleasant and blissful, as well as the crude and harsh," he says.
'Keluarga Malaysia', with dinosaurs
Foo, who was called "Eugenosaurus" during his school days, has titled this exhibition Saya Seekor Dinosaur to humanise these prehistoric reptiles and to acknowledge their sentience, which is his reaction to the Hollywood portrayal of them being mindless killing machines.
His is a gentler, more empathetic approach, where dinosaurs have feelings and are able to build emotional bonds with their human counterparts.
Many pieces in this exhibition are based on his real life experiences - a dim sum peddler, recyclables collector, balik kampung and scenes from his childhood - while a few venture into the realm of science fiction and fantasy.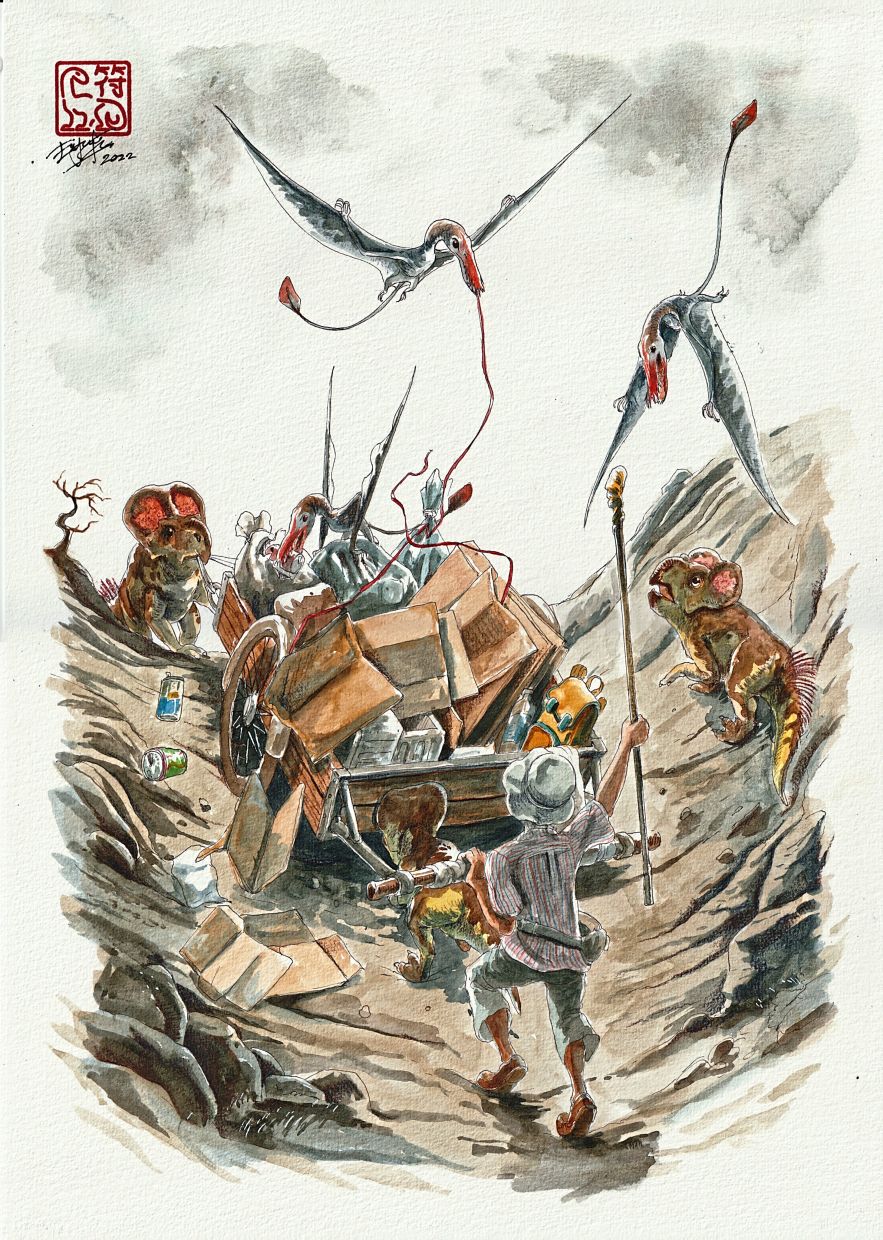 'Uphill' (watercolour, Artline and Polychromos Colour Pencils, 2022). Photo: Eugene Foo
A work titled Uphill is inspired by two memories, one of a man pushing his cart filled with recyclables up a hill during a drizzle, and the other of is a homeless man who pushed his cart around SS2 (in Petaling Jaya) collecting boxes.
"He would have a group of stray dogs loyally following him until one day, MBPJ came to take them all away and he was reportedly crying out for them. In my painting, both of these men were brought into one image. The dogs are replaced here with Protoceratops helping him nudge the cart uphill fighting off the Rhamphorynchus attack from the skies, representative of the extra burden brought on to this man by an already difficult ordeal," says Foo.
A neighbourhood dim sum peddler also gets his moment in this exhibition with a piece aptly titled Dim Sum.
"You can spot his little mobile stall from a distance even in the dark because he is parked under a street lamp and the steam from his steamer can be seen rising up into the lamp from far away. It does invoke a very deep melancholic mood, almost like in a Wong Kar Wai film," says Foo.
"He is terribly silent, a man of very few words even when you buy his minimal selection of dim sum he serves out of a wooden steamer. I get really inquisitive about such people, but would never want to pry. So, drawing them perhaps helps me make sense of their stories, creating my own stories for them," he adds.
Across the gallery space, visitors will also find the curious and heartwarming piece Ohana Sensei. It is Foo's most personal piece in the exhibition, an artwork that draws on the memory of his mother teaching a Western floral arrangement class to Japanese housewives in Ampang in the 1990s.
'Ohana Sensei' (watercolour, Artline and Polychromos Colour Pencils, 2022). Photo: Eugene Foo
"As a kid, I would often follow her to these classes in the afternoon after she picked me up from school. I did love it so much because if I were lucky, I would be served Japanese confections together with their children.
"Or better yet, I would get to play their Sega or Nintendo video games. I am terribly self-conscious and rarely want to paint myself into any of my artworks, but this was one that I felt needful. You can spot me on the left of the picture plane behind the dinosaur's tail," he reveals.
Childhood fascination
"These are more of the world-building side of me thinking about how the cosmology, culture and economy would be like in this alternate world where dinosaurs co-existed with Malaysians. Most of my dinosaurs are portrayed as friendly, playful and cheeky, bringing us back to the title Saya Seekor Dinosaur, which reminds us of the essays we used to write in school, such as Saya Sebatang Pen or Saya Sebuah Beg.
"Also, because dinosaurs are my childhood fascination, you will find that some scenes are intertwined with settings that have a vintage 1980s feel to it because my love for dinosaurs is somehow mingled with the nostalgia of my childhood in that era," he shares.
Foo has been both a practitioner and academic in the field of digital animation and illustration for the past 20 years. Though trained as a multimedia artist, he has in recent years focused mainly on storytelling through illustration and concept art.
'Dim Sum' (watercolour, Artline and Polychromos Colour Pencils, 2022). Photo: Eugene Foo
He has just returned to the industry as an art director at a gaming and animation studio, after a seven-year lecturing stint at the department of multimedia design and animation at Universiti Tunku Abdul Rahman (UTAR).
Saya Seekor Dinosaur features 34 artworks, all in the same medium - black Artline pen, watercolour with a Polychromos Colour Pencil finish - with the exception of one, done in black and white Indian ink.
"I would love to revisit Saya Seekor Dinosaur in the next couple of years, bringing perhaps different mediums like acrylic, sculpture, indian ink linework or even linocut prints. But for now, I hope this exhibition evokes a sense of empathy and togetherness. Most of the paintings are about relationships, infused with real stories about real people.
"I think the pandemic has forced many of us to take to the screens on overdrive and communicating via the black mirror has desensitised the impact of what we do and say to each other. With this exhibition, I wanted to create a space to bring real people, face to face with these images and memories - and to be reminded what it is to be human," he concludes.
Saya Seekor Dinosaur is on at Awegallery, Taman Paramount in Petaling Jaya till Aug 7.
Subscribe now to our Premium Plan for an ad-free and unlimited reading experience!