The dance music community has been experiencing a steady revival, especially with numerous productions – from community to commercial shows – taking the spotlight in the Klang Valley in the last few months.
Classical ballet, traditional dance and contemporary offerings have returned to the stage on a weekly basis, with many sold out shows and new productions pointing to better days ahead for dance.
For Kalpana Dance Theatre (KDT), its Srajam: A Garland Of Nritya in April was meaningful in more ways than one. A collaboration with three other dance schools – Subranjali Dance Academy, Angika Fine Arts and Vehaara Arts – this was its first official live production since the pandemic.
Around 150 dancers were part of this showcase, including children from the Pure Life Society in KL, the B40 community and the UNHCR, who are taught dance weekly under KDT's outreach programme.
A young dancer seen at the 'Srajam: A Garland Of Nritya' dance performance in April in KL. Photo: Noveen Mannath
"For our little stars for whom Srajam marked their debut performance, it will definitely be one that will be remembered in their dance journey. We had an exceptionally good turnout ... dance performances often play a vital role in bringing together not only families but also the art fraternity under one roof," says Shangita Namasivayam, founder and artistic director of KDT.
During the lockdowns, KDT turned to virtual classes and hosted Utsava - The Soaring Desire To Dance, an online dance festival last year that featured over 40 dancers who performed from their homes.
"It was a very foreign experience at first, trying to figure out how to navigate through the pandemic. There were many challenges from network connectivity to the pandemic fatigue setting in but we pushed through and we made it out on the other side," says Shangita.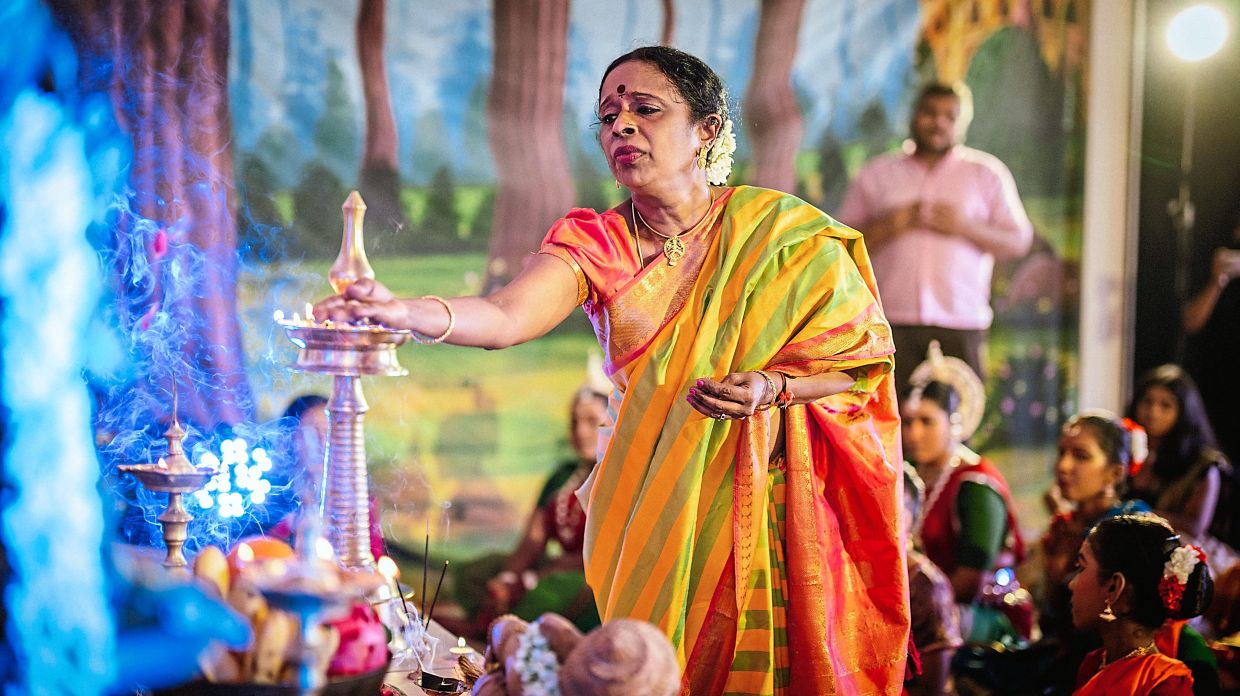 Shangita, founder and artistic director of Kalpana Dance Theatre, lighting the lamp in preparation for pre-performance prayers at 'Srajam: A Garland Of Nritya'. Photo: Noveen Mannath
Still, as any performer will tell you, nothing beats the energy that comes with live performances.
"We don't realise how much we take things for granted until we don't have it. That is exactly what it felt like going through the pandemic and its many restrictions. Dancing and performing live had become a luxury to be savoured. I am looking forward to more live productions in the near future," she adds.
KDT's next project will be based on ancient mythologies.
A chance to experiment, attract a new crowd
Amy Len, artistic director of Kwang Tung Dance Company, hopes that the public's appreciation and support for live shows will continue during these days to rebuild connections. In 2020, the company produced Merentas Awan, a series of dance photography and videography clips which were released online.
In March this year, the company staged Merentas Awan.Reconnect.Recreate, its first live production since the pandemic. This mixed-bill contemporary dance performance comprised eight new pieces based on themes inspired by the pandemic.
"Live shows have a magic that can never be recreated virtually, for both the performers and the audience. The pandemic made us realise how precious interpersonal connections are. It was a joy to stage a live show once again. The audience turnout was very encouraging, and all the shows were sold out," says Len.
A new piece '288 Hours', choreographed by Fione Chia, examined the different stages of response and coping mechanisms to isolation. It was part of Kwang Tung Dance Company's mixed bill 'Merentas Awan . Reconnect . Recreate'. Photo: Core Minimal Productions
She shares that this production was experimental on two fronts. This was the first time that Kwang Tung Dance Company explored the use of dance "dramaturgs" (including non-dancers), who supported the choreographers by providing critical feedback and fresh perspectives. Secondly, this was a site-specific performance where choreographers were allowed to explore and use different spaces around the company's regular rehearsal hall.
Kwang Tung Dance Company is a volunteer-run dance outfit so it did not have to worry about paying salaries during the pandemic. However, many of its members are dance teachers by profession, either operating studios or teaching in schools.
"The pandemic severely affected the income source of dance teachers, and some had to explore alternative income streams. We held online discussions and online classes for the first time during the lockdown. While we discovered that it is indeed possible and it is good to have options, dance is still something that is best experienced in person and with sufficient space.
"But there was one silver lining during the creative process for this production, and that was the lockdowns provided the choreographers with extra focus and clarity of mind. I think that showed in the quality of the pieces," says Len.
City Ballet Academy's 'In The Room' was part of its recent triple-bill 'Black And White' production. Photo: Chan Kien Ming
At City Ballet Academy, Black And White, a triple-bill contemporary dance performance, was staged in May at the Petaling Jaya Performing Arts Centre (PJPac), comprising In The Room, G13B1 and Full Head Of Dreams.
All three pieces were developed during the pandemic, the latest one being Full Head Of Dreams, which was inspired by The Father, a 2020 film starring Anthony Hopkins, as a man living with dementia.
"There were three things we wanted to represent in this production: Dream, Reality and Society. We also looked at the album covers of Pink Floyd, which gave us inspiration for the triangle set and colour palette of the piece," says Lu Wit Chin, artistic director of City Ballet Company.
"It felt great to feel the warmth and the energy in the theatre. The lockdowns had been very hard on us and it has diminished some students' passion for learning dance. We believe that the dance industry will see a boom this year. We are planning a full-length ballet production at the end of the year, titled Nutcracker And Clara's Dream," he says.
A scene from 'Aku Mau', a dance piece inspired by Tari Inai which was choreographed by Dayang Norinah. It was part of the 'KonTra: Bianglala' show at KLPac last month. Photo: Chew Seng Cheong
At the Kuala Lumpur Performing Arts Centre (KLPac), it had its first major dance show last month.
KonTra: Bianglala, comprising six pieces by different choreographers (Zhafir Muzani, Kerol Mokhtar, Dayang Norinah, Sharm Noh, Yee Teng and Izzie Islam) was directed by Zhafir. It focused on traditional dances like zapin, kuda kepang, tari inai, joget and traditional Minangkabau dance forms. A contemporary edge was given to each piece.
"Many of us, myself included, don't know a lot of the traditional arts that we have in Malaysia. With KonTra: Bianglala, I wanted these young choreographers to bring something creatively new and bold in their creation of new arts inspired by traditional arts. The key words are 'No Limitation'.
"We explored different ideas and concepts, storylines about masculinity, reimagined the martial arts and even played around with props like Buugeng, candles, wood stick and sound. It was about appreciating what we have and making an effort to keep it 'alive'," says Zhafir.
Yee Teng presents her piece called 'Mulan', about feminine and masculine movement in traditional Malay dances at 'KonTra: Bianglala'. Photo: Goh Bong Hiang
With such an approach, there were plenty of surprises to delight the KLPac audience, like the piece by Sharm Noh where he combined flow art Buugeng with silat movements, and Yee Teng's Mulan that merged dance forms inspired by Iban culture and kuda kepang.
"As a performer, I really missed the feeling of performing on stage and seeing the audiences gathering to watch the performances and together appreciating our heritage art forms and celebrating new ideas from all the choreographers. We received a lot of input and feedback on what they loved, how we can improve," he shares.
Moving forward: community and commercial fronts
During the pandemic, Dua Space Dance Theatre started Puchong Dance Network, a community networking project inspired by the idea of working together with artists and dance practitioners to raise awareness and visibility of the arts.
"Dua Space has been based in Puchong since Anthony (Meh) and Aman (Yap) established the company back in 1998. Witnessing the transformation of the city, we noticed that there is a lack of promotion of arts and cultural activities.
"During the pandemic, we saw a lot of good deeds from society such as food banks and the white flag campaign. We think art is also a very good way of expressing and getting people together during challenging times," says Lim Hongjie, Dua Space Dance Theatre assistant artistic director.
Two months ago, it held the one-day Puchong Community Art Festival at the Wawasan Recreational Park in Selangor, comprising a cultural dance exchange, modern dance exchange and an arts in the park programme.
Dua Space Dance Theatre's 'Dancing Lotus' photo exhibition included a guided tour and and interactive workshop with props and costumes. Photo: Dua Space Dance Theatre
For the dance exchange programmes, participating dance studios from Puchong included Vehaara Arts Dance Studio, My Danz and Artz Studio, Clavier Academy of Music and Ballet. There was also an open call for non-dancers.
This exchange proved to be rather interesting as there were classical Indian dancers who learned a Chinese fan dance, ballerinas who went Bollywood and non-dancers who learned joget gamelan.
"Our company dancer Chee Kar Hung choreographed a Chinese fan dance for Vehaara Arts Dance Studio. At the same time, we had Kuna (Velayutham), the artistic director of Vehaara, teaching ballet dancers from My Danz And Artz Studio a Bollywood medley. Kuna even organised hair-do and make-up sessions for these young dancers to learn how to prepare themselves for a performance," says Lim.
During this festival, Lim worked with five young dancers from Dua Space Dance Theatre Academy, pairing them with a mother and son duo to present a piece in conjunction with Mother's Day.
"The mother and son duo had zero experience in dance and the boy was only five years old. Using their daily interaction and game activities as the movement materials, I created a segment focusing on their mother-son relationship," he says.
An estimated 5,000 people attended the event. As part of its Community Arts Studio project, it held its Dancing Lotus photo exhibition early this year at Dua Space Dance Theatre and again in May at Play! Klang Coshtel.
Dancers from Vehaara Arts Dance Studio presenting a Chinese fan dance at Dua Space Dance Theatre's 'Puchong Community Art Festival' dance exchange programme. Photo: Dua Space Dance Theatre
The exhibition experience included a guided tour session and interactive workshop with the props. Next year is a big one for Dua Space Dance Theatre as it celebrates its 25th anniversary. Founders Yap and Meh will each create a solo piece, to be presented during their respective birthdays. There are plans to combine these two pieces into a touring performance.
In Petaling Jaya, a new dance company Ballet Theatre Malaysia was set up last year to make available a professional-standard ballet outfit and to achieve international recognition in the classical ballet scene, through quality productions.
"Malaysia has numerous ballet schools that provide training for young dancers. However, the country lacks an avenue for talented dancers who aspire to progress further, to turn professional. So far, the accepted norm has been for these dancers to seek training abroad, via scholarships, sponsorships or with parental financial support.
"For obvious reasons, these avenues are not always available, and much talent has had to be left on the back-burner. To meet our two aims, we have amalgamated two essential components: 'hardware' in the form of the physical theatre, and 'software' such as experienced artistic and production personnel," says Ballet Theatre Malaysia artistic director Choong Wan Chin.
This combination is critical in developing local talent while providing returning dancers a stage on home ground to build their future, she mentions.
Carmen (Yui Kyotani, in red) in the factory scene in Act 1 of Ballet Theatre Malaysia's 'Carmen' and 'Raymonda Grand Pas Classique'. PhotoL Huneid Tyeb
The company held its debut performance, Spectrum: Triple Bill, at the Damansara Performing Arts Centre (DPac) at the end of last year.
"The idea had been brewing for some time and we decided to go ahead with it, even if it coincided with the pandemic. The crowd turnout was encouraging during the first week of the performance with support from dance lovers and theatregoers who have been looking forward to live performances.
"By the time the second week rolled around, word had spread and we reached over 90% capacity. To be able to finally perform 'normally', that is, without masks and with a live audience, was quite surreal after such an extended period of lockdown," she says.
In April, Ballet Theatre Malaysia staged the popular work Carmen at DPAC.
Next up is Alice In Wonderland, comprising a full-length ballet and a month-long exhibition featuring scenes from the ballet and the book, which is slated to end Ballet Theatre Malaysia's year on a high note.
Subscribe now to our Premium Plan for an ad-free and unlimited reading experience!