On a balmy September evening, a dozen people stepped off their ride on the Ferris wheel on Hong Kong's harbourfront and shuffled past snack vendors on their way to the exit.
It was 8.45pm but two of the three shops had already wrapped up business for the day, ignoring their own listed closing time of 9pm. It made little sense to stay open anyway – the eye-popping lights along the massive Observation Wheel would soon go dark for the night, and no one was expecting the last ride to carry anywhere close to its 336-person capacity.
Not far away, a young German couple, Tobias and Halina, posed patiently for a paid photograph against the backdrop of skyscrapers, vaulting upwards into the clouds and crowned by the distant glow of some of Asia's priciest mansions on The Peak, a snapshot souvenir of their first visit to the city. But instead of discussing where to go next, they began to head back to their hotel.
Do you have questions about the biggest topics and trends from around the world? Get the answers with SCMP Knowledge, our new platform of curated content with explainers, FAQs, analyses and infographics brought to you by our award-winning team.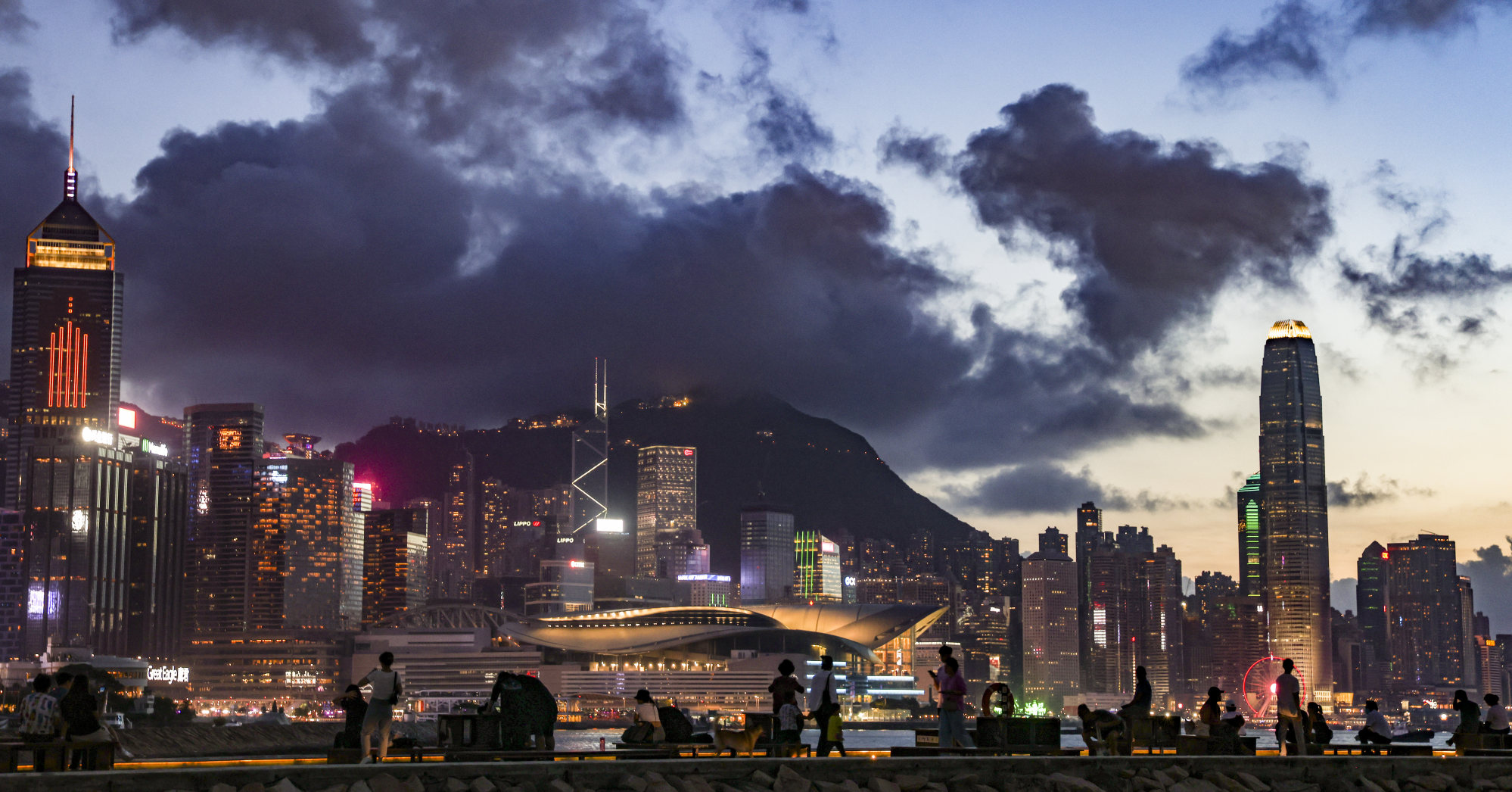 "Hong Kong is a beautiful city at night, but there doesn't seem to be much to do," said the 31-year old Tobias.
A few hours later and several train stops away, in Causeway Bay, a group of about a dozen university-aged students were seen rehearsing a dance routine outside shuttered stores in the city's pre-eminent shopping district.
Janice Lau Tsz-ching, 20, told the Post they got together once a week to perform as a hobby and promote Hong Kong street culture, but lately they had been receiving noise complaints from nearby residents.
"These stores used to stay open until midnight, but people have gotten used to them closing at 8 or 9pm," she said. "It's kind of sad."
That sentiment is shared by the government. After emerging from its pandemic cocoon, Hong Kong has been forced to contend with an unexpected change: one of the busiest cities in Asia has suddenly found itself strangely quiet and empty, at least compared with pre-Covid days.
Tourism patterns have changed, spending habits have shifted and a wider economic slowdown have all conspired to sap the city of its vitality, most visibly at night.
The government has prioritised an effort to revive tourism and consumption, launching from last week a slew of evening activities under a months-long "Night Vibes Hong Kong" campaign. Night bazaars, extended shopping hours and free after-dark activities are being rolled out in a bid to resuscitate the city's anaemic evening economy.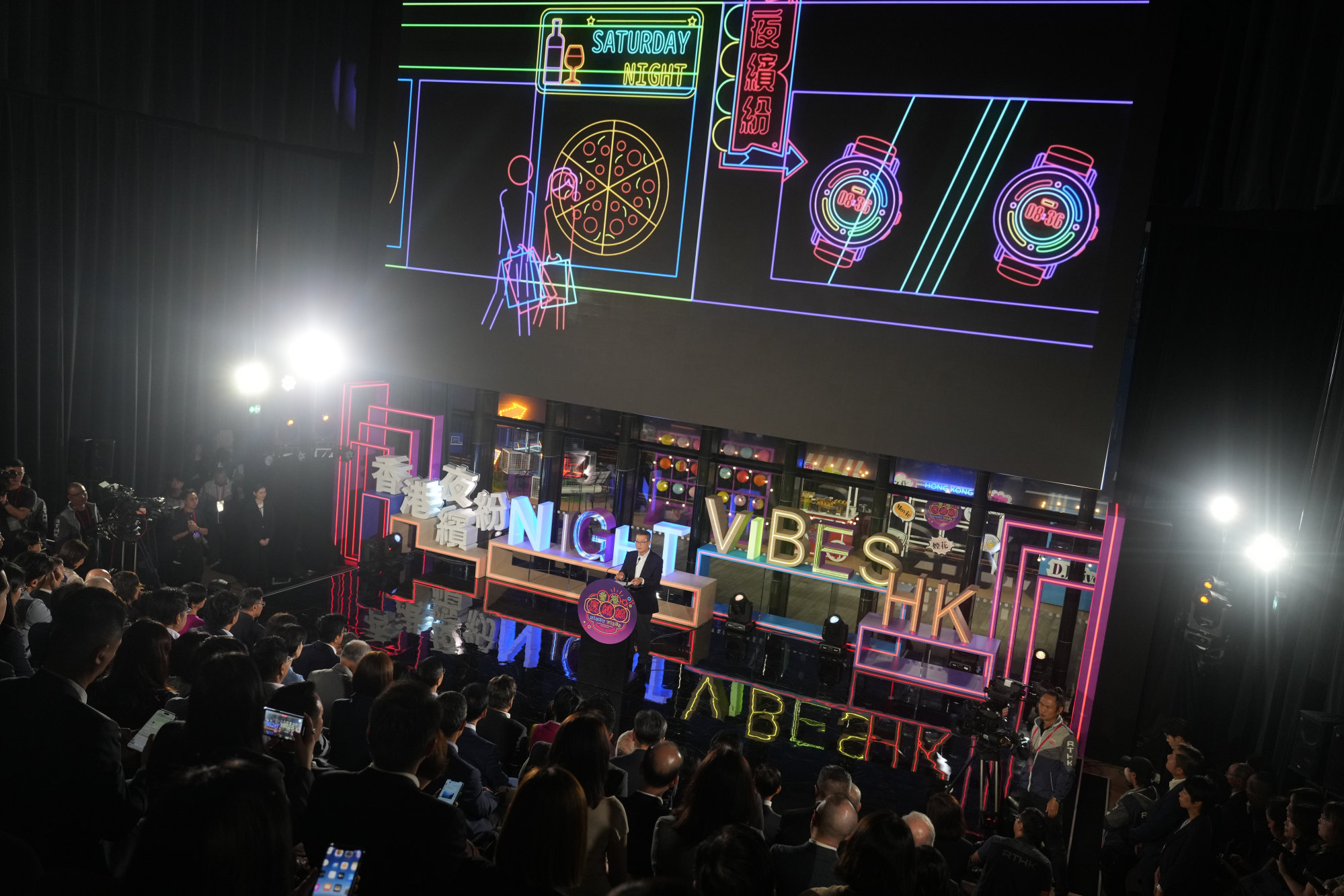 Wholesale and retail trade, accommodation, and food services made up as much as 7.5 per cent of total gross domestic product (GDP) in 2018, but that has shrunk dramatically in the years since due to the 2019 unrest and Covid-19 pandemic. The figure stood at 4.3 per cent in 2021.
While there is no publicly available report on the potential economic impact of a reinvigorated nightlife, a 2019 study commissioned by New York City shows the difference it can make. Nightlife activity alone contributed at least US$35.1 billion to New York's economy in 2016 – or 2.3 per cent of total GDP.
By comparison, Hong Kong's entire accommodation and food services amounted to 1.7 per cent of Hong Kong's GDP in 2021 – the most recent year with sector breakdown. The economic upside to a thriving nightlife is clear.
"Most economic activity right now is concentrated in the daytime," said Billy Mak Sui-choi, an associate professor with the department of accountancy, economics and finance at Baptist University. "If we can extend it to the evening then we expand the overall [economic] capacity."
While the city was once known for having one of the region's most vibrant night scenes, little of that verve has returned in the post-pandemic months.
Many experts have noted the change in post-pandemic consumer-behaviour, including an unwillingness from locals to venture out late and stores in turn shutting earlier.
"Having a night economy is important if Hong Kong wants to be called an international city," said Simon Lee Siu-po, an honorary fellow at the Asia-Pacific Institute of Business at Chinese University.
"If people don't come out at night, it makes the city appear as though it's not very dynamic."
As Hong Kong struggles to get back on its feet, other tourist destinations are beckoning, prompting concerns that it could soon lose out to nearby competitors such as Shenzhen or elsewhere like Tokyo and Seoul.
Nighttime snoozefest?
Early signs indicate a revival is in the offing, but just how robust it will be remains uncertain.
Retail sales for the first half of this year are up by 20.7 per cent over the same period last year, and the city welcomed 20 million tourists between January and August.
But not much of it is apparent in the evenings, as a street poll by the Post over the past week and visits to five nightlife districts across the city suggested.
Weekday activity in these districts remains muted and while things tend to pick up on Fridays and Saturdays, not all districts are patronised to the gills.
At Causeway Bay, the Post observed that while shopping centres such as Times Square and Hysan Place would open as late as 11pm on weekends under new extended hours, many of the shops inside were already closed by 9.30pm.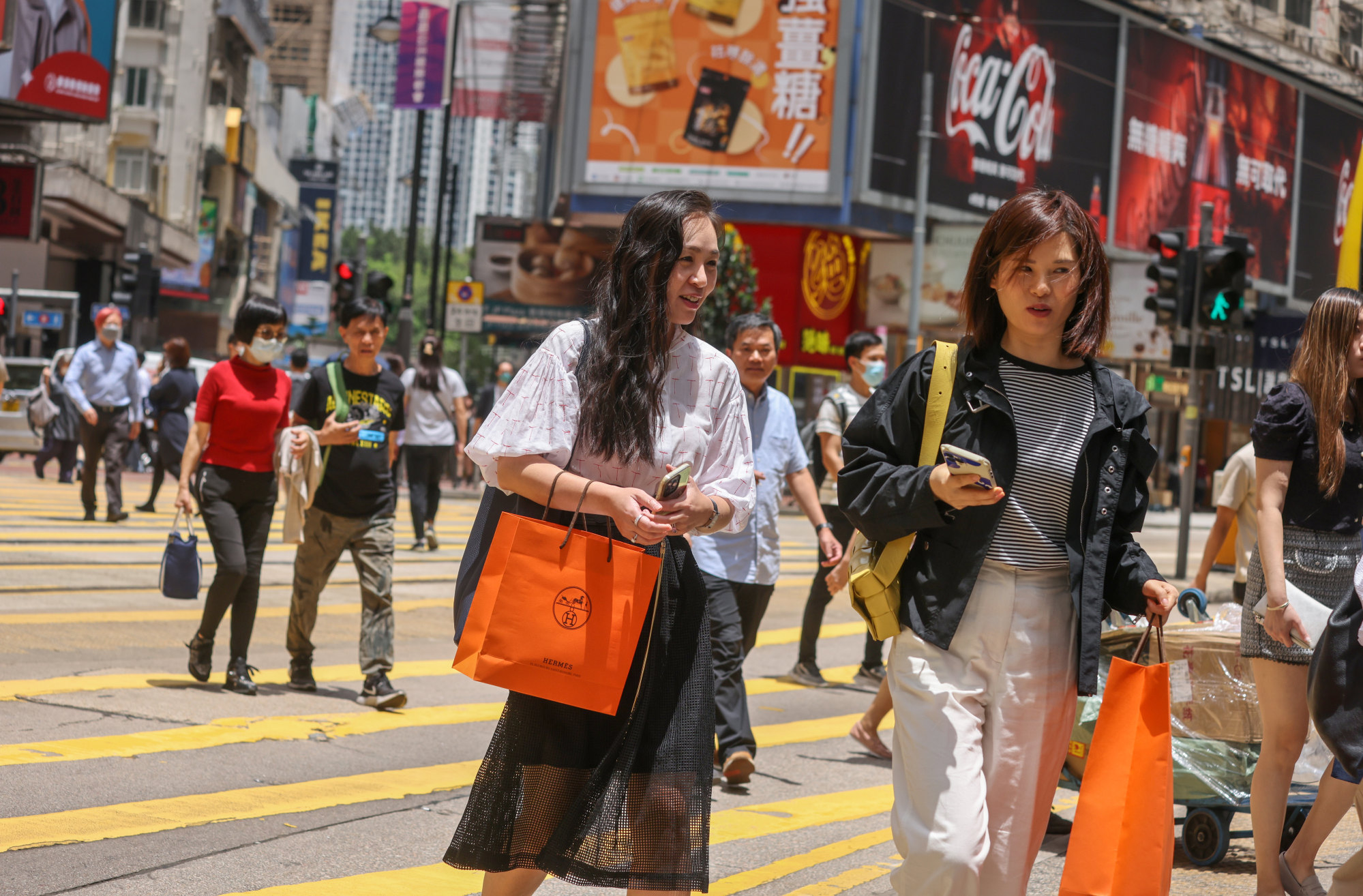 By 10pm, the longest queues seen in the city's pre-eminent shopping district were for taxis and buses.
Contrast this scene with New York City's Times Square, where most stores remain open until at least 10pm with many extending their hours to midnight.
Causeway Bay is also home to two 24-hour grocery stores – Wellcome and Donki – and these are about the only areas buzzing with people, as locals who end work after midnight do their grocery shopping as late as 2am.
On the Kowloon side of the city, the often hyped-up buzz of the markets was nowhere to be found when the Post visited last week. Even though the Temple Street Market shares a midnight curfew with Taipei's ever-bustling Shilin Market, by 11pm on a Tuesday, most stalls had already closed.
One vendor selling paintings said she used to see about 300 customers a day before the pandemic, and now he only had around 40. Just outside the market, a lonely string of fortune-tellers sat under their canopies, as only a slow trickle of visitors popped in.
The most vibrant source of energy this side of Kowloon came from some 40 elderly residents seen drinking and dancing along to street-side Cantonese opera. But at 10pm sharp, a police van came by to inform them to stop the fun, leaving them no choice but to pack up for home.
Australian Troy O'Brien, who was making his eighth visit to the city for a jewellery conference, sensed the stark difference compared with the past as he made his way through Mong Kok's mostly shuttered Ladies' Market at 9.30pm earlier that night.
"This place used to be filled with tourists and performers, but everything is already closed," the 48-year-old said. "There used to be a real vibe but now it seems like there is no vibe at all."
Away from the shopping scene, even larger attractions are not into nighttime activity. The M+ museum recently announced it would extend Friday hours to 10pm, but every other day of the week, the closing time would remain at 6pm.
In recent years, Hong Kong's dining establishments have also developed a reputation for closing early.
With a few exceptions, such as fishball snack stalls and dai pai dong-style restaurants that stay open until 3am or later, most eateries across the various districts the Post visited were closed by 10pm.
Just after midnight in Jordan, the busiest restaurant appeared to be a 24-hour McDonald's, where the wait for a burger was around 15 minutes.
Some eateries do close well before their listed hours. On a Sunday visit to hotpot-chain 616, which said it closed at midnight, a server told this Post reporter the last order was at 10.30pm. Employees turned off the air-conditioning while the reporter was still eating at 11.15pm and was told to leave by 11.30pm.
Simon Wong Ka-wo, president of the Hong Kong Federation of Restaurants and Related Trades, said that many eateries were grappling with softer demand and a lack of manpower, forcing them to close earlier.
"A lot of restaurants would rather operate on one shift, instead of one and half or two shifts a day," he said. The sector needed at least another 60,000 workers, he added.
Restaurants were also struggling from a lack of customers, he said, as residents either avoided spending money to save for trips elsewhere or headed across the mainland Chinese border to Shenzhen each weekend.
Hongkongers going on post-pandemic "revenge travel" made 216,400 visits to Japan in July alone this year, according to data from the Japan National Tourism Organisation.
In the same month, the city's residents made 4.68 million trips across the border to Shenzhen, where prices are much more affordable.
"It's frustrating for us, because the expenses for a day of entertainment in Shenzhen is only about a third of what we pay in Hong Kong," Wong said.
On a recent weekday at Knutsford Terrace, a popular nighttime destination in Tsim Sha Tsui, Jennifer Law and Wendy Ye, two 20-year-old City University students, told the Post they travelled to Shenzhen at least twice a month.
By comparison, they said they only came to Knutsford Terrace twice a year.
"Going out in Hong Kong is too expensive," Law said.
Other young residents the Post spoke to expressed a lack of interest in the city's nightlife offerings.
"Most of the bars just do general stuff," said Jason Chan, a 25-year-old architect, adding that he would prefer to see more speciality bars and live music available elsewhere such as in Thailand or in New York.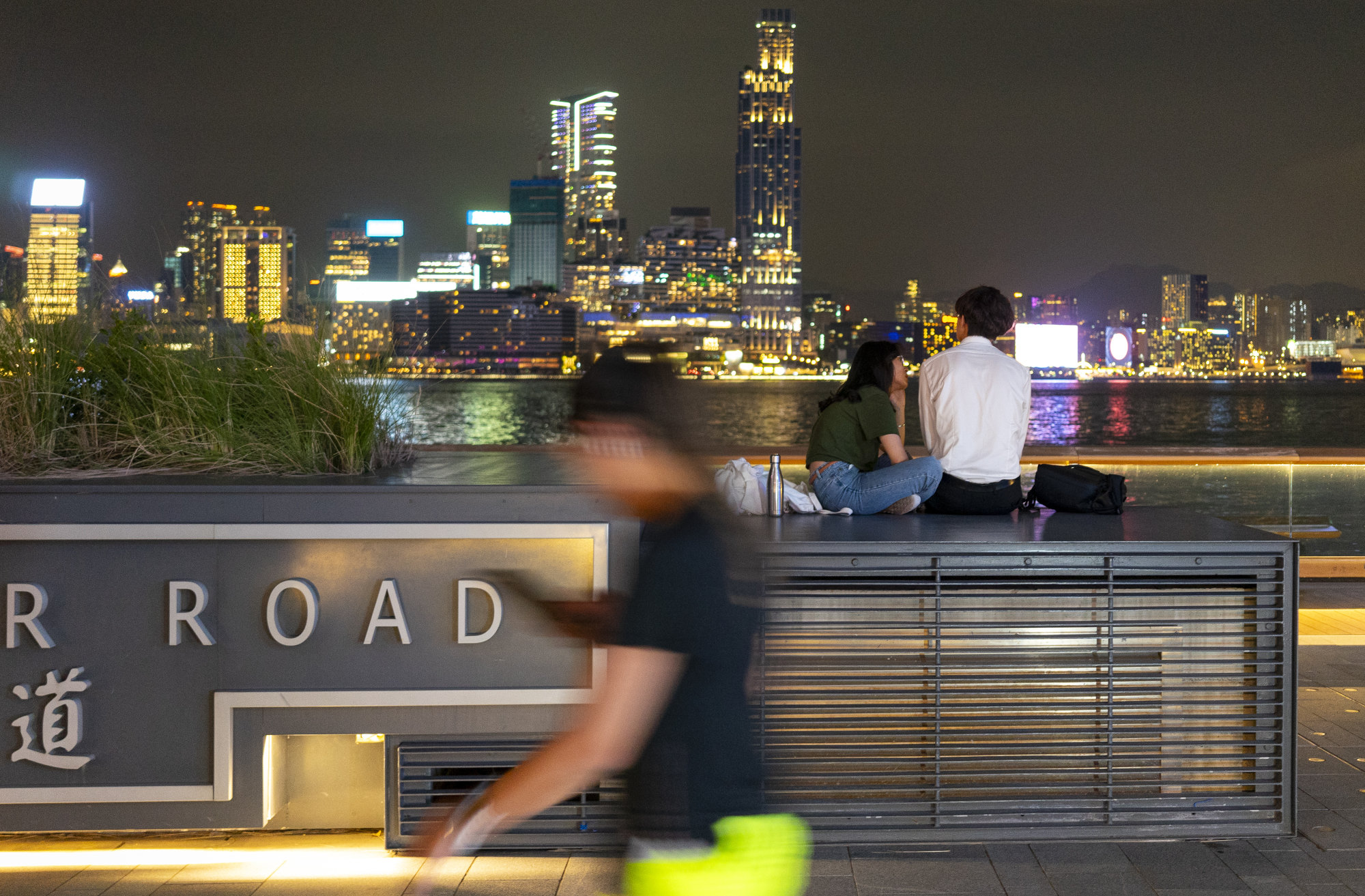 Young people were not the only ones lukewarm to Hong Kong's nightlife. Several families the Post met out and about in the evenings also were similarly unimpressed.
"All there is to do is get together with family and watch something on a screen," said William Cheng Wai-ming, referring to the public film screenings at The Grounds at the Central waterfront.
The 50-year-old, who was there with his wife and four-year-old son, said he would have liked more green spaces for families to enjoy the evening atmosphere, like there were in Shanghai.
Signs of life but ...
Despite the doom and gloom, the traditional nightlife hotspots seem to be showing signs of their old self, with party-goers pouring in during weekends. On a recent Saturday, the Post observed large crowds spilling out onto the streets in Central's SoHo area around midnight, with long queues for late-night snacks such as skewers and kebab.
Clubbing district Lan Kwai Fong was back to its rowdy self when the Post visited on Friday and Saturday, with a diverse mix of locals, expats, international students and tourists alike shuffling through the narrow roads as they went bar-hopping. Most of the watering holes told the Post they would stay open until at least 5am.
Brian Tong King Hong, a mainland tourist from southern Guangxi province, who was partying in the area with a friend on a Friday, said he was drawn to the cluster of bars and clubs, and planned to stick around until 2am.
"It's so famous," the 32-year old who works in finance said. "Whenever I come to the city I always try to visit here."
So far, the Night Vibes campaign's soft launch has been greeted positively too.
Happy spectators filled out the Happy Valley Racecourse on September 20 for the first day of free entry, with live music and acrobatics accompanying boisterous horse race betting and beer drinking.
The campaign's first night bazaar along Tsim Sha Tsui's Avenue of Stars and K11 Musea promenade last Friday also drew a large crowd of mostly locals and mainland tourists who sampled street food, a musical performance by a local busker of songs from Hong Kong films, and other Hong Kong goods.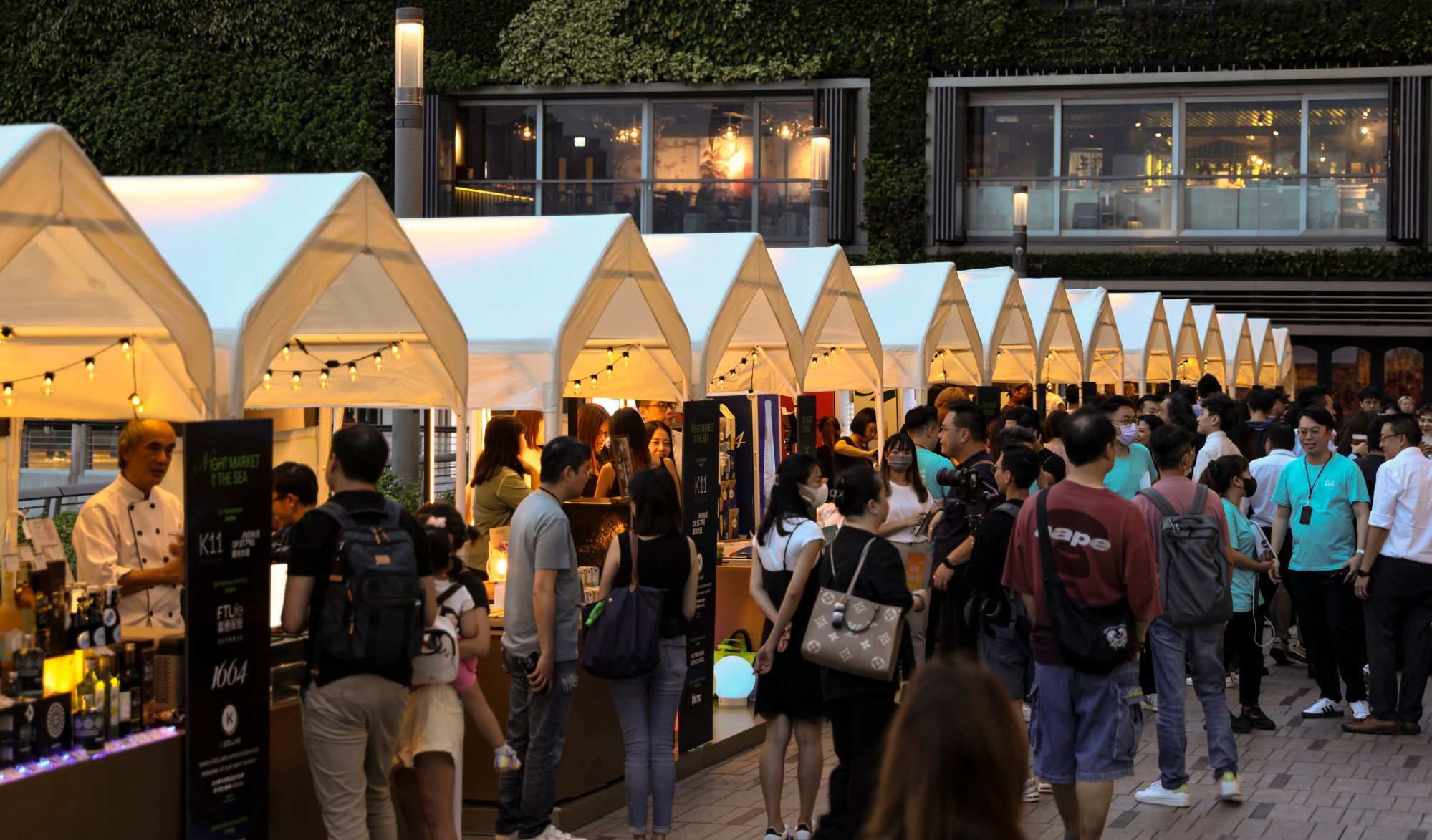 Audrey Chow, 24, who was shopping at the bazaar said it was a "good start".
"A lot of people are out and there are a variety of local businesses. I think it will help the economy a lot and I am happy to be here to support local businesses," she said.
While critics say the efforts to revive Hong Kong's nightlife will be an uphill task, examples from other cities suggest not all is lost.
In Singapore, for example, the annual Grand Prix racing event has become a centrepiece of its nightlife activity, drawing the attention of millions to its city skyline at night. Introduced in 2008, it marked the inaugural nighttime event in the Formula One World Championship, with races taking place at 8pm. Its most recent edition held earlier this month drew 264,000 spectators.
According to the city state's tourism board, the event employs 30,000 staff, contractors, and other business representatives at each event, but it has also generated S$1.5 billion in incremental tourism receipts over the 14 races it has held since its debut.
Success, however, cannot happen overnight for Hong Kong.
"It took a coordinated, long-term effort across government departments," said Gary Ng Cheuk-yan, a senior economist for Asia-Pacific at Natixis Corporate and Investment Bank. "They had to develop habits of consumers to keep coming back. It was not a one-off thing like Night Vibes seems to be."
At least one centrepiece event, if not a few, must be permanent items on the events calendar in Hong Kong to generate buzz after dark. Such buzz however cannot come about in a battered economy without new initiatives.
Ng said the government should go beyond the campaign to address larger macroeconomic issues facing the city, such as the sluggish stock market and property sector, as well as develop new, more culturally unique and authentic tourist attractions to cater to changing tastes.
"Just focusing on the night economy misses the big picture," economist Ng said. "When you have synergy between domestic income and tourism it will happen naturally."
"The key problem is the government should try to find other growth engines."
Simon Lee from Chinese University, echoed his view.
"Domestic consumption depends on the domestic economy," he said. "Nighttime activities can draw people out, but it won't make them spend."
As the Post's tour of the hotspots this past week showed, Hong Kong's nightlife can shine, but it will take so much more to get the economy to dazzle again.
Additional reporting by Laura Westbrook and Lo Hoi-ying
More from South China Morning Post:
For the latest news from the South China Morning Post download our mobile app. Copyright 2023.
Subscribe now to our Premium Plan for an ad-free and unlimited reading experience!