Malaysia:
* Umno purge: 'You are now free', PN leaders, Annuar Musa tell those axed by Umno
* Umno purge: It will be a collective party decision, says Rafizi if sacked leaders keen to join PKR
* Umno purge: No surprise KJ sacked, says Pak Lah's former advisor
* Umno purge: Nothing unusual about sackings, KJ, Hisham's actions more outrageous, says Puad
* Umno purge: What happened at the supreme council meeting before the axe fell
* Umno purge: Anti-hop law likely a factor in not sacking rogue MPs, say political analysts
* PM: Politicians play up race, religion to distract people from the real bogeyman
* KJ and Noh Omar sacked - Others suspended as Umno undergoes a 'mass cleansing'
* Unbowed, unbent, unbroken, says Khairy over Umno sacking
* Eight cops including four senior officers detained in Tawau murder probe
* Covid-19 Watch: 236 new cases bring total to 5,035,613
* Evil must not stop us, says Hisham in cryptic FB post
A view of the skyline in Singapore. - Reuters
Singapore:
* Syndicates more willing to traffic drugs in larger quantities after Covid-19, says Singapore minister
* Singapore-based social networking app Bondee hit with allegations of credit card misuse
* Singapore's famed shopping giant - Mustafa Centre - to open flagship store in Johor Bahru
* Interpol red notice issued against missing ex-principal from Singapore involved in O-level cheating case
* No spike, low daily Covid-19 cases despite Chinese New Year holidays in Singapore, says health minister
* Hypocritical to complain about learning from Singapore, says Nga
* Man in SG admits to sexually exploiting minors, including two sisters he met on boy band fans' chat group
* Oil prices settle lower on stronger supply outlook
Indonesia:
* Indonesian and Philippine water experts push for more sustainable dams amid climate change
* Funding and research hamper Indonesia's seaweed potential for biofuel
* Frenchman, who once stole data from Indonesian e-commerce site Tokopedia, pleads not guilty to hacking charges at US court
* Home hero and crowd favourite Jonathan Christie battles into Indonesia Masters final
* Jokowi's two sons likely to contest in 2024 elections
* 'Indie mothers' embraced by young music fans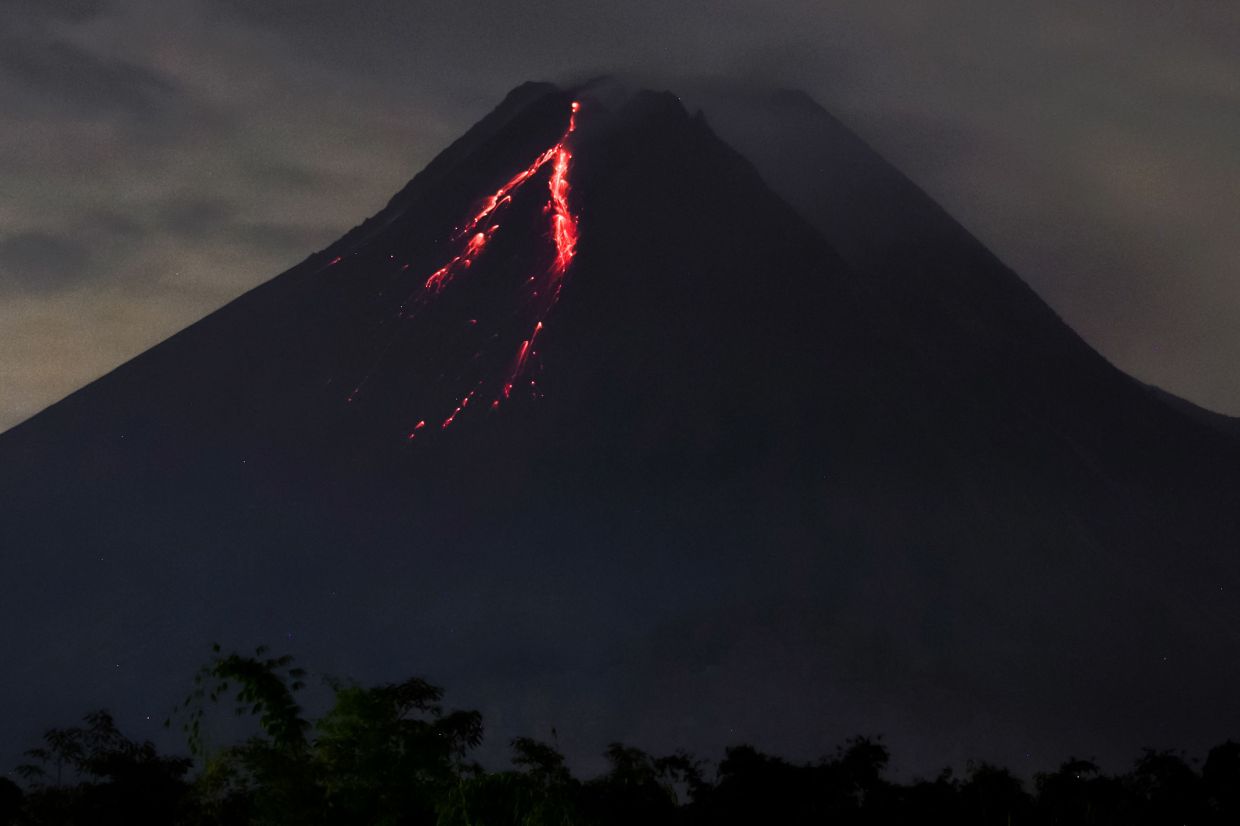 Mount Merapi, as seen from the Indonesian regency of Sleman on the island of Java, spews lava during an eruption on Saturday, January 28, 2023. - AFP
Thailand:
* Thaksin's daughter rejects rumours of a secret deal for his return to Thailand
* When trash becomes trendy for Thailand's fashion industry
* Thailand's air pollution woes worsens and Bangkok residents are advised to work from home
* 'That's ridiculous' - Thai police hit back over 'drunk' Taiwanese actress's extortion claim
* Thai activist jailed 28 years
* Ruling party names deputy PM as main polls candidate
Philippines:
* Three in four women in Philippines use smartphones, say survey
* Search for missing Cessna plane in Philippines halted due to bad weather
* Philippines to appeal International Criminal Court resumption of drug war probe
* Philippines' GDP growth leads Asean region at 7.6 per cent in 2022
* Probe on 'war on drugs' an irritant
A dragon dance performer greets a traveler from China at the Ninoy Aquino International Airport, in Pasay City, Metro Manila, Philippines. - Reuters
Vietnam:
* Intertwined opportunities, challenges for Vietnam's economy in 2023
* Vietnam among world's 10 biggest recipients of remittances
* Vietnam capital Hanoi is among the world's top three culinary destinations, says Tripadvisor
* Vietnam always remain a good business partner of Hong Kong, says top official
* Vietnamese nationals account largest proportion of Japan's foreign worker population according to official data
Myanmar:
* Two years after Myanmar coup, UN says situation 'catastrophic'
* Pilgrims return to Buddha's golden footprints
* Junta plans polls with tough rules for political parties
Cosplayers pose during the 11th Taipei International Comics and Animation Festival in New Taipei City. - AFP
Cambodia:
* PM Hun Sen says he believes in religious freedom, praises Christian contributions to Cambodia
* Cambodia ready to prove they will be a great host when the 32nd SEA Games begins in Phnom Penh
* Scam victims lying to save face, says Cambodia
Laos:
* Lao brewery company launches non-alcoholic beverages in Vientiane
* Rising problems as Laos logs 238 dengue cases already this year
Brunei:
* Brunei retains 12th spot in Islamic Finance Development world rankings
* Brunei's popular public service app - QueUp - goes offline following data breach
Local rescue authorities and military officials inspecting wreckage of a crashed aircraft in Bharatpur district. Two Indian Air Force fighter jets crashed on Saturday, January 28, killing one pilot and injuring two others, in an apparent mid-air collision while on exercises south of the capital New Delhi. (Photo by Rajasthan State Disaster Response Force (SDRF). - AFP
AseanPlus:
* Turkey summons Danish envoy over Quran burnings amid Afghanistan, Malaysia protests
* Senior US general warns of possible looming war with China
* In Beijing's backyard, US demonstrates its military might in South China Sea
* Stretching the retirement ringgit
* Two Indian military jets crash, one pilot confirmed killed, two others injured
* Holiday trips within China surge in big numbers after lifting of Covid-19 curbs
* US secures deal with Netherlands, Japan on China chip export limit, says report
* Tech war: China's top memory chip maker YMTC to test the limits of innovation under US restrictions
* Not in the same vein: New HK blood therapy spares patients from hospital commute by allowing self-jabs in comfort of own home
* Uncertain future for jailed Hong Kong protesters: what's next for resident doctor, top music graduate and engineer?
* US State Department avoids commenting on India's ban of documentary critical of Modi
* Letting Hong Kong leader decide on foreign lawyers in national security trials erodes rule of law: US envoy
* Opening of borders with mainland China no silver bullet for Hong Kong's retail sector, economists say
* While animal origin of Covid-19 remains a mystery, will revised law in China help prevent more diseases jumping from wildlife to people?
* No Lunar New Year festivities for Hong Kong's homeless who seek refuge from cold weather in temporary shelters
* US offers a safe haven for Hong Kongers fleeing China
* Japan: More to restrict China trade
* A major rethink of India's long-term fuel needs
* Tennis-Djokovic battles Tsitsipas in high stakes Australian Open final
* Japan eyes easing S. Korea export controls as Seoul seeks to bolster ties, says media
Subscribe now to our Premium Plan for an ad-free and unlimited reading experience!