Hong Kong customs has seized almost 50 tonnes of dried seafood valued at about HK$250 million (US$32 million) among contraband products worth HK$300 million before it could be shipped to mainland China to meet festive season demand.
The Customs and Excise Department on Monday revealed that the seized cargo – this year's biggest haul of smuggled goods so far – also included 30 tonnes of waste comprising old batteries, circuit boards and ground plastic items banned from being imported into the mainland.
The haul also included about HK$1.5 million worth of mainland-made cameras and lens.
Do you have questions about the biggest topics and trends from around the world? Get the answers with SCMP Knowledge, our new platform of curated content with explainers, FAQs, analyses and infographics brought to you by our award-winning team.
A security source said it was possible smugglers had exported the mainland-made products to receive a tax refund from Chinese authorities. The Chinese government gives exporters of such products 13 per cent of the value of the goods as a tax refund.
Those involved might then have planned to smuggle the goods back across the border either to sell them or ship them out once more to cheat the government again, the source said.
Shipping documents showed that a local trading company was the consignor of the haul. After an investigation, customs officers arrested the company's proprietor, 48, and his female employee, 53, in connection with the case.
Superintendent Raymond Cheng Tak-hei of customs' syndicate crimes investigation bureau said the cargo was subject to mainland tariffs of between 40 per cent and more than 200 per cent.
"Smugglers could have evaded HK$300 million in tariffs if all the goods were successfully smuggled into the mainland," he said.
Cheng added that the whole consignment had a total market value of HK$300 million in Hong Kong, but it could be sold for around HK$600 million on the mainland after tax.
The consignment, which was stored in 10 shipping containers, was intercepted by customs officers at a Kwai Chung container terminal on October 26, before it could be loaded onto an ocean-going vessel arriving from India. The ship was scheduled to leave the city the following day.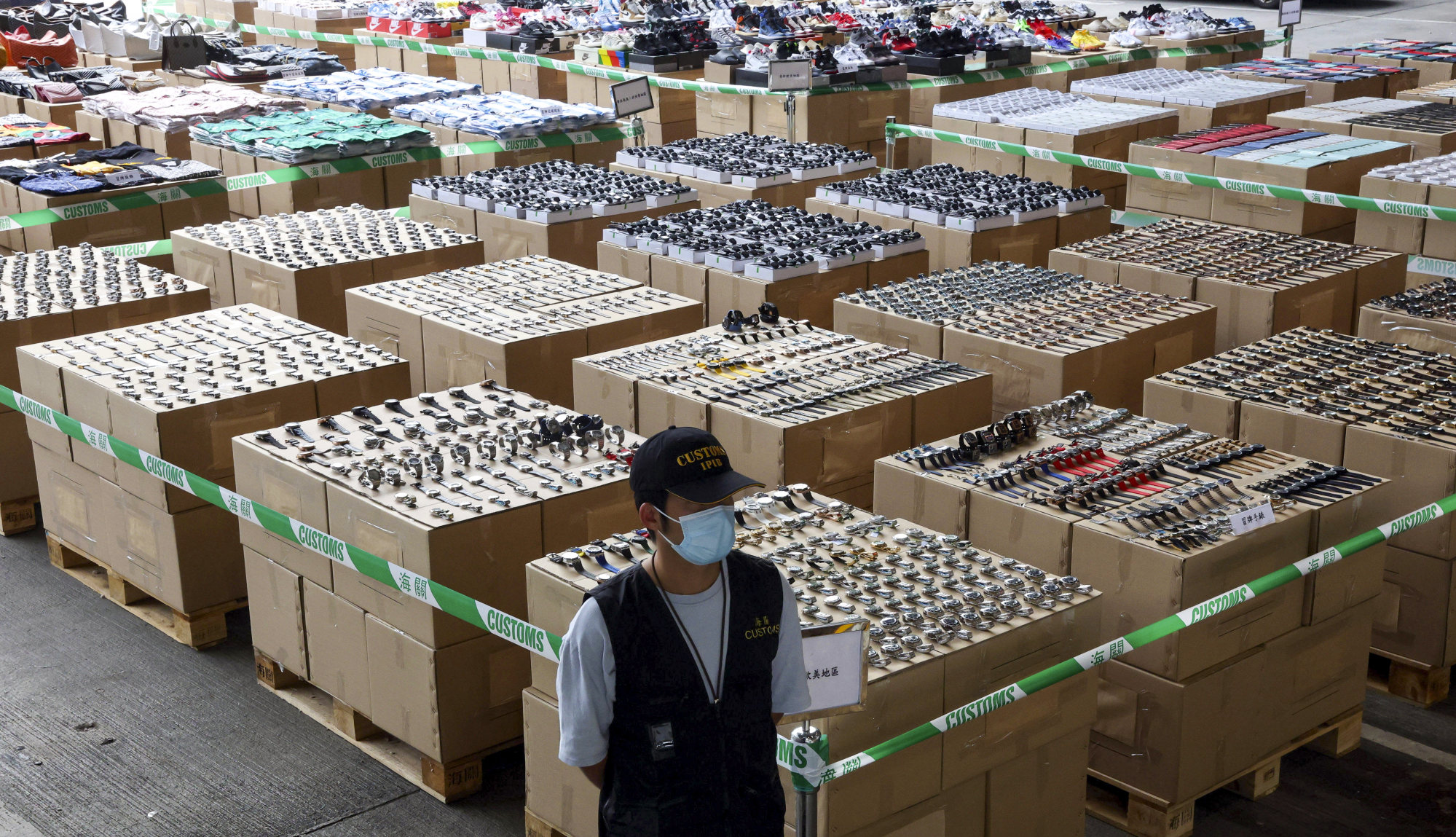 According to the department, the consignment was declared as acrylic sheets to disguise the contraband products and its destination was Tianjin in northern China.
Cheng said the shipment was selected for inspection because the mainland was one of the main manufacturers of the product, making it unusual for such cargo to be shipped there.
He added that the department had also been alerted in an exchange of intelligence that an ocean-going vessel would be used to ship a huge haul of contraband products from Hong Kong to the mainland.
The 10 containers were towed to the customs examination compound in Kwai Chung for further inspection after suspicious images were found during an X-ray examination.
Customs officers seized 47 tonnes of dried seafood, nearly 30,000 bottles of red wine, about 4,000 items of cosmetic products and injectables, and a large quantity of second-hand electronic goods, as well as 30 tonnes of waste.
Among the dried seafood was 35 tonnes of fish maw worth about HK$200 million and six tonnes of shark fin valued at HK$45 million. It also contained 3.5 tonnes of suspected endangered species including the shark fins, dried geckos and rare wood.
After a subsequent investigation, customs officers arrested the proprietor of a trading company and his female employee in Yuen Long on October 28.
Senior Superintendent Rita Li Yim-ping, head of the bureau, said the haul was customs' biggest seizure of contraband products in a single smuggling case this year.
She said she believed the cargo was headed to the mainland to meet demand for festivities such as the winter solstice, a Chinese traditional day for family reunions over lavish meals, in December and Lunar New Year in January.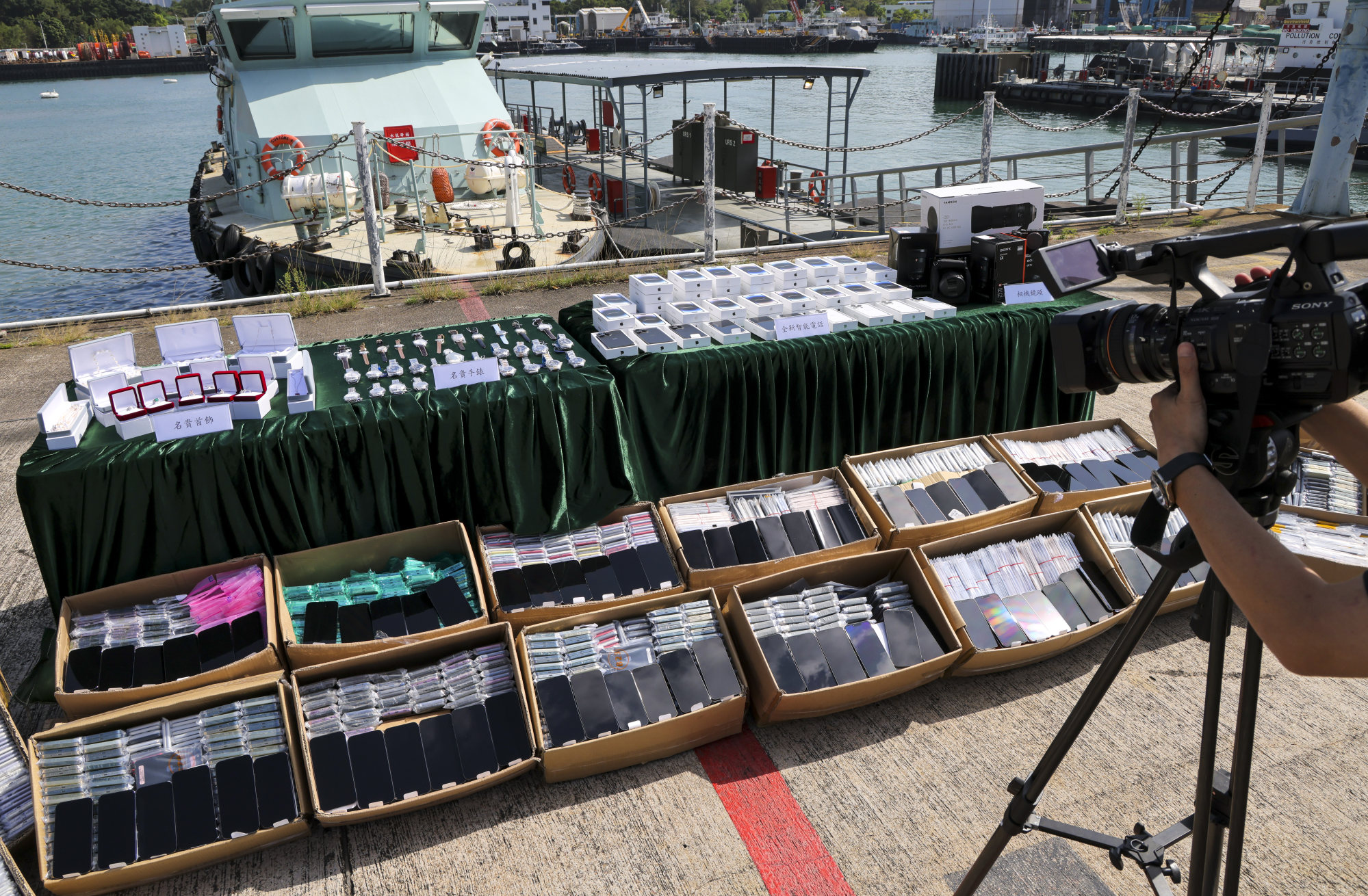 Due to stringent enforcement action against seaborne smuggling involving the use of riverboats over the past few months, she said: "Smugglers tried to use an ocean-going vessel instead of a riverboat to deliver the cargo to Tianjin rather than their usual destinations in Guangdong [in southern China] in an effort to avoid our detection."
She added they would continue to exchange intelligence with the mainland and overseas law enforcement agencies to combat such illegal activities.
According to the department, the two suspects were released pending further investigation. Officers are still investigating the source of the goods.
Smuggling is a serious offence under the Import and Export Ordinance, and punishable by up to seven years and a fine of HK$2 million.
Between January and October this year, customs officers confiscated HK$1 billion worth of contraband products in 79 sea smuggling operations. There were 84 cases totalling HK$2 billion worth of illicit goods seized in the same period last year.
In October last year, customs officers seized HK$1.2 billion worth of smuggled goods, the biggest haul in its 112-year history, intercepting them in 24 shipping containers on a vessel bound for the mainland.
More from South China Morning Post:
For the latest news from the South China Morning Post download our mobile app. Copyright 2022.
Subscribe now to our Premium Plan for an ad-free and unlimited reading experience!