China's home-grown C919 narrow-body passenger jet, poised to challenge Boeing and Airbus, has seemingly been certified to fly, according to photos posted on social media, though an official confirmation has yet to be made.
The single-aisle C919, manufactured by the state-owned Commercial Aircraft Corporation of China (Comac), appears to have been handed a "type certificate" by the Civil Aviation Administration of China (CAAC) at a ceremony in Beijing after 14 years of development.
A sign in one of the photos says "C919 aircraft type-certificate issuance ceremony" in Chinese, along with a screenshot of the type certificate issued by the CAAC to Comac for the C919, dated Thursday.
Do you have questions about the biggest topics and trends from around the world? Get the answers with SCMP Knowledge, our new platform of curated content with explainers, FAQs, analyses and infographics brought to you by our award-winning team.
A type certificate signifies the airworthiness of a particular type of aircraft, according to its manufacturing design.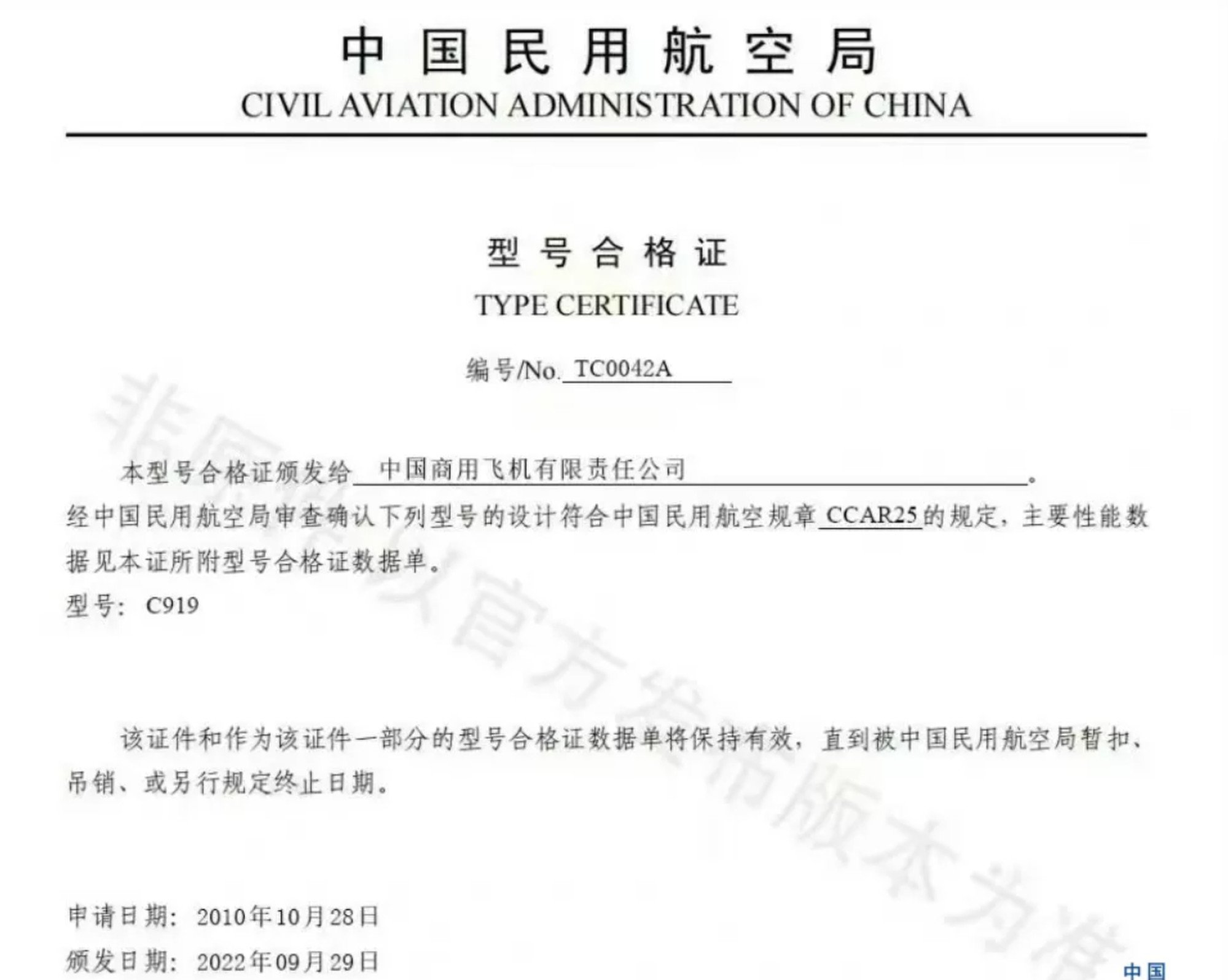 But despite the online buzz, neither the aviation regulator nor the manufacturer had issued statements by midday on Friday to confirm whether the jet had been formally approved to begin commercial service.
News of the confirmation has also been absent from state and local media in China, including the official Xinhua News Agency.
The Post has reached out to both the CAAC and Comac for comment.
Shanghai-based China Eastern Airlines is expected to be the first carrier to operate the C919, having ordered four of the aircraft in May at a cost of US$99 million each.
The C919 programme, which started in 2008, is meant to compete with Boeing's 737 and Airbus' A320.
Andrew Charlton, managing director of consulting firm Aviation Advocacy, said that while Chinese carriers may start using C919, the delays and downturn in the Chinese market are not conducive to getting the new passenger jet up and running quickly.
"It will take some time to overcome that, and thus its path to competitiveness is neither short nor straight," Charlton said.
Despite being billed as a home-grown passenger jet, most of the parts are imported from foreign manufacturers, including the engine, avionics, control systems, communications and landing gear.
Nearly two years ago, a Washington-based think tank issued a scathing assessment of the C919, saying the odds of it being a success were "between slim and none", while also calling Comac "a true dumpster fire of an organisation".
More to follow ...
More from South China Morning Post:
For the latest news from the South China Morning Post download our mobile app. Copyright 2022.
Subscribe now to our Premium Plan for an ad-free and unlimited reading experience!