Hong Kong customs officers on average seize HK$4.65 million (US$592,000) worth of black-market cigarettes daily, pushing the total value of the contraband uncovered this year to HK$1.03 billion, according to latest statistics.
The Customs and Excise Department on Thursday revealed that the 376 million illicit cigarettes confiscated, which could generate HK$716 million if legally imported, marked a 53 per cent rise year on year, with last year's numbers in the same period at 245 million cigarettes worth HK$675 million.
"The seizure of illicit cigarettes has gone up this year because we have changed our strategy to tackle the black-market cigarettes trade at the source," Inspector Chan Po-tin of customs' revenue crimes investigation bureau said.
Do you have questions about the biggest topics and trends from around the world? Get the answers with SCMP Knowledge, our new platform of curated content with explainers, FAQs, analyses and infographics brought to you by our award-winning team.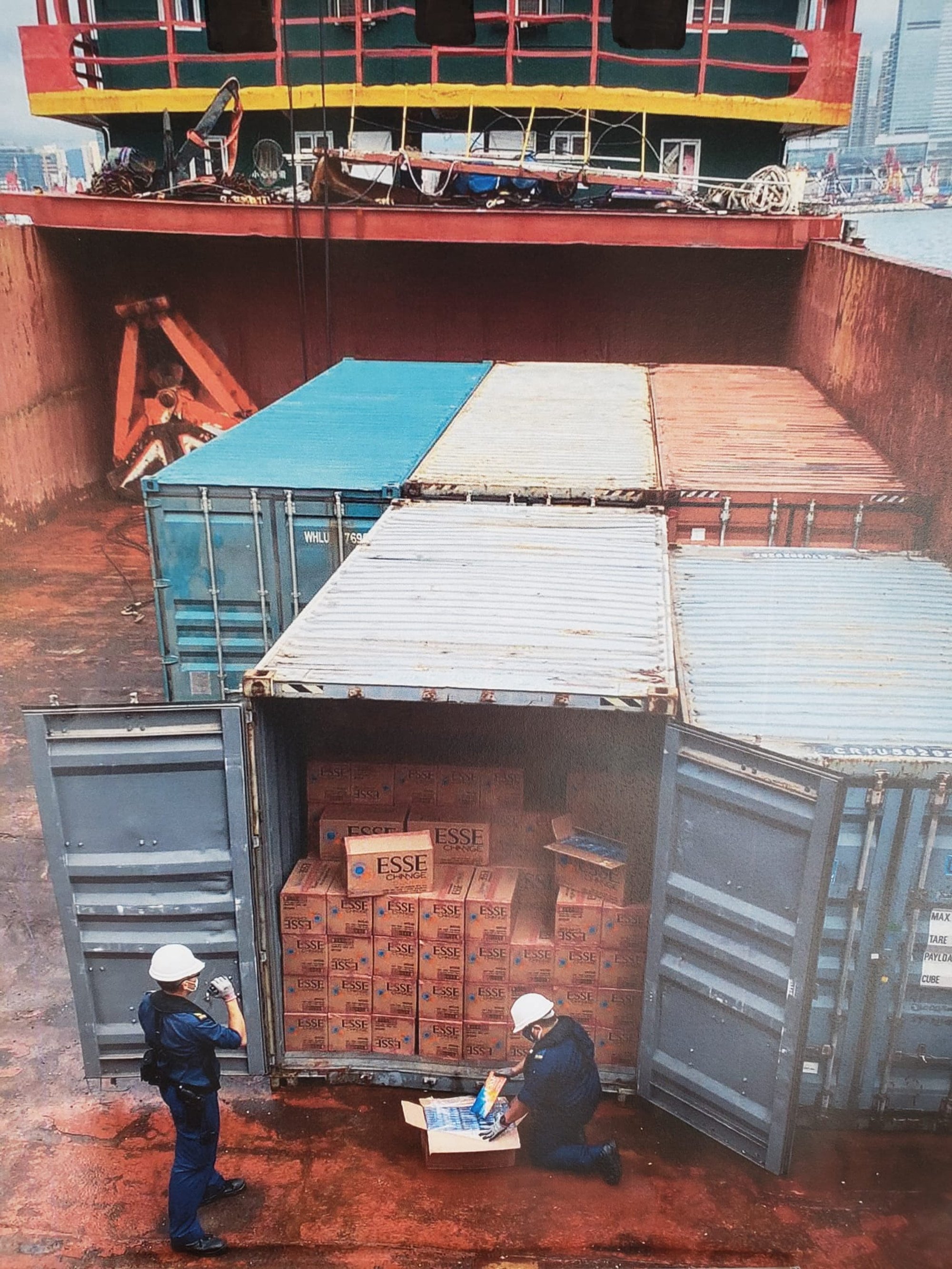 He was announcing details of the latest anti-smuggling operation that resulted in the seizure of HK$115 million worth of illegal cigarettes on a barge and the arrest of six men last week.
The barge was being towed by a tugboat when it was intercepted by customs off Tsing Yi at about 10am last Friday. Five shipping containers were found on board, with the six suspects on both vessels rounded up.
Acting senior inspector Wong Chi-yan of customs' ports and maritime command said officers opened the containers for inspection after the crew members failed to provide supporting cargo documents.
"During the inspection, we found different brands of untaxed cigarettes packed in the containers," she said.
The six men, aged 36 to 69, were detained on suspicion of importing unmanifested cargo – an offence punishable by up to seven years in jail and a HK$2 million fine.
Wong said the tugboat and barge were on the way to the Yau Ma Tei public cargo area at the time.
"While intercepting the barge, an amber rainstorm warning was in force and there were big waves and strong currents with poor visibility," she said.
"We believe smugglers took advantage of the adverse weather to carry out their illegal activities in an attempt to avoid the chance of being intercepted by law enforcers."
Chan said customs officers were still investigating the source of the consignment and its final destination, adding that further arrests could be made.
Due to eased pandemic rules and the resumption of normal logistics operations, the inspector said it was possible that smugglers replenished stocks of illicit cigarettes for supply to customers in Hong Kong and abroad.
Customs seized 57 million black-market cigarettes worth HK$160 million in Fanling, Yuen Long, Tuen Mun and Tsing Yi in a four-day operation between July 23 and 26.
Chan said officers would continue to target the smuggling, storage and peddling of illicit cigarettes.
He also warned that dealing with, possession of, selling or buying illicit cigarettes was punishable by up to two years in jail and a HK$1 million fine under the Dutiable Commodities Ordinance.
Customs officers seized 430 million contraband cigarettes worth HK$1.17 billion for the whole of last year – the highest volume of such seizures in the past two decades, and more than double the quantity confiscated in 2020.
For the latest news from the South China Morning Post download our mobile app. Copyright 2022.
Subscribe now to our Premium Plan for an ad-free and unlimited reading experience!