Hong Kong's outgoing leader has said it is still "too early" to suggest the city is facing a sixth Covid-19 wave, despite a rising trend of infections this month.
In a press briefing before the weekly meeting of her de facto cabinet the Executive Council on Tuesday, Chief Executive Carrie Lam Cheng Yuet-ngor said she would be consulting government pandemic advisers later in the day on other measures to be put in place.
She added that her administration would "create conditions" to facilitate visits by state leaders at the end of the month for the celebration of the 25th anniversary of the city's return to Chinese rule.
Do you have questions about the biggest topics and trends from around the world? Get the answers with SCMP Knowledge, our new platform of curated content with explainers, FAQs, analyses and infographics brought to you by our award-winning team.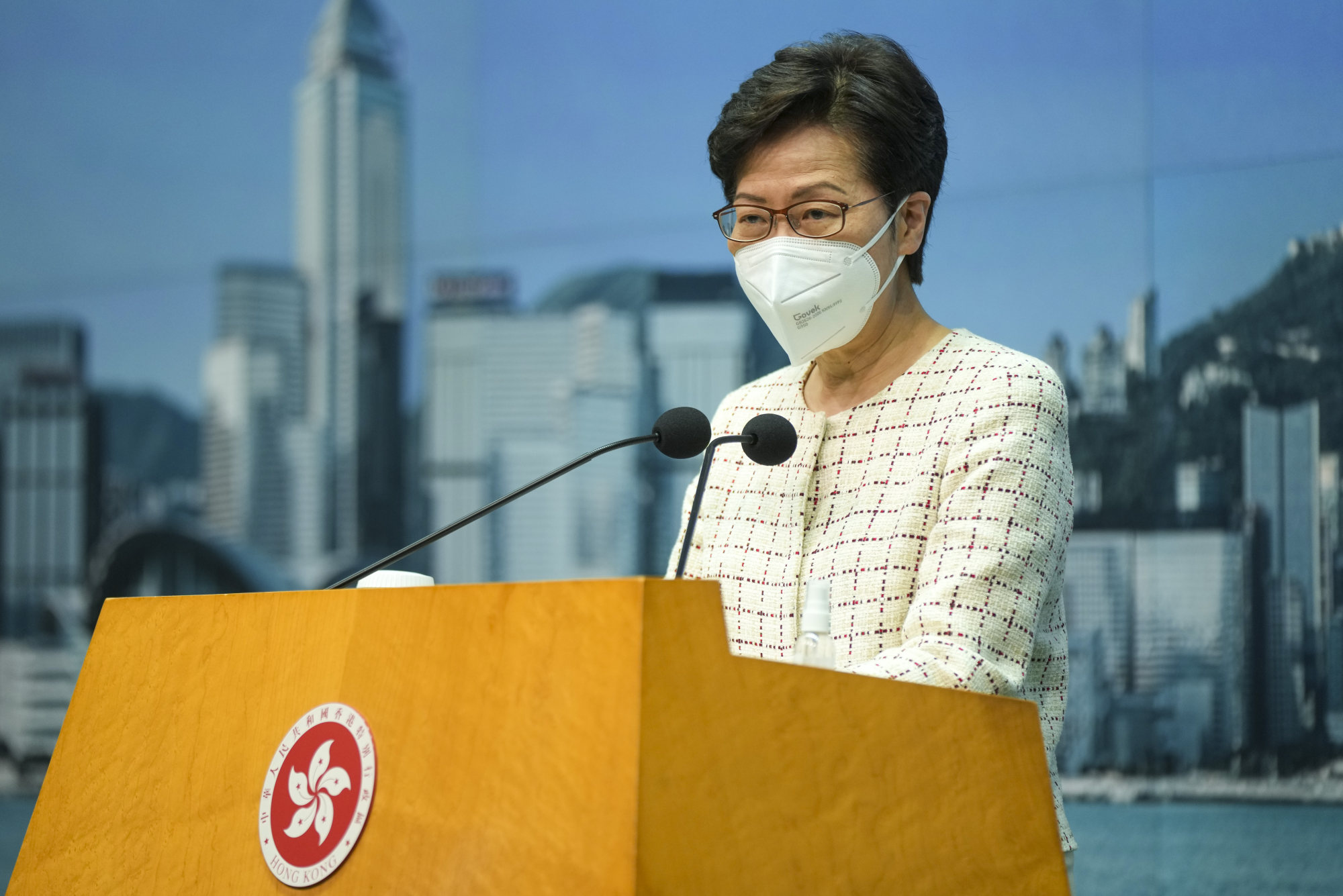 "We are of course eagerly anticipating a visit by a state leader, and I believe that as so many things have happened in the past five years, there must be some important speeches to make on charting the course for the further development of Hong Kong," Lam said.
"The government must wholeheartedly devote itself to creating conditions for state leaders to come, but I cannot reveal further details."
Lam also declined to comment on whether her advisers and top officials would be put under a week-long "closed-loop" arrangement towards the end of June as part of the July 1 handover anniversary preparations.
On Tuesday, the city confirmed 489 new Covid-19 cases, including 53 imported ones. The caseload included 258 positive rapid antigen test (RAT) results that have been confirmed by official PCR screening. Officials also received 72 positive RAT results from students and school staff in the morning.
Three more virus-related deaths were also reported.
According to the Centre for Health Protection, the coronavirus-hit Shuffle nightclub reported 12 more infections, taking the total there to 97.
Kowloon Tong Funful English Primary School, which reported 12 cases on Monday, reported one more – a sibling of a student – on Tuesday, while Kiangsu & Chekiang Primary School (International Section) recorded seven infections involving five pupils and two staff in one class.
Lam conceded authorities were concerned over the increase in the number of cases since the start of June, but several indicators, including hospital admission rates, remained reassuringly low.
"It is a bit too early to say that we are now confronting a sixth wave of Covid-19 because ... a lot more indicators [are needed] to confirm the situation," she said, adding she was unable to provide a "categorical answer".
Hong Kong has seen a rise in cases in recent weeks, including more than 270 infections linked to four bars or clubs in the city's nightlife district. According to Centre for Health Protection data, the number of locally acquired cases has risen from around 1,500 in the week of May 24 to 30, to more than 2,900 in the following seven days.
Apart from meeting her health advisers later on Tuesday, Lam said she would also convene an internal high-level steering committee to prepare for a possible sixth wave, especially to protect care homes for the elderly.
Lam also said the government would extend all current social-distancing rules and border control measures to the end of her term on June 30. The Food and Health Bureau will discuss with the chief executive-elect's office whether measures should be extended after the next administration takes office.
Lam said however that she had not considered tightening measures at the moment, as the government had to take into account public health, the economy and the residents' acceptance, adding she did not want to suspend in-person classes again as the cost would be too great.
At the same time, she said authorities were considering ramping up testing for high-risk groups, while she had asked law enforcement departments to step up inspections at premises on a daily basis.
Health authorities also announced on Monday that all residents who submitted positive RAT samples would have to undergo a polymerase chain reaction, or PCR; confirmation test. Those who failed to do so risked a HK$10,000 (US$1,275) fine and up to six months in jail if they were found to have deliberately submitted false information.
The decision was made after an increased proportion of people in such cases either tested negative the second time round or refused to provide specimens for checks.
Lam said recently about 30 per cent of cases on a particular day were "false positive" after cross-checking. Therefore from Tuesday onwards, cases would only count as "confirmed" if the review via PCR tests came back with the same result, to avoid confusion.
Respiratory medicine specialist Dr Leung Chi-chiu said the change in the daily reporting mechanism of Covid-19 cases could work, as its most important function currently was trend analysis rather than just recording the numbers.
"The daily caseloads may suddenly drop by a lot for the first few days but after the course correction, the new trend should become apparent," he said.
Leung said the PCR tests should be done quickly, so residents could isolate at home if needed to prevent a community spread.
The city's infection tally now stands at 1,216,185, with 9,389 related fatalities.
More from South China Morning Post:
For the latest news from the South China Morning Post download our mobile app. Copyright 2022.
Subscribe now to our Premium Plan for an ad-free and unlimited reading experience!