US President Joe Biden will host the leaders of the Quad alliance, which agreed earlier this year to counter China's military build-up in the Asia-Pacific, at the White House next week as he seeks to deepen the group's cooperation.
The first in-person meeting of the Quad's leaders – Biden, Australian Prime Minister Scott Morrison, Indian Prime Minister Narendra Modi and Japanese Prime Minister Yoshihide Suga – will take place on September 24, White House press secretary Jen Psaki announced on Monday.
"The Biden-Harris administration has made elevating the Quad a priority, as seen through the first-ever Quad leaders-level engagement in March, which was virtual, and now this summit, which will be in-person," Psaki said.
Do you have questions about the biggest topics and trends from around the world? Get the answers with SCMP Knowledge, our new platform of curated content with explainers, FAQs, analyses and infographics brought to you by our award-winning team.
"The Quad leaders will be focused on deepening our ties and advancing practical cooperation on areas such as combating Covid-19, addressing the climate crisis, partnering on emerging technologies and cyberspace, and promoting a free and open Indo-Pacific," she added.
Tensions between Washington and Beijing in the western Pacific region that Psaki referenced – where China has laid claims of sovereignty that Washington has rejected – have escalated.
In a maritime conference last week, US Coast Guard and Navy officials pledged to bolster their presence in the area and dismissed a new Chinese rule requiring all foreign ships entering what it claims as the South China Sea to register ship and cargo information with Chinese maritime authorities.
News of the summit follows two recent meetings by Biden administration officials with Beijing, including a phone call last week between the US leader and Chinese President Xi Jinping, in which Xi told Biden that the countries' relations were facing "serious difficulties" because of Washington's policies towards China.
US deputy secretary of state Wendy Sherman's talks with Foreign Minister Wang Yi and vice-foreign minister Xie Feng in China in July ended with both sides sticking to their hardline positions.
Meanwhile, the Biden administration continues to defend its chaotic withdrawal from Afghanistan in terms that include a need to counter Beijing militarily. The US leader has simultaneously made closer ties with the Quad, Nato and G7 top priorities in its efforts to show progress in developing its own China strategy.
In a July speech about the drawdown of US troops in Afghanistan, Biden said maintaining a military presence there "was not in the national interest of the United States of America to continue fighting this war indefinitely".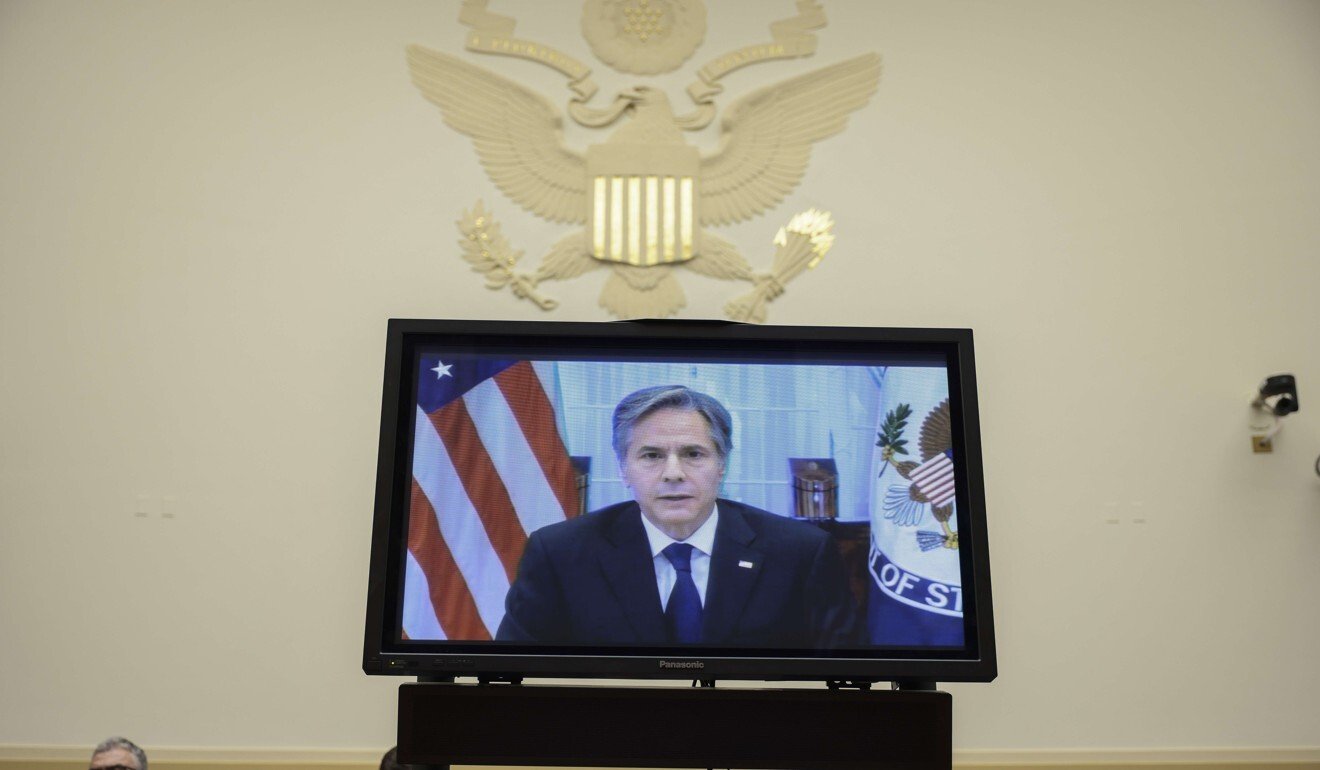 "We also need to focus on shoring up America's core strengths to meet the strategic competition with China and other nations that is really going to determine our future," he added.
US Secretary of State Antony Blinken reiterated that rationale on Monday as he testified before the House Committee on Foreign Affairs about the withdrawal.
"There is nothing that strategic competitors like China and Russia – or adversaries like Iran and North Korea – would have liked more than for the United States to re-up a 20-year war and remain bogged down in Afghanistan for another decade," he said.
More from South China Morning Post:
For the latest news from the South China Morning Post download our mobile app. Copyright 2021.
Join our Telegram channel to get our Evening Alerts and breaking news highlights