China will begin trading carbon emissions contracts later this month after eight years of trials, as the world's largest emitter of greenhouse gases kicks off the crucial market-based mechanism to put the nation on track to meet its 2060 carbon neutral goal.
Leading the charge on the Shanghai Environment and Energy Exchange will be power plants and electricity generators – estimated to be responsible for 40 per cent of China's carbon dioxide emissions – before seven other carbon-intensive industries join in the mandatory trading, according to a statement by the State Council, citing a directive by Premier Li Keqiang.
"Trading will be expanded to cover more industries subsequently so that greenhouse gases emission can be reduced by market forces," according to the statement, which did not provide a schedule. The remaining industries are in construction materials, steel, petrochemical, chemical, non-ferrous metal, paper and aviation.
Do you have questions about the biggest topics and trends from around the world? Get the answers with SCMP Knowledge, our new platform of curated content with explainers, FAQs, analyses and infographics brought to you by our award-winning team.
The impending commencement is a crucial part of the plan by the nation responsible for 30 per cent of the world's annual greenhouse gases to reverse the trend, through a mechanism that puts a price on emissions, prompting companies that exceed their caps to buy quotas from energy-efficient companies.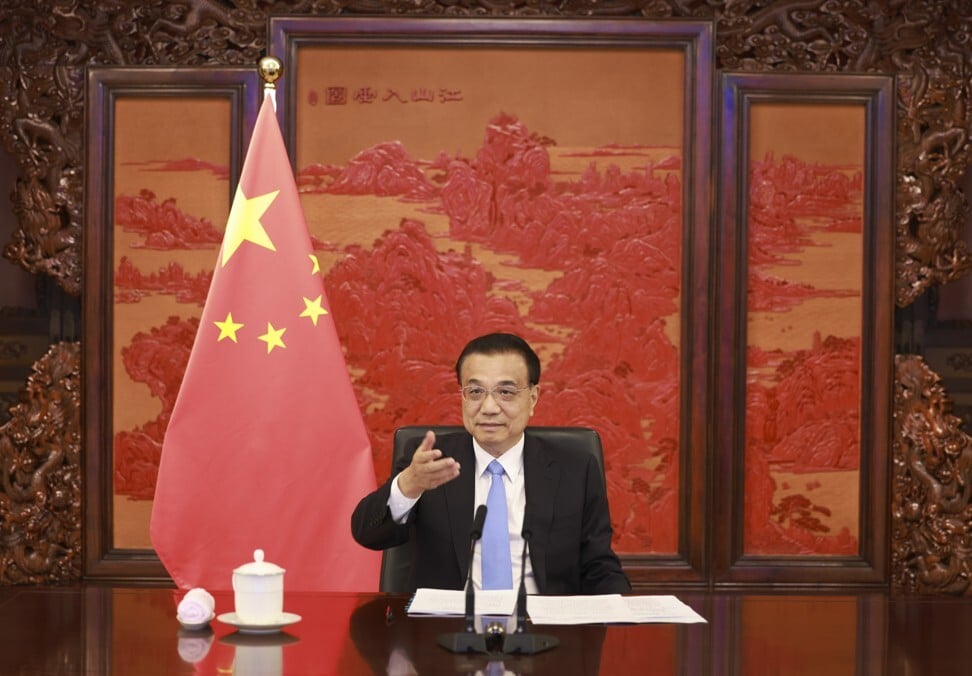 President Xi Jinping surprised the world last September with his unexpected pledge at the United Nations for China to reach carbon neutrality, becoming the second major economic entity after the European Union to put a date on that promise.
To reach that goal, China's emission levels need to peak by 2030 in a trend reversal that reaches zero over the subsequent three decades.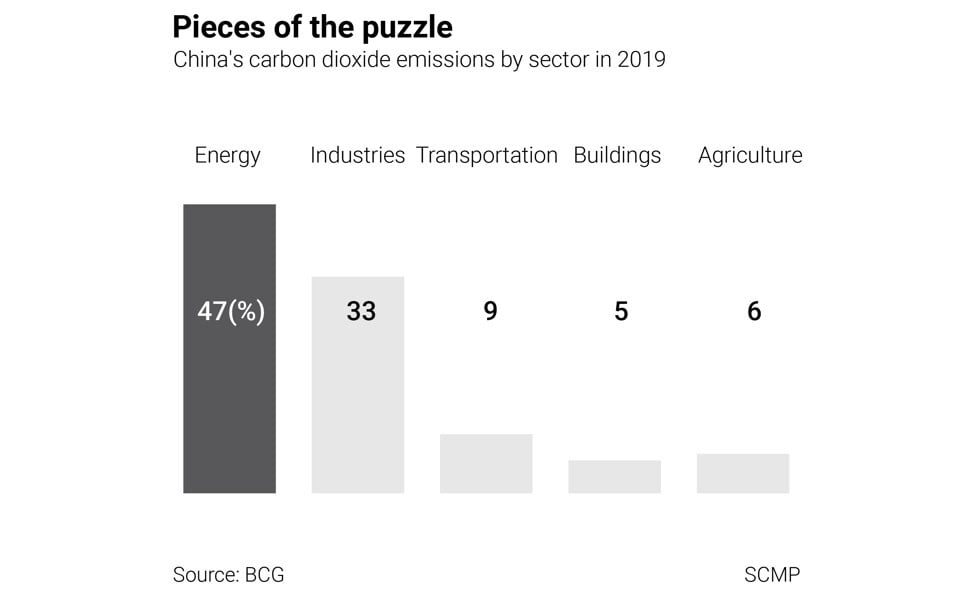 Monetary tools will be available to channel funding towards clean energy infrastructure and energy-efficient projects in an "orderly and targeted fashion," the State Council said.
To be sure, trading in Shanghai had been delayed from the June 30 commencement date announced in March by Minister of Ecology and the Environment Huang Runqiu during his visit to central China's Hubei province, which will host the registration system and the data of the exchange.
Trading of carbon emissions contracts has been repeatedly delayed even though the national exchange was quietly launched in 2017, due to challenges in collecting accurate emissions data across many industries, and a reorganisation in many of China's government and bureaucratic functions.
Still, the nation has gained ample operating and trading rules design experience from eight regional pilots that have been launched since 2013.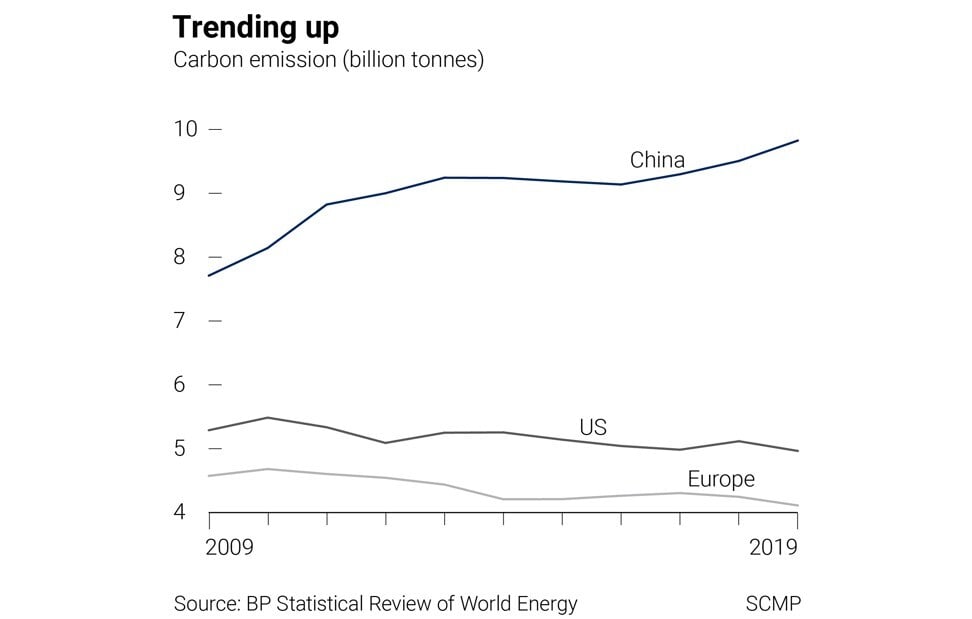 China's industrial sector accounted for 28.7 per cent of carbon emissions in 2019, while the transport industry made up 8.6 per cent and buildings contributed 7 per cent, according to the Emission Database for Global Atmospheric Research.
The European Union's emissions trading scheme, currently the largest, seeks to cap 1.61 billion tonnes of carbon emission this year, according to International Carbon Action Partnership. With an average traded price of US$28.28 a tonne, the scheme raised US$21.8 billion last year. Some US$80.7 billion have been raised since trading stared in 2005.
The Shanghai exchange will surpass the EU's scheme when trading starts, with about 4 billion tonnes of carbon emissions subject to the cap-and-trade scheme. Proceeds raised by the government from the sale of quotas will help fund decarbonisation projects including research and development.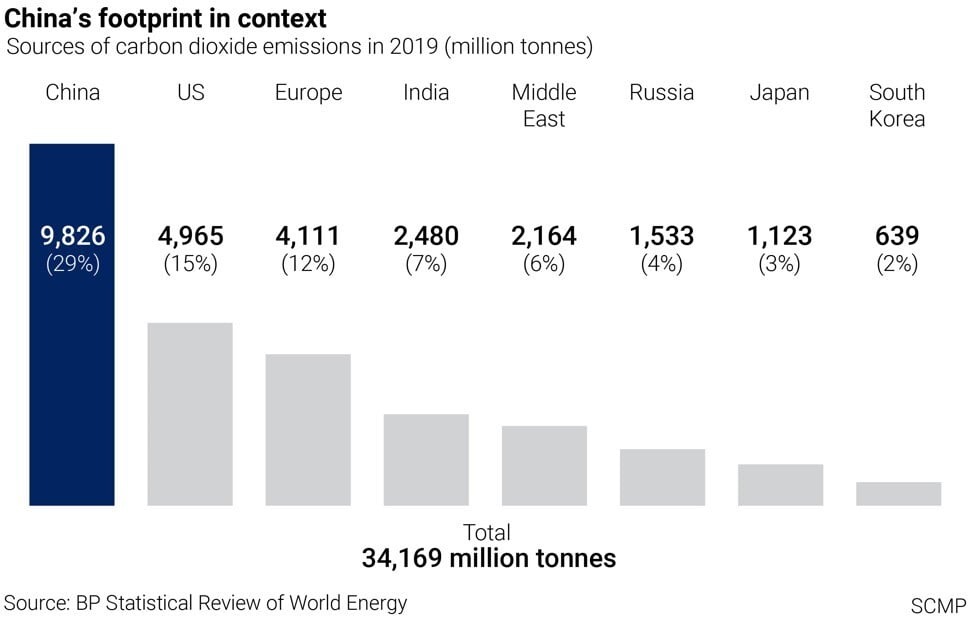 Quotas are free for power generators initially, but the allocations are expected fall year to year and companies will have to buy them in the future as the government raises the cost of emission and the incentives to decarbonise.
Still, the regulations on assessing the carbon intensity of emitters need to be tightened to close loopholes and prevent abuses, said Wang Jun, head of carbon assets management at Yongxiang Polysilicon, which manufactures the raw material used in solar panels based in the Sichuan provincial city of Leshan.
Additional reporting by Hu Minghe in Beijing
More from South China Morning Post:
For the latest news from the South China Morning Post download our mobile app. Copyright 2021.
Join our Telegram channel to get our Evening Alerts and breaking news highlights