Hong Kong police have arrested six people suspected of conning 67 female "employees" of two fake companies out of HK$3 million in a bogus investment scam.
Police on Thursday said the gang hired the women for office jobs, demanded they invest in the companies, and then sacked them when they refused to invest any more or asked for their money back.
The 67 employees were all hired by a gold ornament trade company in Kowloon Bay and another one in Yau Ma Tei, which shared the same director. The gang found their victims by placing job adverts for clerks or assistants in newspapers or online, offering salaries of up to HK$18,000 a month, with few qualifications needed.
Do you have questions about the biggest topics and trends from around the world? Get the answers with SCMP Knowledge, our new platform of curated content with explainers, FAQs, analyses and infographics brought to you by our award-winning team.
After starting their jobs, the women were asked to do some easy paper work, while the gang showed them documents outlining giant profits earned from investments and said it was mandatory for staff to put money into the fund.
"The culprits accompanied the victims to withdraw money at an ATM. After handing over the money, the victims then received an investment account number and password and were encouraged to invest," Chief Inspector Chan Yat-wai said.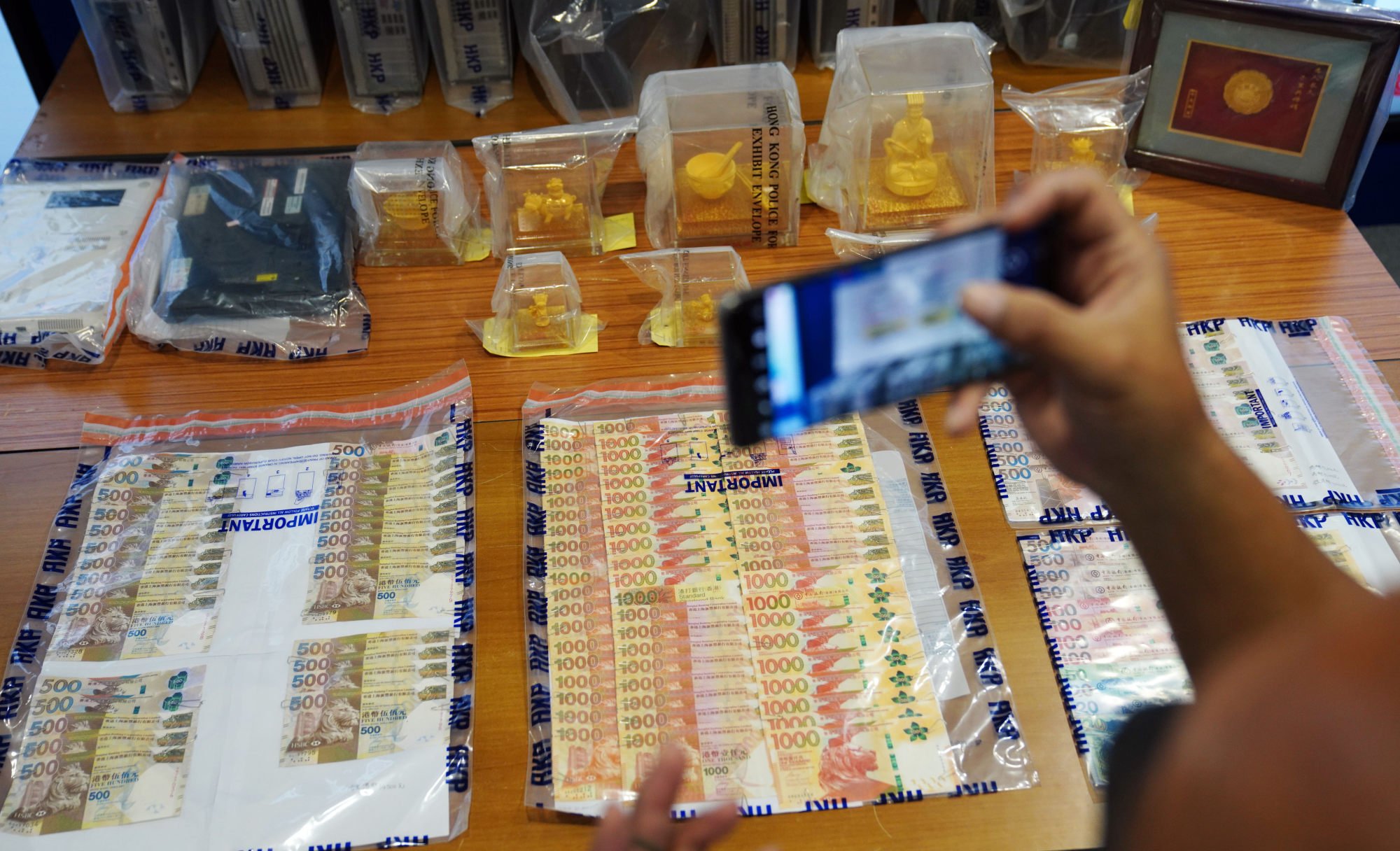 The gang showed their victims the investment making a profit after manipulating the account balance, Chan added, but used a variety of excuses to stop employees from cashing out.
"Soon after they refused to invest more, the victims were told that actually all investments were a total loss, and that they had been sacked as they no longer fit the job," Chan said.
Police arrested three men and three women in a series of raids across the city on Tuesday. The group, aged 29 to 61, were detained on suspicion of conspiracy to defraud, and officers believed some of the gang remained at large.
The force said the 67 women, aged 29 to 64, were all either jobless or housewives. Their financial losses ranged from HK$10,000 to HK$800,000.
Police also raided two offices and seized 30 computers, contracts, HK$280,000 in cash, and some fake gold ornaments. Officers found 10 employees working in the offices, with other people waiting for job interviews. Two new members of staff had just withdrawn money to be invested.
The number of eager Hong Kong job-hunters falling prey to scams rose fourfold in the first two months of this year, with victims losing HK$6.4 million (US$823,000) to con artists amid the highest jobless rate in 17 years
In all, 86 jobseekers were conned out of HK$6.4 million in January and February via a variety of scams, compared with 17 Hongkongers losing HK$770,000 over the same period last year. The youngest victim was just 16.
In 2020, the number of victims rose by 74 per cent, from 197 to 343 year on year, with financial losses also increasing by 28 per cent to nearly HK$20 million.
Joblessness in Hong Kong worsened in January, hitting 7 per cent. Secretary for Labour and Welfare Law Chi-kwong blamed the worsening labour market on the outbreak of the fourth wave of coronavirus infections that started in the latter half of November. He had earlier warned the unemployment rate would likely top 7 per cent following the Lunar New Year holiday.
The rolling quarterly unemployment rate between November and January was 0.4 percentage points higher than the 6.6 per cent recorded in the three months ending December 31, according to the Census and Statistics Department in February.
Some 7,500 more people were out of work as of January 31, bringing the total to 253,300, the highest since October 2004. The underemployment rate, meanwhile, jumped 0.9 percentage points to a record high of 6.6 per cent.
For the latest news from the South China Morning Post download our mobile app. Copyright 2021.