This article is republished from a three-part newsletter series – "Decoding China's Two Sessions 2021" – curated exclusively for our digital subscribers.
To access this newsletter series and others like it in the future, please support SCMP with a digital subscription and gain access to unrivalled coverage of the 'two sessions' and trusted analysis about China's growing impact around the world.
More than 5,000 members of China's political elite have converged on Beijing for the biggest event on the political calendar.
Known as the "two sessions", or lianghui, the annual gatherings of the Chinese People's Political Consultative Conference (CPPCC) and the National People's Congress (NPC) are a window on the central government's priorities and plans for the coming year.
On Friday morning, Premier Li Keqiang read out to NPC delegates the government's work report, which reviews the government's accomplishments over the last year and gives general guidance on the government's social and economic policy direction this year.
The NPC session began under tight security and strong coronavirus controls.
Some key takeaways from the report:
Beijing sets a GDP growth target of "above 6 per cent" for this year
The GDP target is generally in line with the expectations of those analysts who predicted there would be a growth target for this year.
China's economy is widely expected by analysts to grow by more than 8 per cent this year, helped by the low comparison base from last year's weak growth.
Setting the target below expected annual growth is meant to emphasise the sustainable level of growth on a quarterly basis over the course of the year, government officials said.
And, as expected, Beijing cut back its fiscal support for the economy as it starts to taper off economic stimulus and re-emphasises debt reduction.
The central government's budget deficit-to-GDP target to 3.2 per cent, down from the target of 3.6 per cent last year.
It also cut back the local government special purpose bond issuance quota to 3.65 trillion yuan (US$564 billion) from 3.75 trillion yuan last year.
Beijing will not issue additional "Covid-19" bonds this year after selling 1 trillion yuan last year to fund coronavirus relief.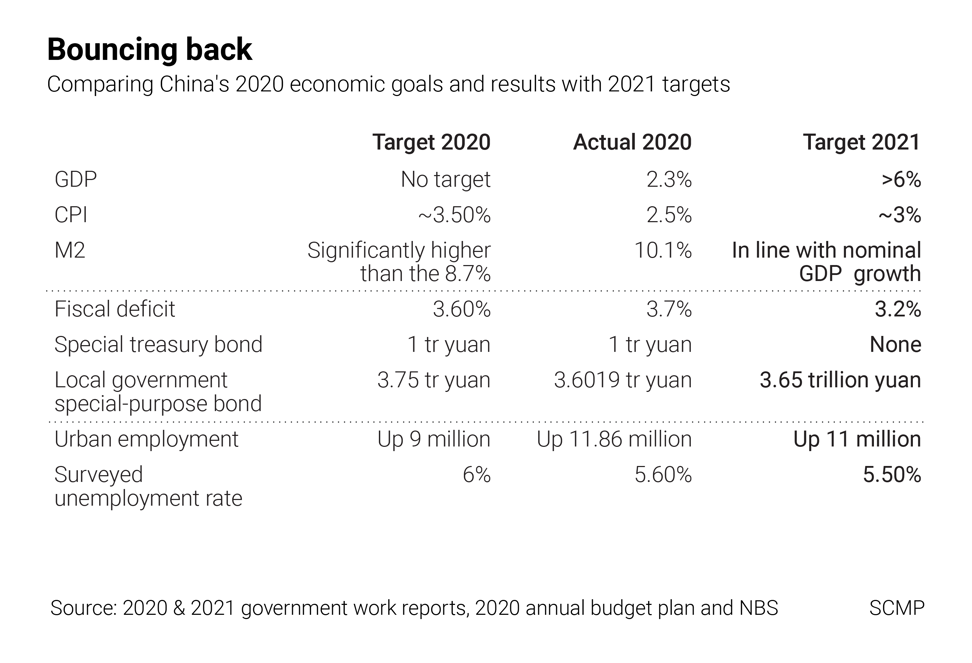 No numerical target set for money supply growth this year. M2 growth to be in line with nominal GDP growth.
Other economic targets were set in an "appropriate range".
Create 11 million new jobs this year, up from target of 9 million last year and actual growth of 11.86 million.
Surveyed unemployment rate of 5.5 per cent this year, down from target of 6 per cent and actual 5.6 per cent.
Consumer inflation target of "about 3 per cent this year, down from 3.5 per cent target last year and actual growth of 2.5 per cent.
Hong Kong
China to "close loopholes" in Hong Kong electoral system to prevent foreign interference.
The central government will ensure the "comprehensive and accurate" implementation of the 'one country, two systems' doctrine, with the "Hong Kong people governing Hong Kong" and the city enjoying a "high degree of autonomy," Li said
We will resolutely guard against and deter external forces' interference in the affairs of Hong Kong and Macau
"We will resolutely guard against and deter external forces' interference in the affairs of Hong Kong and Macau. We will support both regions as they grow their economies and improve people's lives, so as to maintain the long-term prosperity and stability of Hong Kong and Macau," he said.
Further elaborating on the plan to reform Hong Kong electoral system, NPC vice-chairman Wang Chen said there were loopholes in Hong Kong that allowed foreign forces to interfere with the city's affairs. Some even used their public office to call for such interference.
China will increase lending by big banks to small businesses by more than 30 per cent this year, continue fintech clamp down
China plans to increase the number of "inclusive" loans offered by its biggest banks to micro and small businesses by more than 30 per cent in 2021, Li said.
It will also continue to enact new lending rules and increase its scrutiny of the nation's financial technology (fintech) industry.
Chinese SMEs should use Hong Kong as a channel for funding, stock exchange's former CEO says
As part of the new five-year plan, banks will be encouraged to increase credit loans and first-time loans and provide "targeted support" for companies and sectors that continue to be affected by the fallout from the coronavirus pandemic.
Beijing will also expand its efforts to stop monopolistic behaviour in the tech industry and curtail the "unregulated" expansion of capital, Li said.
China sets comprehensive plan to become advanced manufacturing powerhouse
China sets out comprehensive plan to upgrade its manufacturing capabilities by 2025 in eight priority areas.
The plan focuses on rare earth and special materials, robotics, aircraft engines, new energy vehicles and smart cars, high-end medical equipment and innovative medicine such as vaccines, agricultural machinery, major equipment used in shipbuilding, aviation and high-speed rail, and industrial applications of China's Beidou global navigation satellite system.
The strategy would help offset rising production costs, reduce reliance on foreign technologies and enhance competitiveness against the US.
The advanced manufacturing plan forms an integral part of the country's 14th five-year plan, which spells out the country's economic and development goals for 2021 to 2025.
The new plan comes after Beijing played down its previous "Made in China 2025" industrial strategy.
The need for continued vigilance on Covid-19; may not open border until 2022
Efforts to contain the Covid-19 pandemic must not be relaxed, Li said, and the nation must work to address the remaining weak points in its control efforts.
China may not relax border controls until 2022 as vaccination plan makes slow progress.
Preventing imported cases from sparking local outbreaks is 'the priority among the priorities', NDRC says in annual report at NPC.
Herd immunity in China will not be achieved until the middle of next year at the earliest, head of Chinese Centre for Disease Control and Prevention says.
English language version of China's government work report
Measures are still needed to stop the emergence of cluster outbreaks.
The government shall provide free vaccinations to all citizens.
Authorities throughout China together spent more than 400 billion yuan (US$62 billion) on containing the coronavirus last year.
China provided 220 billion masks, 2.3 billion pieces of protective gear, and one billion test kids to other nations.
Beijing increases military budget more than expected
Beijing will increase spending on its military more than expected this year.
The military budget for 2021 will increase by 6.8 per cent to 1.355 trillion yuan. The increase is slightly higher than the 6.6 per cent growth last year and higher than the 6 per cent expected by most analysts given the country's continued battle against the coronavirus.
A separate document on the nation's upcoming five-year plan said measures have to be taken to ensure the building of a strong military by 2027. Those measures include upgrading weapons, focusing more on disruptive technology.
Beijing hopes for "appropriate" fertility level this year, will gradually extend retirement age
China is hoping for an "appropriate" fertility level this year as the country faces up to its growing demographic challenge.
But vague reference is seen as the best the government can say while it awaits the data on new births in the population census due in April.
China will gradually extend China's retirement ages during the 2021-2025 five year plan, Li said, without providing details.
The government will also ensure 95 per cent of its citizens would have access to a basic pension during the five year period.
Beijing to take steps to rein in housing prices and ensure affordability for first time buyers
China's government will make more land available for developers to increase the housing stock in the world's largest property market to help rein in rapidly rising housing prices.
It will keep a tight lid on runaway prices to ensure that affordability is within the reach of the nation's first-home buyers.
We will address prominent housing issues in large cities [and] make every effort to address the housing difficulties faced by our people, especially new urban residents and young people
It will also increase the supply of subsidised rental homes and shared ownership housing to ensure well-regulated development of the long-term rental housing market
It will also cut taxes and rental fees.
"We will keep the prices of land and housing, as well as market expectations stable," Li said.
"We will address prominent housing issues in large cities [and] make every effort to address the housing difficulties faced by our people, especially new urban residents and young people."
More from South China Morning Post:
For the latest news from the South China Morning Post download our mobile app. Copyright 2021.