HONG KONG, Jan 24 (SCMP): United States sanctions imposed on China over its approach to Hong Kong will remain for the foreseeable future, even with Sino-US relations set to improve under President Joe Biden, a powerful American business group in the city has predicted.
Jessica Bartlett, the new chairwoman of the American Chamber of Commerce in Hong Kong (AmCham), said on Friday that she expected US ties with Beijing and the local government to be less confrontational than they were under Donald Trump's presidency.
However, she suggested the series of trade and political sanctions targeting the city and the country as a whole would stay in place for some time, with any review of the punitive regimes unlikely to conclude in the coming months.
Get the latest insights and analysis from our Global Impact newsletter on the big stories originating in China.
"The new administration has shown they share many of the same concerns on what's happening in Hong Kong that the Trump administration had," she said.
"But we might see a reset or adjustment. This term uses the words competition and cooperation and [American diplomat] Kurt Campbell explicitly said this is not a second cold war."
US-China relations over Hong Kong hit rock bottom in July last year when Trump revoked the city's preferential trading status as stipulated by the Hong Kong Policy Act of 1992, which recognised it as a customs territory separate from mainland China.
His administration has since sanctioned officials and other individuals judged to have played a role in the central government's decision to impose the national security law on Hong Kong.
Trump said the legislation – which took effect on June 30 last year banning acts of subversion, secession, terrorism and collusion with foreign forces – was trampling the city's democratic development and the "one country, two systems" principle under which it was governed.
Washington also imposed export controls on sensitive technologies to Hong Kong and sanctioned companies deemed to have ties with the Chinese military.
Asked specifically about those military-related sanctions, Bartlett told a Facebook Live event: "I am not anticipating any near-term relaxation of the sanctions, but I do think the administration will review and give a hard think [about] the way these sanctions currently work and whether there will be any adjustments to make sure they achieve the policy objectives."
Speaking more generally, she added: "Usually in the sanction world, sanction programmes last for a long time, it's not like an on and off switch."
Bartlett said US Treasury Secretary-designate Janet Yellen would review the sanctions, a process which could take three to six months.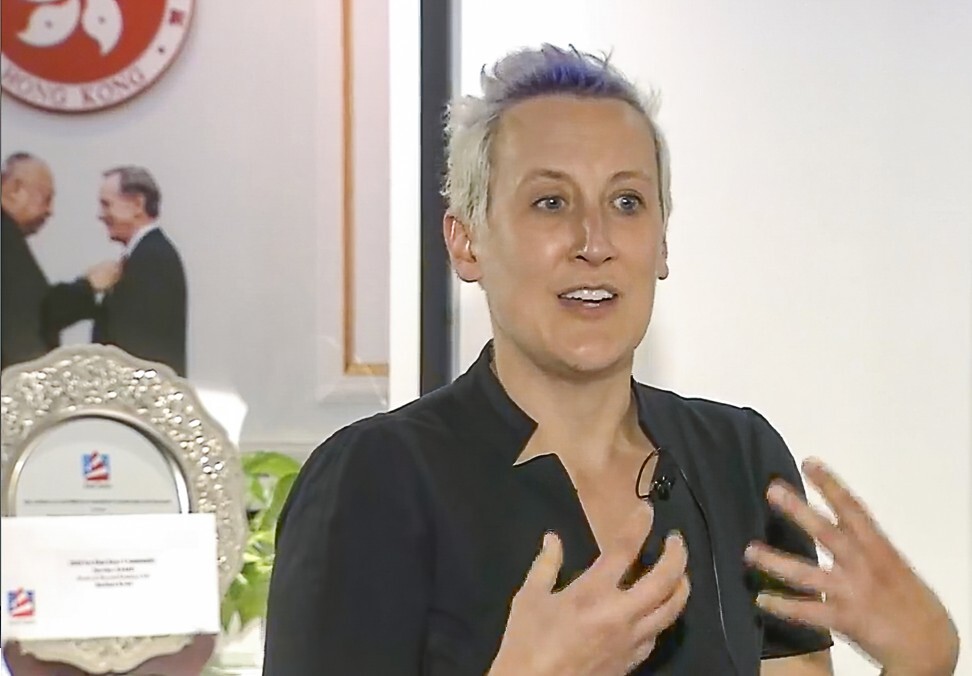 A lawyer with Barclays investment bank, Bartlett specialises in tackling money laundering. She succeeded Robert Grieves as head of the chamber on January 1, and told the online event that she had not seen any evidence of American capital leaving Hong Kong because of the national security law.
Bartlett said political developments over the last two years had challenged Hong Kong's reputation as "open for business".
"We have to monitor the political and legal development closely," she said.
She called on private enterprise to continue advocating for a Hong Kong that was "globally and regionally relevant", and that still adhered to free-trade values, the rule of law, responsible business practices and the unrestricted flow of information.
She added the wider region, that included the emerging economic engine of the Greater Bay Area in southern China, would continue to drive growth and development, adding Hong Kong had an important role to play.
In a recent AmCham survey polling its 1,200 corporate members, more than 40 per cent of the 181 respondents expressed pessimism over their 2021 prospects. A third said they felt the city had become less competitive as a global business hub over the past year.
The study found the rapid deterioration of US-China relations remained a pressing concern, as did the ongoing Covid-19 pandemic and Hong Kong's changing political and economic climate.
"Hong Kong is a resilient place," Bartlett said. "We need to leverage the can-do spirit as we have been through a lot of hurt."
More from South China Morning Post:
For the latest news from the South China Morning Post download our mobile app. Copyright 2021.
Did you find this article insightful?
43% readers found this article insightful