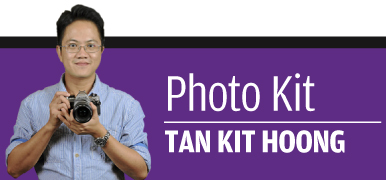 Eagle-eyed readers of this column (perhaps all two of you out there) who even bother to read this column may have noticed that I missed one week of Photo Kit recently.
It's not that I ran out of ideas, let me assure you — it was just that I was assigned to Barcelona, Spain to cover the Mobile World Congress 2014 expo.
While these trips are mostly work and not much play, there usually is a day or so when you're free to do some sightseeing (sometimes it's even arranged by the host for the trip).
With a tight schedule on these trips, there's usually little time to go as far off the beaten path as I'd like, but that should never be an excuse for not getting some good photos on such a trip.
Armed with my DSLR, I went with the challenge to get some unusual shots or at least shots that looked a bit different from what I'd already seen of Barcelona and its various tourist spots.
One of the things that I did different from my usual camera settings this time was that I would shoot RAW as I normally did, but set the camera to shoot by default with the Monochrome picture parameters turned on.
This was of course a direct result of my previous article that I would challenge myself to shoot in black and white.
While I didn't shoot everything in monochrome (there are photoshoots related to work, which requires colour, after all), I actually did shoot a majority of my photos on this trip in black and white.
I've also mentioned before that I'm a great admirer of monochrome landscape photographer Ansel Adams, and when faced with the stark beauty of the hills near the Montserrat monastery, I decided to emulate the look of Adams' excellent landscapes.
There was one occasion though, which I thought was better suited to colour photography — when I was visiting the La Sagrada Familia church designed by the famous Antoni Gaudi, who was well known for architecture that's very organic and out of this world.
While the church was already an impressive edifice from the outside, the inside was arguably even more amazing, with numerous Grecian columns that go up so high that you can only capture it all with a fisheye lens.
The interior also had stained glass windows which was why I decided to shoot in colour — the sun shining through the stained glass produced some interesting colours which begged to be shot in colour.
My time sightseeing was limited but I hope these photos will give people ideas to try getting some good shots even when you're short on time.
(Photo Kit is a fortnightly online column in which Tan Kit Hoong (tankh@thestar.com.my) shares his thoughts on the art and technology behind cameras at thestar.com.my/tech.)