Hong Kong's food delivery platforms have enjoyed brisk business through the Covid-19 pandemic as more people stayed at home, and social-distancing measures restricted the opening times and table capacity at restaurants.
The main delivery companies, Foodpanda, Deliveroo and Uber Eats, have all reported an increase in food orders, as well as a sharp rise in the number of couriers.
All three expected their teams to grow this year, with more people joining to deliver food on foot or on motorcycle.
For Hongkongers who have lost their jobs, or seen their incomes shrink during the pandemic, delivering food has become a quick way to make money.
Mung Siu-tat, chief executive of the Confederation of Trade Unions, said many delivery workers put in long hours and were under pressure to meet targets.
Calling for more protection for this group, he said many were self-employed and did not get sick leave or compensation if they were injured on the job.
"They only have themselves to rely on. They don't have much protection with regards to labour rights," he said.
With thousands more doing the job this year, the Post caught up with three workers to find out what it was like to deliver food, and the challenges they face.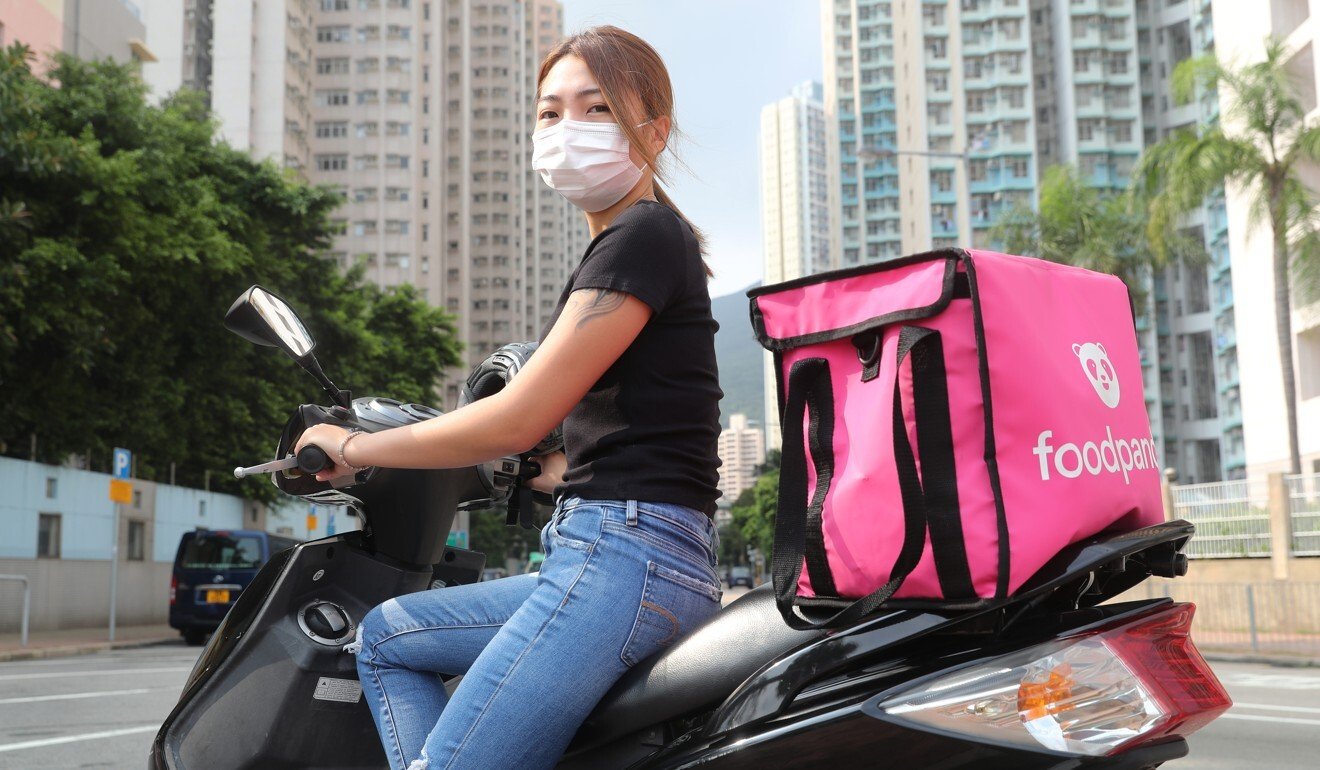 'It's tough, in hot weather and rain'
When the pandemic kept her customers away, hairdresser Toby Leung Tung-yi, 24, began spending more time as a Foodpanda delivery rider.
She had been doing the job part-time since 2017, and found she could boost her income by up to HK$5,000 (RM2,677) a month working two to four hours a day, for two to four days a week.
She also found it enjoyable to ride her motorcycle to different places.
In February, however, her motorcycle was in a collision with a truck. She hurt her left elbow and left leg, and had to be treated in hospital.
"Luckily, I bought insurance on my own," said Leung, who is self-employed and rested for two months.
She said delivering food meant going out in all weather, when it was hot, humid or wet, and she fell ill once after getting soaked in heavy rain.
"My shoes were full of water," she said. "Now I try to avoid working on rainy days."
She said she has to take care of her health, because self-employed people are not entitled to sick leave.
Having to visit different restaurants and deliver food to strangers several times each day, she is also worried about contracting Covid-19.
Leung said she checks the list of buildings where infected patients live, and always showers as soon as she gets home.
She said her income from hairdressing slid from around HK$20,000 (RM10,709) a month to HK$15,000 (RM8,032) or less during the pandemic, but she was able to cover her expenses of HK$5,000 to HK$8,000 (RM4,284) because she still lives at home, and her father is a businessman.
She expects to continue as a delivery rider, but does not consider it a long-term job because of her dislike of working in extreme weather. "It's tough," she said.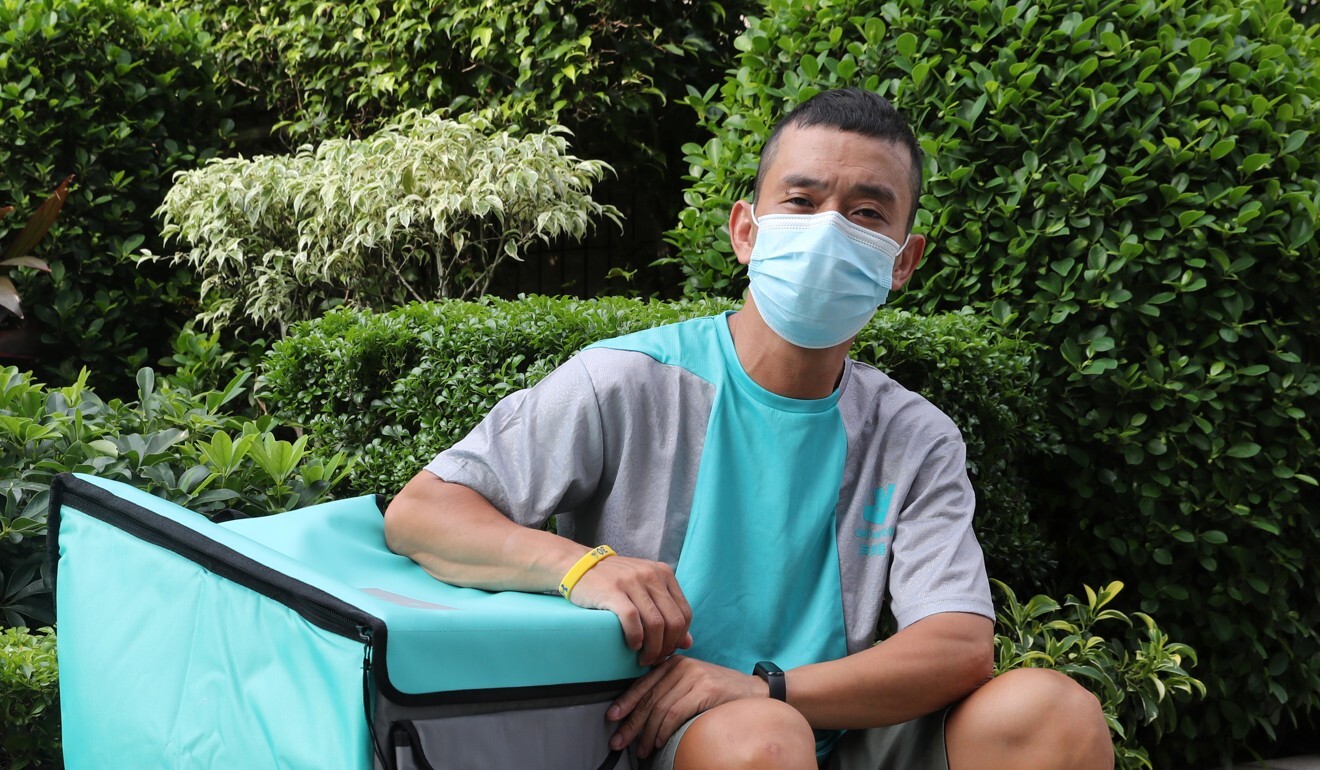 'Most people are very kind'
Technician Samuel Hau told his boss in February he wanted to go on voluntary unpaid leave to find another job, as the pandemic saw work dry up at the building repairs company.
Hau, who is in his late 40s, married two years ago. His wife, a saleswoman in a shopping centre, still gets a basic salary, but earns less as her commissions slumped.
"I knew I had to find something else," said Hau, who lives with his wife in a public housing flat in Tin Shui Wai.
A motorcycle enthusiast, he became a Deliveroo rider and found he could earn at least HK$4,500 (RM2,410) a week, roughly the same as at his mechanic's job. He usually puts in 12-hour shifts five or six days a week.
"The more you work, the more you earn, that's just the way it is," he said. "The hours are long, but at least they're flexible. If I have something else to do, I won't book my shift."
Picking up and delivering food in the Yuen Long area, he knows he is at risk of being infected by the coronavirus, but said there was not much he could do "other than wear a mask and wash my hands constantly".
But he is encouraged by some of the people he meets on the job.
"Even though people are stuck and at home, and everyone is wearing a mask, most are very kind when they receive their order at their doorstep," he said. "It really warms my heart when customers say, 'Thanks for your hard work'. That feels better than getting tipped."
He does not know how long he will continue as a food delivery man.
"This too shall pass and we'll get back to normal someday," he said. "If my old job has more projects and I can earn more, of course I'll go back to it."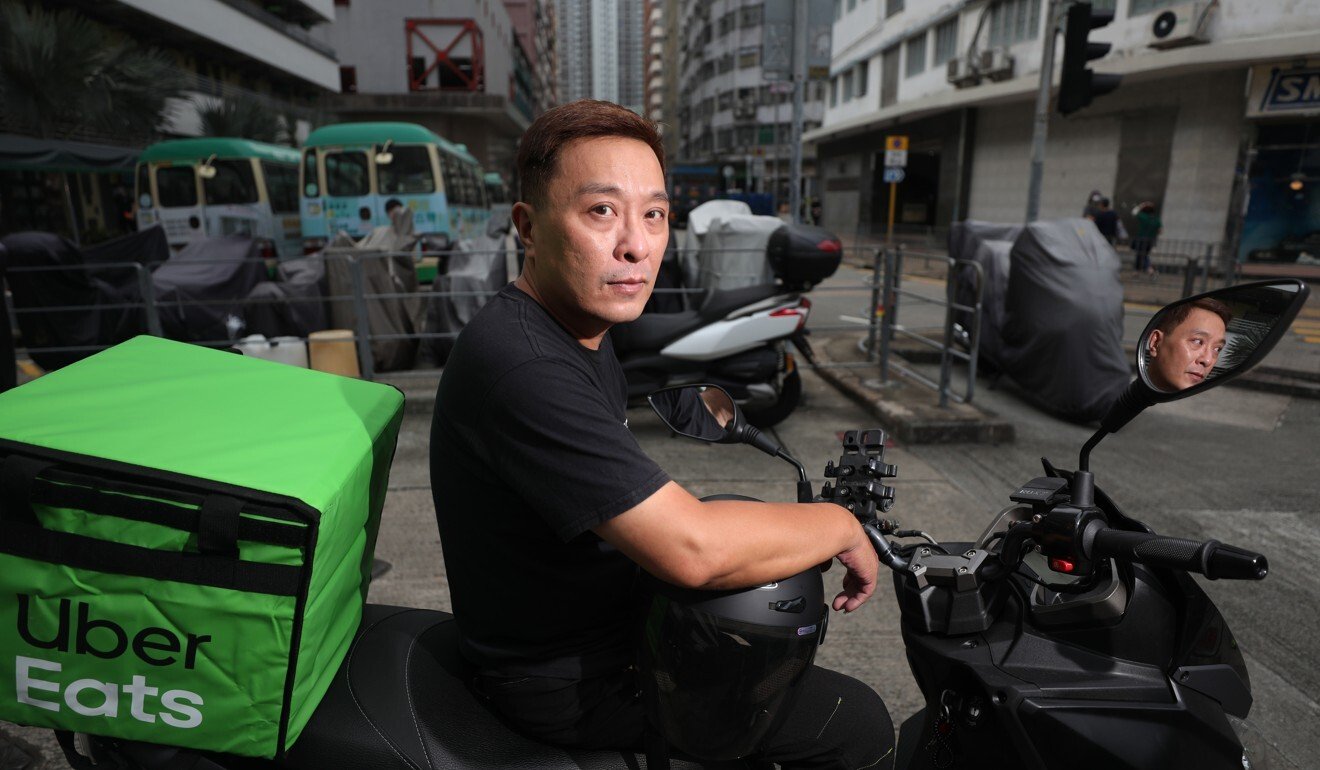 'This job gives me freedom'
Sammy Chan Wai-kit, 52, became an Uber Eats delivery rider in 2016 after quitting his job as a magazine art director.
After 30 years of working in offices, he yearned for change, and found it riding a motorcycle to deliver food.
"I have earned freedom and a pressure-free environment," he said. "It's priceless."
He spends six days a week riding around the eastern part of Hong Kong Island sending meals to commercial buildings and homes, working more than 10 hours a day on average.
The single man, who lives with his family in a public flat, earns about HK$20,000 a month, enough to cover his expenses and provide at least HK$5,000 to support his parents.
With more newcomers signing on to deliver food, he said he has been receiving fewer orders and his income sometimes dips slightly.
"Everyone can still make some money by doing this job," he said.
Aside from having to work in all kinds of weather, Chan said he has had to climb the stairs when the lifts at some buildings broke down.
Some customers also do not understand what the delivery people go through.
"Sometimes, the restaurant is late with completing the order, but the customers blame me and are impolite," he said.
When he has a tough day, he tells himself that workers in every industry face challenges, and reminds himself that this is a job he hopes to do for a long time.
"Doing deliveries is fair, you can end work on time and you get your money according to the orders you take," he said. "When you work, you definitely receive an income." – South China Morning Post
Did you find this article insightful?
100% readers found this article insightful