Samsung took the idiom "go big or go home" to heart with its latest iteration of the Galaxy Note series, making the screen even bigger with an array of features to match.
Going the opposite direction of the Galaxy S10 series which offered a smaller S10e version, the Note series rolled out the usual Note with a 6.3in screen and a bigger version, the Note 10+ with a 6.8in screen.
After trying out the Note 10+ for about a week, I found that the massive screen size didn't get in the way, fitting comfortably in my palm thanks to its near bezel-less display and slim build. In fact, placed face-to-face with older Note models, it is almost the same size despite having about 0.5in more screen real estate.
Those with smaller hands might find one-handed typing more difficult, though changing to the one-handed keyboard mode should fix that.


The Samsung Galaxy Note 10+'s S Pen lets users to take notes as comfortably as with analog pen and paper, with more choices on the type of writing styles to choose from. — CHAN TAK KONG/The Star
The trademark S Pen stylus can also be used to type messages on the keyboard, though it is best suited for writing notes like a real pen. With the sound on, the phone will also make a satisfying scratching sound, like a pen on regular paper.
The handwriting recognition – which converts handwritten text into digital text that can be copied, pasted or edited – works like a charm, even with this writer's questionable scribbles.
The S Pen has also been given a makeover for a sleeker look, doing away with the brand logo and metallic tip towards the tail end. It is also lighter and shorter.
Just like magic
It's what inside that counts and the S Pen now has a six-axis sensor that gives users an expanded range of remote commands for the phone over Bluetooth.


The redesigned S Pen does away with the Samsung logo and metallic section to make it look and feel more sleek.
On the camera app, the feature called Air Gestures lets users remotely switch between the front and rear cameras by flicking the stylus up or down, while sideways swipes change modes – from pro to panoramic or video mode – and a circular motion zooms in or out.
It also works with other apps like YouTube, where skipping videos with a double click is addictively nostalgic of channel surfing on pre-streaming TV.
This feature made me feel like a magician with a wand, but like with mispronounced spells, it could be a bit hit-or-miss – sometimes the sideways movement is registered as up to down and causes the cameras' perspective to switch, and pressing the button to initiate Air Gestures at times triggers the Remote Shutter instead.
But this could be a user issue as I've since discovered that keeping the tip of the stylus level to the ground greatly improves accuracy.
Cool party trick
Another cool feature is the brand new AR Doodle, a feature that was not available in the previous model.
Using the feature's Everywhere mode, the smartphone's powerful Augmented Reality capabilities allows users to draw free-hand on real world scenes and then record 360° videos of it by walking around their drawing, which will appear as a 3D object that you can move around.
The other mode, Face, lets users create amusing Snapchat- or Instagram-like filters on friends' faces. You can draw crowns, earrings, moustaches – anything that catches your fancy – that will then be superimposed over their faces and follows their head movements.
Asked by friends what cool things the Note 10+ could do, this never failed to elicit a "wow, cool" or surprised gasps.
Workhorse features
Pragmatic business users need not worry, this smartphone can also get down to serious business with the best of them.
For users who want quick unlocking, there is an in-screen fingerprint scanner, as well as facial recognition. Though I found the fingerprint scanner slower compared to previous rear mounted scanners, the facial scanner would always quickly jump in to help, meaning I never needed to resort to using the password to unlock it.
The smartphone packs a huge 4,300mAh battery that lasts all day even with heavy use for constant messaging, writing notes, watching videos, using Waze, or listening to podcasts over Bluetooth headphones.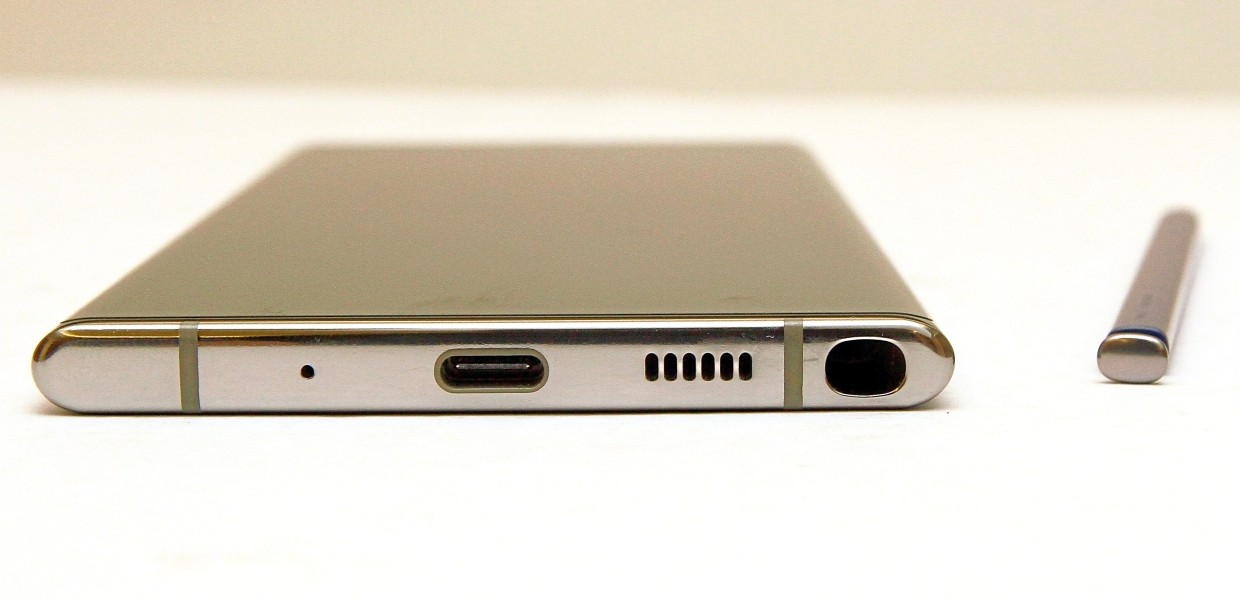 The Samsung Galaxy Note 10+ does away with the 3.5mm audio jack, requiring users to either use a USB-C to 3.5mm converter or connect to Bluetooth headphones. — CHAN TAK KONG/The Star
Listening to Bluetooth headphones will likely become the norm for Note 10+ users as Samsung has done away with 3.5mm jack here. One welcome addition is that the phone comes bundled with AKG-brand earphones with a USB Type-C jack, so users won't need to buy new headphones.
Not included in the box is a 45W plug, which can supposedly fill the battery in about 30 minutes. The included 25W plug does a decent job, recharging an exhausted battery in an hour plus. I rarely managed to completely drain the battery in a day, compared to my Galaxy S9, whose 3,000mAh battery usually needed recharging by midday.
Another business feature is DeX, which connects the Note 10+ to a PC or Mac computer via a USB-C cable. There users can run Android apps on a larger display and manage files more easily, though files can only be moved from the desktop to the smartphone and not the other way around – a feature that's useful for those wanting to keep their files safe behind Samsung's Knox security while hot desking at a temporary computer.


The Note 10+ can wirelessly charge other devices – whether wearable devices or other phones – as long as they are QI charge compatible.
Performance wise, the Note 10+ never slows down thanks to its 12GB RAM, which makes multitasking a breeze and game graphics super smooth. Those deciding between the 256GB or 512GB versions have less to worry about as both have the same RAM and can load an SD card with up to 512GB extra space.
Quad squad
Another advantage of the Note 10+ over its little brother, the Note 10, is the full quad camera array over three cameras.
The cameras include a primary shooter than can change from f/2.4 to f/1.5 for brighter shots, an ultrawide 16-megapixel camera, and a 12-megapixel telephoto that has 2x zoom, and a depth-view camera.


The Samsung Galaxy Note 10+ has a quad camera set up, with three conventional cameras for wide, telescopic and low light shots, plus a Depth Vision Camera that can capture 3D images. — CHAN TAK KONG/The Star
The Note 10+ does an admirable job in various lighting conditions, and my group of friends often defaulted to taking group photos with the review unit.
Exclusive to the Note 10+ is a DepthVision camera which helps the smartphone's AI figure out relative depths, allowing for cool tricks like measuring the dimensions of an object or taking 3D photos, like for bags on fashion websites. These require their own dedicated apps though, the Quick Measure and 3D Scanner apps, respectively.
The biggest boost to the camera, beyond hardware, is the upgrades to the video taking software. The stabiliser does a great job at smoothing out videos so you can walk and take videos without resulting in a lurching at-sea effect, plus Live Focus in videos instead of just photos.


Live Focus has been expanded from photos to videos, allowing users to apply soft focus or even effects like making the background black and white.
The third feature, zoom in microphone, focuses the audio recording to where the camera is focused and cuts down on ambient noise.
Conclusion
While the Note 10 has many of the features of its bigger sibling and is more affordable at RM3,699, there are enough features, cameras and screen real estate to consider upgrading to the Note 10+ (256GB) at RM4,199.
The 512GB version, which costs RM4,799, should appeal to those who intend to take high definition videos as the Note 10+ can shoot ultra HD footage at 60fps, or those who are after more storage space.
The Note 10+ comes in Aura White, Aura Black and Aura Glow, all of which are now available nationwide at authorised retailers nationwide.
Pros: S Pen wireless controls; Note 10+ has more features and cameras than regular Note 10; largest Samsung screen on a smartphone yet; both versions have powerhouse 12BG RAM; large battery lasts all day even with heavy use.
Cons: Does not come included with 45W charger, no 3.5mm jack.
Galaxy Note 10+
(Samsung)
Android smartphone
NETWORK:
4G
OPERATING SYSTEM:
Android 9.0 Pie
DISPLAY:
6.8in QHD Dynamic Amoled (3040 x 1440 pixels)
CAMERA:
Quad rear cameras with 12-megapixel primary, 12-megapixel telephoto and 16-megapixel ultrawide with OIS, plus DepthVision camera, 10-megapixel front-facing camera
CONNECTIVITY:
USB Type-C, Bluetooth 5.0, NFC, WiFi 802.11 a/b/g/n/ac
PROCESSOR:
Exynos 9825 octa-core (dual core 2.73GHz + dual core 2.4GHz + quad core 1.9GHz)
MEMORY:
256GB storage/12GB RAM or 512GB storage/12GB RAM
BATTERY:
4,300 mAh
OTHER FEATURES:
Water and dust resistant (IP68), 45W fast wired charging and wireless charging, in-display fingerprint scanner
DIMENSIONS (W x D x H):
162.3 x 77.2 x 7.9mm
WEIGHT:
196g
WEBSITE:
www.samsung.com/my
PRICE:
RM4,199 for 256GB/12GB RAM; RM4,799 for 512GB/12GB RAM
RATING:
4.5 stars
Review unit courtesy of Samsung Malaysia Electronics, 1-800-88-9999
Did you find this article insightful?
% readers found this article insightful