Maxis helps to shape a digitally inclusive society in Malaysia
A BIG part of Maxis Bhd's commitment to Malaysia as the leading converged solutions provider is enabling a digitally inclusive society and supporting communities – from students and women to small and medium enterprises (SMEs), entrepreneurs and lower income (B40) groups.
Maxis' community outreach initiatives are focused on four core areas:
> Providing greater access to digital learning for students in rural communities.
> Empowering women entrepreneurs with digital marketing skills.
> Community outreach during festive seasons.
> Providing humanitarian relief in the event of natural disasters.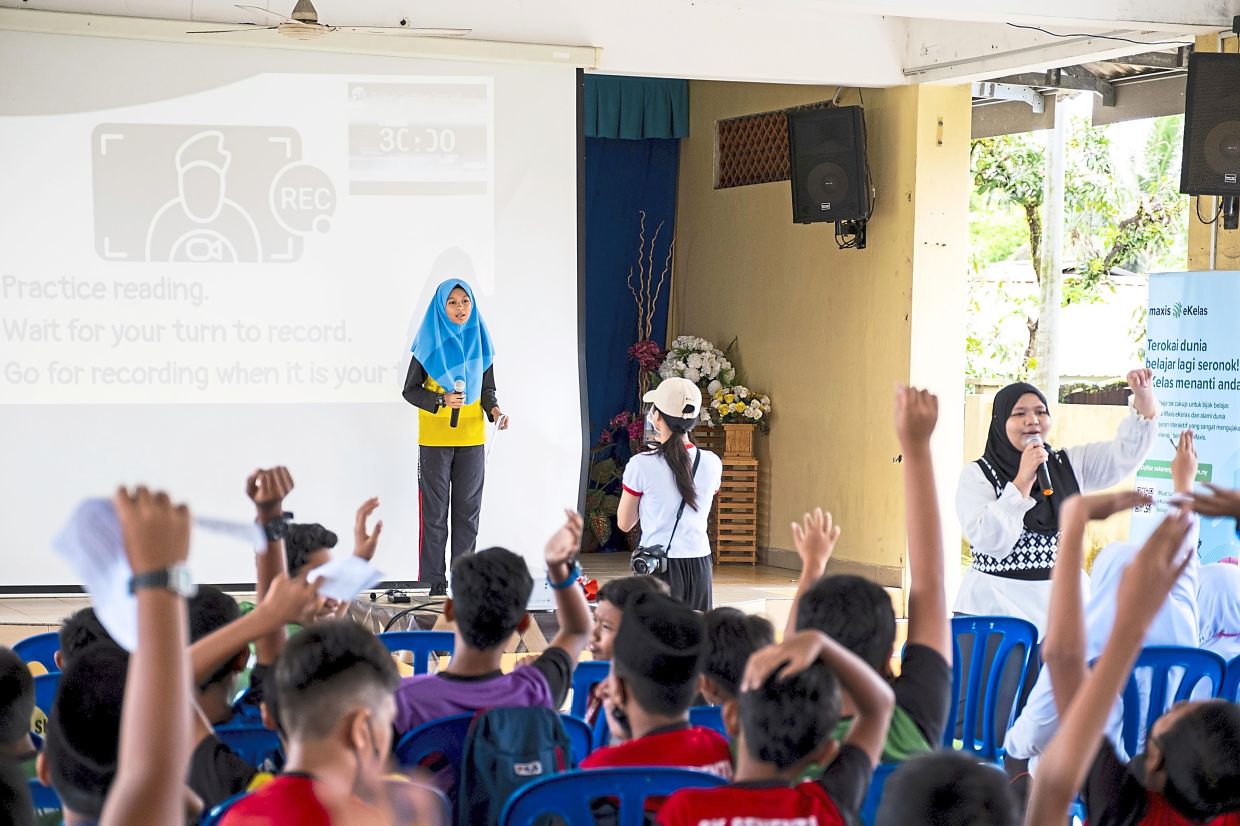 During the HIP StoryFest English competition in April-June 2022, eKelas delivered storytelling workshops and created awareness about the programme to over 6,000 students from 32 schools.
eKelas digital learning
Driven by its passion for education, Maxis runs two outreach programmes aimed at providing underserved communities with greater access to digital tools, content and learning – eKelas and eKelas Usahawan.
Maxis eKelas, its flagship community programme which is in its seventh year, supports students nationwide with free access to digital learning content and engagement activities.
As an after-school digital learning initiative for students from Year 4 to Form 5, eKelas brings learning enrichment in a fun and vibrant way and provides access to quality education content, in line with the Malaysian school syllabus.
Focusing on Science, Mathematics, English, Bahasa Melayu and History, students are exposed to experiential learning through a combination of live tutorials, group learning, competitions and digital content via the eKelas portal and app.
Today, eKelas is benefiting over 74,000 students who are registered on the portal and app, with a complete digital learning experience including opportunities for students to take part in annual campaigns like English and Science, Technology, Engineering and Mathematics (STEM) competitions, as well as apply for the Anugerah Gemilang student grant scheme.
Since 2019, eKelas has been recognised by the Ministry of Education (MOE) under its Highly Immersive Programme (HIP). What this means is that eKelas students who participate in the HIP StoryFest English Competition can collect co-curricular marks which are included in their school certificate.
With MOE's recognition, Maxis has been able to bring more awareness on eKelas to schools. To date, it has reached out to over 2,000 schools nationwide.
"Digital inclusion is important, and we believe that everyone should be able to reap the benefits of technology and digitalisation," says Maxis chief corporate affairs officer Mariam Bevi Batcha.
"We are proud to see the growth of eKelas over the years and its impact on students across the country.
"Our goal is to provide the opportunity for them to improve their academic performance and to have access to the best learning content.
"We encourage more students to join Maxis eKelas so that they can benefit not just from digital learning, but also from our exciting campaigns that provide added skills such as critical thinking and beyond academic subjects."
Maxis employees joining Communications and Digital Minister Fahmi Fadzil in handing out food aid to families in Johor impacted by last year's floods.
eKelas Usahawan for women
SMEs are a key contributor to the Malaysian economy and this segment, which includes micro-SME, make up 97.4% of overall businesses in Malaysia. Their role cannot be understated and there is a critical need to support this segment through digitalisation.
To this end, Maxis started to reach out to entrepreneurs from the rural communities to run digital marketing workshops across several states as part of a pilot project.
The response was extremely positive and seeing that the vast majority of participants from these workshops were women, Maxis in 2021 launched eKelas Usahawan as a structured digital marketing programme to empower women entrepreneurs in rural communities to develop a stronger digital presence.
"Through our experience with our past workshops and working with SMEs, we knew there is immense potential and we were in a position to empower these women entrepreneurs further," says Mariam.
"In fact, many women from the B40 community have become micro-entrepreneurs, be it a catering business, selling kuih or opening a printing shop.
"We built upon what we have learnt and enhanced the programme with structured content, with a hands-on approach to focus on helping the entrepreneurs improve their digital capabilities, help expand their businesses and reach out to even more of their customers," she says.
Maxis' eKelas Usahawan programme delivers modules with tips on basic marketing, digital photography, copy writing and social media marketing.
The programme has been seeing strong interest from micro-SMEs and entrepreneurs to apply their new knowledge and skills in their businesses.
Since its launch, Maxis has trained over 2,700 entrepreneurs via workshops delivered both physically and virtually nationwide, with all-round positive feedback from participants. Some of the sessions are supported by Maxis' own volunteers.
In facilitating dedicated workshops, eKelas Usahawan collaborates with government agencies and non-governmental organisations (NGOs) to attract and help more entrepreneurs and SMEs to apply basic digital marketing knowledge and tools in their respective businesses.
"We are pleased to see eKelas Usahawan gaining such a positive response," says Mariam.
"The modules are simple and easy to understand, which makes it attractive for many entrepreneurs out there who want to either learn new skills or even refresh their digital knowledge.
"We want to continue scaling up the programme so that even more entrepreneurs can reap the benefits of digitalisation quickly.
"Everyone, no matter what their background or abilities, can benefit from technology and digitalisation to expand business opportunities and enhance their socioeconomic position," she says.
Maxis CEO Goh Seow Eng (left) and chief corporate affairs officer Mariam Bevi Batcha (right) presenting a certificate and prize to Chennie Pang, one of the winners in the Maxis eKelas HIP StoryFest English Competition 2022.
Giving back to the community
The past few years have been challenging for Malaysians who were impacted by the longer-term effects of the pandemic and floods, in particular the B40 segment.
In 2021 and 2022, Maxis accelerated its efforts to quickly come to the aid of many of those who were impacted, with contributions worth close to RM1mil during the pandemic, disaster relief and the festive seasons.
Meanwhile, Maxis' community outreach initiatives during festive seasons are anchored on supporting the underserved and vulnerable groups, ranging from senior citizens, single mothers, persons with disabilities, B40 individuals and families, to the homeless.
Partnering with NGOs, Maxis has regularly undertaken initiatives to bring festive cheer to the various communities in need during Chinese New Year, Hari Raya, Deepavali and Christmas.
In 2022, communities benefited from over 2,400 boxes of food aid and essential items, food vouchers, refurbished desktops and devices, hygiene kits and back-to-school packs.
With increasing demands for digitalisation, access to devices remains one of the biggest challenges especially for those in the B40 group. As such, Maxis has regularly contributed devices such as refurbished desktops and laptops to schools and families, including to Pusat Ekonomi Digital (PEDis) and community centres across the country.
In supporting these initiatives, Maxis employees have been incredibly passionate and driven towards giving back to the community.
With a robust volunteerism programme in place, Maxis volunteers across the different regions contribute their time and effort on the ground for distribution of aid, engaging with impacted individuals and families, or even supporting digital learning programmes as trainers.
Following the devastating year-end floods of 2021, Maxis employees rallied together for a donation drive, raising close to RM50,000. In channelling the funds, Maxis collaborated with Malaysian Red Crescent Society (MRCS) who identified impacted families to receive cash vouchers to purchase household necessities.
"The last two years have no doubt been extraordinary. We accelerated our efforts to support communities with what was really needed in those immensely challenging times," says Mariam.
"We will continue to do our part as a responsible corporate citizen, through digital inclusivity, providing greater access to devices, helping underserved communities and humanitarian efforts.
"Ultimately, our goal is to enable everyone to always be ahead in everything that they do," she says.
Click on the link here to know more about Maxis eKelas and their corporate responsibility efforts.
Subscribe now to our Premium Plan for an ad-free and unlimited reading experience!