MANIPAL has resonated with the Malaysian healthcare system for the past 70 years with thousands of medical doctors graduating from Manipal in India.
Manipal University College Malaysia (MUCM), established in Malaysia since 1997, continues this fine tradition of quality medical education through its MBBS and BDS which have been fully-in-Malaysia degrees since 2021.
Manipal's MBBS curriculum is a blend of traditional and contemporary teaching and learning modalities like cadaveric dissection to virtual 3-D dissections in anatomy.
The shadow housemanship embedded within the curriculum in the final semester immerses the medical students in a world of almost real-life working conditions.
The degree has always paved the way for graduates to blend with ease into the clinical working life at hospitals.
Now after 25 years of being a key driver of medical education in Malaysia, Manipal has further stepped up its game in a collaboration with MediSimVR. MediSimVR is an ed-tech startup incubated at the renowned Indian Institute of Technology, Madras, and supported by Johnson & Johnson, USA.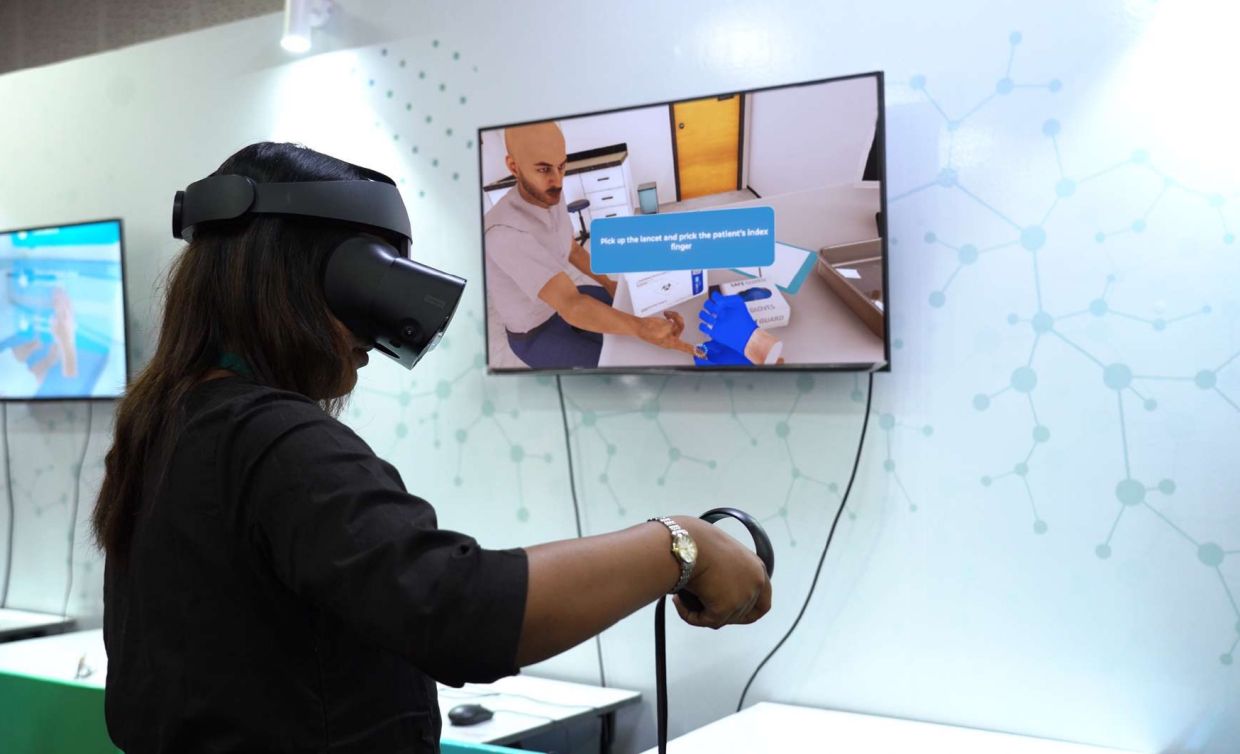 A student practising a skill module on MediSim's Virtual Reality Skill Training Simulation.
Through this collaboration, Manipal's MBBS students will be exposed to virtual reality (VR) clinical training during years 3 to 5 of their MBBS by using MediSim's Virtual Reality Skill Training Simulation.
MediSimVR centre of excellence at Pondicherry Institute of Medical Sciences, India.
This is a first-of-its-kind MedTech solution that was introduced by MediSim to address the needs of the medical industry at the grassroots level. This technology has been fully functioning at MediSim's VR-based skill training laboratory in Pondicherry, India which also happens to be India's first laboratory of such nature.
Prof Dr Jayakumar Gurusamy, dean of the Faculty of Medicine at Manipal said, "VR provides an inspiring and immersive clinical experience for the development of technical competencies, such as surgical skills for our students.
"Learning through practical experience by incorporating visual stimuli with MediSim virtual experiences improves students' interaction within the classroom and boosts knowledge retention."
MediSim's VR skill training simulation programme allows students to learn and practice patient-care skills infinite times in a risk-free and immersive environment. An inbuilt AI-powered competency assessment engine helps ensure that students achieve a certain level of competency before stepping into the real world. An extensive content library consisting of procedural skills such as emergency management, urethral catheterisation, and wound management, amongst many others, help accomplish this.
Manipal would be installing MediSim's VR kiosks at her campus so that it is easily accessible to her MBBS students as part of their learning experience.
"It complements the traditional rich clinical experience of our students' experience at the hospitals.
"Harvard Business Review indicates a 230% improvement over traditional training methods and VR-trained participants are 20% faster and more accurate," added Prof Jayakumar.
"We are very happy to be working with Manipal in Malaysia, which has been a longstanding pioneer in the field of medicine and other healthcare programmes," said co-founder and COO Dr Adith Chinnaswami.
"Being a surgeon and well aware of Manipal's medical pedigree, I see this as the perfect partnership to launch the first such fully automated VR skill lab in Malaysia and look forward to maintaining the high standards Manipal sets towards her students' education."
Manipal's MBBS programme is offered in April and October yearly. Prospective students are encouraged to visit them at its open days taking place in March and April.
Call 1700-811-662 or click https://admissions.manipal.edu.my/lp/all-programs.html for more information.
Subscribe now to our Premium Plan for an ad-free and unlimited reading experience!