SELANGOR bagged two out of three titles against Singapore at The Sultan of Selangor's Cup (TSSC), holding on to the Selection and Schools Challenge trophies while relinquishing the Veterans' trophy to the visitors.
Much to the delight of supporters, the Selangor Selection were able to keep the main title for the second year in a row after a nerve-wracking match that saw the hosts edging out their opponents 1-0 last Saturday.
The only goal of the match came in the 20th minute, courtesy of Ifedayo Olusegun Patrick Omosoyi who found the net with a header amid chaos in the penalty area after skipper Mohd Amri Yahya's precise cross from outside.
Sultan Sharafuddin (left) presenting the champions trophy to Amri (second from right) after the home side edged Singapore 1-0. Looking on are Abd Karim (right) and Tengku Permaisuri Norashikin. — Bernama
Selangor went on to tighten the screws on Singapore throughout the match with Sandro Da Silva Mendonca, Khyril Muhymeen Zambri, Syami Safari and Ifedayo in front.
Singapore's goalie Syazwan Buhari was kept busy with a number of attempts by Selangor's skipper, receiving much applause from the visiting Singapore fans.
Singapore came close to scoring on a number of occasions through Shawal Anuar and Irwan Shah Arismail but had their goals disallowed by the linesman for being offside.
Three abseiling stuntman bringing down the Selangor and Singapore flags for the opening ceremony at Shah Alam Stadium.
Both teams had many chances and a few close calls in the goalmouth before the break but Singa-pore had a harder time getting past Selangor's defence thanks to
K. Sarkunan, Muhd Syami Safari, Michal Nguyen and Nicholas Ryan Swirad.
Selangor's goalie Mohd Farizal Harun also proved to be instrumental in thwarting Singapore's barrage over the 90 minutes, allowing the home team to hold on to their lead until the final whistle.
The Selangor Selection team celebrating their second consecutive title.
The Selangor Selection, which was coached by Super League coach B. Sathianathan, picked up their ninth title along with the sterling trophy and a cheque for RM80,000 from Sultan of Selangor Sultan Sharafuddin Idris Shah, while Singapore took home RM10,000.
In the curtain raiser, the Veterans' match could have gone either way. But in the end, it was the visitors' night to celebrate after defeating the Selangor side 2-0 on penalties.
The 40-minute match oozed nostalgia with the likes of Datuk Soh Chin Aun, Datuk Santokh Singh,
V. Murugan and Reduan Abdullah along with their peers still showing good form despite having left professional football decades ago.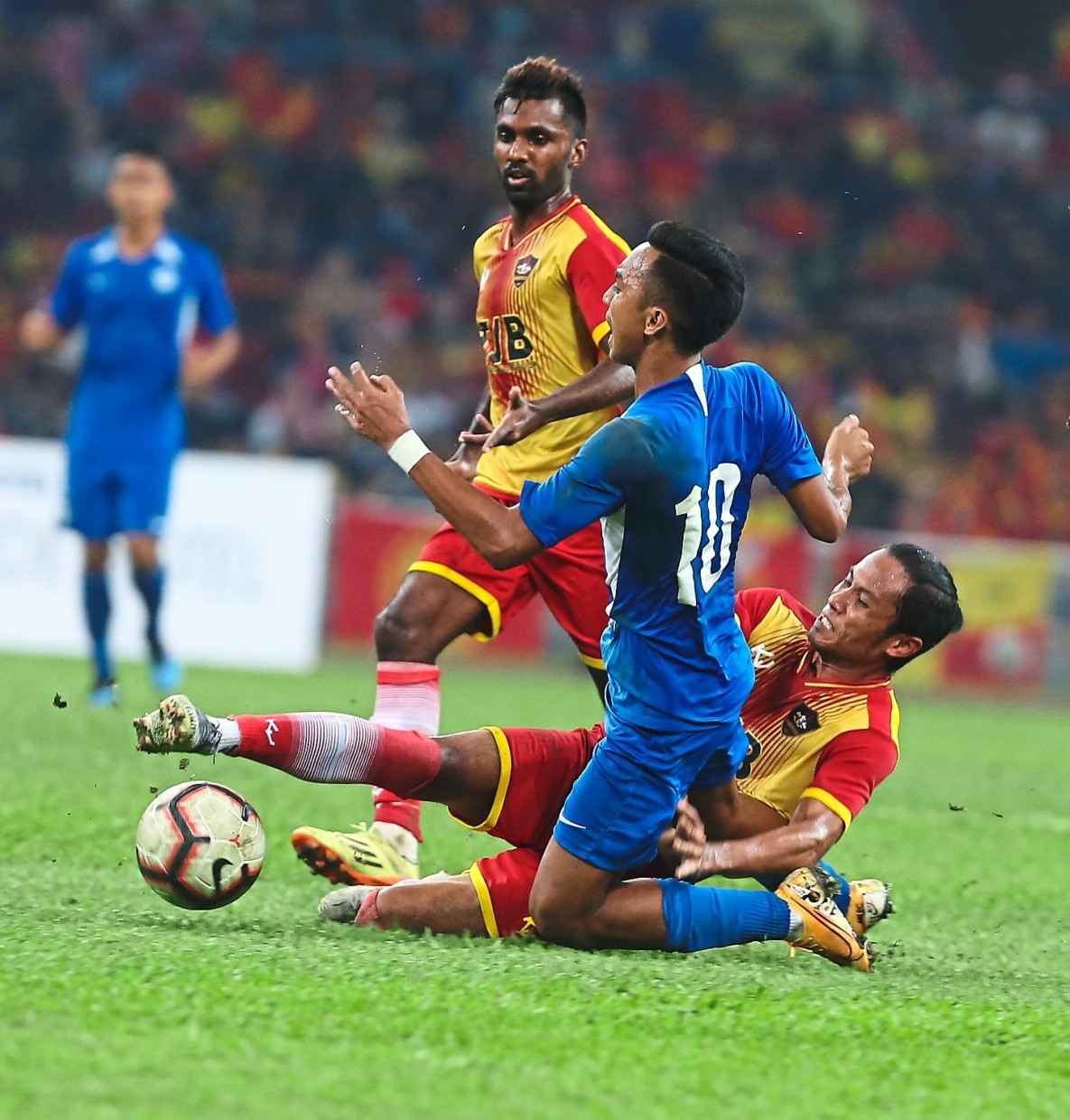 Singapore Selection's Mohd Faris Ramli (in blue) being tackled by Selangor's Khyril Muhymeen Zamri (on the ground) during the match.
Singapore's Veterans comprised former greats such as Fandi Ahmad, Malek Awab, Steven Tan, and Indra Sahdan, among others.
Even though neither side could find the net during the match, there were a few close calls and the former state and national players gave fans plenty to cheer with their display of camaraderie and respect.
Singapore's goalkeeper Mohd Yazid Mohd Yasin was undoubtedly the star of the veterans' clash after saving two spot kicks taken by Abd Talib Sulaiman and Azrin Shah Zainal to give Singapore victory.
Selangor also managed to retain the Schools Challenge Cup this year after a 3-1 win over their counterparts even though Selangor's youth squad got off to a shaky start in the Under-15 match.
Sultan Sharafuddin greeting Selangor Veteran player Santokh before the match as Soh (second from right) and Abd Karim (right) look on.
They conceded an early goal scored by Singapore skipper Amir Syafiz Abdul Rashid from a free kick which caught out Selangor's keeper Mohd Farizzuddin Adham Batcha.
But the Selangor schoolboys redeemed themselves just eight minutes later with Muhd Harry Danish Md Haizon slotting the ball past Singapore's keeper Muhd Aizal Mohd Yazid to equalise 1-1.
Selangor went on to take the lead through Muhd Afiq Haiqal and scored a third through Aliff Nufaill Azman before the halftime whistle.
Tengku Amir Shah (right) shaking hands with the Selangor Under-15 players before their match.
Despite the numerous substitutions after the break, Singapore could not find a weak point in Selangor's defence as they continued to struggle for momentum throughout the second half and had to walk away from the match second best.
In true TSSC tradition, the night was not just about football for the 54,920 in attendance and the 18th edition lived up to its reputation for having a one-of-a-kind carnival-like atmosphere.
Preceding the kick-off to the main Selection match, a convoy of 40 Harley-Davidsons rumbled into the stadium at the start of the opening ceremony.
Three stuntmen then abseiled from the roof of the stadium to hand over a football to Sultan Sharafuddin, who then launched the event by starting the light show and a spectacular fireworks display.
Singapore veteran Nahar Daud (left) heading the ball away from Selangor's Zainal Nordin during the curtain raiser.
The event also saw choreographed performances by Selangor school students and songs by local artistes Dayang Nurfaizah and Jamal Abdillah.
Also in attendance were Tengku Permaisuri Selangor Tengku Norashikin, Raja Muda Selangor Tengku Amir Shah Sultan Sharafuddin Idris Shah, Selangor Mentri Besar Amirudin Shari, Economic Affairs Minister Datuk Seri Azmin Ali, Communications and Multimedia Minister Gobind Singh Deo, Inspector-General of Police Datuk Seri Abdul Hamid Bador, Singapore High Commissioner Vanu Gopala Menon and Football Association of Singa-pore vice-president Teo Hock Seng.
"We are grateful that everything that the committee had planned for the 18th edition went well.
Hordes of Selangor (above) and Singapore (left) fans, both young and old, having a blast at the event.
"We are grateful for all the spectators that showed up to support their teams, " TSSC organising committee chairman Tan Sri Abd Karim Munisar said.
"It was a great turnout today but it was what we expected as with previous years. And even though we won two titles, what is more important is that the fans are happy and that they look forward to next year's edition.
"Both sides fought well in tonight's matches but as is the case in sports, there has to be a winner and loser, so I have to commend all the players that were part of the matches for giving their best and showing a high level of sportsmanship, " he added.
This year's lucky draw prizes include a brand new Honda City by main sponsor Tanjung Balai Group, a Harley-Davidson Iron 833 by Rasniaga Sdn Bhd and a 3D/2N stay at Marriott Kota Kinabalu for three lucky spectators courtesy of Everspring Land Sdn Bhd.
The winning ticket numbers were picked by Tengku Permaisuri Norashikin during the match and they were: 02693 (Honda City), 00708 (Harley-Davidson Iron 833) as well as 07308,01882 and 28476 (3D/2N stay at Marriott Kota Kinabalu).
The ticket holders can call
012-245 2598 (Necia Abdullah) to claim their prize.
Did you find this article insightful?
% readers found this article insightful