MORE than 4, 600 cycling enthusiasts took up the challenge to complete the sixth edition of the Lekas Highway Ride, a closed highway night cycling event.
The event is a collaboration between RHB Banking Group and IJM Corporation Bhd's Toll Division subsidiary Lebuhraya Kajang-Seremban Sdn Bhd (Lekas).
It attracted a diverse profile of avid cyclists, totalling 4, 641, from various countries including the United States, Canada, United Kingdom, Ireland, Italy, France, Bulgaria, South Africa, Russia, India, China, Cambodia, Singapore, Brunei, Japan and Australia.
The event which featured two competitive long-distance routes – 120km and 78km – saw an 8% increase in participation from international cyclists and 14% increase in female cyclists.


Cyclists enjoying their ride along the car-free, LED-lit highway — Photos: AZLINA ABDULLAH/The Star
RHB Banking Group managing director Datuk Khairussaleh Ramli said cycling was growing in popularity.
"The event promotes a healthy lifestyle among participants and with more participation from young cyclists, it also nurtures young talents.
"Advocating healthy living and nurturing future generations are the core pillars of our Corporate Social Responsibility programme.
"To make things different this year, we had a post-ride concert where young pop and rock group Bunkface as well as other performers entertained the crowd, " he said.
Khairussaleh said the cyclists were passionate and serious about the event with many practising and tuning up their bicycles prior to the challenge.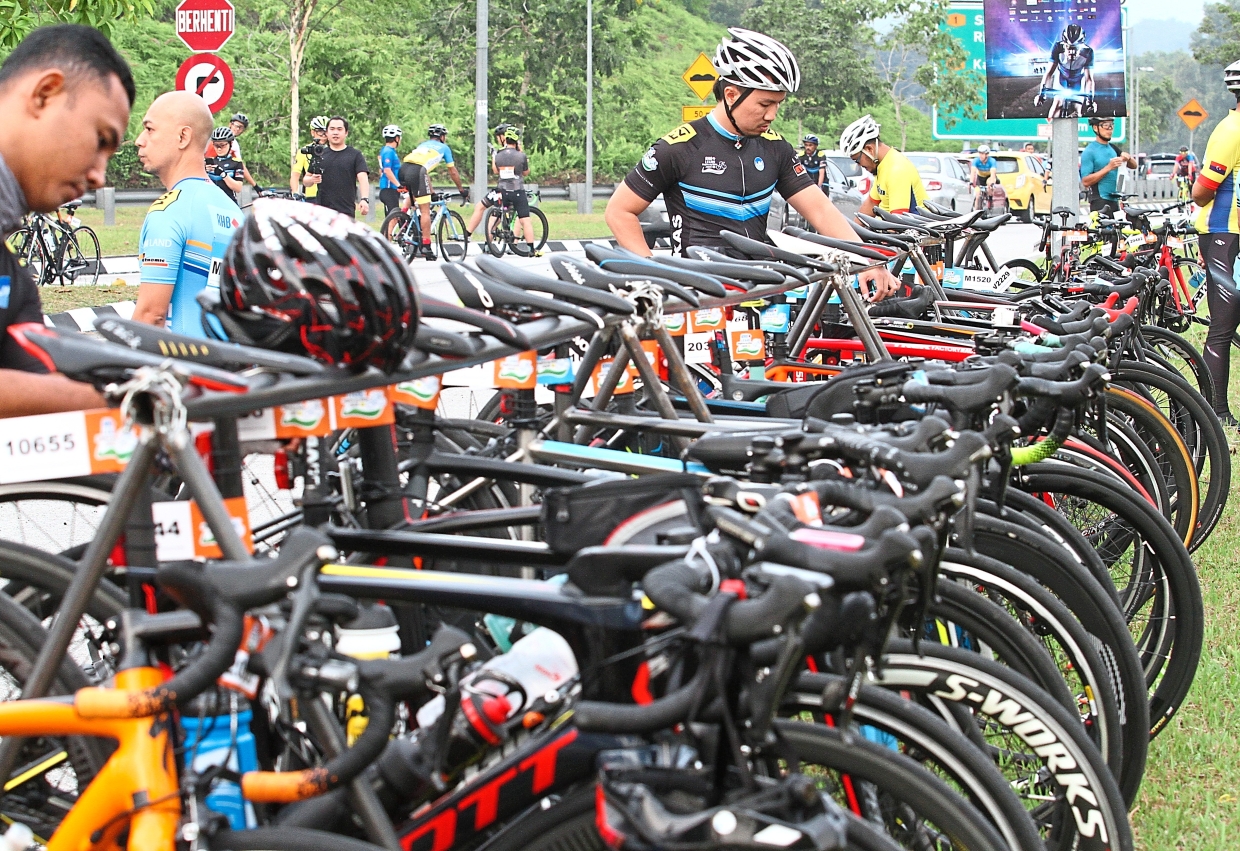 Participants arranging their bicycles along the side of the Lekas Highway.
"Aside from providing a safe ride for all cyclists by closing the entire highway, we also emphasise on the quality of enjoyment.
"Although there is a competitive ride category, we do not want to call this a race because we want people to enjoy it.
"It is a pleasure working with IJM and we hope that we can increase the participation limit to 5, 000 next year, " he said, adding that the challenge received such an excellent response that registration was closed after three weeks.
Both routes had an Open category (Men and Women) for cyclists aged 22 years old and above, as well as a Veteran category for men aged 45 years old and above.
The 120km route had a Corporate Open Team category while the 78km route featured a Young Adults category (Boys and Girls).
Children and casual cyclists could enjoy also the fun ride.


Khairussaleh says cycling is gaining popularity.
The fun rides were fully sponsored by IJM, together with the first 100 participants of the Young Adults category with the aim to nurture new talents and promote cycling as a sport for all.
Participants and visitors thronged the Kajang Toll Plaza and tuned up they rides to get ready for the challenge.
Food and beverage stalls, cycling equipment and accessories booths, as well as treatment and rehabilitation booths for participating cyclists were also set up.
Seconds before the flag-off, cyclists gathered at the starting line, eager to go all out for the champion titles in all categories.


Cyclists from different categories being flagged off by the VIPs.
IJM Corporation Bhd chief executive officer and managing director Datuk Soam Heng Choon said they were thrilled to return as the venue sponsor at Lekas Highway as it aligned with IJM's commitment to inspire and encourage healthy living among Malaysians.
"Over the years, we have seen the event gaining traction, it is also heartening to see the carnival-like atmosphere.
"Along with the other running events that IJM organises throughout the year, we are glad that our highway concessions are being used as platforms to bring sports enthusiasts, friends and families together on a totally closed highway, " said Soam.
The organisers also thanked the police, Malaysian Highway Authority and Works Ministry for making the event a success.
Results
120km Men's Open
1. Philip Yip 03:01:17
2. Mohd Faizal Mohd Nadzir 03:01:20
3. Mohamad Fairet Rusli 03:02:45
120km Women's Open
1. Noor Azian Alias 03:10:19
2. Jeynelle Lee 03:10:47
3. Stella Chen He 03:10:48
120km Men's Veteran
1. Tsen Seong Hong 03:04:08
2. Lee Weng Tat 03:04:20
3. Muhammad Hafiz Wong Abdullah 03:04:21
120km Corporate Team (team time)
1. Corporate Team Storck Endurance 09:09:38
2. Lekas Corporate Team 09:12:41
3. Corporate Team RHB Guest 2 09:17:50
78km Men's Open
1. Muhammad Azran Ridzwan 01:55:00
2. Hafizh Syahrin Abdullah 01:55:00
3. Yim Wai Soon 01:55:04
78km Women's Open
1. Ng Hui Shia 02:05:08
2. Lee Wen Yee 02:05:11
3. Fatin Liana Md Hassan 02:08:31
78km Men's Veteran
1. Nazarudin Wijee 01:55:00
2. Philip Tang Peng Ngiap 01:55:05
3. Loke Chee Keong 01:55:08
78km Young Adults - Boys
1. Muhammad Firdaus Sharum 01:54:04
2. Lawrence Yong 01:54:04
3. Albert Wijaya 01:54:05
78km Young Adults - Girls
1. Mustika Ayuni Mustofa 02:19:57
2. Cheong Ixia 02:20:03
3. Low Tze Yen 02:53:07
Join our Telegram channel to get our Evening Alerts and breaking news highlights