THE problem with working from home is that we spend too much time in front of our computer and mobile phone screens without realising we've worked more than the required hours under labour laws.
There are bosses who think they should incessantly send instructions to you because they know you're trapped at home.
They don't even need to trace your location because that's a frivolous detail to them.
These are the type who think they own your life and soul simply because they keep you employed.
Then there are those who think you're not working and probably using the time to bake cheesecakes for extra income, or peddling perishables like fish balls, chicken and vegetables in neighbourhood chat groups.
Of course, they could also be suspicious of your purported research on economy consumption and living patterns – which really translates to you being on a Netflix or video portal binge while kicking up your heels on the couch.
During MCO 1.0 in March last year, many of us (or was it just me?) were glued to Tiger King, a series about breeding big cats, a bizarre underworld and an eccentric complement of characters.
They're tasteless personalities, not because Covid-19 infection robbed them of their sense of taste and smell, but just bad people.
The series, in the words of Wikipedia, is about murder (or rather, a threat of murder), mayhem and madness.
It's essentially a true story about the life of a zookeeper who calls himself Joe Exotic, and a rival, Carole Baskin, who calls herself a conservationist. Things turned nasty when Joe accused Baskin of doing the same thing – abusing and exploiting wild animals.
It was at this point that many of us, confined and locked up in our homes during that first movement control order spell, began wondering if the analogy could be applied to our political ecosystem.
Well, our politicians have always been adept at hypocrisy, so it's bizarre to hear them accuse each other of playing politics.
If they don't play politics, what do they do then? Do they honestly expect us to believe that they spend their time serving the people with their 10-minute photo opportunities and cleaning drains, stunts for the benefit of the press?
The difference between Tiger King and our political circus is, in the series, animals get exploited, but in our "ring of entertainment", the rakyat pays the price – all the time.
Now, with MCO 2.0, we're back on the TV-binge trail. In March last year, all restaurants had to close by 8pm and only takeaway was allowed.
This time, eateries can stay open till 10pm, but it's still only for takeaway, though. And roadside food operators are now permitted as well.
It's hard to ignore the feeling that MCO 2.0 is much more relaxed. No doubt, it was tougher the first time around.
Perhaps the authorities are aware of the dire consequences of people not being able to earn a living if measures are too harsh.
It's getting harder even for petty criminals because it's impossible to break into houses when everyone's home. It's just as difficult to be a snatch thief when not many people are walking the streets.
But I digress. So, back to horrific TV characters, if we thought Joe Exotic was bad, the people in flavour of the season Bling Empire are worse. It's literally a zoo.
It's diabolical that Asians – especially Chinese-looking people – have been blamed for the Covid-19 pandemic, especially with ex-US president Donald Trump's idiotic incessant reference to the "China virus".
Chinese or those of similar stock aren't exactly the best liked people on earth now, or at least in the Western world.
Thanks to non-stop Western media propaganda, many Anglo Saxons think all China-made telephones are spy devices, and TikTok is part of a grandiose plan to make Caucasians look stupid and used as evidence to discredit them.
We all know TikTok is meant to make all of us look voluntarily stupid, while a Chinese guy based in the US makes tonnes of money from it.
By now, most Westerners believe that we all eat bats, snakes, dogs and everything with four legs, including tables.
Every Chinese, or those who look it, are a clear and present danger in the eyes of the FBI, CIA and their operatives. After all, many Ameri-cans can't tell the difference between turbaned Sikhs and the Taliban.
So Bling Empire couldn't have come at a worse time. The Chinese will now be viewed as loud, materialistic show-offs with bad taste in fashion. Truth be told, though, some dress sense bears hideous and awful results.
So, in this show, the mainland Chinese, Singaporean, Vietnamese and ABC – American-Born Chinese – or more accurately, an adopted one, are all included, except for Malaysian Chinese. We must really be inept for not making the cut.
Even our Sarawak-born Henry Golding played a Singaporean who had to endorse purported Singa-pore food like satay in Crazy Rich Asians. Our iconic Tan Sri Michelle Yeoh had to do likewise, minus the satay, though.
For the uninitiated, Bling Empire is a new reality series about a group of super rich, ie, filthy rich, Asian friends living in Los Angeles.
Channel News Asia (CNA)described it as a cross between Gossip Girl and Crazy Rich Asians and implied that those unaware of the show must be "living under a rock".
Stars of the show include Kane Lim, who's the son of a Singa-porean billionaire. There's also Asian-American model Kevin Kreider, philanthropist and couture collector Christine Chiu, "world-famous" DJ Kim Lee, entrepreneur Kelly Mi Li, denim heiress Cherie Chan, and former equestrian and daughter of a Beijing tech billionaire, Jaime Xie, reveals CNA.
Questioning the fashion sense of the actors, the Singapore-run TV channel even sought the opinion of fashion influencer Xie, who's meant to be the most stylish of the lot, yet shows up in fluorescent pink stiletto boots to go bowling, and a turtleneck sweater for the beach. And what is with the cast's obsession with leopard prints?
And at a time when most of us are struggling with our finances, is it appropriate to showcase these rich Asians? Also, there seems to be little justification with the explanation "one could also argue that the series is meant to be a form of voyeuristic escapism. For one, it was filmed before the pandemic, so no one's wearing masks, and every one's attending huge parties".
In any case, we don't have many choices in MCO 2.0 because from last March, most film productions around the world have ground to a halt. We were spoilt for choice during MCO 1.0.
I gave up after watching just two episodes of Bling Empire. The criminals from Peaky Blinders and The Heist are, in fact, more palatable to these Asians, er, I mean Chinese. It's a crime, really.
That's the danger of spending long hours on the couch – that we can no longer differentiate the good guys from the bad. Or the crooked gangsters, politicians and Vatican priests, if you prefer.
Are we talking about a news byte here or are we at Suburra, and what season are we on again?
Subscribe now to our Premium Plan for an ad-free and unlimited reading experience!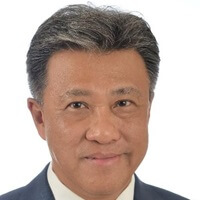 Wong Chun Wai began his career as a journalist in Penang, and has served The Star for over 35 years in various capacities and roles. He is now group editorial and corporate affairs adviser to the group, after having served as group managing director/chief executive officer. On The Beat made its debut on Feb 23 1997 and Chun Wai has penned the column weekly without a break, except for the occasional press holiday when the paper was not published. In May 2011, a compilation of selected articles of On The Beat was published as a book and launched in conjunction with his 50th birthday. Chun Wai also comments on current issues in The Star.