ENVIRONMENTAL, social and governance (ESG) values are not just for the corporate world. In all actuality, these values have been part of the very fabric of our lifestyles for generations without much glitz or glamour. More often than not, they reflect a deep-rooted connection with nature, a strong sense of community and steadfast commitment to ethical governance.
EcoWorld, renowned for its dedication to these principles through their design philosophy, is on a mission to not only incorporate them into their developments but also share them with the communities they've built.
Enter the annual #AnakAnakMalaysia (#AAM) campaign that unfolded on Sept 9 and 10, hosted at EcoWorld's largest township – Eco Grandeur in Puncak Alam, Selangor.
Except, for this year, it was a vibrant partnership with platform curator Riuh to introduce residents of Eco Grandeur and the surrounding communities to sustainable living as a lifestyle choice.
In case you missed it, EcoWorld's #AAM campaign has been an annual tradition that has been celebrated in conjunction with National Day and Malaysia Day since 2015. Initially conceived to instil patriotism and unity among Malaysians, #AAM has evolved to become much more than wristbands and unity walks.
EV enthusiasts also got the chance to check out the Tesla light show. The Electric Vehicle Gathering was coordinated by one of EcoWorld's long-term sustainability partners, Aurizn.
Nine years on and post-pandemic, #AAM2023 fully embraced the idea of supporting local businesses and actively participated in positive changes that contribute to a more circular world. It's a bold statement of the growth of the campaign and EcoWorld's mission to make a lasting impact as community builders and not just developers.
This year's theme focused on the fusion of action and generation with #ActionGreeneration, embodying the spirit of taking concrete steps towards a brighter and more eco-conscious tomorrow, beginning at home.
#ActionGreeneration embodies the spirit of collective action and change – an open invitation to inspire others to unite, work together and contribute to improving quality-of-life while embracing the values of ESG.
'Jom riuh'
At the heart of the campaign lies the EcoWorld Pledge Tree, whereby participants are invited to join the movement by making a simple yet impactful green promise.
Although it's a symbolic gesture representing a commitment to create a better tomorrow, the pledge was filled with small, accessible and actionable steps for the public to take on.
From a simple pledge of fixing water leaks to installing solar panels on your roof, initiatives like this allow parents to also show their kids small things and (sometimes) immediate things they can do to be more sustainable.
The event also offered a multitude of eco-friendly and family-friendly activities, including a bike generator juicer, a wooden playground, and a massive set of wooden congkak and other traditional toys, as well as eco-themed workshops.
Another standout feature this year was the Ketuk-Ketuk Festival by Riuh, a first-of-its-kind electric vehicle-powered green bazaar featuring over 40 vendors – all of which showcased and sold a diverse array of eco-friendly products, encouraging sustainable living practices within the township.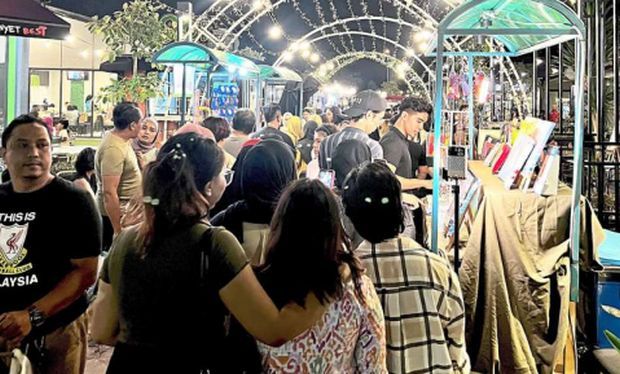 The main street in the cosy township of Eco Grandeur was filled with lights and pop-up stores in conjunction with #AnakanakMalaysia campaign, which were also partially powered by EVs.
Some sustainability partners, including Yinson GreenTech, SisaLab and Arus Oil, had set up booths to promote sustainable living and provide valuable insights into eco-conscious practices.
They also held the first personal electric vehicle (PEV) challenge in the country, dubbed the Electro Blitz with hopes to encourage micromobility adoption. In collaboration with Malaysia Speed Festival, the race was flagged off by Tan Sri Lee Lam Thye as the chairman of #AnakAnakMalaysia.
Meanwhile, enthusiasts of electric vehicles and speed got to enjoy the Electric Vehicle Gathering Festival which featured an exciting Tesla light show.
The two-day events were also capped off with live performances by local artists such as Leaism, HelloLuqman, Angel X Rocksta, Liesl-Mae, Khodi, Amrita Soon, Wan Sin Hoe and Site Specific Dance.
A wider impact
Waste reduction was a prominent theme of the #AAM2023 campaign as EcoWorld partnered with local recycling initiatives to create awareness about responsible waste disposal.
One aforementioned sustainability partner Arus Oil, for instance, conveniently collects used cooking oil from households and businesses for recycling. This way, EcoWorld offers its residents an option they can use for themselves to not only make a little cash but also educate the public on proper used-oil disposal.
The Electro Blitz PEV challenge was flagged off by #AnakAnakMalaysia chairman Tan Sri Lee Lam Thye around 8pm on the first night of the festival on Sept 9 at the bike park within Eco Grandeur itself.
And to bring those ESG values nationwide, #AAM2023 ran concurrently at other EcoWorld galleries in Iskandar Malaysia (Johor) and Penang.
However, the developer's vision isn't just about constructing eco-friendly townships; it is about creating sustainable communities that reflect the harmony between humanity and nature that's deeply rooted in Malaysian culture.
Recognising the importance of social responsibility, EcoWorld prioritises green spaces within their projects, preserving natural landscapes and creating lush parks that encourage social interaction and community bonding.
This emphasis on community well-being mirrors the deeply rooted Malaysian values of togetherness and caring for one another.
The EcoWorld Gallery, nestled within their developments, serves as a hub for educating visitors about ESG principles. It's more than just a space; it's a journey through the values that have shaped Eco Grandeur for what it is today.
It is here where visitors can gain insights into how EcoWorld integrates various specific UN Sustainable Development Goals (UN SDGs) into their townships, creating a living testament to the harmony between nature and humanity.
As the township of Eco Grandeur continues to evolve and mature, the developer's commitment to ESG values remains unwavering.
They understand that building a sustainable future is not just about constructing eco-friendly buildings but also about nurturing a culture of sustainability within society.
Subscribe now to our Premium Plan for an ad-free and unlimited reading experience!