BEIJING, Nov 29 (China Daily/ANN): Chinese Foreign Minister Wang Yi toured Japan and South Korea last week in a bid to court the key US allies, but the prospect of a new president in the White House cast a long shadow over his efforts.
The trip also offered an opportunity to gauge the countries' attitudes towards the incoming Biden administration, and Wang wrapped up his four-day trip on Friday with mixed results.
He secured agreements to cooperate on Covid-19 and the economic recovery but an ongoing territorial dispute with Japan over the Diaoyu, or Senkaku, Islands was a major stumbling block to efforts to improve relations.
Get the latest insights and analysis from our Global Impact newsletter on the big stories originating in China.
Observers say Wang's trip is part of Beijing's efforts to pre-empt the emergence of a stronger anti-China coalition between Washington, Tokyo and Seoul.
Beijing fears that relations with the United States will continue to worsen in the final weeks of Donald Trump's presidency, and expects little or no policy shift in the first months after Joe Biden takes office.
Wang's visit, initially scheduled for before the US election, also comes as both Japan and South Korea face a difficult balancing act between China, their top trading partner, and the US, their key security ally.
Trump has caused concern among many US allies by questioning the value of these relationships and complaining about the financial burden they impose on Washington. His complaints about the cost of basing troops in South Korea and overtures to the North Korean leader Kim Jong-un have also strained relations with Seoul.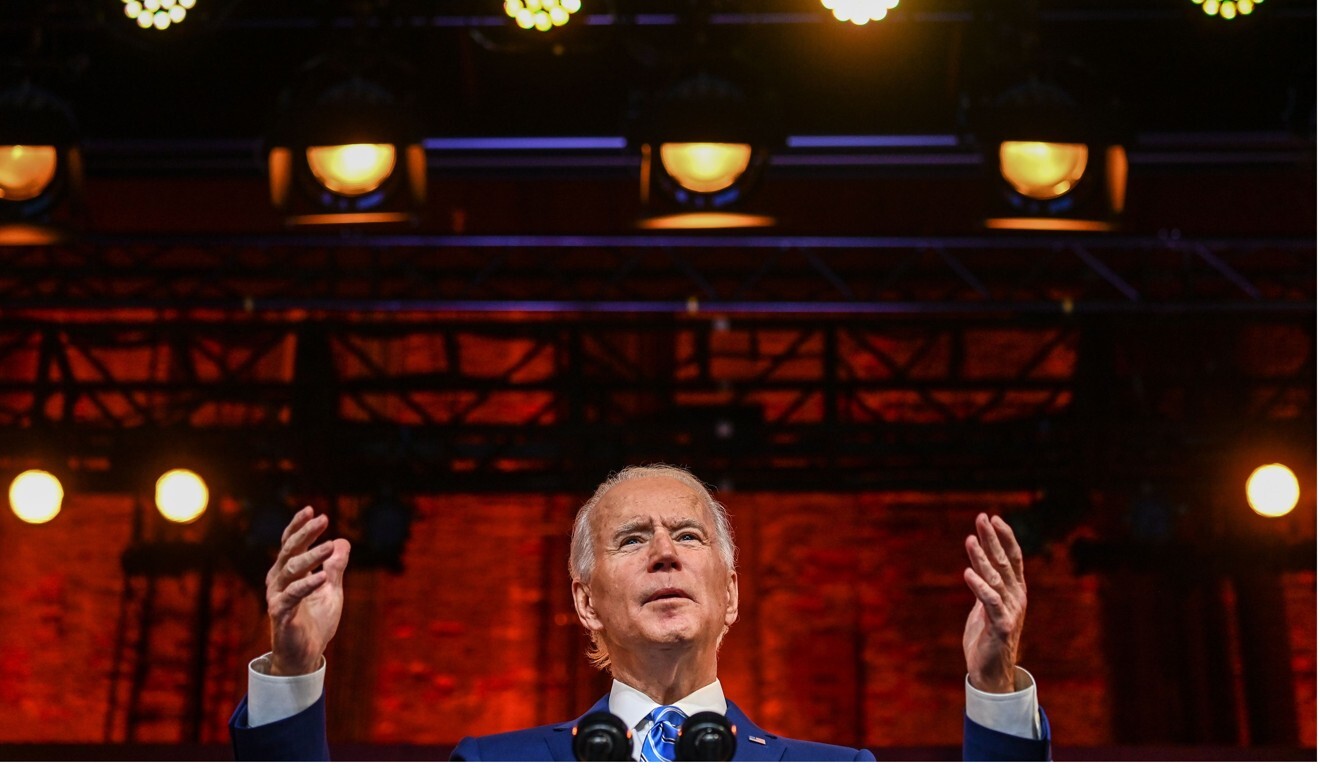 "If anything, China's desire to [win over] US allies at a time when the alliance is challenged by US policy itself has been ongoing for quite some time," said Yun Sun, a senior fellow at the Stimson Centre, a think tank in Washington.
The three countries have been working together to fight Covid-19, something that many in China see as "a great opportunity to advance northeast Asian regional cooperation without US involvement", she noted.
Benoit Hardy-Chartrand, an international affairs expert at Temple University in Tokyo, said it was clear that Beijing wanted to stabilise its relationship with two crucial neighbours and advance its interests before Biden took office in January.
"China has a lot to gain from a weaker American footing in East Asia, and attempting to undermine Washington's alliance system and even to bring American allies and partners into its own geopolitical orbit is a strategic priority it has pursued for a few years," he said.
Compared with his one-day visit to Tokyo, which was largely overshadowed by the maritime dispute, Wang appeared to have had a rather easier time managing relations with Seoul, which some analysts described as lower-hanging fruit.
Despite growing anti-China sentiment in the country, South Korean President Moon Jae-in and his foreign minister, Kang Kyung-wha, have managed to steer largely clear of topics such as China's handling of Hong Kong, Xinjiang and the South China Sea, to avoid offending Beijing.
As a result, both sides reached a 10-point consensus, which included upgrading their diplomatic and security dialogue, stepping up coronavirus cooperation and pushing for a political settlement to the nuclear issue on the Korean peninsula.
While China appeared more upbeat about building ties with Seoul under the Beijing-friendly Moon, "China's engaging with South Korea is clearly aimed at undermining the US alliance system in Northeast Asia", Sun said.
"It's just that South Korea is inevitably entrenched in the alliance arrangement, so things such as THAAD cannot be reversed according to China's aspirations," she said, referring to a US ballistic missile defence system installed in South Korea in 2016 that triggered a furious response from Beijing and an unofficial economic boycott.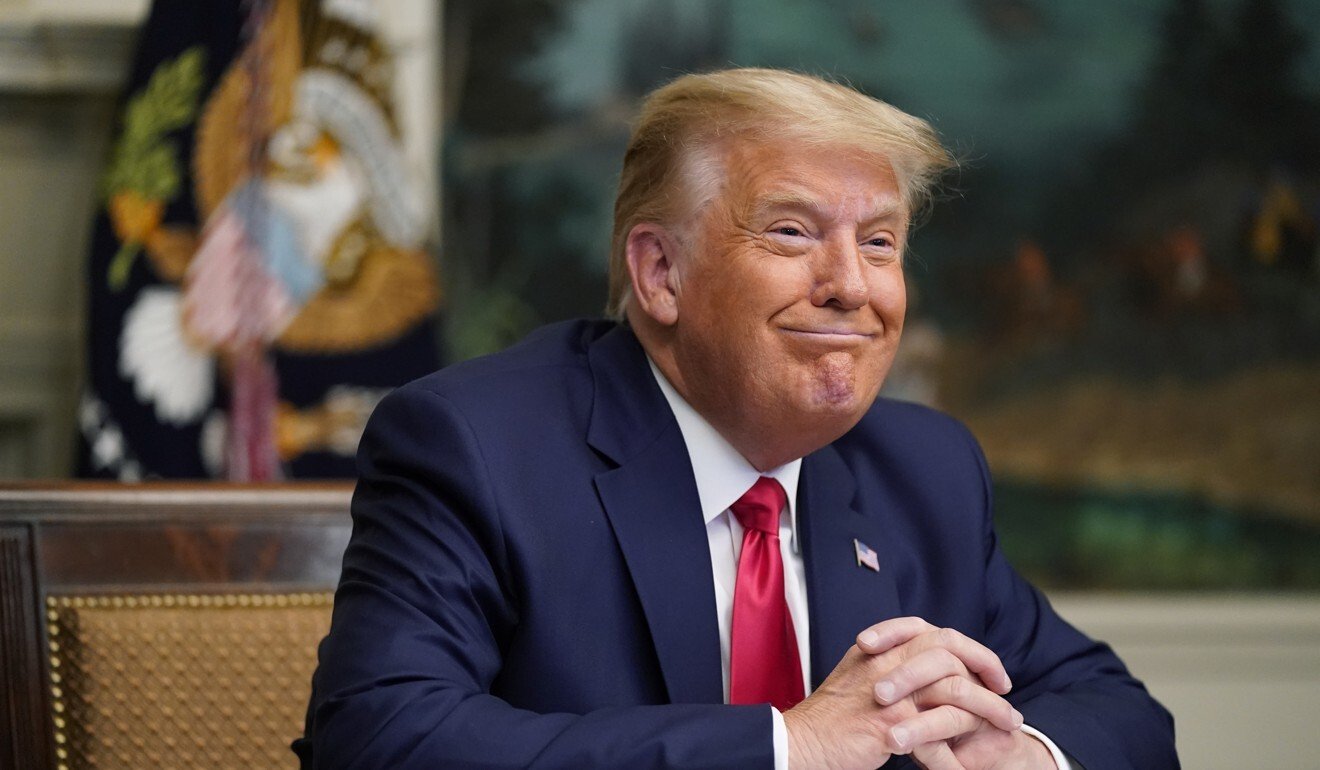 Lee Seong-hyon, director of the Centre for Chinese Studies at the Sejong Institute in South Korea, has argued Wang's visit was more about the United States than his hosts.
In an opinion piece in the Korean Times newspaper, he said Wang's trip to Seoul and Tokyo, was due to fears that the Biden administration would strengthen their trilateral cooperation to increase the pressure on China.
China's ambassador to South Korea Xing Haiming said earlier this month that Seoul would be the first destination President Xi Jinping visited once the coronavirus situation stabilises.
But Wang's visit did not appear to have produced any tangible outcome regarding Xi's trip, which has already been postponed due to the pandemic.
When asked about the issue on Thursday – the day when South Korea reported its biggest daily increase in coronavirus infections – Wang said it could only happen when Covid-19 was under "complete control".
Collin Koh, a research fellow from the S Rajaratnam School of International Studies at Singapore's Nanyang Technological University, said that while Beijing might have pulled Seoul closer economically, South Korea's formal treaty alliance with the US left it with little wiggle room.
"The desire would be to maintain close economic ties with China ... while maintaining close security links with the US. On the latter aspect, this would fall short of a security coalition against China – or at least, Seoul wishes to convey the assurance that it isn't part of such a containment scheme," he said.
But Wang's attempts to woo Japanese Prime Minister Yoshihide Suga appeared to have failed to soothe criticism of Beijing's handling of Hong Kong and renewed tensions over the Diaoyus.
Although China wants to keep the territorial dispute separate from other aspects of the two countries' relations, Japan has refused to budge.
Instead, it was brought up at almost every meeting Wang had with Japanese officials, including his counterpart Toshimitsu Motegi.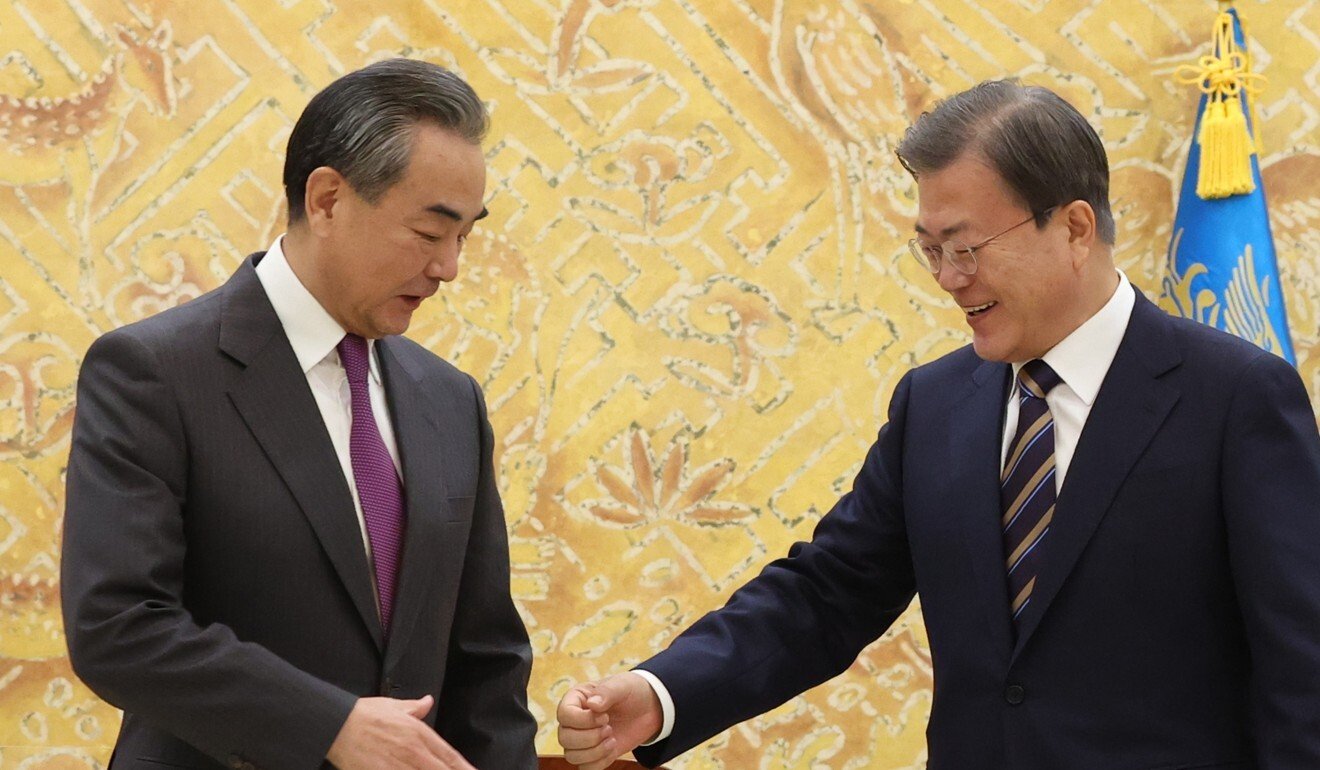 It also overshadowed his first face-to-face meeting with Suga on Wednesday, which lasted about 20 minutes.
Citing Japanese government sources, Kyodo reported that Suga had urged China to take "positive action" on the disputed islands, while voicing concern over the situation in Hong Kong following the imposition of a draconian national security law earlier this year.
To Beijing's dismay, Suga also raised both topics during his first phone conversation with Xi soon after he took office in September.
Wang told reporters that both sides had agreed to seek better relations, according to the Japan Times, adding: "We will work to ensure that [the dispute] does not affect the development of China-Japan relations going forward."
But Wang's suggestions that both sides should allow only government ships to sail near the disputed islands were turned down swiftly by Tokyo.
Japan's chief cabinet secretary Katsunobu Kato and Suga's Liberal Democratic Party both lashed out at Wang's remarks, dismissing them as part of China's attempt to advance its own territorial claims.
They also accused two Chinese ships of entering the disputed waters on the day Suga met Wang, adding that incursions such as this happened on an almost daily basis this year.
Chinese state news agency Xinhua and the Chinese foreign ministry made no mention of Suga's comments on the dispute or Hong Kong, instead focusing on Wang's statement that repeated China's stance.
Liu Jiangyong, a Japanese affairs specialist at Tsinghua University, said the maritime dispute – which caused a dramatic downturn in relations and furious anti-Japanese protests in China in 2013 – had once again become the main barrier to better relations.
Liu warned that both sides should tread carefully to avoid the situation spiralling out of control, adding: "While it is imperative to discuss crisis management mechanisms around the disputed waters, we'll have to tackle the problem at its root, which is the historical origins of the dispute."
Liu also said relations between the two countries remained strained despite shared interests over issues such as trade and the environment.
"Japan has long pinned hopes on its treaty alliance with the US to confront China over the maritime dispute. And [former prime minister Shinzo] Abe's attempt in recent years to expand the alliance with other countries, such as Australia and India, to form a quadrilateral security bloc targeting China has inevitably exacerbated tensions in the region," he said.
Niu Zhongjun, an academic at the China Foreign Affairs University, an affiliate of the foreign ministry, said it was worrying that both Abe and Suga had tried to alter the status quo by inviting the US to intervene.
During his first telephone call with Suga two weeks ago, Biden told him that the US-Japan security treaty covered the disputed islands – a clear message to China.
"Wang Yi's Japan visit was a good start for China's relations with Suga's administration ... But it's not realistic to have high expectations because at the end of the day, Sino-Japanese relations largely hinge on China's great power rivalry with the US," he said.
Analysts generally expect Suga to continue Abe's pragmatic foreign policy. "If anything, China's assertive policies to date, not least over the East China Sea issue, provided strong justification to continue with Abe's policies. Even if Suga wishes to change track, he would likely encounter resistance from within the Japanese policy circle," Koh said.
"Both countries will talk nicely on economic cooperation, yet manoeuvre against each other on the security front."
According to Koh, Wang's high-level meetings with key Japanese policy elites generated some agreement on economics, which helps with the "optics" of the visit.
"Beijing could boast that it's something accomplished from Wang's trip in furthering ties with Suga – and it's something to brandish to the Trump administration and the incoming Biden administration," he said.
Observers also said Wang's trip provided few clues about whether Beijing would treat its neighbours differently in a post-Trump era, especially considering the international backlash it has faced over its initial handling of the coronavirus and "Wolf Warrior" diplomacy.
"Perhaps that will have to wait till the Biden administration's policy is out," Sun from the Stimson Institute said. She argued China would "theoretically" want to show more benevolence to its neighbours, but had "no problem turning benevolence into coercive punishment when its neighbours refuse to side with China".
According to a poll by the Pew Research Centre published last month, negative perceptions of China have hit a historical high in Japan and South Korea. Seventy-five per cent of South Koreans and 86 per cent of Japanese held unfavourable views on China, while 73 per cent of Americans see China negatively. - South China Morning Post
Subscribe now to our Premium Plan for an ad-free and unlimited reading experience!