THE new reign of a zodiac animal sees Penang artist Jason Min creating a new series of artworks about the animal.
He has been creating special pieces about zodiac animals each Chinese New Year since 2018.
This year, he has come up with "Nyonya Rabbit" oil and acrylic paintings revolving around an anthropomorphic bunny family wearing traditional attire.
"The preceding two zodiac animals, the ox and the tiger, are strong and tenacious. The rabbit is more serene and represents peace, unity and family.
"But instead of cliched representations of rabbits, I went for unique iconography that better encapsulates Malaysian culture," said the Bukit Mertajam-based artist when met at his temporary studio at Island Gallery in Jalan Phuah Hin Leong.
Indeed, his bunnies have squarish faces with robust cheekbones often seen in Han Chinese people.
The colours of the clothing contrast with the red background while white detailing references the intricate embroidery seen on Peranakan clothing like kebaya.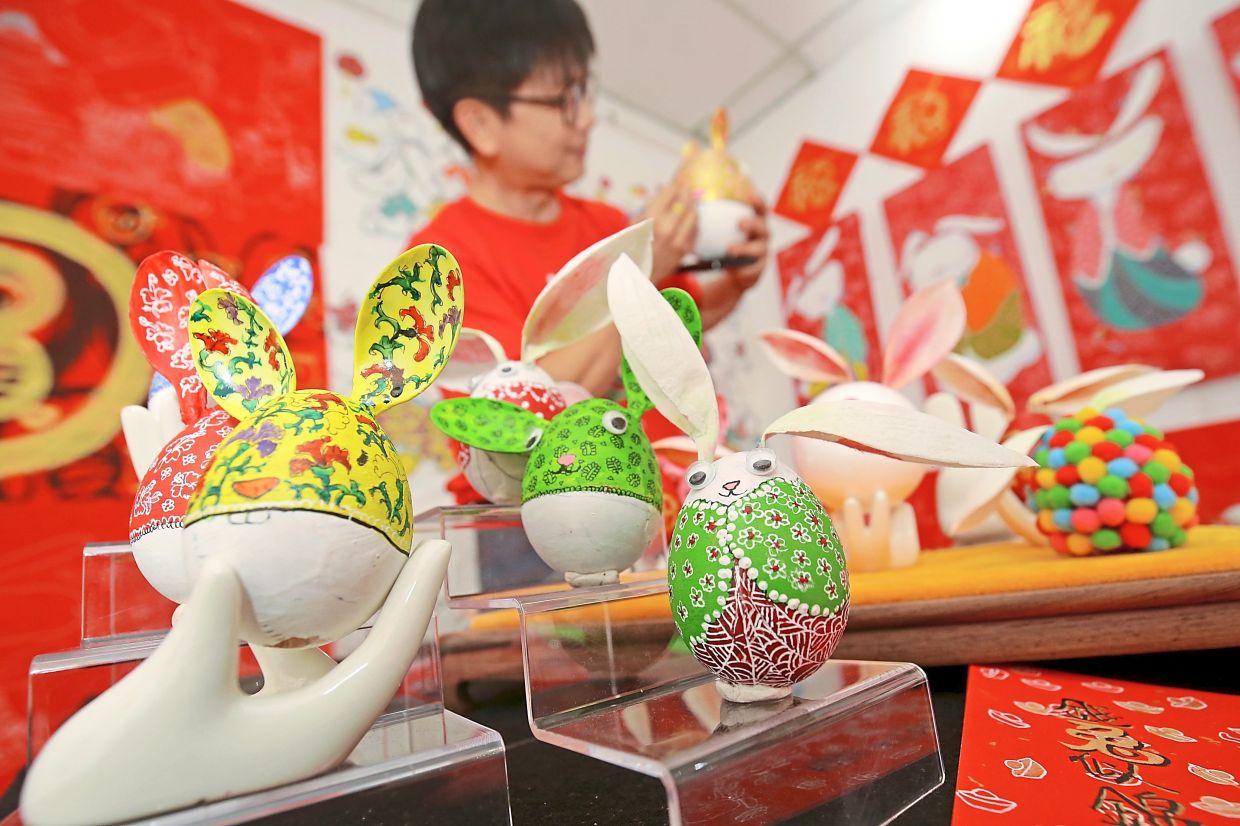 Min's mini rabbit sculptures made from eggshells and other discarded items.
This symbolism has long been a feature of Min's works. He does not paint just for the sake of creating art but uses his art as a vehicle to promote and preserve cultural heritage.
"Nowadays, young people will not wear traditional attire except during special occasions.
"I want to make the attire more appealing to them," said Min.
Among his other works are a series of Chinese brush paintings depicting a bunny family partaking in various Chinese traditions.
A bunny family taking part in Chinese cultural activities.
One large piece shows them enjoying a steamboat, making kuih kapit, carrying lanterns, writing calligraphy and watching a dragon dance. Other pieces depict them watching lion dances.
"Many things that were common in the past are fast disappearing. If we don't try to preserve these rituals, they might be gone in a decade or two.
"Art is my voice and I hope to get youths curious about their cultural heritage so they want to discover more," added the artist who is a businessman by profession.
Min also created several 1m-tall polystyrene sculptures of rabbits and small sculptures made from eggshells and discarded plastic items.
He also collaborated with a Klang Valley-based traditional garment brand to produce a series of T-shirts featuring his Nyonya Rabbits for the retail market.
Min previously produced works celebrating five other Chinese zodiac animals – the dog, boar, mouse, ox and tiger. He hopes to hold a large exhibition once he completes work on all 12 animals.
But for now, his rabbit series can be viewed at the gallery until Feb 5. It is open 9am to 5pm from Monday to Friday.
To arrange viewings on weekends and after the exhibition period, interested parties can call Min at 012-489 3685.
Subscribe now to our Premium Plan for an ad-free and unlimited reading experience!