IT WAS an important day for four-year-old Tikka and she was certainly going to dress up for it.
Donning a bright green outfit complete with orange spikes, the tiny terrapin managed to stand out in the crowd which was a feat because the gathering included quite a few head-turners.
There were Pepito, a beautiful Dalmatian, and Lionel, a friendly mixed Shih Tzu, and Pumpk'n, whose name is missing the 'i' as the hamster has only one eye.
Indeed, the gathering of pets at the compound of the Church of Divine Mercy in Sungai Ara, Penang, was not your usual church assembly.
As the parish was commemorating the feast day of St Francis of Assisi, which is celebrated on Oct 4 every year by Catholics, it opened its doors to pets for a blessing.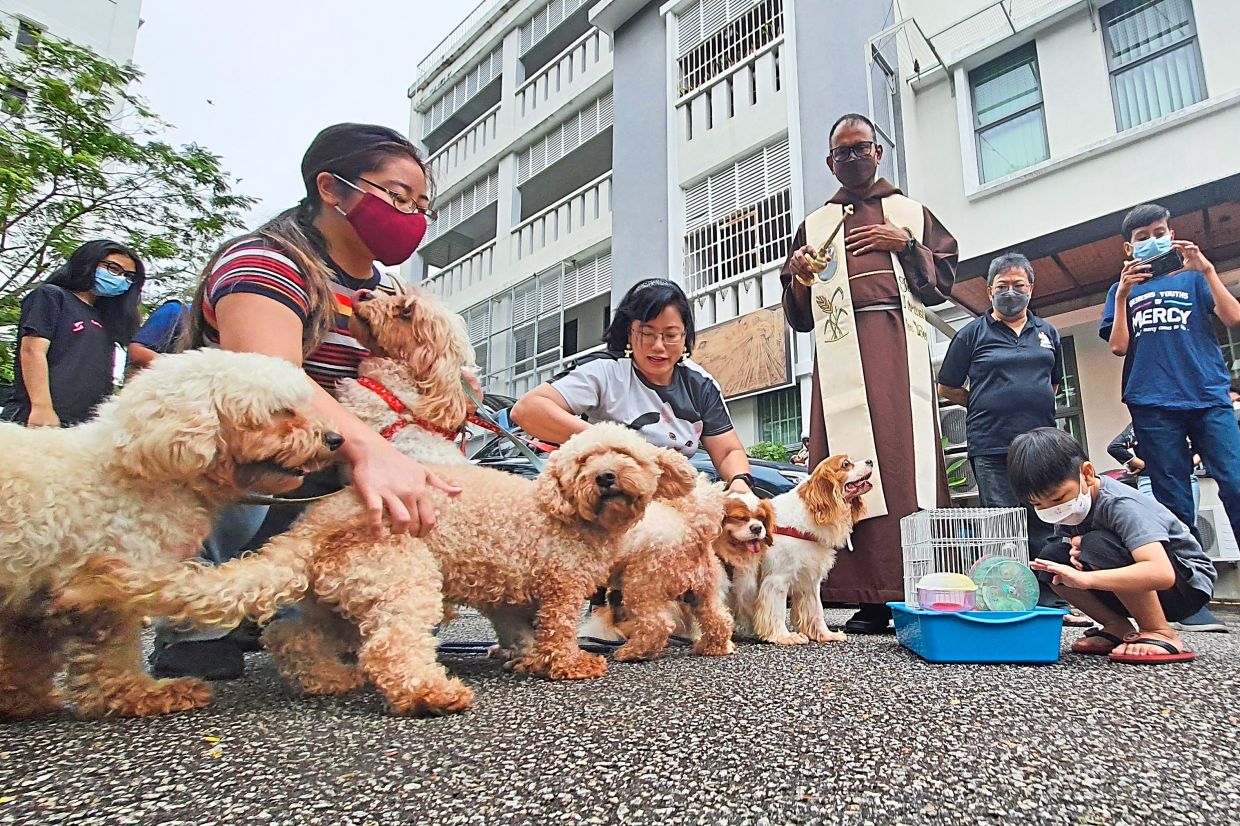 Father Michael blessing the dogs and hamster owned by Cheah (middle)and daughter Lim at the Church of Divine Mercy in Sungai Ara, Penang.
St Francis is the patron saint of animals. It had been said that he could communicate with animals and depictions of him often portrayed a bird in his hand.
Agape Gonzales, 18, who is Tikka's owner, sewed the outfit especially for the ceremony.
It's the only outfit she has," Agape quipped.
During the ceremony, parish priest Father Michael Raymond noted that animals had claimed a place in the hearts of people.
After a reading and prayers, he blessed the pets with holy water and surprisingly, all behaved admirably with little fidgeting.
Parishioner Audrey Cheah and daughter Cheryl Ann Lim, who owns Pumpk'n, also brought their seven dogs for the blessing.
Gwyneth Tan, 17, Ashley Chong, 19, Agape and Julia Boey, 49, with their terrapins Trinity, Jade, Tikka and Oogway respectively.
"We got Pumpk'n from a pet shop. We heard him screeching because the other hamsters were biting him. That's how he lost his eye," said Cheah.
M. Melinda and her son N. Cadenn, 18, walked three of their dogs to the church and carried one in a tote bag.
"Pepito (the Dalmation) and Roxy, a Schnauzer-cross, are both rescue dogs. This is Cleopatra. She's 16 years old and on her last legs," said Melinda, referring to the pet in the tote.
Melinda also had the opportunity to meet other dogs she had helped rehome, like Schnoodles (slang for schnauzer-poodles) Lexa and Mia who found their forever homes just six weeks ago.
Their current owner Janey Bruyns said they were found dumped at a temple.
About 70 pet owners and parishioners attended the pet blessing day.
Subscribe now to our Premium Plan for an ad-free and unlimited reading experience!