After two years of muted activities, a rejuvenated George Town Festival reconnects artistes with audiences through in-person events.
George Town Fesival (GTF) 2022, with its line-up of exciting live events, has been instrumental in uniting communities and lifting spirits two years into the Covid-19 pandemic.
Held in Penang from July 9 to 24, it drew good turnout at free and ticketed events showcasing music, dance, theatre, art, fashion and design.
With over 80 programmes held at many indoor and outdoor venues, the 13th GTF, themed "A Festival for Everyone", sought to be big on originality and quality.
Among the festival-goers was retiree Peter Yeoh, 58, who enjoyed meeting fellow arts lovers from all over the world.
He found The Senses concert at The Habitat Penang Hill's Curtis Crest treetop walk rather memorable.
"It was heartening to see people from all walks of life coming together to clap and sing along.
"People want to enjoy again the things that make them happy," Yeoh said.
The concert featured Malaysian bands Jumero and Fazz as well as Sarawakian artiste Alena Murang, who sang in the endangered Kenyah and Kelabit languages, while playing traditional instruments like the sape.
The Shang Sisters interacting with the audience at 'Pesta Irama Bersama-sama' held at Majestic Theatre.
Alena was grateful to be able to serenade an audience in person once again.
Her sentiments were shared by Penang-born songstress Chelsia Ng, who had a large crowd rocking along at the Macallum Rooftop Concert in Kompleks Pulau Mutiara.
"The atmosphere is wonderful and it's great that everyone can enjoy the music for free," said Ng, who struck a chord with locals through her multilingual songs celebrating the island and its street food.
Notably, the concert was held in an open space surrounded by four apartment blocks, allowing many residents to watch from their balconies or windows.
Cleaner M. Sundre, 53, and her retiree mother M. Saroja, 74, said it was a unique experience.
"We watched from our flat. The music brought life to the place and we would love to have more such events here," said Sundre.
Sundre (left) and her mother Saroja enjoying the Macallum Rooftop Concert from the balcony of their flat.
Multiethnic group Culture Shot also energised the crowd that night with music combining the er-hu, guitar, rebana, gendang and cymbals.
Ivan Gabriel, who curated the Tu7oh art exhibition featuring seven artists at Hin Bus Depot, was encouraged by the crowd at the exhibition.
"This feels like springtime after one long cold winter when we were deprived of in-person events.
"Art is an important way to connect with others and it was nice to see smiles on people's faces again," he said.
At Pesta Irama Bersama-sama at Majestic Theatre, the Shang Sisters thanked the public for returning in force to support the festival.
"Performing in front of audiences make us feel alive again," said Janet Lee, who makes up the trio alongside Winnie Ho and Mian Tan.
They were accompanied by the WVC Jazz ensemble in reinterpreting Chinese and Malay classics in the spirit of Nanyang jazz.
Yeoh taking a selfie with Alena during 'The Senses' concert on Penang Hill. — Photo courtesy of Yeoh
Numbers included Yolala, an original that Ho co-wrote at the height of the pandemic, which reflected the despondency many felt.
Classical music was highlighted at The Come Play with Me concert at Loft 29 where pianist Dr Esther Shin Chuang guided children through selected pieces.
An attendee, who wanted to be known only as Loke, took his two children to the show to expose them to the arts.
"For such a long time my children could only interact with others through computer screens. Being around people again will help them grow," he said.
George Town World Heritage Incorporated (GTWHI) general manager Dr Ang Ming Chee said the festival's participating talents from artists to production crew found it rewarding to return to a live format.
"They feel the warmth and appreciation for their efforts," she said.
GTF 2022 director Jack Wong said they tried to blend the arts into Penang's unique locations and harnessed technology to make stories more compelling.
A visitor at the Tu7oh art exhibition. — Photos: LIM BENG TATT, CHAN BOON KAI and JEREMY TAN/The Star
"When the arts are brought to life in such locations, festival-goers form a deeper appreciation for the place and art form at the same time. This is what makes GTF unique," added Wong.
Other events included the Mozart at the Mansion concert held in the beautiful Cheong Fatt Tze Mansion and Potehi Puteri Hang Li Po at the Seh Tek Tong Cheah Kongsi.
The historic clanhouse also hosted Cine France and the G-Short Festival's screening of finalist films from 638 submissions from 69 countries.
Other notable programmes included "The Great Story of the Infinite Drawing" by French illustrator Elly Oldman at Gurney Plaza where visitors could scan a giant fresco to see it come alive with animation that conveyed environmental messages.
"Cahaya XR: First Edition" at The Whiteaways Arcade highlighted Penang's heritage through virtual, augmented and mixed reality, also known collectively as extended reality (XR). There were talks, children's workshops and play spaces that showed how art, technology and local storytelling intersect in the metaverse.
There was also a therapeutic sound and dance experience by Kamal Sabran and Aida Redza titled Angin OMbulan at several venues, an interdisciplinary dance showcase called Serenity: A Glimpse Through Traditional Lenses at Hin Bus Depot, and Vision: A New Wave of Dance Creations at Majestic Theatre.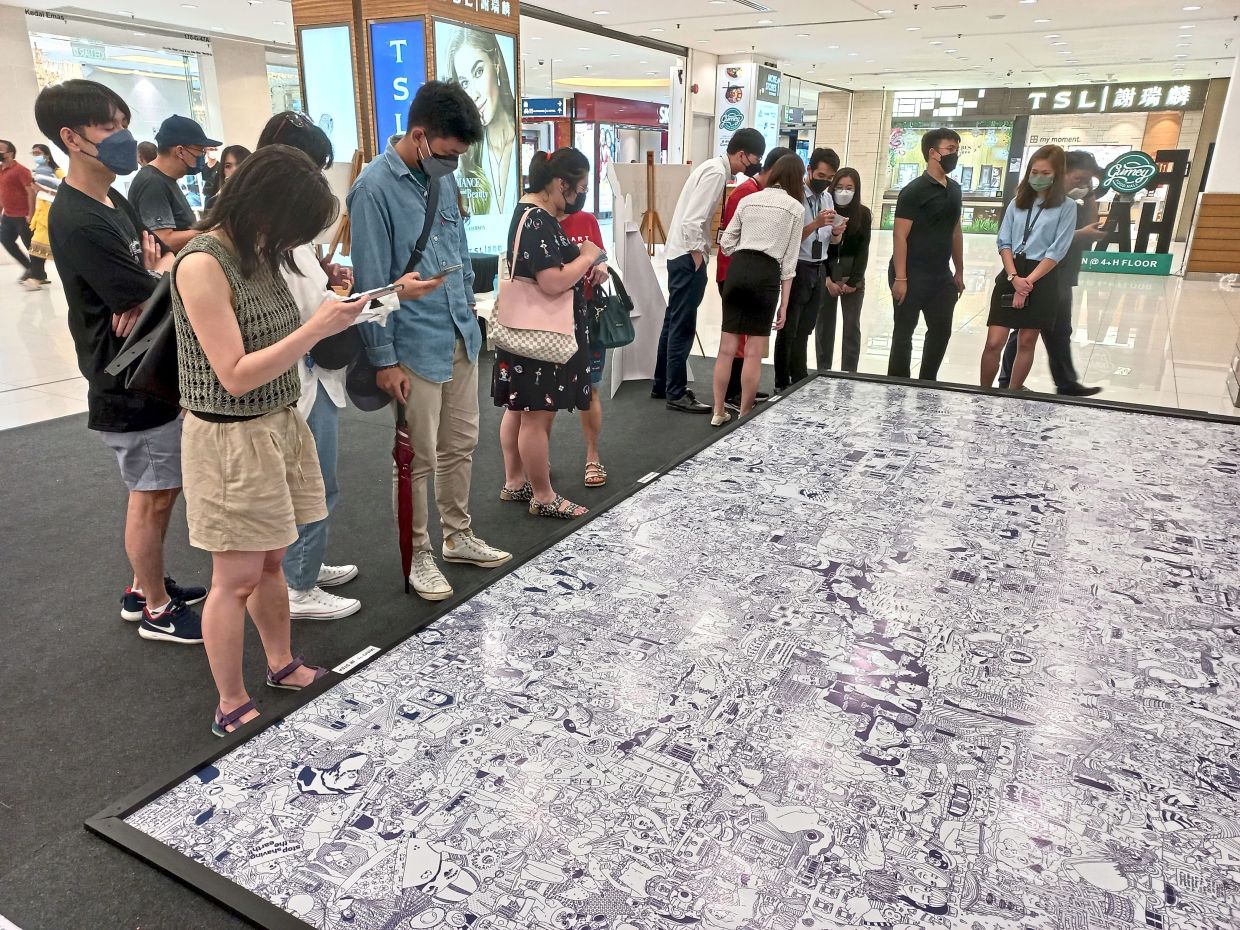 'The Great Story of the Infinite Drawing' had shoppers at Gurney Plaza scanning a giant fresco to enable it to come alive via augmented reality.
The Penang House of Music (PHoM) hosted Down Memory Lane concerts featuring musical legends Kathleen Rodrigues and Colleen Reed as well as another titled Songs at the Dawn of a Nation.
Loft 29 also hosted A Notional History, a documentary performance that brought new perspectives on the country's past.
The Art of Orient Garden fashion showcase at Queensbay Mall unveiled garments by local designers that were inspired by Penang's greenery while the Tiles of George Town exhibition by Teoh Su Ling at Urbania in Straits Quay highlighted the creation of old-world building tiles.
Ibu, a show at Loft 29 which combined Teochew puppetry with South-East Asian folklore, and Teater Tradisional Makyung: Dewa Indera Indera Dewa at Universiti Sains Malaysia's Auditorium Dewan Budaya, were among the highlights of the final weekend.
Wong said the festival would feature more local artistes and productions next year because the state and country have many talents that deserve the spotlight.
Subscribe now to our Premium Plan for an ad-free and unlimited reading experience!