THE Selangor Smart City and Digital Economy Convention returned for a fourth edition as one of the 3rd Selangor International Business Summit 2019 overarching events.
This year's convention, themed "Empowering the Youths with Tomorrow's Innovations", was held over three days at Malaysia International Trade and Exhibition Center (Mitec) in Kuala Lumpur.
Running concurrently at the convention were four events, namely What's next for Smart City? – Artificial Intelligence (AI) x E-Wallet x 5G Conference, One Belt One
Road Anime and Gaming Summit, Malaysia Top E-commerce Merchant Awards 2019 as well as Equity and Crowdfunding Pitching Day.
More than 30 local and foreign speakers presented at the convention, which was attended by some 10,000 visitors.
A total of 75 companies from the digital economy ecosystem, including service providers, government agencies, local government departments, venture capital firms, startups and e-commerce merchants, showcased their products and services at some 85 exhibition booths.
Launching the convention was Selangor Mentri Besar Amirudin Shari.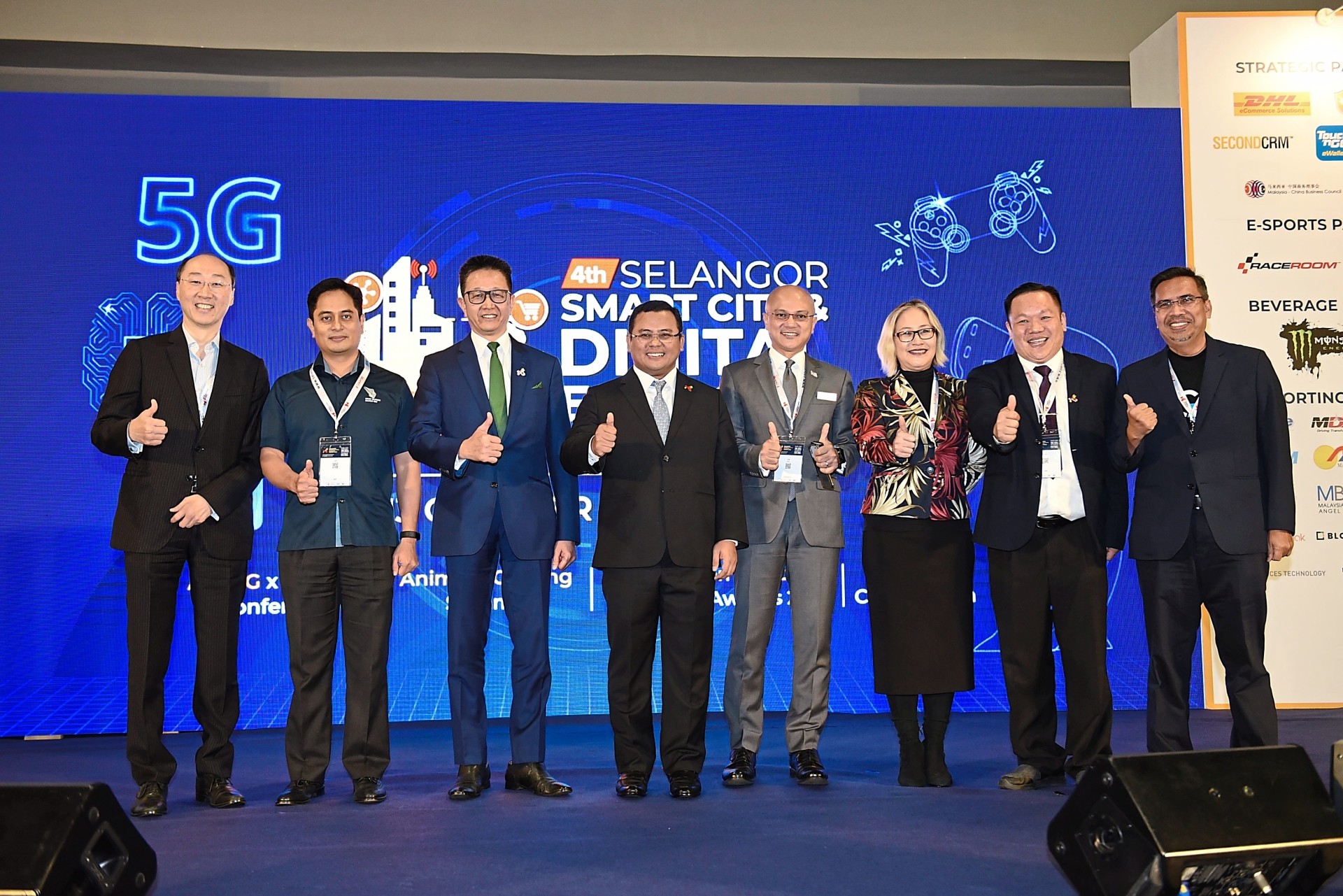 Amirudin (fourth from left) flanked by Teng (right) and Al-Ishsal (left) at the opening ceremony of the 4th Selangor Smart City and Digital Economy Convention at Mitec, Kuala Lumpur.
Also present were Selangor investment, industry and trade, small and medium industries committee chairman Datuk Teng Chang Khim and Selangor Information Technology and E-Commerce Council chief executive officer Yong Kai Ping.
In his opening speech titled "Selangor: Southeast Asia's Premier Smart State by 2025", Amirudin said: "I can tell you in confidence that Selangor is ahead of the game when it comes to Smart Cities.
"That has been the foundation of our governance since 2016, to make Selangor Southeast Asia's first Smart State by 2025."
Amirudin said Prime Minister Tun Dr Mahathir Mohamad had often stressed that industries working on Smart Cities needed to be on the same page instead of working in silos.
"The advent of AI, 5G and e-wallet will not only provide new job opportunities, but will also revolutionise many key aspects in burgeoning technological industries such as facial recognition, financial management and security.
"To achieve all this, we need today's big thinkers to think big. That is precisely why this conference presents big thinkers to provide us with food for thought and methods for action, " he added.
The conference focused on the impact of AI, 5G and e-wallet as well as how these technologies are set to change people's lives and provide new business opportunities.
The rise of AI in recent times was highlighted as the technology that allows for better understanding and predictions of user behaviour.
Experts invited to discuss these technologies included Malaysian Communications and Multimedia Commission (MCMC) chairman Al-Ishsal Ishak, who delivered a keynote on how the National Fiberisation and Connectivity Plan would drive the deployment of 5G in Malaysia.
Seven chief executives from major e-wallet and online payment service providers, namely TnG Digital, Boost, Razer Fintech, FPX, Ipay88, Kiple and Wavpay, were also present to put forth their thoughts via two panel discussions titled "What is the future of the Great E-Wallet War?" and "How Cashless is Malaysia right now?"
Did you find this article insightful?
% readers found this article insightful