It was a glorious morning in the middle of March, as I sat on the balcony of the Kundasang Guesthouse, soaking in the warm glow.
The night clouds had parted revealing Mount Kinabalu, the highest mountain in Malaysia, with its peak piercing the blue sky at 4,095m. It was awesome.
Sabah's Mount Kinabalu is a massive piece of rock, dark grey and craggy, soaring above the thick and green rainforest. It looks so close ... as if you can touch it. It is absolutely inspiring. The locals call it "mountain of god", and not without reason.
Kundasang is about three hours' drive from Kota Kinabalu, the capital city of Sabah. The drive is rough at times but rewarding as the scenery unveils rolling mountains and great expanse of valleys dotted with farm houses and holiday villas.
My family and I checked into Kundasang Guesthouse nestled in a small village which has a great view of the mountain. It was late noon and a big blob of clouds covered much of it. But we were contended with the quietness and the cold.
After a restful night, we were in for a treat at dawn. Drawing back the balcony curtains, the mountain stood there right before me like a huge piece of art as the morning sun began to bathe it with a golden glow. There I was, soaking up every bit of nature – the breathtaking view of the mountain and filling my lungs with the pristine air.
I whipped out my smartphone and got busy taking pictures from every possible angle before any naughty cloud decides to spoil the view.
The quietness was punctuated by the crowing of roosters and the sound of coffee-making. Life is almost at its best just at those moments. The fresh crisp air, serenity ... ah, a vast contrast to city life.
I had no intention of climbing Mount Kinabalu. I was content in just paying my respects to this iconic mountain much revered by the locals and those who have conquered it.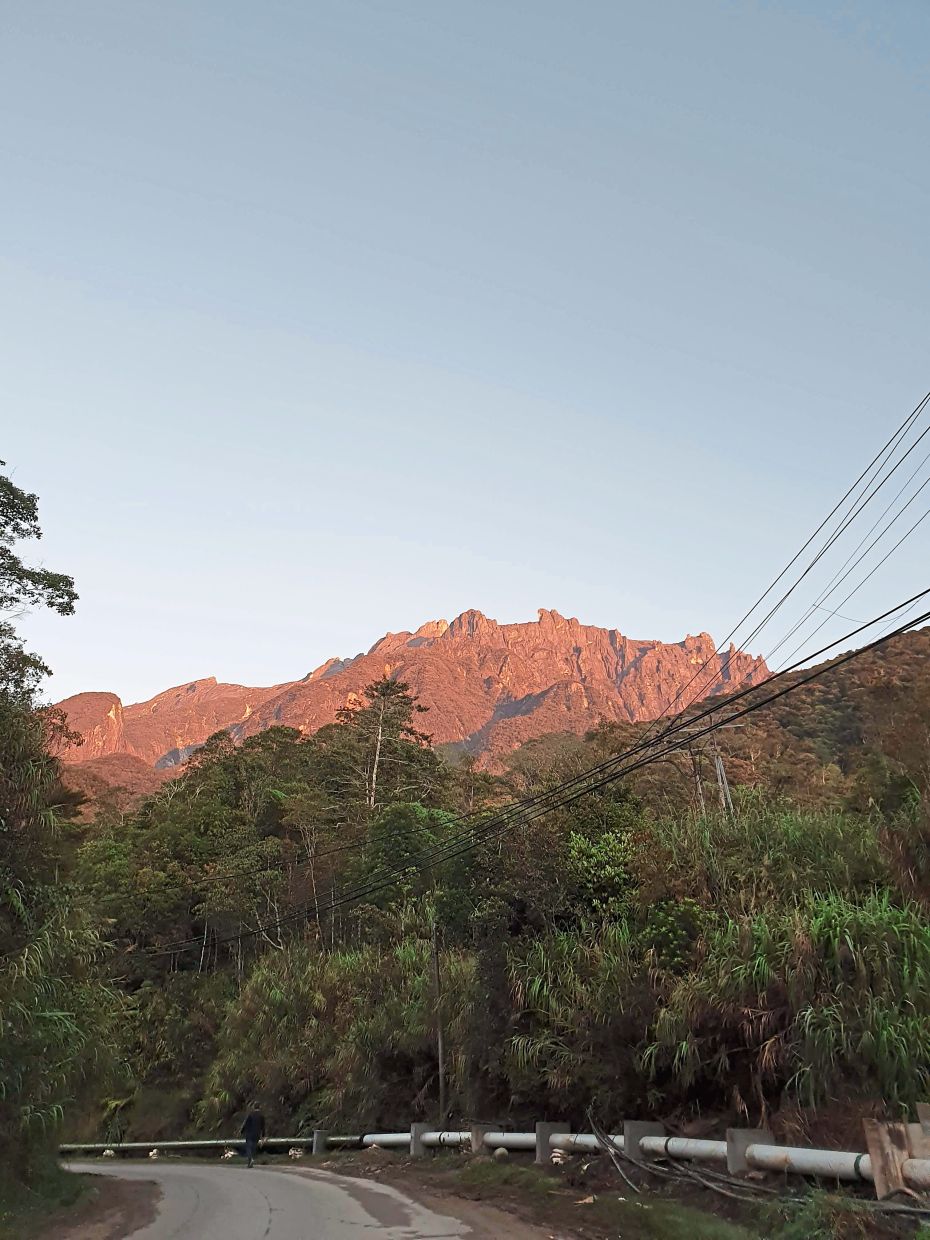 Mount Kinabalu is vast and craggy, and is popular with local and international climbers.
The village, when it wakes up, is quite a thriving place, small as it is. There is a well-stocked supermarket, a hotel and restaurant, and there are several food stalls and eateries.
This was my second visit to Sabah. If you are sick and tired of the political environment of Peninsular Malaysia, then Sabah (and Sarawak), could offer an ideal escapade.
Aptly called Land Below the Wind, Sabah offers charming mountain resorts, great valleys, lovely beaches, fantastic foods and friendly people.
It offers serenity and sanity, without the toxic racial and religious rhetoric that bombards us almost on a daily basis.
One place to visit is the picturesque Desa Dairy Farm, just a mile or so away from the guest house. The landscape is so different, as if one has turned the page. The sprawling dairy farm is so popular with locals and tourists that admissions have to be staggered. Our tour slot is from 11am to 2pm.
Here, tourists vie for the best spot to take pictures or selfies with cows mooing in the background against misty mountains. Or they can feed the cows in the barns, buy packets of creamy milk, yogurt or ice cream produced by the farm.
After the farm, our next destination was Poring Hot Spring Resort down the road where we spent a night. It is a sprawling park resort carved from the rainforest. We checked into one of the two Sutera Sanctuary Villas, a three-room chalet of Swedish architecture which sits on a slope overlooking the park.
The villa is quite small but cosy and charming. It is cleverly designed with plentiful use of glass for walls and windows. The temperature is cooling and the air-conditioners are quite redundant. After settling down, we went for a jungle walk which led to a waterfall. The path is not a difficult one – seniors and children would be able to enjoy it.
At the Desa Dairy Farm, visitors are free to take pictures of the Holstein Friesian cows grazing nearby.
The water at the waterfall is icy but what thrilled the children was the small fishes that nibbled at their feet. It is a natural fish spa hemmed in by boulders.
After the long walk we headed to the hot spring bath and soaked in the tub. It was immensely relaxing with hot sulphuric underground water mixed with cold water from the stream ... all supplied by nature.
Sabah is not just about the mountainous Kundasang and Ranau. It offers miles and miles of white sandy beaches and charming islands for water sport activities.
In fact, we were already charmed by the sights of these islands nestled in the azure blue waters as our plane made its descend to the Kota Kinabalu International Airport, after crossing the South China Sea.
Besides exploring Kundasang, no visit to Sabah is complete without going island hopping in Kota Kinabalu as there are five major islands there, all within half an hour of speedboat ride away.
The water being so clean and clear is ideal for swimming, snorkelling, diving. The latest adventure you can try is sea-walking. Adventurers are provided with oxygen headgear and lowered into the seabed some 3m into the water. They cannot wander anywhere they want but are guided by hanging on to a rail of rope.
You will be thrilled to see the corals and fish, a lifetime experience for some urbanites.
Just outside KK, the white sandy beaches stretch mile after mile where one can relax listening to the waves lapping the shore.
Sabah Tourism Board recently launched its new promotional tagline – "Feel Sabah, North Borneo" – and hopes to attract 2.2 million local and foreign tourists this year.
It is already making a good start as the hotel lobby where I stayed in KK was jam-packed with Korean tourists ready to explore this wonderful land with such vast diversity of attractions and cultures.
Hoo Ban Khee is a former correspondent for The Star, in Beijing, China. He can be contacted at hoobankhee@gmail.com.
Subscribe now to our Premium Plan for an ad-free and unlimited reading experience!