Living in a condo unit has its limitations when it comes to changing the layout to meet one's desired lifestyle.
But good planning and perseverance pay and although it took David Loh and his wife three years, they finally have their dream home on Gurney Drive, Penang.
The 2,583sq ft (240sq m) condominium has been transformed into a green, breezy abode with a breathtaking view of the sea as well as Penang Hill.
"This unit is 25 years old and still had the old designs of plaster ceiling and raised platforms in the bedrooms when we bought it. But we wanted an open concept with maximum ceiling height and breeze passing through the unit.
"We had to flip the kitchen with the third room and broke half a wall to have a big opening from the kitchen to the living and dining room. This allows us a view of Penang Hill from the back of the unit and the sea, in front," said Loh, 55, a professional photographer who also runs a fine arts photography gallery.
He added that the former kitchen space was converted into a standalone studio with a separate entrance that has a Balinese theme and open-concept bathroom.
The entrance of the studio, which was the former kitchen and yard area, adopts a Balinese theme and open-concept bathroom.
Besides the studio, the unit has two bedrooms and an office space.
Overall, the house has adopted a biophilic design, where nature is incorporated into the living spaces.
All over his house, one can spot various plants like staghorns, philodendrons, Boston ferns and even a thriving Neem tree!
"I love plants, so it was very important to have water points and taps in all the main areas where the plants are: the main entrance, balcony and studio. We ran the water pipes throughout the house, hidden in the cornices.
"Therefore, we can now water all our plants in the house quickly within 10-15 minutes every two to three days.
"The plants are arranged with trays at the bottom to catch any dripping water. We also hacked laundry poles to hold our plants at varying heights," added Loh.
An overview of the living room of David Loh's house in Penang.
A space for gatherings
When the couple was planning their renovation, their idea was to have a nice space to live in as well as for get-togethers.
"We wanted a cosy home with wood, garden and warm lighting to make it a place of rest and where you can invite friends over to chill. We have hosted up to 40 guests for a dinner party and it is great to see them congregate in different parts of the house.
"The younger ones enjoy being at the Thai-themed lanai, sitting on the cushions, while the older generations prefer the sofa and dining table. Those who enjoy a drink or two would be at the bar counter, while others who want to help with food preparations are at the kitchen island.
"We enjoy entertaining guests at home and wanted a kitchen that has an open concept so that anyone can hang out with us even during food preparation," he explained.
The lanai boasts a great view of the sea and was carved out from the long living room.
Lush plants thrive in one corner of the lanai.
"We designed an arch with folding louvred doors, waterproofed the area and added terracotta tiles to partition it from the main living hall. It's our favourite spot for morning coffees, and also for sundowners," said Loh.
The home has a warm setting with generous use of hardwood and complementary wicker furniture. Rustic Persian carpets as well as Loh's photo prints on walls add personality to the space.
"We decided to splurge and use only hardwood for the kitchen, bar counter, room doors and louvred folding doors at the lanai.
"The wood for the kitchen cabinets and island was salvaged from trees that fell during thunderstorms around Penang. Therefore we have cengal, meranti, mahogany and rosewood around the unit. The charm of the different wood grains endeared us to them."
Of particular interest is a pair of "heritage doors" seen as one enters the living area."I grew up in Noordin Street where the heritage link houses have traditional carved doors, right in the middle of George Town. I have always loved these traditional doors of the shophouses and wanted to incorporate them into our home to remind me of my childhood, my grandmother and relatives.
The Chinese chicken coop-design elm wood cupboard (left) and traditional carved doors (right), made with recycled wood.
"We were happy to discover that our friend, Gooi from Chengal House, owns a sawmill-cum-furniture warehouse in Nibong Tebal, producing such doors with recycled wood. So the door is new but the wood is old," explained Loh.
Situated next to these doors is the couple's most precious piece of furniture – a Chinese chicken coop-design elm wood cupboard.
"The cupboard has been with us for over 30 years and has travelled to all the cities we lived in over the years, from Kuala Lumpur to Singapore, then London, back to Singapore and finally to Penang."
Various photographs captured by Loh adorn the walls of his home.
"We are especially proud of our 'Altar Table' print that we documented during the 2018 Hokkien New Year at Chew Jetty in George Town. One cannot get the opportunity to shoot such a scene anymore as they have changed the celebrations following Covid-19."
Loh also got his hands on some Persian carpets at auctions in Singapore which now furbish different areas of the house.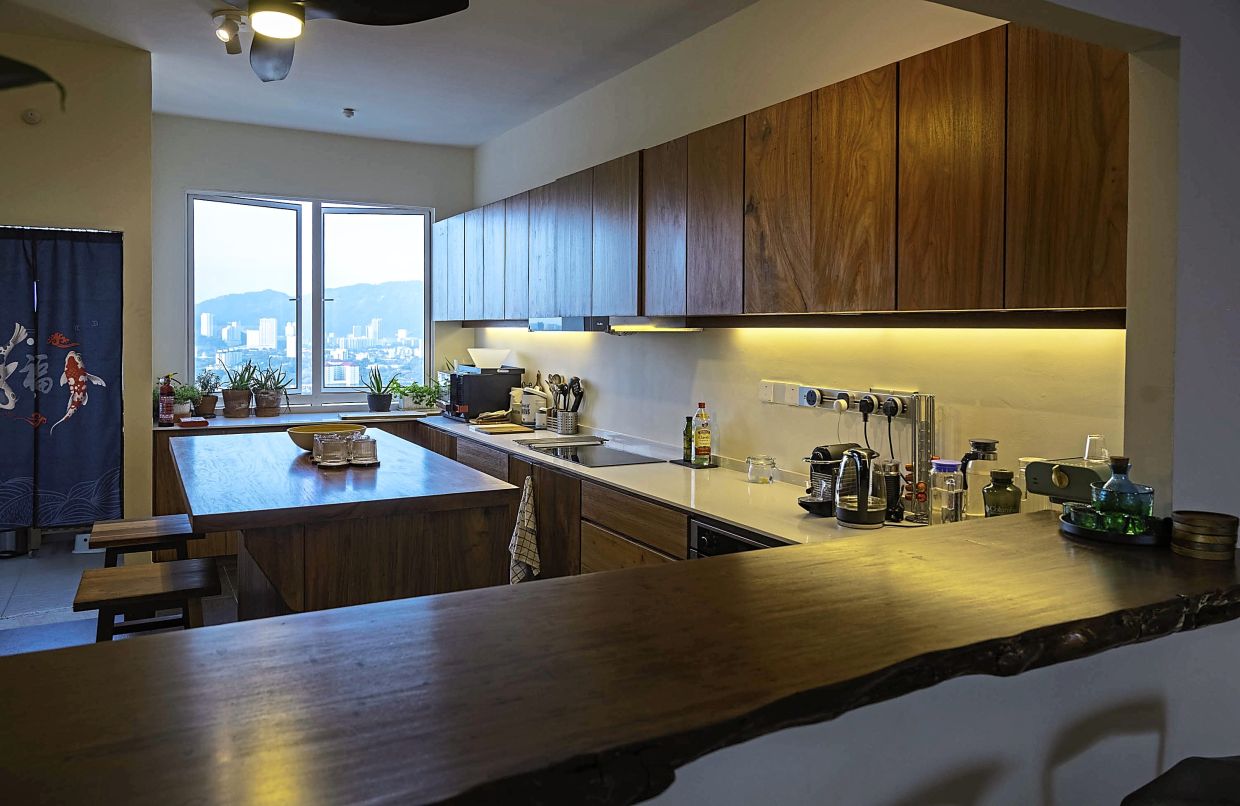 The wood for the kitchen cabinets and island was salvaged from trees that fell during thunderstorms.
"The rustic colours we chose create a feature space when paired with aesthetic art, such as the Mahi carpet in the living room and a gift of a beautiful handwoven camel saddle bag rug that we hung on a wall," said Loh, who also enjoys spending time in his music corner, which features a replica Eames lounge chair.
Loh and his wife look forward to hosting more gatherings in the future.
"Our home is now a favourite place for several groups of friends to hang out. They love the cosy atmosphere and the great views we have. I'm sure once Gurney Bay is open, we will have even more parties!"
Am sure that's something his guests will be looking forward to.
Subscribe now to our Premium Plan for an ad-free and unlimited reading experience!