Jane, 52, struggles to make her way up the two flights of stairs.
She feels like she has aged tremendously since being infected with Covid-19 a few months back.
The lingering effects of her near fatal illness has brought Jane to her knees.
Today, she finds it hard to do even the simplest of tasks and often finds herself breathless.
This is not an uncommon experience for many patients infected with Covid-19, especially those who were on ventilation support and are suffering from long Covid, a condition where the viral symptoms last longer than the initial infection.
While the pandemic has cast a spotlight on respiratory illness, influenza is also now thrust to the forefront with recent published medical studies reporting that influenza or Covid-19 increases the risk of stroke.
Stroke incidence has been on the rise in Malaysia over the past 20 years and is currently the third leading cause of death.
These studies along with our local statistics, are causing much worry among medical professionals, who are urging the public to be more vigilant in detecting signs and symptoms that may indicate the onset of stroke, and to know what prompt actions must be taken to save lives and enable good recovery outcomes.
Weighing in on these insights are Dr Wan Asyraf Wan Zaidi, University Kebangsaan Malaysia stroke neurologist, and Dr Arvin Rajadurai, consultant neuro- and peripheral interventional radiologist.
Covid-19 patients on ventilators are more susceptible to bacterial pneumonia and stroke. — AFP
The data and the risks
Explaining the link between influenza and stroke, Dr Asyraf said, "Influenza is diagnosed when a person is presented with flu symptoms. Being exposed to the virus may trigger an inflammation which could then lead to a stroke event."
Chiming in, Dr. Arvin explained how respiratory health can impact cardiovascular health.
"Think about this: For our brain to work properly, it needs oxygen.
"If for some reason, something happens to block the flow of blood to our brain, the brain cells start to die within minutes, due to a lack of oxygen, thus triggering a stroke," he said.
A 2019 study published in the Stroke journal shows that having either influenza or Covid-19 increases the odds of having an ischaemic stroke (where blood flow in the brain is blocked) by 40% within 15 days from the onset of influenza-like symptoms.
In fact, people above 59 years of age who have had flu or pneumonia may be up to six times more likely to suffer from a heart attack or stroke in the days after infection, especially with uncontrolled risk factors.
Several studies support this hypothesis.
One study published in the Journal of the American Medical Association in April 2021 found that the risk of stroke was more than twice as high for Covid-19 patients when compared to people of the same age, sex and ethnicity in the general population (82.6 cases per 100,000 people compared to 38.2 cases for those without a Covid-19 infection).
An August 2021 Swedish study published in The Lancet reported that within a week of a Covid-19 diagnosis, a person's risk of stroke was three to six times higher and these risks remained high for at least a month.
The average age of the study group was 48 years.
The data from those diagnosed was compared with 348,000 Swedish people of a similar age range who did not contract the SARS-CoV-2 virus.
Dr Asyraf commented: "It is important for the public to take note of such correlations in light of active Covid-19 cases and the emergence of the new variant, XBB.
"While stroke is relatively known, there are still misconceptions and a lack of understanding on the types of strokes, risk factors, treatments and recovery. We must continue to instil this knowledge among the public.
"The Global Burden of Disease Report 2016 projects that by 2040, stroke would become the second leading cause of mortality, with one in five Malaysians expected to suffer from this condition.
"In addition, based on 40,000 stroke admissions per year, the cost of stroke management is estimated to be around RM213 million annually.
"With such staggering figures before us, it is imperative that we do all we can to address this health condition," added Dr Arvin.
Mechanical thrombectomy can be done to remove a blood clot in a patient with ischemic stroke. — Images: Medtronic
Types of stroke
There are two kinds of stroke.
Ischaemic stroke is caused by interrupted blood supply to the brain due to a blood clot in the artery or a narrowing of blood vessels, thus depriving the brain of essential nutrients and oxygen.
Ischaemic stroke accounts for 76% of stroke incidences in Malaysia.
The second type – haemorrhagic stroke – occurs when high blood pressure causes an artery in the brain to burst.
"While anyone can suffer from a stroke at any age, it is vital to know the risk factors and how we can act on areas within our control.
"Age, gender, family history, incidence of a prior stroke, high blood pressure, high cholesterol, heart disease, diabetes and obesity, are all contributory factors.
"Early detection of irregular heart rhythm (atrial fibrillation) and consistent follow-up is essential for optimal treatment of underlying risk factors," said Dr Asyraf.
He added: "Poor lifestyle choices including bad eating habits, smoking and alcohol consumption must be addressed.
"It is also important to exercise more and reduce stress in your life.
"Recent data on the correlation between respiratory illness and increased risk of stroke also support the case for Covid-19 or influenza vaccinations."
Flow diverter procedure may be performed to treat an unruptured aneurysm by diverting blood flow away from the aneurysm neck.
Spring into action
Correctly detecting stroke symptoms and acting promptly can save lives and reduce the damage from a stroke.
Healthcare professionals around the world recommend practising the B.E. F.A.S.T methodology to confirm a stroke incident.
This is also supported by the National Stroke Association of Malaysia (Nasam) and the Malaysia Stroke Council, who also promote early arrival to the nearest stroke-ready hospital (mystrokehospital.my) for potential lifesaving treatment.
> B – Balance: The person may suddenly have trouble with balance or coordination.
> E – Eyes: They could experience sudden blurred, double, or total loss of vision. This can happen in one or both eyes.
> F – Face: Ask the person to smile. Does one side of the face droop?
> A – Arms: Ask the person to raise both arms. Does one arm drift downward?
> S – Speech: Ask the person to repeat a simple phrase. Is the speech slurred or strange?
> T – Time: Take note of the time of each symptom and understand that now is the time to get help.
If anyone presents these symptoms, it is imperative to immediately call for an ambulance and get urgent aid.
Call the ambulance
"Time is brain!" so arriving at the hospital early is crucial.
"Remember, with stroke, minutes and even seconds, count!
"With each minute of delay in treatment, around two million brain cells die.
"Once a stroke has occurred, it is crucial to head to the nearest hospital as soon as possible. If the patients are able to arrive within the first hour from the initial stroke signs, the likelihood of an effective treatment is higher.
"Treatment must be administered quickly and promptly to aid in recovery," emphasised Dr Arvin.
An ambulance would certainly get a patient to the hospital faster.
Paramedics can also convey a more accurate picture of the patient's health status to the nearest hospital, thus saving precious time and ensuring optimum treatment.
At the hospital, the stroke team will administer crucial emergency treatment and order an immediate brain scan to determine if the stroke was caused by a blocked artery or a burst blood vessel.
A common treatment for ischaemic stroke involves administering clot-busting drugs through a process known as thrombolysis, where the blood clot in the brain artery is broken down by medication.
Clot-busting treatment is suitable only if patients arrive promptly at the emergency department of the hospital with the service.
Mechanical thrombectomy, a minimally invasive procedure, can be done in selected patients with evidence of blood vessel blockage.
An interventional neuroradiologist will navigate to the culprit vessel in the brain via a small keyhole access in the groin and remove the clot.
For haemorrhagic strokes, there are medications to treat the blood pressure early.
Surgery, or procedures to stop the bleeding may be done if required.
If the bleeding is caused by a ruptured aneurysm or ballooning of the blood vessel, a metal clip may be inserted to stop the blood loss.
Dr Arvin highlighted that there have been good advancements in stroke treatments and patients can have a higher chance of stroke recovery. Patients can now also benefit from the availability of neuro intervention treatments.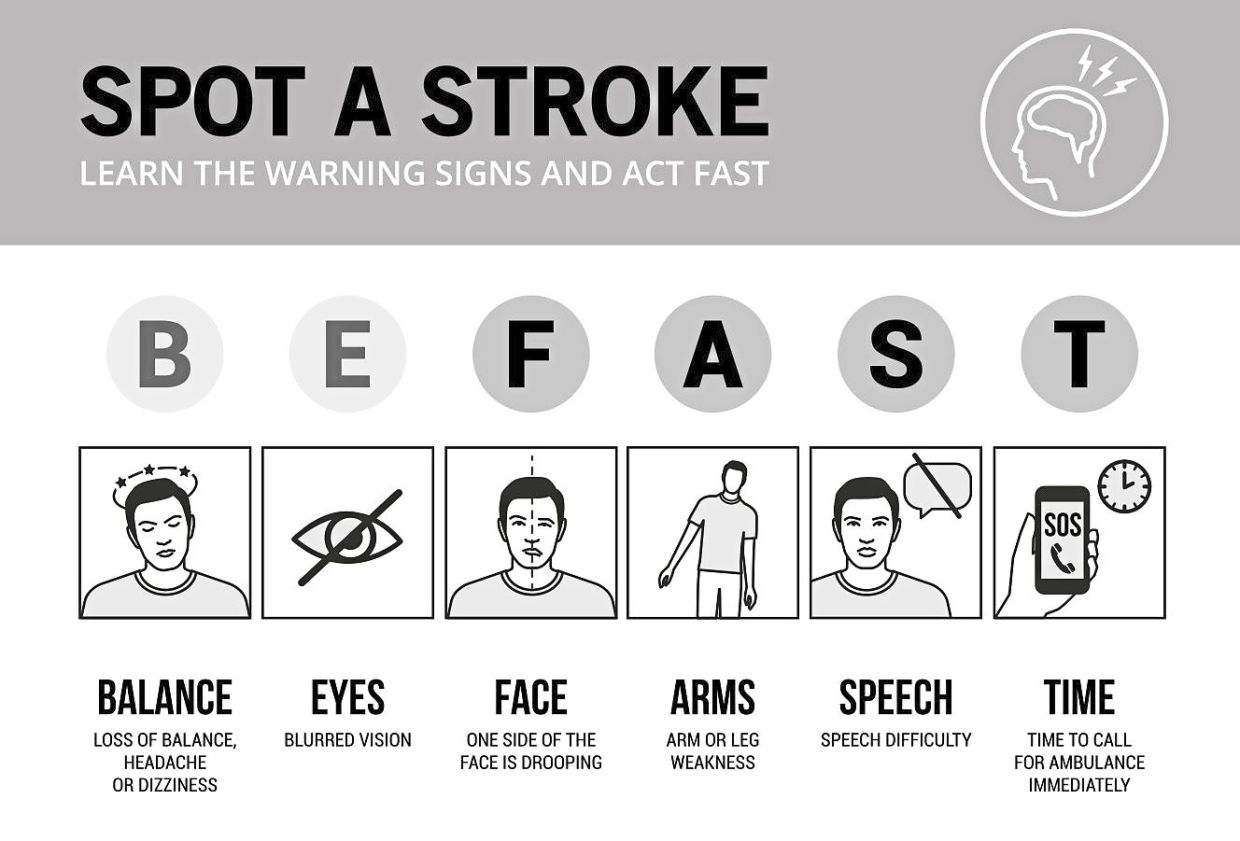 Road to recovery
Speaking in his capacity as vice chairman of the Malaysia Stroke Council, Dr Asyraf shared, "One of the most overlooked aspects of post-stroke care is recovery and rehabilitation to prevent any recurrent stroke and to treat post-stroke complications.
"It is estimated that post-stroke recovery is incomplete in approximately 60% of patients who may need physiotherapy, occupational and speech therapies.
"While there are insufficient healthcare professionals in the area of rehabilitative care, we are working hard to improve access to post-stroke rehabilitation in both urban and rural area via collaborations with government facilities and non-governmental organisations such as Nasam.
"Needless to say, there is a huge need to increase the number of qualified rehabilitative healthcare professionals and funding must be channelled to improve the quality of stroke care in Malaysia."
Aggressive rehabilitation is central to positive outcomes and can take anywhere from 90 days up to one year or more, depending on the severity of the initial stroke and treatment outcomes.
A patient usually begins rehabilitation within a day or two after a stroke, depending on the severity of the condition.
This includes speech, occupational and physical therapies while mental health support is also an accepted part of treatment for patients who have lost a sense of independence and harbour feelings of anger, resentment and frustration.
"Many different factors can influence a patient's post-stroke recovery, so no two journeys are the same.
"The goal is always to restore patients to be functional individuals. This calls on the collective commitment of family, friends, caregivers and healthcare professionals during the recovery process," said Dr Arvin.
Subscribe now to our Premium Plan for an ad-free and unlimited reading experience!