A macro photographer gets lucky when his bug specimen makes it to the Top 10 New Species 2013.
IT was a day out in the forest of Ulu Yam, Selangor, for macro photographer Kurt Guek Hock Ping when his acute vision spotted something flying across. A gut feeling made him follow the creature until it alighted upon a leaf.
He knew, almost instantly, that he had struck gold that day in May 2011, for the creature was not any ordinary insect. It was the elusive green lacewing. Camera in hand and lens in focus, he began shooting furiously and later uploaded several shots onto macro photography forums, his blogsite (orionmystery.blogspot.com) as well as photo management and sharing application website, Flickr.
As luck would have it, entomologist Dr Shaun Winterton from the California Department of Food and Agriculture chanced upon the images. Noticing black smudges on the insect's transparent wing, Winterton declared that they could be staring at a new species.
The insect's identity remained unestablished until last January when Guek spotted the lacewing again. It was then that Winterton and Dr Stephen J. Brooks from the London Natural History Museum confirmed the finding, prompting for papers and descriptions to be prepared and recognition was formally granted last August. Guek shares co-author honours with both scientists for the specimen eventually named Semachrysa jade. (Semachrysa is classified as a genus of the green lacewing while jade takes after the name of Winterton's daughter).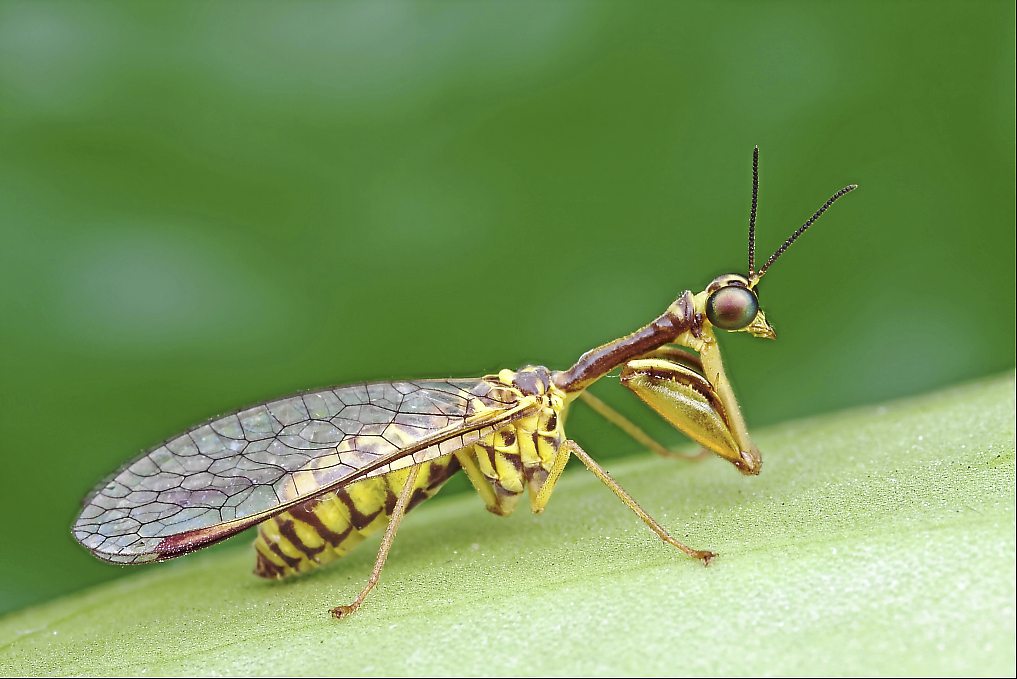 With the proper scientific documentation in place, Guek's lacewing recently found its way into the International Institute for Species Exploration's (IISE) list of Top 10 new species for 2013 (species.asu.edu). The 10 species were selected from an estimated 18,000 species named last year. (The IISE is a research unit established under Arizona State University to advance the science of taxonomy, which is the classification and description of species.)
"I've always loved lacewings. They are beautiful and dainty but it's rare that you see them out and about during daytime," says Guek, 50, a real estate agent. "Lacewings are also advantageous as a natural pest controller as they feed on aphids (plant lice) and mites. I was told that an old specimen of the same lacewing was discovered several years back but apparently, no proper classification or documentation was put in place. Because it went unrecognised, my lacewing was acknowledged as a new species," says Guek, who goes by the name Orion Mystery when posting up macro photos on forums he frequents.
Where most people's mobile phones brim with photos of family members, holiday travels or simply themselves cam-whoring, none of these are found in Guek's. What is aplenty are scintillating photos of bugs that he has amassed over years of honing his skills in macro photography. There is the lantern bug with its upturned, elongated head perched on a tree trunk, and a menacing-looking huntsman spider.
With each swipe of his phone screen revealing more unusual creatures, Guek's fascination for bugs and his innate ability to capture them on lens is telling. He treasures each photo with a quiet sense of pride as it chronicles his venture into forests across Malaysia and most notably, the effort spent.
He began dabbling in macro photography in 2007 and to date, has taken some 10,000 images. However, he still has not correctly named most of the species. Searches online have proven futile in some instances simply because these animals have remained unidentified.
His bug trail has taken him to wild places like Maliau Basin and Danum Valley in Sabah, Frasers Hill and Bukit Tinggi in Pahang, Belum forest in Perak, and spots all over Kuala Lumpur and Selangor.
"My photography is mostly self-taught. I picked up and learnt from the Internet though I had one or two mentors who helped me. Previously, I was shooting landscapes but I eventually found bugs to be cool. The more you photograph them, the more you'll come to like them. It's a shame that people have a fear of insects and little understanding of them. Some won't hesitate to squash a spider if they come across one. Many have no idea that if invertebrates were to cease existing, the whole ecosystem would just collapse," Guek shares.
He sets out at least once a week to work his shutter. Early mornings are preferable as bugs tend to be less active and, as such, easier to photograph.
"I don't choose my subjects. It is more of photographing what I see. Even if you have photographed a species before, the angle, its movement and action will always be different. However, a lot depends on luck as there are days when I return home empty-handed. After all, it's the bugs that call the shots."
For his macro photography, he makes use of both natural lighting and flash; the former suits daytime, motionless shots while the latter is effective for moving sequences as it allows him to be in control of his images. Guek also does night macro for creatures which surface after dark, such as spiders, frogs and lizards.
"In macro photography, the focus has to be trained on the eye of the subject to give the illusion that there's sufficient depth of field. They say the eyes are the window to the world and it's true ... when the eyes are in focus, the body and structure will fall right into frame and in place."
He will head to Krabi, Thailand, next month to photograph lantern bugs. But he longs to photograph the chameleons of Madagascar and the peanut head lantern bug of Latin America. Guek likes to think that he has helped in some ways to promote macro photography, as a lot more people are into it now than when he first delved into the field.
"When I was a kid, I used to catch, tease and torture bugs, using chewing gum, for instance, to ensnare dragonflies. Now, it feels like payback time. I owe it to them to do what I do best, which is photographing their raw beauty and making (them) look good pictorially. Hopefully, this helps to stretch people's tolerance and appreciation for bugs a bit more," says Guek, who also conducts macro photography workshops for Canon.
"You will be amazed by the vast number of living species in Malaysia, yet populations are dwindling in the wake of rapid deforestation.
"It's a real shame how many (species) which have not been discovered, are possibly going extinct as we speak," he says.
His advice for budding macro photographers is to hold dear to the three Ps of passion, patience and practice – passion to do this earnestly week in and out, patience because "bugs are no human models", and practice because macro photography can be tough for beginners.