Sulie Lungkan Abell never thought her struggles with chronic eczema would lead to her starting a business. The turning point was when her skin condition became so bad that she had to quit her job at a real estate company.
The Sarawakian decided to venture into making skincare using natural and 'honest' ingredients.
"I couldn't find a single product that I could use safely on my sensitive skin. My doctor suggested that I try using raw ingredients like honey and aloe vera on my face. So I started doing some research and began creating my own handmade skincare products using natural ingredients. Surprisingly they worked for me," said Sulie, 37, from Kuching recently.
By buying fresh ingredients for her skincare label, Sulie (second from left) is going the extra mile to help poor farmers from her village.
While researching active herbal ingredients to go into her products, the Sarawakian realised that many natural ingredients could be found in her backyard, in her village Kg Melugu in Simanggang, Sri Aman.
"As I was sourcing the ingredients around my village, I met a bee farmer named Nancy. I was surprised to learn from her that half of the farmers in the village earned less than RM200 a month. So then, I started thinking about how I could help these farmers.
"That also inspired me to start my home based skincare label, Sluvi, in 2018. The first three letters (Slu) stand for my initials. Since it's a social enterprise, V and I stand for "vision" and "initiative" respectively."
Empowering rural communities
Sluvi is a social enterprise which aims to empower farmers by sourcing natural ingredients from them to make natural skincare that are safe for the environment and people with sensitive skin.
By reaching out to the farmers, Sulie is hoping she can help them move towards financial independence."Increasing the farmers' income can give them better access to healthcare and education," said the entrepreneur, who holds a degree in international relations from Bond University in Queensland, Australia.
By supplying rice to Sulie, Katie Baka (right) is able to earn extra money for her family.
But it wasn't easy to convince the farmers to join Sluvi when she initially approached them in 2018.
"I tried to reach out to the farmers through word of mouth, social media and phone calls. But no one seemed interested. Back then, the farmers didn't trust Sluvi. So, I went to the ground and met them personally. Thankfully, I managed to get seven farmers on board," shared the Iban woman.
The farmers are single mothers, elderly widowers and unemployed young adults.
"This group of beneficiaries need more assistance for many reasons. Single mums need money to raise a family while young adults need jobs to earn a living. Plus, this can prevent social problems like alcoholism or drug abuse among the youth in Kg Melugu," Sulie explained.
With the added income from Sluvi, Lemenya doesn't need to borrow money from friends and relatives.Farmer Lemenya Serit, 58, has been part of the Sluvi team since its inception. It was a bold move for her, but the mother of five has no regrets. Today, she's happy she made that leap of faith.
"Before Sluvi, I could only make about RM280 each month. With Sluvi, my monthly earnings increased to between RM900 and RM1,500. These days, I can take home about RM2,500 to RM3,000 a month," said Lemenya who supplies coconut milk, ginger and aloe vera to Sluvi.
With her increased income, she no longer needs to borrow money from relatives and friends.
"I also finally have some cash for emergencies. And I don't worry about putting food on the table for my children or saving for my grandchildren's education.
"I hope to expand my farming activities. I have some extra land where I intend to cultivate stingless bees. More bees means I can supply more honey to Sluvi. With the added money, I can buy a new motorbike," shared the grandmother of two.
She hopes her story will inspire other women farmers to be bold and achieve greater success.
"When I was younger, the idea that women's roles aren't as significant as men's was constantly reinforced. But since teaming up with Sulie, I realised that women have great potential. We are capable of many things too. Some women are the breadwinner of their family.
"Thanks to this opportunity, I have met many women farmers in my community. We have learned so much from each other. Working with them gives me motivation to work even harder and strive for greater success."
Aloe vera, freshly harvested from farmers in Kg Melugu, is one of the ingredients used in Sluvi's face mask.
Sustainable skincare
Sulie turned to social media platforms like YouTube, Pinterest, and Facebook to improve her knowledge of handmade natural products.
She sells four products – honey soap, rice face mask, aloe green tea face mask and lemon coffee body scrub.
"I did over 50 product testings with many trials and errors. I was the guinea pig and I worked on them until I perfected the formulations. I started out going to bazaars to test the market, offering free samples.
"I think one of the selling points of Sluvi is that the products work well for people with sensitive skin. Plus, we use locally-sourced ingredients," shared Sulie, who has attended many workshops on making homemade skincare products.
To kickstart her business in 2018, she got a RM20,000 grants from the Ministry of International Trade and Industry, Industrial Terminal and Entrepreneur Development Sarawak. The same year, she emerged as a winner of Sarawak Shell LiveWIRE programme, which offers free workshops and funding to young entrepreneurs. She walked away with a RM15,000 grant.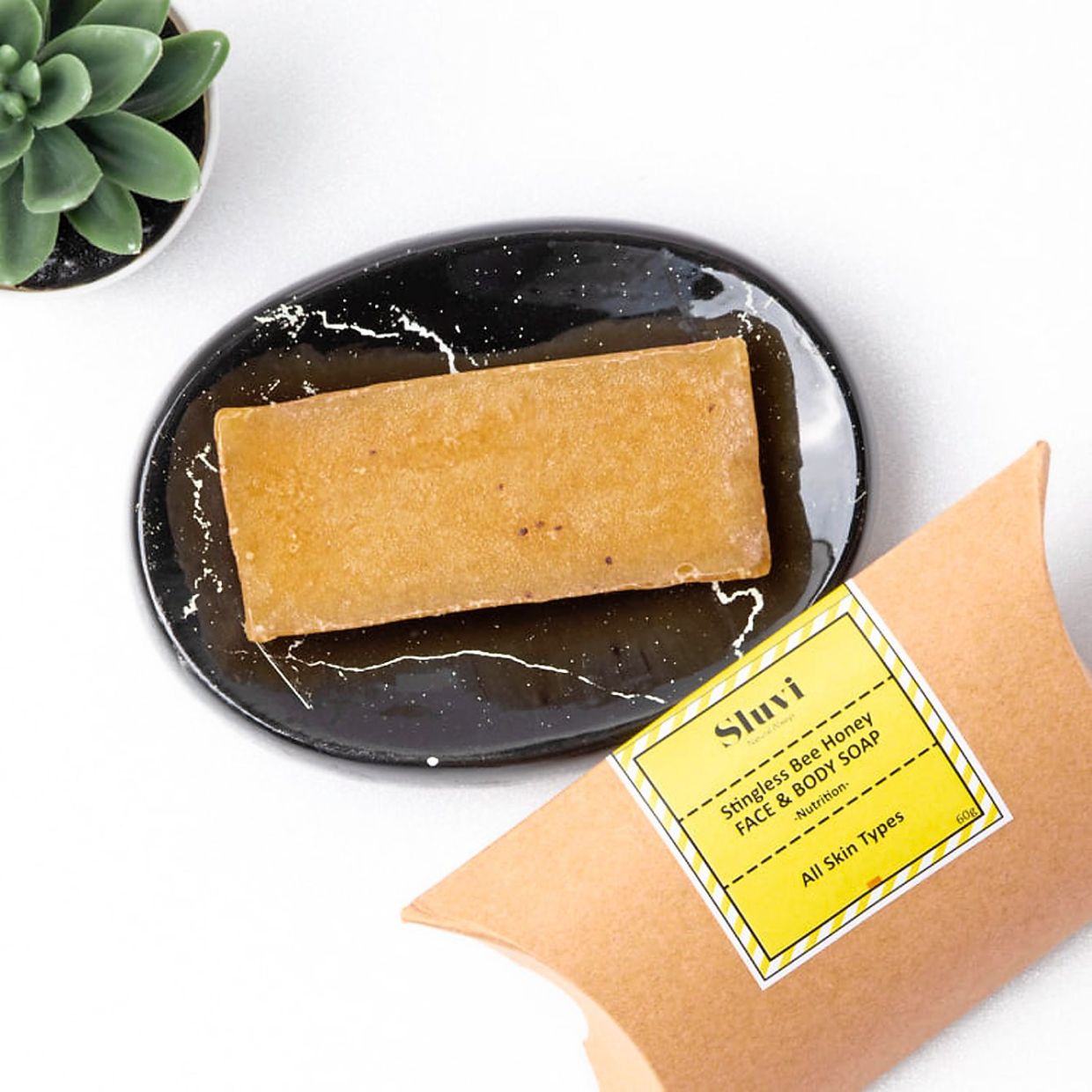 Honey obtained from farmers in Kg Melugu is the main ingredient in Sluvi's bar soap.
"I also obtained a RM15,000 loan from Tabung Ekonomi Kumpulan Usahawan Niaga, and a RM3,000 loan from my parents. There was also RM15,000 crowdfunding from Actyvate Malaysia."
Sluvi's does all her formulations at a townhouse at Oxford Park Avenue at Batu 9, Kuching. Her kitchen has been transformed into a little beauty workshop, where Sulie and four staff make the products.
Farmers send their fresh produce by bus and van every fortnight to Kuching. It takes about three hours for the produce to reach Sulie.
"We make sure we know who we source our raw ingredients from so that we can be assured of their quality. To retain freshness, we make our products in small batches."
Sulie purchases stingless bee honey from local farmers and uses them in her skincare products.She refrains from using petrochemicals, sulphates, parabens, artificial colouring, fragrances, mineral oils and preservatives.
Sulie leverages on social media to market her products. She is thankful for the Internet through which she can enhance her knowledge in areas like the packaging, branding and marketing of her products.
"The advantages of an online business are that they are limitless and borderless. For example, through social media platforms such as Facebook and Instagram, people all over the world can find our products. We can reach our targeted customers worldwide. Some of our products have reached the United States, Australia and India.
"About 60% of my customers are from Sabah and Sarawak, 30% from Peninsular Malaysia, and the balance 10% are overseas customers," says Sulie on social media.
Sulie thinks rural farmers have high-income potential and with good partnerships, hard work and commitment they can boost their earnings.
"I can see their potential and how they can become better contributors for our country's economy. With the right training on agricultural techniques and production, they can also be encouraged to learn how to grow rice, greens, and rear stingless bees."
She hopes more people will do their part to reach out to communities that fall under the B40 income group.
"Someone has to do it first... to lead for a more significant impact. Imagine, if everyone does this in other places all over Malaysia, this country would be amazing with the right eco-system.
"It is my dream that farmers in rural areas will utilise their knowledge on local plants and herbs growing in their backyard for a bigger purpose. One day, their kids will help their parents to cultivate natural products grown in Sarawak, and promote them to the world," she concludes.
Sustainable skincare
---
Subscribe now to our Premium Plan for an ad-free and unlimited reading experience!