It's nearing Christmas, and Jeanette Joyce Perkins' home in Kuala Lumpur is bursting with activity. The sounds of South Korean band BTS's Butter (Holiday Remix) is playing from her smartphone, and the smell of freshly baked pineapple tarts wafts from her kitchen, filling the air.
The spacious apartment has been decked out for Christmas, with festive ornaments and other adornments in this year's Christmas colour theme of silver, white and red. There is an array of sweet treats neatly arranged in a three-tier serving tray and she's spruced up her table decorations with a tasteful centrepiece.
Perkins, 38, is looking forward to celebrating Christmas on a grander scale this year. This comes after two years of low-key festivities because of the Covid-19 pandemic.
The homemaker and her mother, Doris Khairati, 65, started their Christmas baking – a variety of traditional Christmas cakes and cookies – about three weeks ago.
Christmas is all about family togetherness.
"Pineapple tarts and sugee fruit cake are among their most sought-after delicacies during the festive season," says Perkins.
"Many of our friends and loved ones want Mummy's pineapple tarts because they are delicious. Even though it's tedious work to prepare homemade tarts, we make it a point to make them every Christmas because it adds to the festivities. It's all in the spirit of Christmas," says the former air stewardess who quit her job to raise her children, Ashlynn Grace Oommen, five, and Christoper George Oommen, 20 months.
So far, Perkins and her mother have baked a whopping 450 tarts this year. These popular treats have been carefully filled into plastic tubs – some of which will be given away as gifts to her family and friends.
Preparing Yuletide treats, especially the homemade tarts, can be a backbreaking task. But, like many home bakers, the mother-daughter duo take pride in rolling out these morsels of delight.
Perkins is looking forward to sharing her homemade tarts with loved ones.
Their jam tarts are moist and bursting with flavour and Perkins reveals the secret: Their homemade pineapple jam which they make from only Morris and Josapine pineapples "because they are juicer and sweeter".
"It is a time-consuming process to make the jam," admits Perkins. "The most tedious part is peeling and coring the pineapple. In the past, Mummy and I used to hand-grate the pineapples. These days, we blend the fruits, which is much more convenient," she says.
Khairati chips in: "It's tiring, but I have no complaints. Cooking and baking are my passions. I'm grateful my daughter is willing to lend a helping hand."
The blended pulp is then cooked with sugar, on a slow heat, for about 45 minutes. Cinnamon sticks and cloves are thrown in for added flavour.
The Oommens add the final touches to their home for Christmas.
"We have to keep stirring, gently, until the mixture thickens. It is always best to cook on slow fire," Khairati shares.
Perkins, who holds a diploma in pastry from Le Cordon Blue in Paris, used to live in Paris for over a year where she worked as a pastry apprentice at Patisserie Pascal Pinaud and Ble Sucre.
Her training from the prestigious Le Cordon Blue (touted as the world's best cooking school) comes in handy during times like this when pastry production is amped up in their home kitchen.
"The training I gained in Paris is extremely beneficial. It has helped me tremendously when I bake cakes, cookies and pies. Not only do I have an attention to detail, I am pretty well-versed in the fundamentals of pastry. This is important in getting the right textures for the different kinds of pastries.
"Baking really boils down to chemistry. A baker needs to know how to mix and manipulate different ingredients to create various pastries like puff, shortcrust and flaky pastry," shares Perkins, who was born and raised in Penang.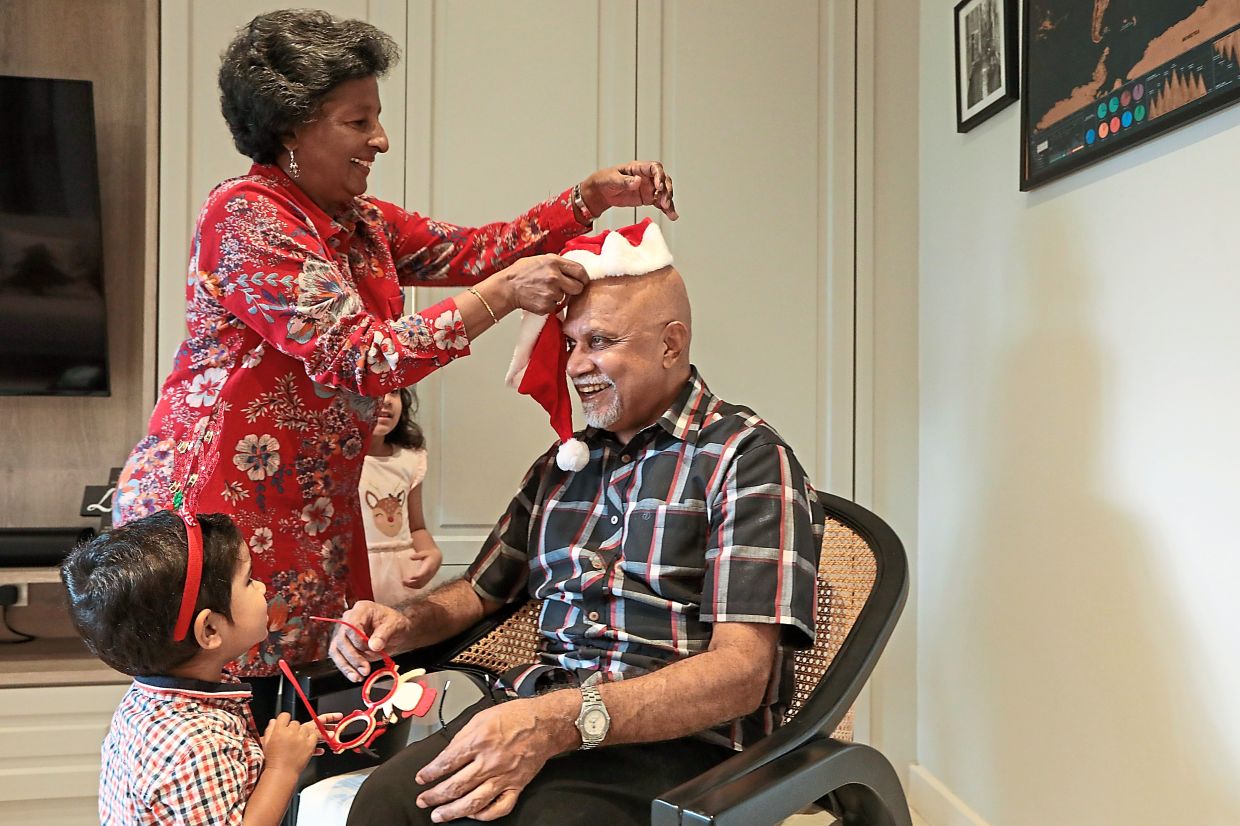 Dr Reena playfully puts on a Christmas hat on her husband Dr Samuel as little Christopher looks on.
A holly and jolly Christmas
But the recipes for many of the family's Christmas treats are family recipes that have been passed-down through generations.
Like the pineapple tarts, for example. Khairati learnt to make them from a relative back in the 1980s. But, she has tweaked the recipe for the pastry to suit her palete. Her recipe contains extra egg yolks for a richer texture.
"The added yolks give a nice and creamier flavour," says Khairati. "It took me about seven attempts before I perfected my pastry recipe.
"Besides the added yolks, it is equally important to use good quality butter. It helps to create a flakier and more flavourful pastry.
"Another must have is a good pineapple tart mould. I use a stainless steel mould which I purchased online," the friendly grandmother of five shares.
Dr Samuel and his wife Dr Reena are looking forward to spending Christmas with their grandkids, Christopher and Ashlynn.
Khairati and her daughter also bake sugee fruit cake, using an 80-year-old recipe.
It is a tried and tested recipe that Khairati learned from Perkins' paternal grandmother.
"There are many versions of sugee fruit cake. Some recipes use molasses, while others use brown sugar or white sugar. My version uses brown sugar with lots of fruits (sultanas, raisins and cherries) and nuts. Brown sugar tastes nicer because it has a richer flavour with light hints of caramel," Khairati shares.
Khairati is particular about the flavour of her cake and is therefore meticulous about the processes that go into making the family's traditional sugee fruit cake.
The fruits must be finely chopped, by hand, and soaked in brandy. This is usually Perkins' job which she does a month before Christmas.
Despite her professional training, Perkins still listens to her mother's precise instructions when she carries out her job.
"Mummy says the finer the fruits are chopped, the better. This is because the macerated fruits will plump up when they are soaked in alcohol," she explains.
Khairati is happy her only daughter is willing to learn to make her signature sugee fruit cake ... her way.
Besides Christmas cookies and cakes, Khairati has also taught her daughter to prepare the family's must-have Christmas dishes.
Spending Christmas with the family is all about love, peace and happiness.
These include debal curry, a traditional Eurasian Kristang dish, roast chicken and also a Thai spicy prawn – though not a traditional dish it is something which the whole family enjoys.
Another must-have dish is Christmas stuffing which is made from potatoes, minced chicken, chicken liver, herbs and breadcrumbs.
This Christmas, Perkins and her husband, principal drilling engineer George Oommen, will be celebrating the festivities with her in laws, Dr Samuel Oommen and Dr Reena Samuel, who live in Taman Yarl, Kuala Lumpur.
Perkins will make her mum's spicy debal curry to complete her mother-in-law's elaborate festive spread of roast chicken, glazed ham, cornbread and salad.
"George and our kids look forward to being together with our loved ones for Christmas. It is really priceless and there is nothing more meaningful than having everyone together under one roof during the festive period," she says.
It is during these gatherings that her children can learn more about the Christian faith and traditions, she says.
"On Christmas Day, we attend mass and exchange gifts with the in-laws. Spending Christmas with the family is all about expressing love, upholding traditions and creating happy memories," she concludes.
The magic of Christmas
---
Subscribe now to our Premium Plan for an ad-free and unlimited reading experience!