Tomorrow (Nov 19) is the day millions of Malaysians have been looking forward to, an important day when we exercise our right to vote at the 15th General Election (GE15).
While most of us are excited to cast our vote, some senior citizens are facing difficulties getting to their respective polling stations.
Mary Chee, 76, is one of them.
"During the past elections, I was still in good shape and was able to take care of myself. Now I do not have my husband and my children are all overseas. So, I am living alone by myself in this house," said Chee, whose home is at Jalan Raja Uda, Butterworth, Penang.
However, luckily, she will get some help from a homecare service provider which is offering free rides on polling day for those aged 65 and above who live around her area.
"I will just give them a call and they will be there. This is not my first time using the ride service provided by the homecare. But this is my first time using the free ride service to go and vote," said Chee.
"I do feel a little worried to go and vote because of my age, which is why I needed their service very badly. They are very caring and they take good care of me. They will usually guide and follow me from place to place," she said.
Chee, 76, lives alone in Penang and will be utilising a free ride service to go and vote tomorrow (Nov 19).
Chee believes that her vote matters and that it can make a difference if she votes for the right person.
"I am not sure if the government has provided any assistance for seniors to vote. Hopefully, the outcome of this election will be more inclusive towards senior citizens and it could give us more confidence, convenience and a better future," she said.
Pharmacist Tan Chan Wei, co-founder of Remeds Homecare, said their intention is to encourage senior citizens to cast their votes without worrying about how to commute.
"The idea of offering free ride services was initiated in mid-2021 during the Covid-19 pandemic. When the vaccination programme was announced, my partner, who is also a pharmacist, and I wanted to help the people to get vaccinated.
"This will be our second time offering free ride services for the people and the purpose is to transport the elderly from their houses to the polling stations and send them back home safely.
"We aim to escort them and guide them throughout the whole process. But I don't think we can do that because at the polling stations, they have to go through the process by themselves due to security purposes.
"However, we will look into it on polling day itself. We hope that we can assist them until the registration counter. The least we can do is ensure the elderly do not have to worry about their transportation to exercise their right to vote," he said, adding that both of Chee's daughters are living in Australia and the septuagenarian has also developed symptoms of dementia.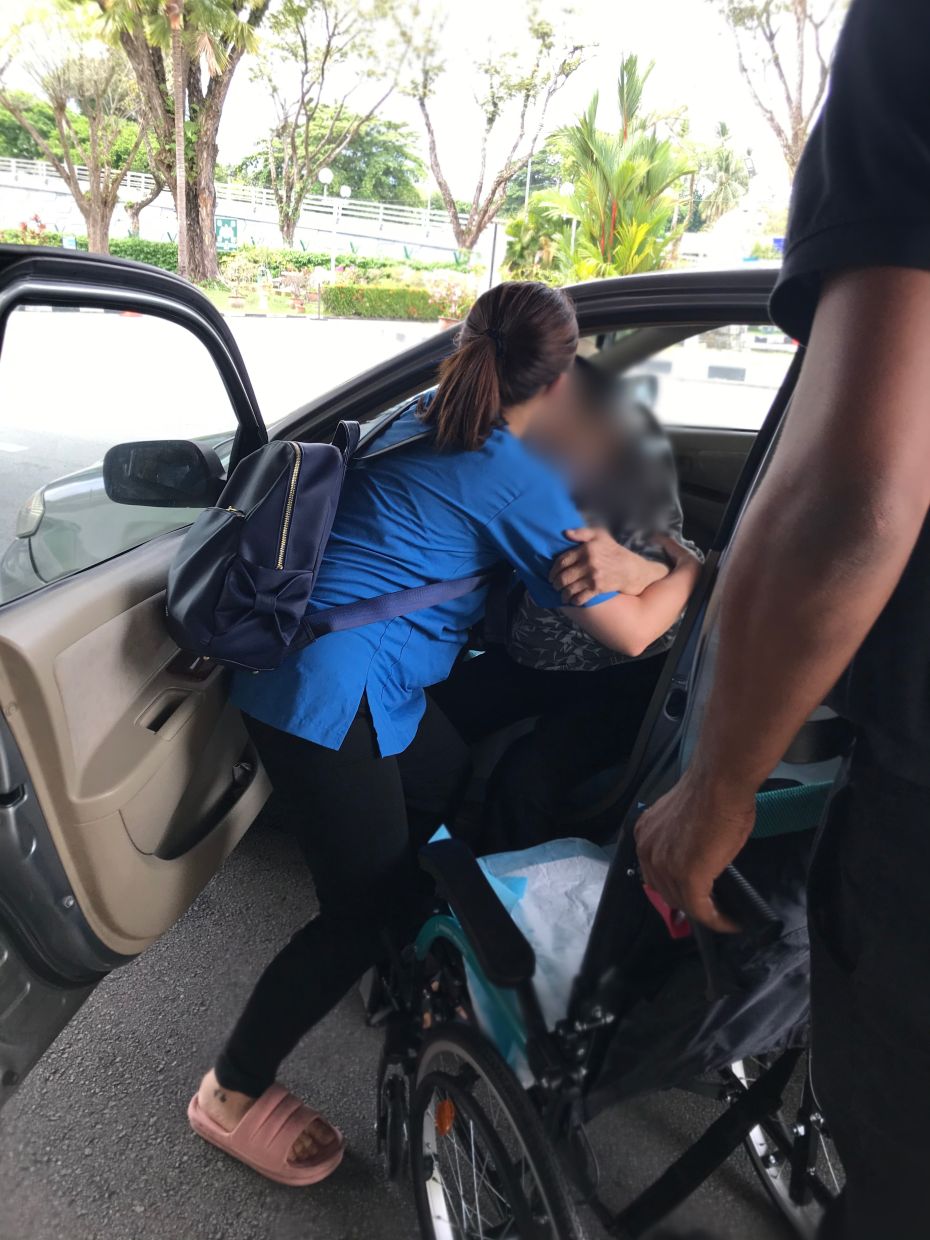 A specially trained caregiver assisting seniors in and out of a car.
Tan said that the free ride service is offered to people of all races and religions and is fully funded by the homecare. The service is open to seniors aged 65 and above in the community of Jalan Raja Uda who are mobile, including those who use wheelchairs or walking sticks.
"Senior citizens make up around 7.4% of the total population in the country and we are targeting 30 seniors to make use of our service.
"Some of the common challenges faced by the elderly to go and vote are, staying separately from their children and have no transport, different polling stations from their children, unsure or confused with the polling day process, and are in need of special techniques to transport them – such as from the wheelchair to the car. With the expertise that we have, we are able to offer them our service," he added.
Renee Chan, 37, will also be using the free service for her father, Edwin Chan, 75, who is unable to drive and has risks of falling.
"My father and I have different polling stations. His polling station is located in Butterworth while mine is in Ipoh. So, I need someone to assist my father to the polling station on polling day.
"My father is quite keen to cast his vote although we are worried about his health condition. However, he is very interested in politics and wishes to participate. He has been voting consecutively for the past five elections. He believes that his vote matters and knows that his vote can make a change for the country," she said.
Tan believes that every vote matters and voting is a civic duty regardless of the person's age.
"I am not sure if the government has provided any assistance for the elderly to vote although I do believe that there are other organisations which offer free ride services on polling day. However, there is always room for improvement for the government to provide better opportunities for senior citizens.
"There are many elderly persons who live alone by themselves without any assistance. If compared to other countries such as Taiwan and Singapore, they have better services to take care of the elderly and some of these services are actually subsidised by the government.
"I hope that after the election, this can be achieved in Malaysia especially since the country has attained ageing nation status," he said.
Subscribe now to our Premium Plan for an ad-free and unlimited reading experience!